The BGN News Archive
January 14, 2019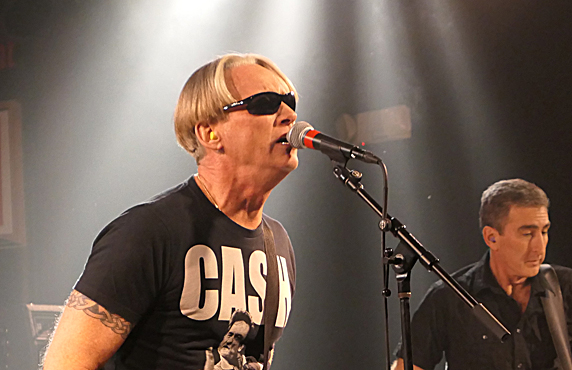 Dave Barton - The Outlets
Photo: Blowfish
---
Chris Doherty, of Gang Green, had a medical issue in October of 2017. He recovered from that and had a triumphant return at the Father's Too show at the Baseball Tavern in June of 2018. Then he did a wild show at the C Note in Hull in August. Chris used those two shows to celebrate the totality of Boston punk by playing covers that spanned its history. They were some of the best shows of 2018 and his influence on Boston hardcore is pivotal. But unfortuntely Chris then had a stroke in late 2018.
The hardcore community come together to help n a big way: Not A Wasted Night: A Benefit for Chris Doherty of Gang Green, organized by Sean McNally, seemed to grow in scope and importance as the day of the show got closer.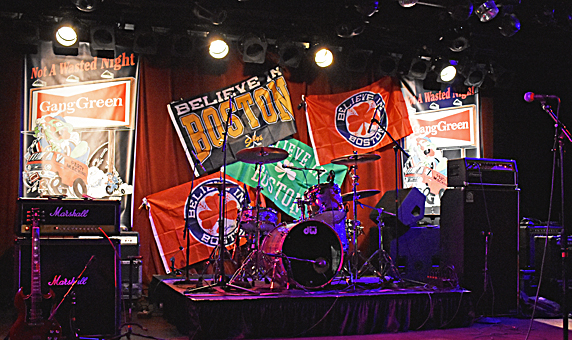 The backdrop
Photo: Blowfish
Sean and various band members were on radio shows like Bay State Rock with Carmelita and The Late Risers Club with Joanie Lindstrom, it also got mentioned a few times on Bradley Jay's show on WBZ. It seemed like every print media outlet and every local website had an article. That resulted in a sold out Paradise, a club that doesn't have that many shows like this anymore.
We got there at 6:30, when the club still had open space...by 8:30 it was packed. Sean took to the stage at the beginning of the night and said 'this is what is called Hardcore Healthcare.'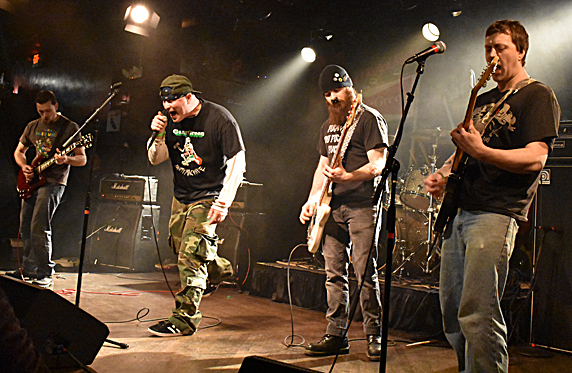 Worm
Photo: Blowfish
New guys Worm were the first up. This was the first time a lot of people had seen Worm. We've seen them a few times but in small clubs like PA's Lounge so it was gratifying to see them take the imposing Paradise stage and put in the best set we've seen them do yet. Most of their songs make political points that did not go unnoticed and gave their set some heft. Their material went over well. Mikke Worm was taking full advantage of the stage and you could see where he takes points from those bands that later filled the stage. Worm also switched singers every now and then and that is a democratic move that seems modern.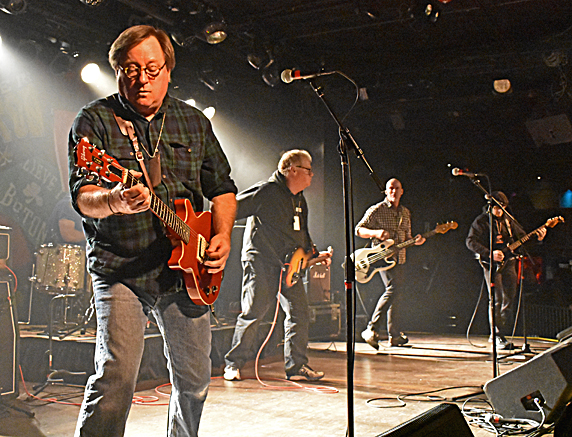 Unnatural Axe
Photo: Blowfish
Just one of the many perks of the night was to see a rare Unnatural Axe set. They added Fritz from Band 19 to add some extra guitar power and they did two Band 19 songs.
The Axe looked fabulous up on that stage with the professional lights and sound. Richie's voice is better than ever with his constant shows with his pop material. The set was only way too short. There were just so many Axe songs we wanted to hear.
The Dogmatics
Photo: Blowfish
The Dogmatics have been doing shows for a while now always bringing back the good feelings of the Thayer Street era. They played with Chris at the C Note in August. Dogmatics are sort of a loose garage punk sound but they were adopted by the hardcore crowd from the beginning. The Dogs wrote that pointed "Hardcore Rules" and they played that along with "Sister Serena" "Gimme the Shakes", "Drinking by the Pool" and DMZ's "Ball Me Out". The highlight is always "Thayer Street" a paean of that time and place that seems almost magical now.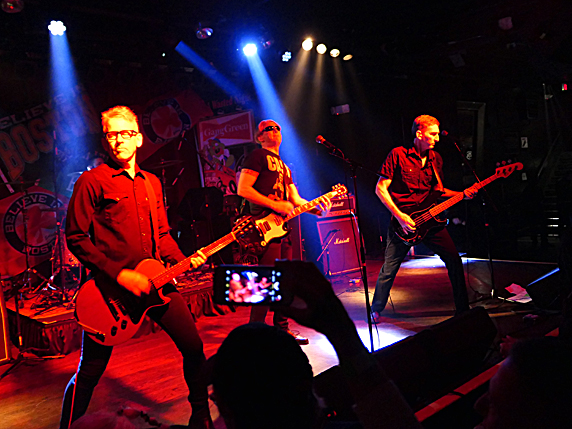 The Outlets
Photo: Blowfish
It seems like a wonderful gift to have groups like The Dogmatics and Unnatural Axe still playing. That means if anyone was not there back in the day they can still hear what it was like and that brings us to the Outlets who have played sporadically through the years. The last time was the Hometown Throwdown 2015. Before that it was 2009 at the Church. Before that it was 2008 also at Church at the Unnatural Axe's 40th Anniversary. One year before that it was Carmelita's 20th Anniversary of Bay State Rock and the LRC 30th Anniversary
All of those times were shows that completely justified the reputation The Outlets have of being the best unheralded band in Boston history. They did at the Paradise what they did on those past shows; they come out full of pent up energy that they seem to be desperately driven to expel during the set. There is some higher level that they aspire to and do actually get to.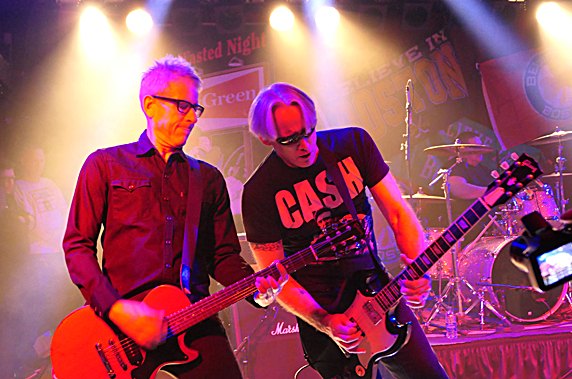 The Outlets
Photo: Blowfish
What did they raise those Barton brothers on? Get me some of that!! Dave is all emotional energy and Rick is the music muscle. This was the original Outlets line up. And as much as the Barton brothers get attention it was drummer Walter Gustafson whose name was getting thrown around after the set. He's got his own fan base. Some of the songs were, "Sheila", "Best Friend" and "Eddy".
One of the big joys of the night was that Chris Doherty was there. He was in a wheelchair and moved from side to the front area to view the bands. Dave Barton talked to him during the set and that was a nice moment.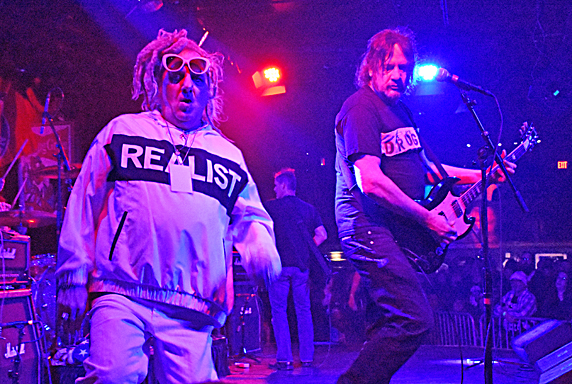 Springa
Photo: Blowfish
It's always special when Springa shows up. He's a high maintenance party animal. He's had benefits of his own to help with health issues so this was also a case of payback for him. He played with Doherty at the C Note last August. He's living in Chicago now and this time he brought his band The Sonic Droogs with him. Joanie played one of his songs on her show Thursday and it was very good. The Droogs are a good foil for Springa, they are loud and can put some different spins on some old genres. All very interesting to hear as Springa stalked the stage. They got in one SSD song.
White Dynomite
Photo: Blowfish
Then it was the newer phenomenon called White Dynomite. Never has their stage shtick seemed so genius than at this show. As the rock world dons black clothes they wear pure white. They seemed to glow. It seemed like heavy metal from heaven. They started with their theme song "White Dynomite" and it seemed like they could do no wrong.
At this point it was hard even moving around and the front of the stage was dense with enthused fans. We moved back but we totally understood the frenzy. These were exciting bands pounding out sets, one after another. It never let up. Group after group raised the bar. Everyone on stage seemed to have something to prove and everyone on the floor was intent on soaking up every loving minute of it.
The FU's were next. After that Evan Dando was supposed to play but Jerry's Kids did a set instead. Then it was Skate to Hell, Tree and finally Slapshot.
John Keegan took over the camera duties and his pics are in the slideshow below.
Facebook is plastered with photos and vids that show the blissed out bands and audience. Here's the FB page for the show. And here is a great in depth article from WBUR by Jim Sullivan.
It was a night that meant so much on different levels. It was an insane amount of music by so many bands. It was an awesome fund raiser for Chris Doherty. It also was a display of the whole Boston hardcore scene. It showed its strength now and the depth of talent it's had from the beginning. It was a gathering of people who have been plugging away since 1980. Hardcore fought for attention and access from everybody, including established punks. In 1986 Chris Doherty's Gang Green won the WBCN Rumble which was a watershed moment for hardcore when people could no longer dismiss or ignore it.
It was a noble moment for hardcore to step up and do all they could do for Chris. Thanks so much to Sean McNally.
More Not A Wasted Night photos
below the show listings.
So much happened at the Not a Wasted Night benefit that it seemed it would take a week to get over it but we were at Once on Saturday. Smitt E. Smitty had a lineup that was similar to the one he had at his album release party last summer. He had his band, The Gala, Gene Dante and the Future Starlets and instead of Parlour Bells he had Tiger Bomb from Portland, Me.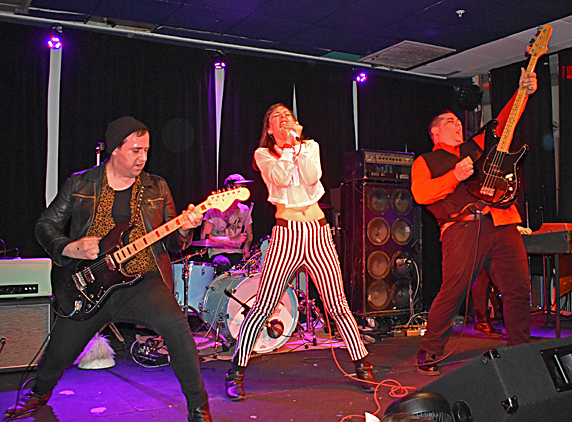 The Gala
Photo: Blowfish
We missed Smitt E. Smitty's band who went on first. We were there in time for whole set by The Gala. Like other Gala shows, we saw people become instant fans. The combination of music and Emily's antics on stage get you one way or another. John Surette was there (he was also at Wasted Nights show) and we saw him become smitten with the bad at a Midway show last year.
Chris (guitar), Justin (bass) and Emily (vocals) were in constant motion, especially Emily who has stage moves like no one else. The songs gave her plenty to act out. She's a punk drama queen and one of the reasons you have to see this band, as well as hear them.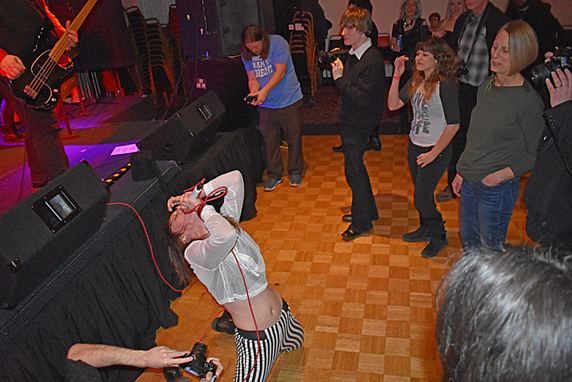 The Gala
Photo: Blowfish
Dave on drums was strong and gave things a needed anchor. Rebecca tended to be overlooked as the stage antics go on beside her but her whirling keyboards are an identifying sound of the band.
It's only been a year since they got our attention but they have worked hard in that year to make a name for themselves. They have an album on the way and that should be another opportunity for them.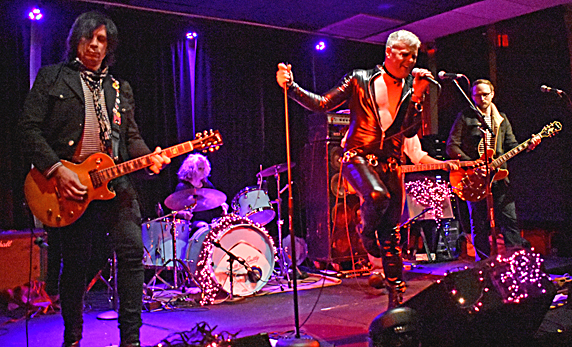 Gene Dante and the Future Starlets
Photo: Blowfish
Gene Dante and the Future Starlets have a solid identity. They are Bowie style glam. Like The Gala they make their mark visually and musically.
The band did a short intro as Gene did his theatrical entrance…in a black pleather bodysuit. It was half cat woman, half Elvis and totally outrageous. During the set he had the moves and poses to take complete advantage of his outfit.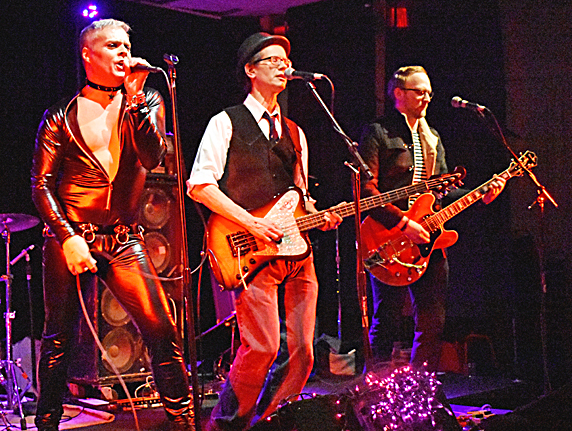 Gene Dante and the Future Starlets
Photo: Blowfish
We know a lot of the songs now, but we still forget how instantly classic they all sound. The band is top notch all around and know how to detail the songs to give them that glam shimmer. Vocally Gene goes to that dramatic power ballad tone, often in the chorus, that fits the lyrics like a glove.
When he does that in songs like: "The Love Letter Is Dead", "We Are All Whores" and "Hand Me Your Razors" his voice wraps around those words and it becomes a moment you remember. He and the band have been doing this since 2009 when they got lots of attention in the Rock and Roll Rumble. They ended up with what is one of their best, "A Madness to his Method".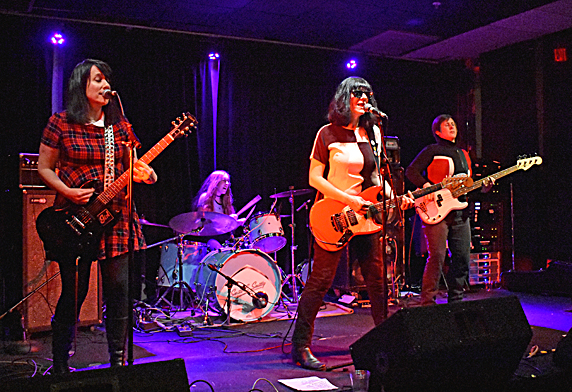 Tiger Bomb
Photo: Blowfish
After those two expressive bands it was a switch up to come to Tiger Bomb's more traditional approach. To say they play garage rock is to fall short,Tiger Bomb embodies garage rock. They seemed like a normal band of this sort… if the year was 1965. At times it seems like the stage is a movie set and you are the audience in a movie, which is all pretty cool.
They have the cool sound, they have the look and they have the knack of writing the songs. The background vocals were interesting. Some of them had even a fifties feel to them.
Mitch from Triple Thick made it his duty to show up to catch them and we heard others say the same. They get to Boston every now and then. We will make it a point to catch them more this year.
More band photos below the show listings.
---
And in other news.....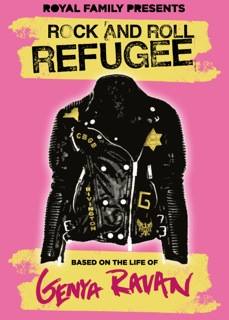 Rock and Roll Refugee is a musical based on the life of Genya Raven. The musical "follows Ravan's journey from struggling immigrant to rock and roll sensation." It's at Royal Family Performing Arts Space, Times Square NYC, through February 16, 2016. Read a lot more about it on theasy.com
In case you missed it - We did our BGN Yearly Review . As part of that we posted a few things on our Facebook page that are not on the site here so it's a good idea to hit our Facebook page to see those posts.
Also a reminder to bands out there: Club Bohemia at the Cantab is back in action. They are actively looking for bands so all you bands out there, contact them and get a show!! This is a wonderful turn of fate. Mickey Bliss is still doing thebooking. Contact them on Facebook at Club Bohemia.
Same goes for the revamped Tavern at the End of the World - so contact Natalie Flanagan on Facebook about shows there!
---
Here's some good shows coming up this week.....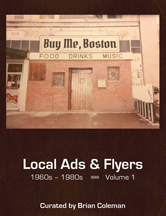 January 17 (Thursday) The next Buy Me Boston book event is at the Boston Public Library 6-8 PM Here's the FB page.
January 17 (Thursday) Boston Emissions presents: PowerSlut, Stars Like Ours, Dark Wheels at Once Somerville.
January 18 (Friday) Tsunami of Sound, Keytar Bear, The Chelsea Curve and Little Billy Lost at Sally O'Brien's in Somerville.
January 18 (Friday) The Imposers, The Radiator Rattlers, Tigerman Woah, Graneros at The Worthen Attic in Lowell.
January 18 (Friday) Billy Connors Project, Stigmatics,Thigh Scrapers at Koto in Salem.
January 19 (Saturday) A Crash Course For The Ravers show has BAABES in to chat and spin tracks. 1pm to 4pm WMFO 91.5FM (http://www.wmfo.org/popout_player.php?bitrate=256)
January 19 (Saturday) The Gobshites, Time Out Timmy, Mongorellis, Punk Band, and Jimmy Jacked at the Midway for a 3-7PM show.
January 19 (Saturday) Nat Freedberg, Watts, Justine and the Unclean, Duck & Cover at Once Somerville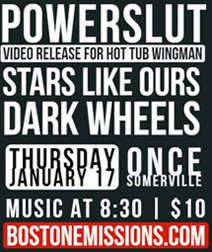 January 19 (Saturday) 77 Everythings, Rolling Stony, Thee Fightin' Fish- Club Boho
January 19 (Saturday) Franklin's Birthday Bash at Hotel Vernon w/ MK & The Morning Afters, Origin Story, Coffin Salesman, Chris Murray and more - only $5!!!
January 20 (Sunday) Midwinter MessAround at the Plough 4-6PM Check out the FB page for who is playing.
January 25 (Saturday) Stoploss, Step 13, Sonic Libido, State Of The Union at The Thirsty First Tavern in Lowell.
And further out we have......
January 29 (Tuesday) Richard Lloyd solo show at City Winery Boston
January 29 (Tuesday) Gutter Demons, The Evil Streaks, and Diablogato at Shaskeen Pub Manchester, NH
February 1 (Friday) Kid Gulliver, The Knock Ups and Muck and the Mires at Sally O'Brien's
February 1 (Friday) The Cryptics, The FUs, Secret Spirit, Triggered at UnchARTed in Lowell.
February 2 (Saturday) Welch Boys Annual Ron Holbrook Memorial Show - proceeds go to The Pine Street Inn...featuring The Welsh Boys, Ice Cold Killers, Blue Bloods and Rockin' Bob Punk Band...at Great Scott.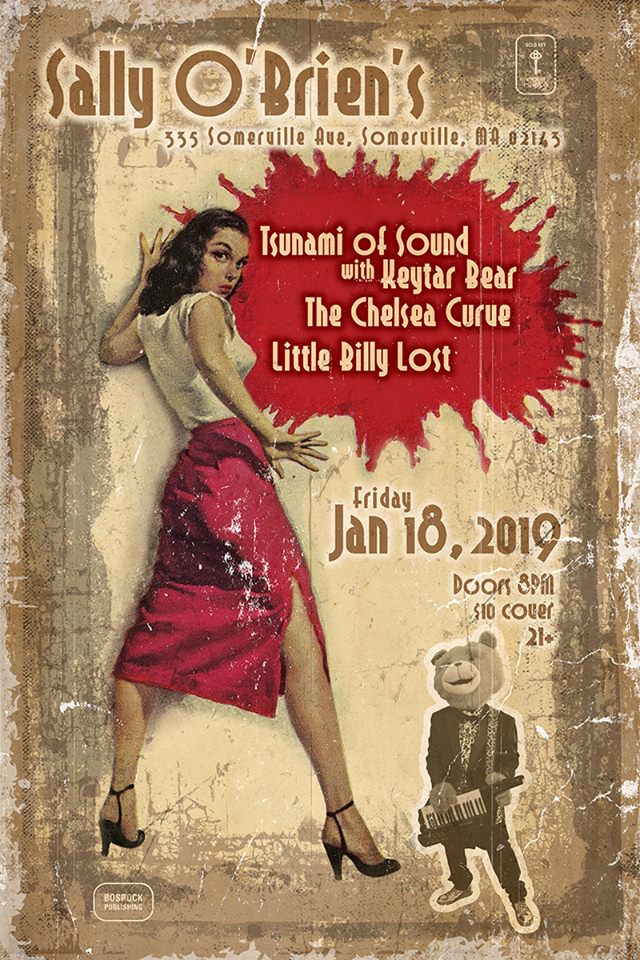 February 2 (Saturday) Benefit for the MSPCA Boston Adoption Center with Electric Street Queens, Hobo Chili, BINMEN, Dance With Leland, Inconvenience Store 3-7PM the Midway
February 2 (Saturday) Art Thieves, Bundles, Stolen Wheelchairs, Blatch at the Midway 8PM show
February 2 (Saturday) The Natty D's, Satch, CE Skidmore, Garbage Point at the Thirsty First Tavern in Lowell.
February 8 (Friday) Hey Zeus Record Release & Listening Party (Argonauta Records) with Motherboar, Cocked N Loaded, Labor Hex at Once Somerville.
February 8 (Friday) Murphy's Law at the Middle East
February 9 (Saturday) Thee Fightin' Fish, Club Linehan A Go Go, The Billy Connors Project, and Paul Caporino of M.O.T.O. at The MIdway for a matinee show 3-7PM
February 9 (Saturday) Pajama Slave Dancers with special guests Big Bad Bollocks and Gymnasium Night time show at The Midway
February 9 (Saturday) Lux Lives East Coast 2019 with The Evil Streaks, Jittery Jack & Amy Griffin, Hambone Skinny - and DJ Kogar the Swinging Ape playing Lux and Ivy's Favorites all night long!at Opus Underground Salem
February 16 (Saturday) Stop Calling Me Frank, A Bunch of Jerks, The Knock Ups, and Tsunami of Sound are at The Midway for a matinee show 3-7PM.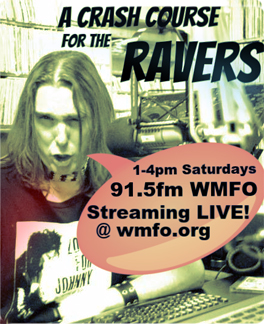 February 16 (Saturday) 2019 Dana-Farber Marathon Challenge Rock 'n' Roll Benefit Show with Sidewalk Driver, Slim Jim and the Mad Cows, and Red Red Rockit! Night itme show at The Midway
February 16 (Saturday) The Chills are at The Middle East Up moved to Feb 20 - ME DOWN.
February 16 (Saturday) DNZL, Flatlager, Loser's Circle, KCUF at The Midway for a matinee show 3-7PM
February 19 (Tuesday) Gang Of Four at Once Ballroom!
February 20 (Wednesday) The Chills are at The Middle East DOWN.
February 23 (Saturday) JPx (John Powhida) and Nat Freedberg's Devil Rockin' Band at Union Tavern which is what used to be PA's Lounge in Union Square Somerville.
February 23 (Saturday) Kid Gulliver, Circus Trees & The Hi-End at Out of the Blue Gallery in Allston.
March 2 (Saturday) Robin Lane & The Chartbusters CD Release Show. its at The Burren
March 9 (Saturday) The Gala, Muck and The Mires, The Evil Streaks, Baabes at O'Brien's - wow that is a GREAT line up!!
March 23 (Saturday) Tigerman Woah, Cactus Attack, Coffin Salesman, Nick The Barbarian at Opus Underground
May 24 (Friday) The Undertones at Once Ballroom
CONTACT US AT....misslynbgn@yahoo.com Send us your gig listings, your news and anything else ya got!! You want your CD reviewed?? Contact us for that too.
Unnatural Axe
Photo: Blowfish
Unnatural Axe
Photo: Blowfish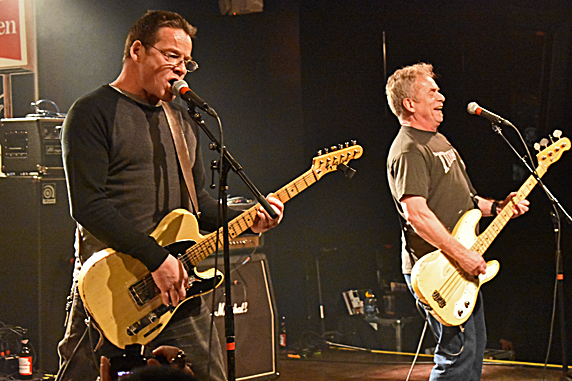 The Dogmatics
Photo: Blowfish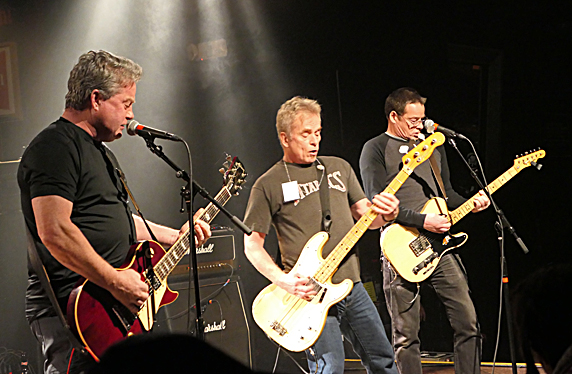 The Dogmatics
Photo: Blowfish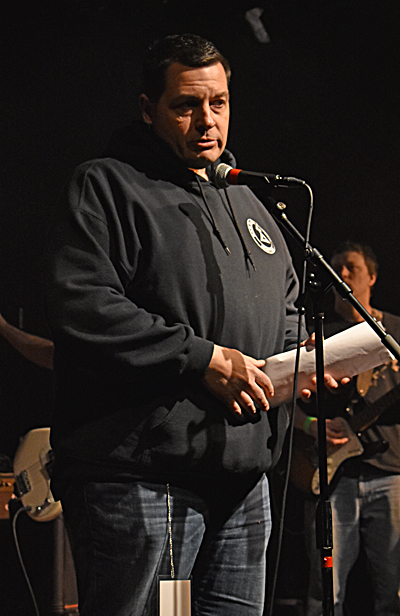 Sean McNally
Photo: Blowfish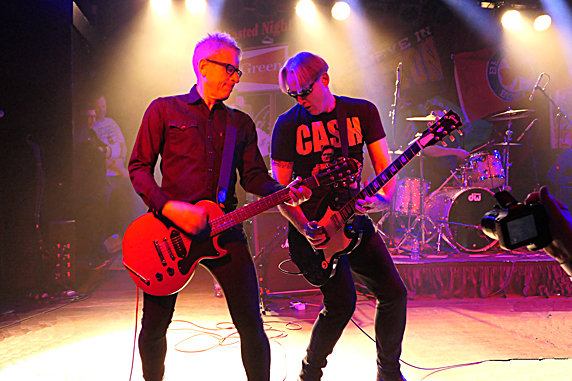 The Outlets
Photo: Blowfish
MC Dave Tree
Photo: Blowfish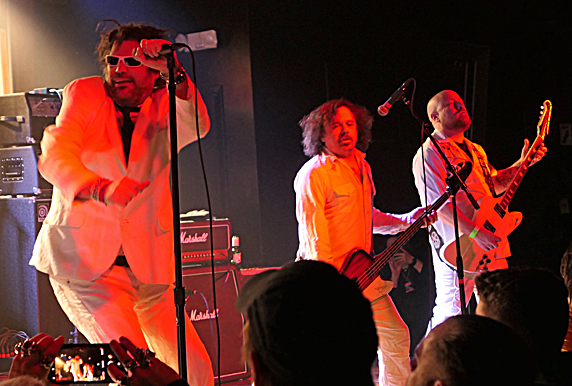 White Dynomite
Photo: Blowfish
Worm
Photo: Blowfish
Worm
Photo: Blowfish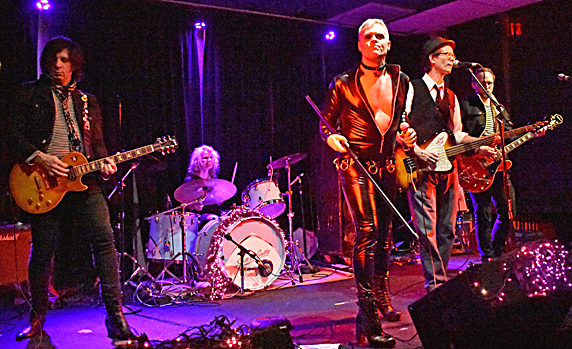 Gene Dante and the Future Starlets
Photo: Blowfish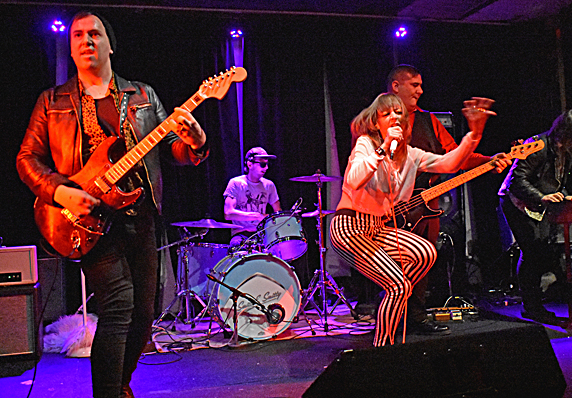 The Gala
Photo: Blowfish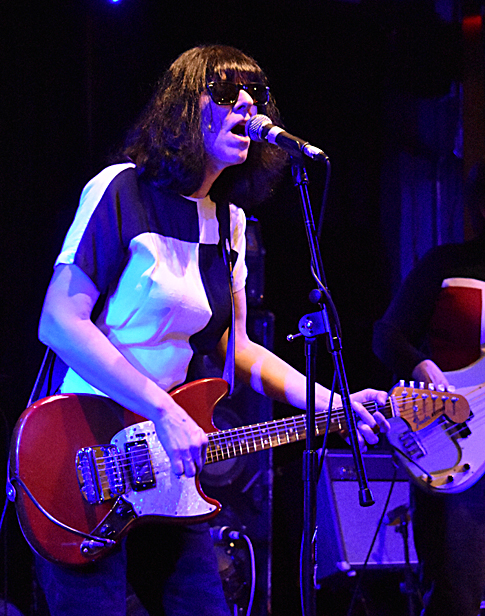 Tiger Bomb
Photo: Blowfish