The BGN News Archive
January 15, 2018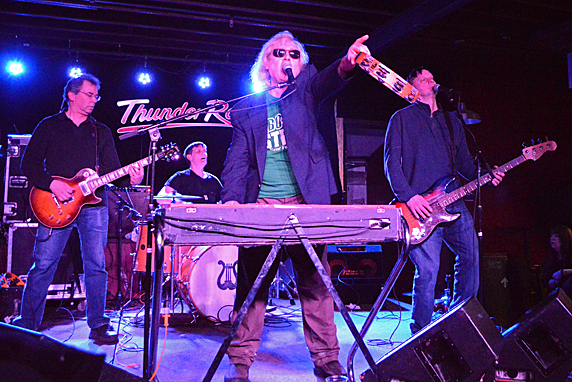 Lyres
Thunder Road has been opened about two years now but we just got there this Saturday for the Lyres, Paul Collins and Boston Cream show.
Boston Cream has a lot of buzz out there and for good reason. They're doing their own thing. We saw them in September of last year. They started with a repetitive hypnotic groove. The sparse lyrics were a salute to polyester. The two singers had choreographed moves. They were not dance moves but mostly arm movements. Here, and all through the set, their stage moves were different than your average rock moves. They're a thinking band that are giving you something new. You can see their stage moves in the first video below.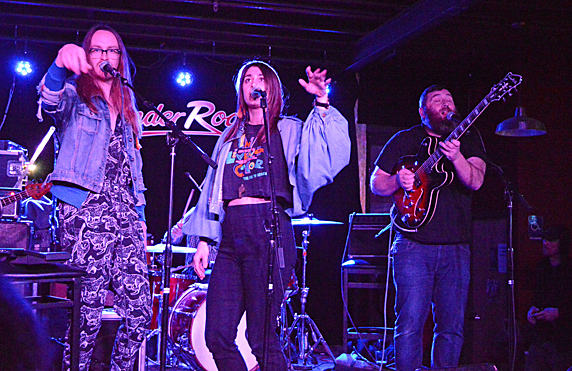 Boston Cream
Melanie Bernier the lead vocalist was always the visual center. They never diverted much from that tribal groove thing they do. The playing was on the minimal side but all nicely done. Lyre Jeff said that he picked them out because they were a fresh new group that he thought should get attention. He's right and that made for a solid three band bill.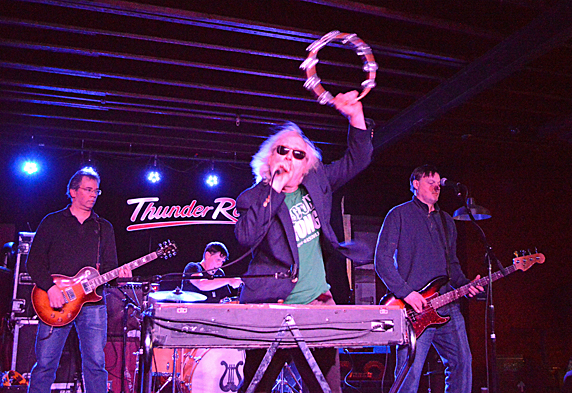 Lyres
Lyres were playing next. Jeff pledged to Paul Collins that he would get off on time. Sometimes when Lyres get rolling they can go long. Jeff was looking good and having lots of fun on stage. He was vamping as Steve was replacing a battery in a foot pedal.
All the Lyres shows we've seen for a long time have been wonderful and this was another in that line. Is there anything better in Boston punk than when those opening guitar lines or chord changes from a Lyres song become recognizable? Only maybe when the full band comes crashing in or maybe when Jeff is in full voice putting the soul into it.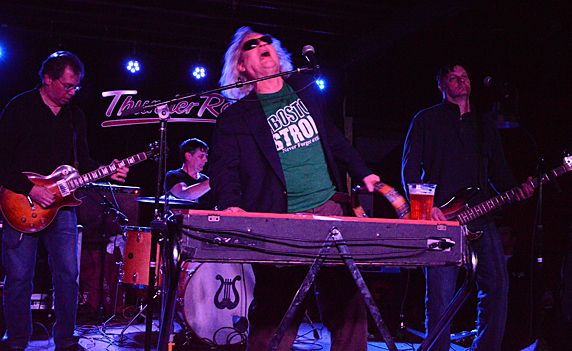 Lyres
They did lots of songs we recognized and a few we didn't. That's usually the case. No matter who you focus on in the Lyres you are rewarded with tasty playing. This is a group that make people from other cities jealous; they can't believe they we have them playing regular shows. We do and we love it. After all the best garage music you can get and the funny stage patter of Jeff, it all came to a close with "We Sell Soul". Jeff sang it with religious fervor.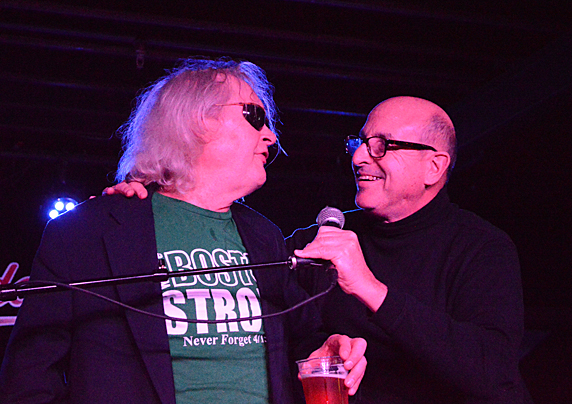 Jeff and Paul Collins
Photo: Blowfish
At the end of the set Paul Collins came on stage and hugged Jeff and was effusive in his praise for Jeff and the Lyres. Jeff reciprocated the same sentiments. It was a Lovefest up there. This was one feel-good show.
Paul Collins had the same backup band of locals that he had at the Starlabfest last September (where the Lyres played after him). On drums was Mikey Holland of the Dazies. They learned the Collins' songs on their own and are ready to play when Paul shows up. We also saw Paul in 2011 and 2016.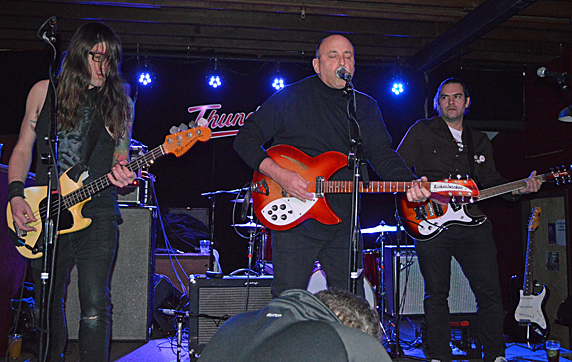 Lyres
Paul has so many insanely catchy songs he never gets to all we want to hear but it never matters. He did one of our faves " I Still Want You". He did three Nerves songs including "Hanging on the Telephone". Other times we've seen him he only did one. There was some interesting stories between the songs. The best was a run-in with Ric Ocasak of the Cars when The Nerves were on the bill with them at the Rat. Paul Collins is one of those acts that once you get turned on to them you go to every show of theirs after that. That's where we are.
The club was full but not crowded. The audience was very attentive to every group and stayed for all three bands right to the end.
Thunder Road has spruced up the old Radio club. They moved the stage to the opposite end so it's not by the door anymore - good idea. The bar and the raised seating areas are still there. I didn't go downstairs. That would have been something to check out. The sound of the band near the stage was excellent but the sound at the far end was somewhat muddy. The lesson there is to get up front at least for a while to get the correct impression of what the band is doing.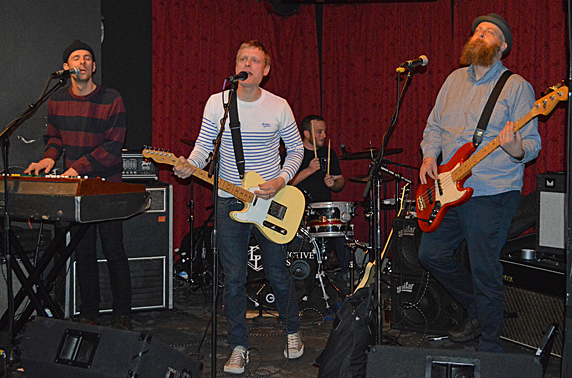 Nick and the Adversaries
Earlier in the week on Thursday we hit O'Brien's to see Nick and the Adversaries. They play a brand of pop that recalls early Elvis Costello and the Yachts. They look scruffier than they did when we first saw them in 2015. They played tighter and harder also.
They played two pop gems then did a turn into ska/bluebeat for the whole middle section of the set. That threw us off a bit not being big fans of that. Their last four songs were back to the pop and they were top notch stuff. So it was half a set of pop rock that made it worth getting out.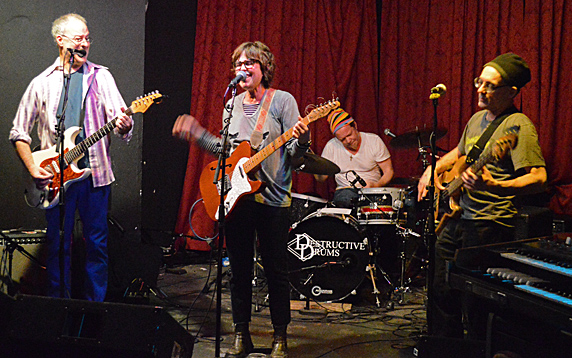 Field Day
The openers were Field Day from Boston. They had some art rock in the indie rock. The songs were well written. They artfully worked their way to the chorus that often was a big payoff. It was all around solid playing. Thalia Zedek was in the audience and said that the guitarist, Dan, was her brother. So, talent runs in that family. Their strengths become apparent on listening to their Bandcamp postings.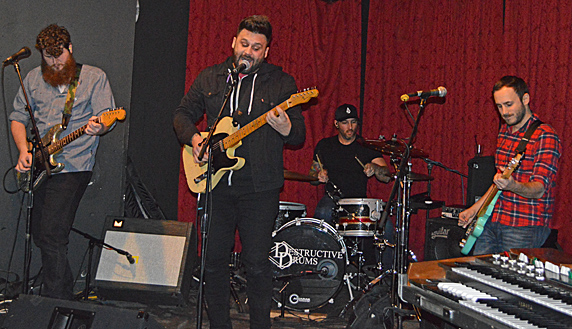 Lannen
Lannen are from Boston. They had some powerful emotive vocals and strong playing. They had an emo feel and they list Jimmy Eat World as an influence. Even though we are punk through and through this set made us stop and enjoy.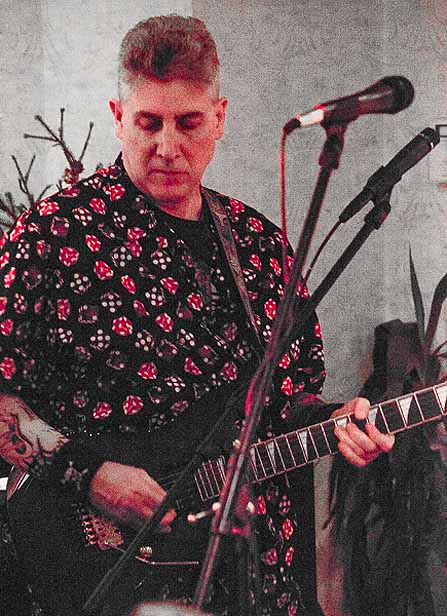 Kenny Kaiser
John Keegan took a ride out to Holliston - Miss Lyn's hometown - to catch Mick Lawless' and Ken Kaiser's new band, Mick Lawless and the Reckless Hearts at the Jasper Street Cafe. Both are Moose and the Mudbugs alum. Lawless has led the Monkeys/Nesmith homage Loose Salute for the past 12 years. He told me that those commitments left him with a slew of tunes looking for a band. So many that they are already recording a full length that they will put out in the spring. The Reckless Hearts lay down a double handful of solid newbies. They mix up the influences: British pub rockers, singer/songwriter storytelling, catchy pop-punkers and spacy floaty psych. Mick's son Derick lays some high end into his bass that allows it to cut through the two guitar racket. Doug Wedge keeps the drums clean and crisp. Kaiser never shows off - if you don't count the shirt and sleeves - but he leaves a mark on every tune. A little surf here, delay and decay there, a quick ripper with a windmill at will. The President has a full shelf of the best condiments. The Reckless Hearts don't try to kick you across the room. They will guarantee that you can bring a wide range of your friends and that everyone will have a good-rockin' time.
To see all of John's photos please click photo below.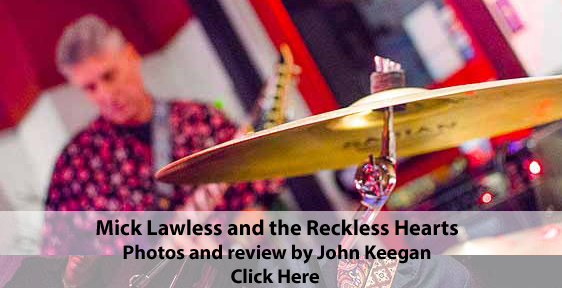 More band photos below the show listings.
---
And in other news .......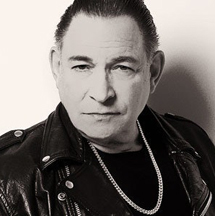 June 15 Robert Gordon is playing New Bedford? Yes, and with Johnny Barnes. Johnny Barnes and the NightCrawlers play down there all the time. The club is called The Greasy Luck Brewpub on Purchase St in downtown New Bedford. Here's the FB page for the show.
We're not just old. We are old punks. So let's act like it. The group Superbean shows us how to do it!! Check out their video. It's getting LOTS of positive feedback from us old punks!!
It seems like Somerville is getting a new ax throwing club, really ?? How about a new music venue?
Lyres have a Feb 10 show in Brooklyn.
You may be incredulous when you see the headline, "OPERA BASED ON FUGAZI STAGE BANTER," but it's true. (And the name of the show is It's All True.) It's All True is ..."An obsessive leap into 1500 hours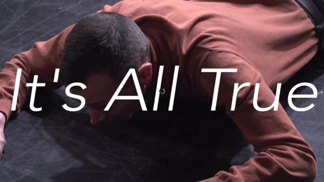 of gig detritus made from only incidental text and sounds, none of Fugazi's actual songs." Which is to say, the lyrics are based on Fugazi's stage banter. It first premiered in Norway in 2016, and played London in 2017 and it's in NYC Feb 8-25. More info and tix links here.
Harold Lepidus has become a Bob Dylan specialist since his Boston punk days. He's written much on the internet that lead to a book ( Friends and Other Strangers: Bob Dylan Examined) and now it's at the point that he will be teaching a class on Dylan in connection with Acton-Boxbourgh Community Education. It will be on Tuesdays in March. You can register for the class here.
We just heard that The Cranberries lead singer Dolores O'Riordan died suddenly at age 46 while in London for a short recording session.
---
Here's some good shows coming up .....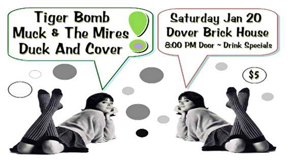 January 20 (Saturday) -Five Bands Five Bucks! Matinee at The Midway! with The Grommets, Cotton Candy, the invisible hours, Kermit's Finger, The Instamatics at 4PM
January 20 (Saturday) Muck & The Mires, Tiger Bomb, Duck & Cover at The Dover Brick House, New Hampshire. 8:30 PM
January 20 (Saturday) Punk Rock at the Chit Chat with Jonee Earthquake, The Radiator Rattlers, The Grubs, The Imposers and The Lipstick Boys at the Chit Chat in Haverhill.
January 21 (Sunday) Punk Benefit Show for American Cancer Society with Electric Street Queens, DNZL, Jerry's Got Jokes, Color Killer, Whoopi Sticks at The Midway 4PM matinee show....check out the FB page for info on the Benefit!!
And further out we have...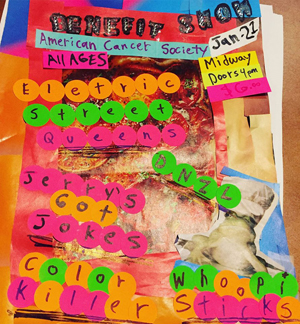 January 22 (Monday) U.S. Bombs, Wimpy Rutherford & The Cryptics, The FUs - at the Dover Brickhouse Dover, NH - Here's the FB page
January 25 (Thursday) Hambone Skinny, Psychic Dog, The Guilloteenagers at the Middle East Up
January 26 (Friday) The Melatonins, Mars, Sue's Guitar, Heather & Johnny at O'Brien's Pub
January 26 (Friday) Lonely Leesa & the Lost Cowboys, Tom Baker & The Snakes, Devil Love featuring Peter Buzelle, The Blue Ribbons at The Midway
January 27 (Saturday) Red Mantis, Silver Screams, Wrought Iron Hex & Greylock at O'Brien's
January 27 (Saturday) Il Mostro, Mercury On Mars, Uncomfortables, Silver Screams at O'Brien's Pub ,
January 30 (Tuesday) Zip-Tie Handcuffs, Julep, Stuyedeyed, Birdgangs at O'Brien's
February 2 (Friday) It's a double shot of The Dirty Truckers with Michael Kane & the Morning Afters, The Dirty Truckers (first shot), Tad Overbaugh, The Dirty Truckers (2nd shot) at O'Brien's
February 2 (Friday) The Natty D's, Idle Pilot, Psychic Dog, Squash at UnchARTed in Lowell FB page for info.directions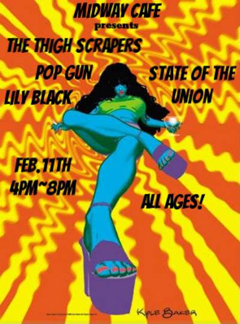 February 3 (Saturday) Isolations, Rictus Grin, WIMP, Ratz, Whoopi Sticks at Club Bohemia at The Cantab
February 3 (Saturday) Eddie Japan, Devil's Twins, Grownup Noise & Analog Heart at Once
February 3 (Saturday) Nervous Eaters, the Straight Eights and DUI at Pete's Grill (540 South Street, Quincy) FB page
February 8 (Thursday) Powerslut, Thrust Club, Leafcutter, Ski Bunny at O'Brien's Pub
February 9 (Friday) The Melatonins, The Connection, Justine and the Unclean at the Tavern at the End of the World
February 9 (Friday) The Bentmen are at Once Ballroom
February 10 (Saturday) Hudson Falcons 20th Anniversary Tour with special guests The Sprained Ankles and more! at the Midway - this is a 4PNM show.
February 10 (Saturday) The Classic Ruins, TJ Wheeler, Black Cat Road at Bayside Bowl, Portland ME. Free Show! Starts 8:30 Sharp!
February 11 (Sunday) The Thigh Scrapers, State of The Union, Pop Gun, Lily Black for an early show at 4PM at The Midway

February 12 (Monday) Rocker Zine's Rock n Roll Trivia at Once. With Brett Milano and Erin Amar. Starts at 7Pm

February 15 (Thursday) Major Stars, Black Helicopter & Henry Owings at Once Ballroom

February 17 (Saturday) Roy Sludge at Atwood's at 4Pm

February 17 (Saturday) MOTO, Crunchtime, State of the Union, Little Billy Lost & the Cocks of the Walk at Tavern at the End of the World

February 17 (Saturday) Damn why isn't this in Boston?? LUX LIVES at Koto in Salem with SPiTZZ, Evil Streaks, Tsunamibots. FB Page

February 23 (Friday) The Dirty Truckers "Best of" double shot release party with very special guests: Tad Overbaugh & The Late Arrivals and Michael Kane & the Morning Afters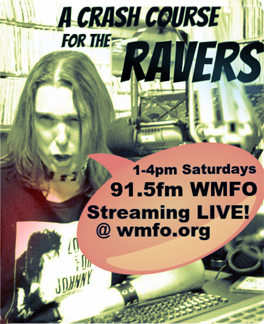 February 26 (Monday) Thrust Club, Electric Street Queens, Sister,Disco Nap at Charlie's Kitchen
February 24 (Saturday) A Bunch of Jerks, Muck & the Mires, Jay Allen & The Archcriminals, Hambone Skinny at The Midway 9PM show
March 2 (Friday) Damon & Naomi, Thalia Zedek and Kevin Robert Thomson at The Lily Pad Inman Square 7-10PM
March 2 (Friday) Fat Togue Music presents! .Black Helicopter, Blackletter and more TBA- check the FB page for updates.
March 3 (Saturday) Peter Perrett (of The Only Ones) at The Brighton Music Hall FB page for tix etc
March 10 (Saturday) Carissa Johnson Talk Talk Talk Album Release at Great Scott also on the bill: The Organ Beats, Lady Pills, and Watts!
March 14 (Wednesday) Clan Of Xymox and Stoneburner at Once
March 14 (Wednesday) Dropkick Murphys, Agnostic Front & Bim Skala Bim at The State Theatre, Portland, Maine FB PAGE!
March 16 (Friday) Bonecrusher, The Welch Boys, The Blue Bloods, The Ice Cold Killers at The Midway
March 18 (Sunday) State of the Union, The New Frustrations, Billy Connor's Project, Far Above The Ground at The Midway- this is a day time show 4Pm
March 23 (Friday) Barrence Whitfield & the Savages at the Middle East!! FB page and tix link here.
CONTACT US AT....misslynbgn@yahoo.com Send us your gig listings, your news and anything else ya got!! You want your CD reviewed?? Contact us for that too.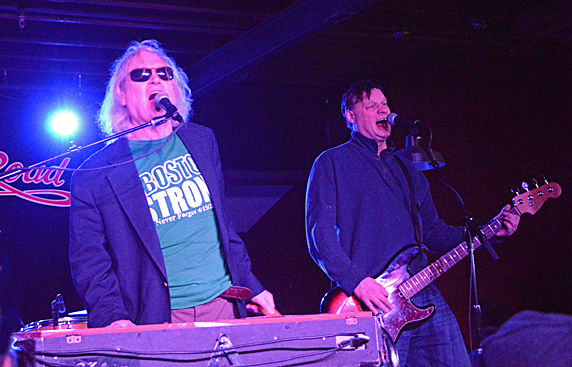 Lyres
Photo: Blowfish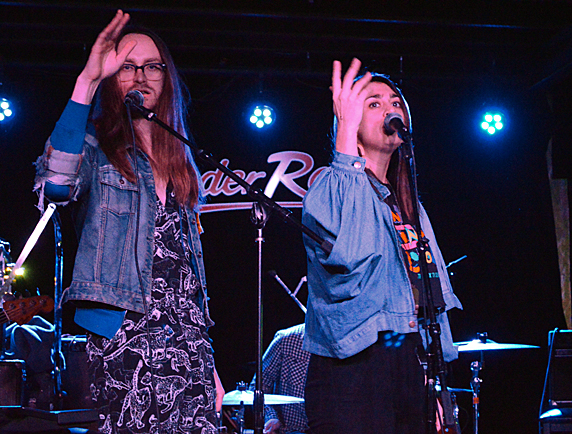 Boston Cream
Photo: Blowfish
Paul Collins
Photo: Blowfish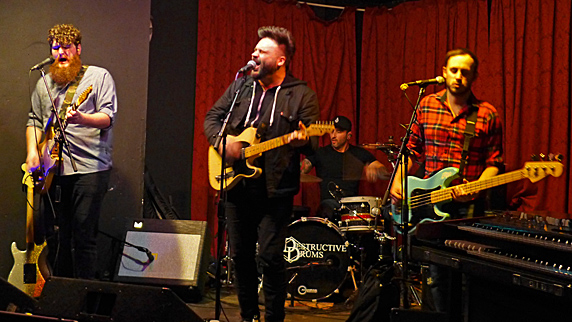 Lannen
Photo: Blowfish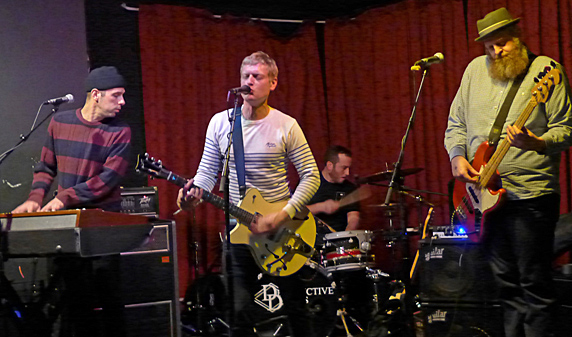 Nick and the Adversaries
Photo: Blowfish
Field Day
Photo: Blowfish