The BGN News Archive
January 16, 2017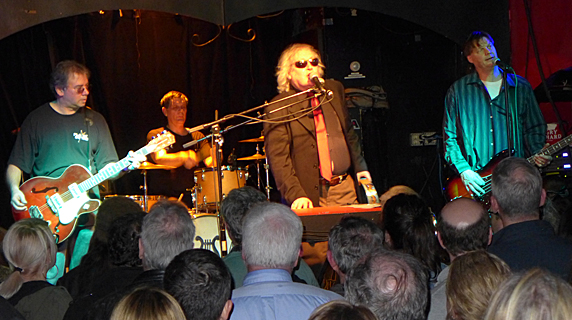 Lyres
Photo: Blowfish
We did a three day stretch this week; Thursday, Friday and Saturday.
Thursday was a show at O'Brien's. There were about 30 people there and they were involved with Above the Mendoza. I love the name which expresses a concept to think about, and I quote: "The Mendoza Line is an expression in baseball in the United States, deriving from the name of shortstop Mario Mendoza, whose mediocre batting average is taken to define the threshold of incompetent hitting."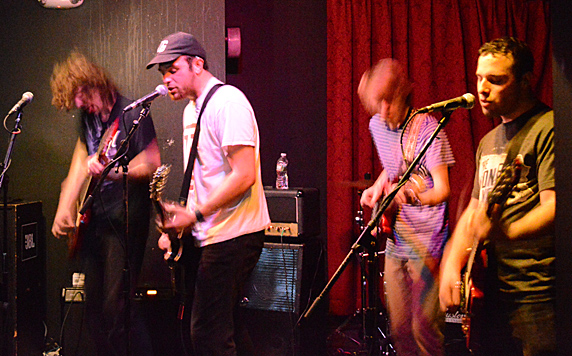 Above the Mendoza
Photo: Blowfish
They are from Philadelphia and describe themselves as punk and post punk and I would throw in an emo element in the vocals. They exuded friendliness along with tons of energy onstage. You could see they were a close knit group with the amount of interaction they had on stage. They would just bounce with excess energy at points as they smiled and generally looked like they were loving every minute of playing and being on stage.
Glamour Queen was a song that stood out. It sounds good in their recorded version too. Bandcamp.
Their other song Home on that page is also worthy of a listen.
It was good music and an involving stage show together that made a memorable set. The band stayed around and supported the rest of the bill; a nice group of guys.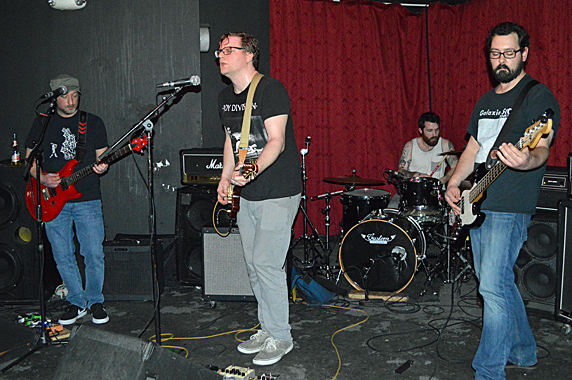 Arlen
Photo: Blowfish
Next up Arlen (from Lowell) also describe themselves with post punk along with marking Joy Division in the list. They had that moody darkness in the music. They all were excellent players. The guitarist somehow had a sharp yet airy sound. It was an effects laden tone that hung in the air and gave every song the smoldering ambience that was their signature sound.
The group sound was thick, helped by a busy drummer and through that the singer was still able to be heard. His voice had a pleading tone at times. I was swept away by their song Hear Me Out. You can hear what I heard in their recorded version. He puts the emotion in the words, "Hear me out." I caught the mood and did not want the song to end. Their ability to put the emotion into their material is what makes everything click.
Week after week we've been catching mid-week shows at O'Brien's. The person booking this place has good ears.
Friday it was a must not miss gig at the Middle East up with Lyres. They've been consistently at the top of their game. The short story of the night is that they were great again.
the modifierS
Photo: Blowfish
The modifierS were openers. They've been around for a long while. They put out a straight forward guitar blast. It's all mid-tempo and solid. They do a good job and you get sucked into the songs time and time again. A good example is I Like Her Band...the chorus will hook you. They talk about a waitress in Kenmore Square in the lyrics. ReverbNation.

Lyres again prove their drawing power. The Middle East Up, if it wasn't sold out, was close to sold out. A lot of familiar faces were in the crowd. Jeff started the show wearing a black wig. It put the twist on the halo of blond hair that we're so used to. Getting right to it they play Don't Give It Up, Now. If they stopped right there it would have been enough. It was pure Lyres. No one else gets close to this. They've been doing this for 40 years and it was great on day one and only more important and impressive now.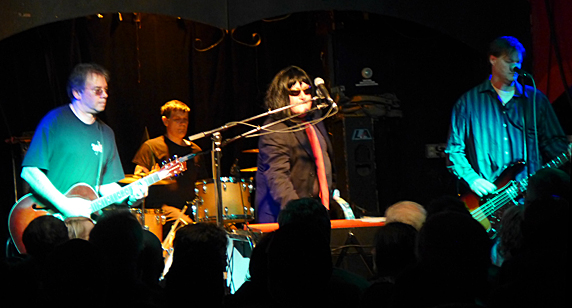 Lyres
Photo: Blowfish
Jeff's voice was soulful and strong with the occasional scream. There's something about those screams that embody the id of rock. The organ was branding everything with the Lyre's sound. Steve Aquino was in exceptional mode. The sound guy had every instrument clear and you could catch Steve's chording. It's just garage rock style…I say just! Sometimes simple is the hardest thing to play. He has the right tone and knows how and when to strum or chop the chords and where on the neck to play them. It was a lesson if anyone wanted to take it in.
| | | |
| --- | --- | --- |
| How Do You Know | Help You Ann - Soapy | Don't Give It Up Now |
The set continues with their hits and less familiar nuggets. Jeff was all business as they played I'm Your Guy, Help You Ann, Soapy and How Do You Know. This was one hour of uninterrupted playing. This is what we live for. It ended with I Really Want You Right Now.
The Charms were closers but we missed them.

Saturday we knew that Andy McBain in the guise of Andy California was going to be on Crash Course for the Ravers. Brian Young sort of dared us to show up and face the guy who has already crash coursed with Blowfish. So of course....we go.
Andy California
Photo: Blowfish
Andy had his two small amps. One for his guitar and one for the microphone duct tapped to the guitar. On air (or in person) he's mild mannered but the second he's plugged in, he makes a growl like a beast rising from the primeval ooze and he's off. A video of Andy in the studio.
We naively thought that this being radio the Andy would sit and play....wrong! He stands up and sure enough he's into his routine and roaming around. He does his quirky shuffle step and slowly but surely heads to Marie. Poor unsuspecting Marie. She got a dose of Andy luv.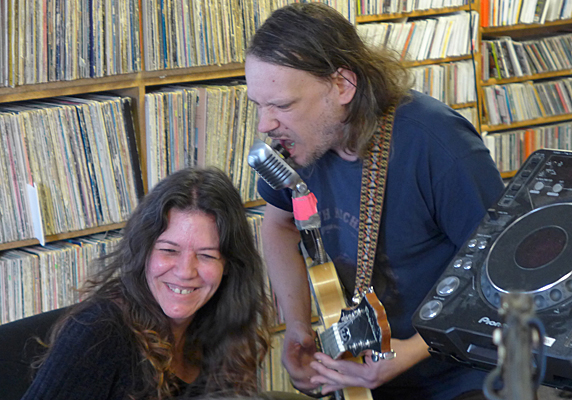 Marie and Andy California
Photo: Blowfish
Brian was behind the console and Miss Lyn was, not by chance, tucked into an inaccessible corner. Blowfish had a target on his forehead...as usual. It was mash time. Photos tell the story.
Andy crush
Photo: Miss Lyn
We learned little about Andy. We're planning to do an interview for the BGN to learn more. He's bit of an enigma.
The ACCFTR gang read the BGN concert report for the upcoming week as a feature on the show at 3:45pm. They do a great job on that. They asked us to do it this week. It was a fun time and we all had a blast!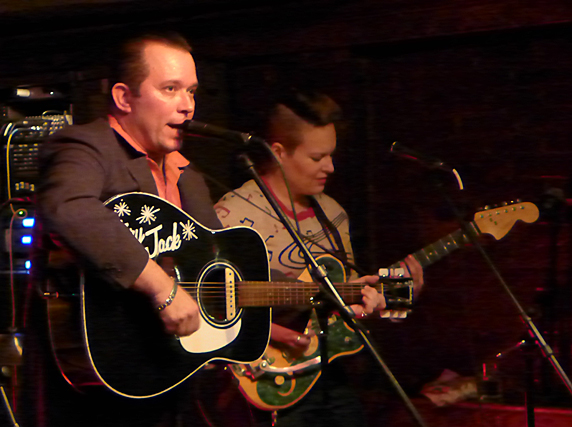 Jittery Jack
Photo: Blowfish
But...that still wasn't enough so we headed to Atwoods where Jittery Jack was having a record release party. For us this was a repeat of our Cranktones show last September. We even had the same meals; again great. Jittery Jack's personality fills the room and Miss Amy plays the best rockabilly guitar ever. The crowd is friendly and the place was full. It's a neighborhood bar with a big heart. January 21 they have the Cranktones again. If you're looking for a way to chase away the winter blues…this is the place.
And in other news.....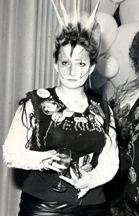 Rick Harte says: The new 7 song Real Kids record is almost done. It will be mastered at Sterling Sound on February 2nd. The Real Kids show in Worcester was cancelled. Turns out John got bonked on the head by a rouge car part and had a concussion. He's doing OK though.
Is there a new Store 54 in the works? There's some rumors out there.
UK paper The Sun takes a looks at some notable punkers then and now. They call if "Granarchy in the UK". HA! That's hilarious and fitting!!
Kurt Baker is currently touring Europe but, we hear, is returning home for some shows..... home for Kurt would be Portland, ME. There's gonna be a gig in March with his buds The Connection and Kris Rogers; that's nirvana for pop fans. We're hoping there's also a Boston show involved.

Here's some good shows coming up .....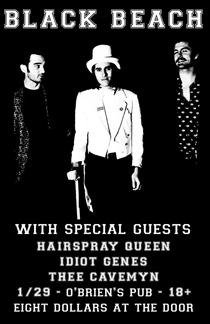 January 17 (Tuesday) Salem Wolves and Miss Amy Griffin (The Raging Teens, Jittery Jack) will be making magic at Atwood's Tavern
January 19 (Thursday) Hey its a Punk Rock Pizza Party at O'Brien's with Endless Mike and the Beagle Club, Retirement District, Saccharine and Puppy Problems...and there's Free pizza at the show!
January 19 (Thursday) Aeronaut Brewery's 2nd Annual Beers for Books- join Room to Read and Aeronaut as we help raise money for literacy and gender-equality in education in the developing world. The event will feature a live jukebox! Here's how it works: 1) Request a song: 1 song = $1 = 1 book
2) Drink: delicious Aeronaut beer, 3) Support: a great cause! There will also be a raffle and a silent auction including gift certificates to various local restaurants, trinkets from Nepal, and more. 100% of proceeds will go directly to helping children and girls with Room to Read! Sounds good to us!
January 20 (Friday) The 50th Anniversary of the Boston Tea Party opening is at the Verb Hotel. Friday Jan 20 from 5 to 8. " Join the Music Museum Of New England for a commemoration of the Tea Party 50th anniversary on Friday, January 20, 5-8pm, at The Verb Hotel and Hojoko Japanese tavern, 1271 Boylston Street (opposite Fenway Park). Whether you went to any shows at the Tea Party, or wish you had, let's all get together to celebrate good music and good times, and to enjoy the rock memorabilia at The Verb."
January 20 (Friday) The Lights Out, Gene Dante & The Future Starlets, Zip Tie Handcuffs and The Sun Lions at the ArtsEmerson Black Box series at Emerson/Paramount Center, Jackie Liebergott Black Box Theatre - 559 Washington St Boston (Link)
January 21 (Saturday) Vibrate with the Cranktones at Atwood's Tavern (Cambridge St Cambridge) this is a 4-6PM show. And stay for dinner the food is awesome at Atwood's. We really enjoyed their last show there.
January 21 (Saturday) HayBaby, Creaturos, MiniDresses and Jack as part of the ArtsEmerson Black Box series at Emerson/Paramount Center, Jackie Liebergott Black Box Theatre - 559 Washington St Boston (Link)
January 21 (Saturday) Roy Sludge is doing an early show at Sally O'Brien's 6-8PM
And further out......
January 24 (Tuesday) Adam Ant is at The Wilbur
January 25 (Wednesday) A Wish For Fire, Bird Language and The Darker Hues are at O'Brien's
January 26 (Thursday) Joanie Lindstrom's big bash has been postponed but she will do an extra long show on her 30th anniversary on WMBR. She will be on from 8am to 2 pm...and that's 88.1 FM.
January 27 (Friday) Ska and Punk night at the Midway with Hobo Chili, Stray Bullets, Losers Circle, Crime Spree and Gant!
January 29 (Sunday) The reskedged Rockerzine Trivia Night is happening ....Join Erin & Brett for some fun times at Zuzu... 6:30 - 9pm FB page
January 29 (Sunday) Black Beach, Hairspray Queen, Idiot Genes and Thee Cavemyn at O'Brien's
January 29 (Sunday) There's a CREIGHTON ST. FIRE BENEFIT SHOW at the Midway ,The Hi-END will be playing Here's the FB page
February 4 (Saturday) Oh this is gonna be a GREAT show!!: OC45 (CD Release/Tour Kickoff), On The Cinder (NY), Fast Times and Back Door Key (it's also their EP Release) at The Midway (FB page here)
February 9 (Thursday) we love this stuff its always fun!! Karaoke Underground at O'Brien's in Allston. The Karaoke Underground is for punk and indie rock fans who love to scream, yelp, croon, bark and sometimes even sing their favorites from artists like Black Flag, Modest Mouse, the Misfits, Cat Power, the Pixies, Dead Kennedys, Sleater-Kinney, Pavement, Joy Division, Fugazi, Guided By Voices and many more. It's video karaoke with onscreen lyrics, a stage, you -- and the chance to sing great songs you just can't find anywhere else. Full catalog of songs here.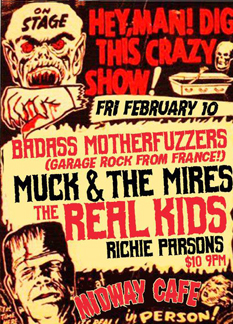 February 10 (Friday) BadassMotherfuzzers, Muck & the Mires,The Real Kids, Richie Parsons at the Midway
February 10 (Friday) The Upper Crust, Watts and Petty Morals are at Great Scott
February 11 (Saturday) Tavern at The End of The World Presents: Trusty Sidekick, Fireking, and The Trick Wallace Trio
February 17 (Friday) Lux Lives East Coast is coming again -this event is in Salem at Koto, on the bill are Thee Fabulous Itchies, The Evil Streaks and The Nebulas. Here's the FB Page Lux Lives is a chance for Bands and DJ's and fans to come together to celebrate the life of Lux Interior. Since it's inception, Lux Lives East Coast has raised over $10,000.00 for Lux and Ivy's favorite charity Best Friends Animal Society. This is a GREAT event all around!
February 18 (Saturday) DJ Easy Ed presents The Crank Tones plus Easy Ed's Record Hop! for an early show (4-8PM) at The Midway
February 18 (Saturday) and for the evening show at The Midway we have Amos Fortune, Endation, Lotus Ignite and GrandEvolution
February 25 (Friday) The Billy Connors Project is @ the Cantab with Corrola Deville and Jimmy Bez.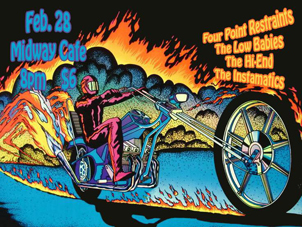 February 28 (Tuesday) The Hi-End, Low Babies, Four Point Restraints, and the Instamatics are at the Midway Feb 28 Here is the FB page

March 3 (Friday) Robyn Hitchcock at Once

March 8 (Wednesday) The Sheckies, Mongorellis, The Prozacs, Meat Depressed at Koto in Salem

March 9 (Thursday) A benefit for Outside the Lines (the special needs art studio) at Thunder Road. Barrence Whitfield & Dennis Brennan will be playing.

March 10 (Friday) Agent Orange, The Queers, & Guttermouth at ONCE Ballroom FB page

March 25 (Saturday) 45 Adapters (from NYC), Blood Stained Brindle, The Damn Garrison and Quiggs

April 1 (Saturday) State of the Union, The New Frustrations, The Stigmatics and The Only Things doing a GREAT early show (4-8PM) at the Midway

April 1 (Saturday) The Upper Crust, Sidewalk Driver and When Particles Collide as part of the ArtsEmerson Black Box series at Emerson/Paramount Center, Jackie Liebergott Black Box Theatre - 559 Washington St Boston (Link)

May 29 (Monday) Teenage Bubblegums, Jagger Holly, Mongorellis, Jimmy Jacked at Opus Underground in Salem

June 1 & 2 (Thurs & Fri) Reverand Horton Heat at Once in Somerville

CONTACT US AT....misslynbgn@yahoo.com - Send us your gig listings, your news and anything else ya got!!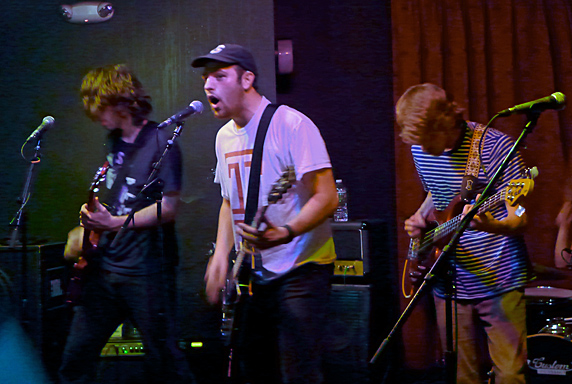 Above the Mendoza
Photo: Blowfish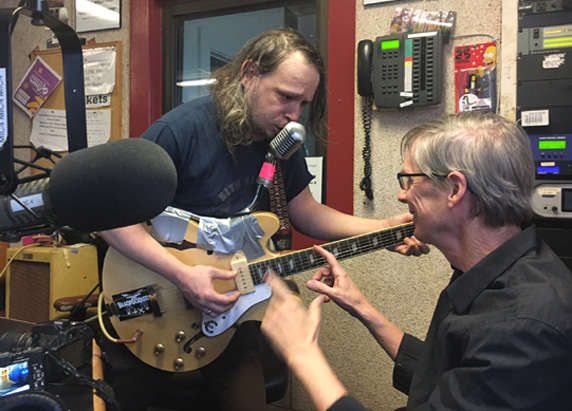 Andy and Blowfish
Photo: Miss Lyn
Jittery Jack
Photo: Blowfish