The BGN News Archive
January 18, 2010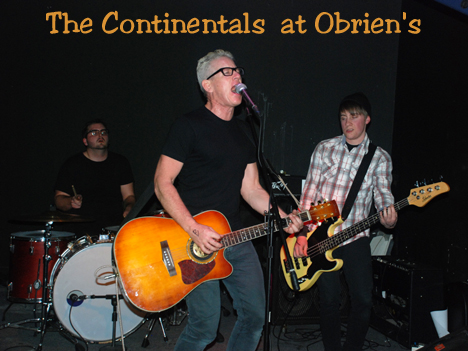 OK, what a Friday night!! The BGN staff went out carousing and ended the night at O'Brien's to see Bomb Squad Larry and Continental, Rick Barton's new band Blowfish says "Bomb Squad Larry's lead singer Pete Soszynski, was the Freeze's bass player and this band is basically put together to feature his songs and good they are. They have done some recording but with only one real rehearsal Bomb Squad Larry did this gig and they were GOOD. They are all seasoned players but still these were not simple bang 'em out songs, they had good arrangements. On guitar was Pete Cassani from the Peasants. He is always prepared and knows his stuff. Tonight he has a nice crisp yet thick sound with some long sustaining action going on. There are songs that you like and know are good on the first listening! They have a CD of a few songs that WMBR is playing. Outside the club we asked Pete if they were going to play again and he wanted to it seems but no gig is lined up now."
Editor's note: their new cd is a 10 song release "Love, Lust & Beer" and you can download or buy at here!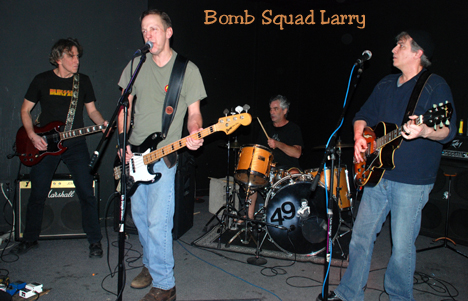 and .... well next up was Continental, we're all afire here about what we saw Friday night! you know I just love watching Rick Barton up there, he's so cute...and as BeatGirl mentioned, his trousers are nice and tight!! Way to go Rick! but but I gotta say...that Barton blood has something WILD and crazy in it!!! whew!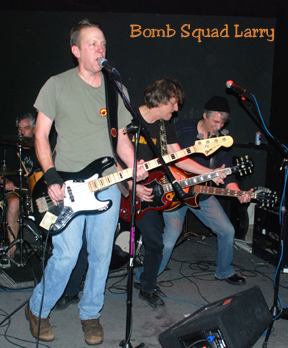 ...Blowfish writes: "Looks like Rick decided to front this effort himself. We were surprised to find out that Rick's son was the bassist and he could play just fine. Another surprise was Rick playing an acoustic guitar all night. He was playing it so hard he started bleeding from song two but never softened up on the strumming. There was some of the Irish influences here and some alt-country feel to some of it complemented by the very clean picking by the lead guitarist. it took me a few songs to get used to the acoustic feel of the set but the songs were lyrically strong and Rick's intensity is transfixing at times. Seems like he wants to will the song, the sound and himself off the stage with power. It makes a dramatic impact that most groups lack. There was a few times when the chorus of a song would hit a groove and Rick would really be belting it out and one wanted that moment to go on and on. All and all a set to remember. I hope Rick gets this band out there a bit and people get to hear these songs.
BeatGirl sums it all up perfectly with "Friday night we headed over to O'Briens to catch Rick Barton's new band Continental. Whew doggie, Uncle Jed, Country Rock don't get any better'n this! Rick is a growling dervish of a frontman who knows how to own a stage and watching his back is a buncha young guys with skills beyond their years. Kyle on drums and Stephen on bass are solid, solid, solid while Zack picks out licks that would make Gram Parsons weep. An upbeat Dylan-esque number called "Wrecking Ball" was the big crowd fave of the evening. Take my word, these guys are going places. Get out and catch Continental NOW!" and BeatGirl is SOOO right about that!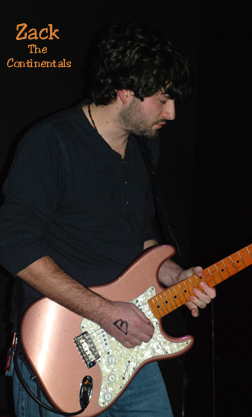 And Saturday January 23rd there are some excellent shows out there.....1) The Middle East Up with Bring The Knife (ex Destruct-A-Thon), Ashers, Razors In The Night, Motherboar, August Spies and Hannaford and The Heartstoppers
2) over at The Baseball Tavern in the Fenway, Jay Allen and The Arch Criminals are having a CD release party....it's gonna be a fun night and what an awesome bill! , starting at 7:30PM, food and then bands around 8:15 startin' out with The Wynotts, then the night will include Jay & The Archcriminals, as well as Muck & The Mires, 0700 Club, Lenny Lashley and Friends, The Dirty Truckers and Drago.
and of course 3) Nancy Neon Night at the Cantab Saturday Jan 30th with LSD Enigma, The Varmints and a special set by The Crybabies...I say that only because they hardly ever play out so check 'em out this time!

For you Monday nighters there a good show at Charlie's Kitchen on Monday January 25th: with Tenafly Vipers, The Spoilers, The Furiousity
And looking into February... on Friday Feb 5 Doggfight U.S. , The Acro-Brats and Buried In Leather (who don't play around much anymore so you should catch this show) are at O'Brien's in Allston
also coming in February: Jonathan Richman is doing 3 shows (3 nights) at The Middle East Upstairs!!
And a Feelies reunion in March!
And don't' forget The Rock n Roll Poster Exhibit at Space 242 with over 200 posters on display from many well known poster artists and for bands like Beastie Boys and Bad Religion. Space 242 is very cool, run by the folks at the Weekly Dig and easy to get to , right off Harrison Ave in the SOWA district....check out the link above for times and directions! Runs through January..
Ok...
you can email us at: Miss Lyn email......