The BGN News Archive
January 19, 2015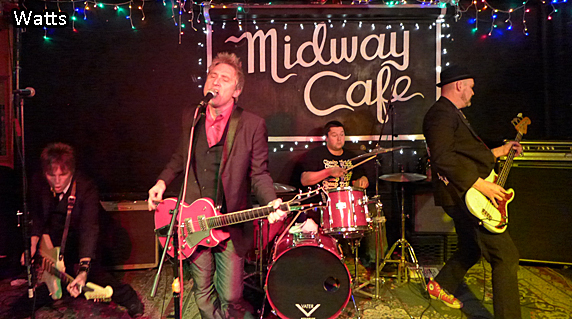 Icy roads stopped me Thursday and no parking in Central Sq on Friday put the kibosh on that night. That left Saturday at the Midway with Watts headlining. I was shocked to find how few people were there. Everyone seemed to know someone who was at the Sinclair for Sidewalk Driver. That's a lesson how those mid-range clubs like Royale, Sinclair, ME Down and the Brighton Music Hall can affect the regular club scene.
I just missed Kris Rogers and the Dirty Gems. I saw him a month ago and would have loved to see him again. Kris and his cohorts from Portland have been the highlights of the Underground Garage for weeks now.
Love Love put in an interesting and well-crafted set. Their own site nails what they do aptly, "sometimes rootsy, sometimes psych-country-soul, sometimes straight out rocking. " I'm a rock guy and this got too country for me but there was no denying the talent all around. The guitarist played with taste and had memorable riffs and solos with immaculate tone. They also brought up two horn players that dropped in fine solos. There are people who would love this, where were they?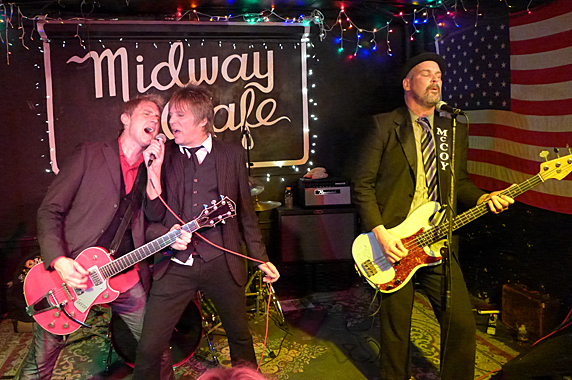 This was Watts CD release party even though the release came out a little while ago. It's getting good reviews and I've been hearing it here and there on the radio and it sounds big and rocking. We were relating our 'first time I heard Watts" stories before the set started. Mine was at the Abbey. I heard one song and thought, 'gee, that was good" then the next song I thought the same and you know that went on for five songs. They had it all together at that point.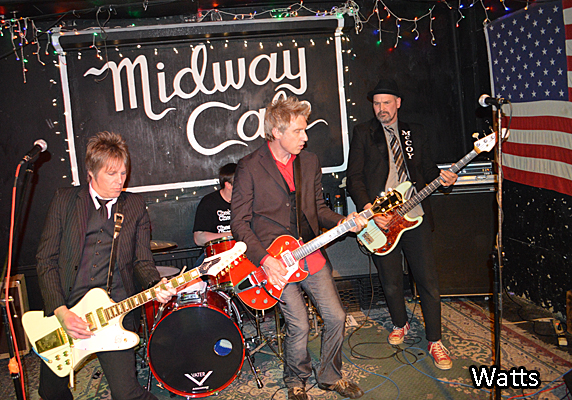 Those initial songs have always been my favorites but this new batch is going to change that. The crowd might not have been big but they were vocal and they were upfront and shaking for the whole ear ringing, party time, good feeling rock show. Somewhere Watts got their formula and they just whip it up every time they play. It's no fail and it feels so good. They just press your buttons and you give in to it gladly. I had a permanent smile on my face the whole time. They played the new songs and they fit in with the old songs for a full set - no duds. I was pumping my fist with everyone else yelling 'Radio Radio" during the song Radio Radio. It was so fun. This was a combination of good songs and a good time. Watts were talking of their next gig in early February. We'll be looking for that.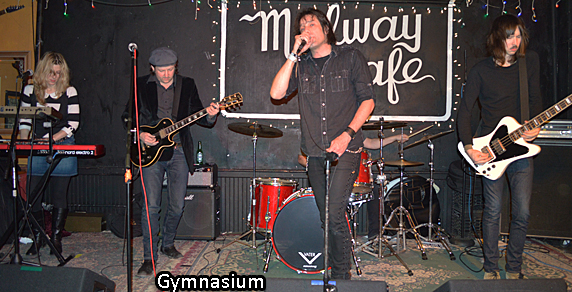 I've heard lots of people talking about Gymnasium for a while but never got a handle on them. When I saw Charles Hansen walk on stage that perked my interest. He's a sign of quality. I didn't know he taught at Berklee. The band plays early 70's style rock. They really capture the feeling of the era. It's like Dazed and Confused but done with music. Then they go another step by enhancing it. They do this with the details in the songwriting. All the plentiful riffs are tweaked. They're just a bit more melodic or more complicated. The whole group contributes to this but I was transfixed with Hansen. His fingers do a ballet over the fret board. He's fast with perfect form. Everything he plays flows naturally. It's a joy to hear and see. The songs are catchy. Rod Van Stoli as vocalist is perfect for this. The drummer broke his high hat but just played on making the most of it. He gets points for that. Some of the best moments were when Melissa Gibbs' keyboards came to the fore and the resultant mix was giving me 70's flashbacks big time.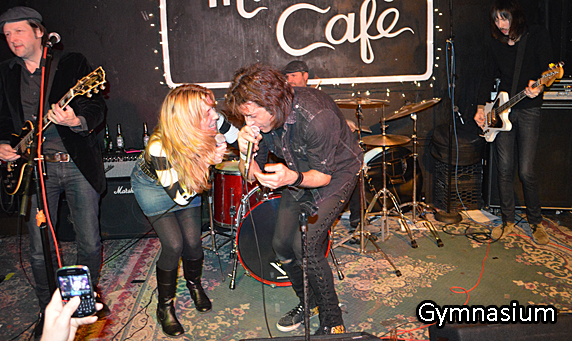 In other news -The Rosebud is now booking bands again. That's good news. Of course the atmosphere there won't be like the awesome place it was before but.......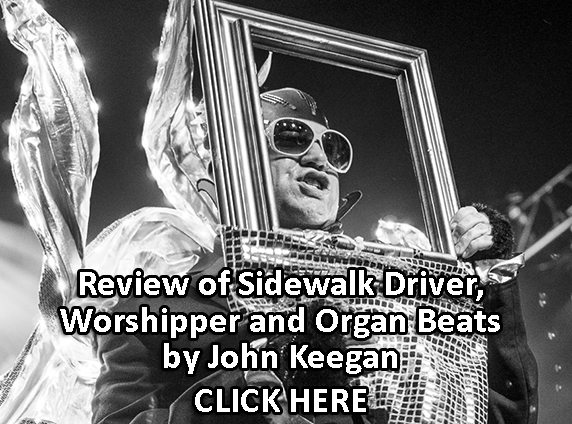 Now for what's coming up this week for some excellent shows ......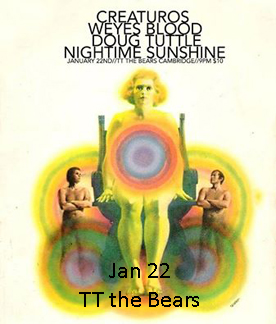 January 22 (Thursday) at TT's there's Creaturos, Weyes Blood, Doug Tuttle and Nightime Sunshine
January 23 (Friday) a very Punk show at Club Bohemia at The Cantab with The F.U.'s, Urban Waste, Notox and Middle Son.
January 24 (Saturday) A great punk hardcore oi matinee show (4-8PM) at The Midway with Rat Trap, Blastmat, Barfight Champs, Pus and Aftermath. this is an all ages show.
January 25 (Sunday) - Fireking doing their residency at The Midway. This night they have The Wrong Chaneys on the bill with them.
And coming up beyond this week there's....
January 29th (Thursday) We has a lot of fun at The Late Risers Summer Party playing trivia a year and a half ago. They are going to do it again at The Independent . The BGN team got trampled last time and we're looking to save face this time.
January 30 (Friday) - Here's another Endation gig!! We are blown away by them every time we see them. So, at O'Brien's we have Bent Knee, Something Like A Monument, Left Hand Does and Endation - don't miss these guys they are amazing!
January 30 (Friday) Kingsley Flood headlines at The Sinclair along with The Grownup Noise and The Lawsuits
January 31 (Saturday) OK wake up early and get over to the Sinclair for a Punk Rock Aerobics class at 10AM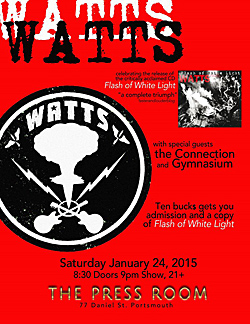 January 31 (Saturday) there's a killer ALL DAY show at The Midway...Mark Lind presents Boston's Burning 2. So Show One- 4PM All Ages features: The Welch Boys, Hudson Falcons, Burning Streets, Diablogato and Live Nude Girls playing between sets. Show Two - 9PM 21+ features: Stray Bullets, Hudson Falcons, OC45, New Red Scare and Art Thieves. It's $16 for an all day pass or $10 for a single show.
January 31 (Saturday) at Sally O'Brien's conveniently located in fabulous Union Sq Somerville turns into Sally's A Go Go - Muck and the Mires, Tsunami of Sound and The Shambolics. Fun fun!
January 31 (Saturday) Adja The Turkish Queen is doing a record release show at The Plough and Stars. This will be a great intimate place to see Adja perform!! Also on the bill are Anubis Pop and The Freeways
January 31 (Saturday) Classic Ruins are at In a Pig's Eye in Salem. check the FB page
January 31 (Saturday) down in Providence at Dusk are Paraplegics, NoTox, Monsignor Meth, Deathstate & Creeps
and its only $5!!Here's the FB page
February 1 (Sunday) Starts the Swindlers' residency at the Midway and on this day they have Charlie Dont Surf.
February 2, (Monday) Tigerman Woah!, Cactus Attack and the Radiator Rattlers are at Opus Underground in Salem, MA
February 5 (Thursday) The Upper Crust and Watts are at Johnny D's in Davis Square.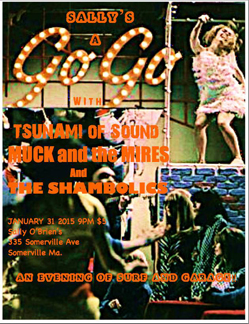 February 6 (Friday) There's a Winter Rock Extravaganza at the Greek American Social Club in Union Square with The Eric Barao Band,

Claws that Catch, Right on Red and Soft Pyramids
February 7 (Saturday) It's Michael J Quirk's Birthday Show!!! at The Granite Rail in Quincy. and the night goes like this: 7:30 Pat on Piano 8:15 Real Real Bayou Boy Band, 9:00 Joey Fingers and the Cottage Ave Band, 10:00 Tokyo Tramps then 11:30 Happy Birthday Mike Quirk Jam
February 7 (Saturday) you can catch Kim and Cam Ackland guesting with Litehouse again at Club Bohemia at The Cantab. Also on the bill Fireking and The Black Souls.
February 7 (Saturday)- The Middle East has The Drax (Goddamn Draculas) Record Release Show along with Aquanutz, Township, Planetoid, and Party Bois
February 7 (Saturday) - The Midway has Bella's Bartok, The Sprained Ankles, The Pity Whores, Trashawk and Whoopi Sticks
February 10, (Tuesday) O Brien's has Today Junior, Straight To VHS and Dirt Naps
February 13 (Friday)- Nice Friday the thirteenth show!!: The Cretins, Duck and Cover, Scrapes, and The Quins are at The Middle East Up this is a LeaguePodcast show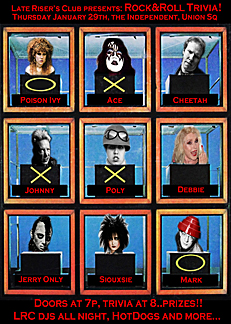 February 13 (Friday)- Tim Catz' 50th Birthday Party featuring White Dynomite, The Humanoids, Muck And The Mires, Worshipper and DJ sets by DJ Slim Jim at Great Scott's
February 13 (Friday) at The Midway there's The Wrong Shapes, Unstraight, Four Point Restraints and Night Slice
February 16 (Monday)- Thee Icepicks (from Portland, ME), The Egos, The Boglins, & Tsunami Of Sound! are at Opus Underground in Salem, MA
February 20 (Friday) It's the Second Annual Lux Lives celebration of all thing Lux Interior and the Cramps!! at The Midway, who better to play this night than The Evil Streaks, Thee Icepicks and The Skeleton Beats...along with Kogar the Swinging Ape.
February 21 (Saturay) Midway Matinee with Urban Waste, Progree, Sick Joke, Honest John and Incidious - this is an All Ages show doors arte at 4PM.
February 23 (Monday) -The Ungraded, Quiggs, Duck & Cover and The Runouts are at Opus Underground in Salem, MA
February 28 (Saturday) One can never get enough Roy Sludge and he's at Johnny D's in Davis Square.
March 1 (Sunday) Salad Days - The D.C. Punk Revolution is a film about the great punk scene that came out of DC this specifically covers 1980-1990 though there was great stuff in the late 70's too!! Anyway if you want to see it I hope you have a car coz the only place its playing around here so far is in Amesbury...where is Amesbury anyway??? Well, it's at The Stage 2 Cinema Pub on March 1st with two showing 2 & 6PM. Keep up to date and buy your tix ahead of time here. There's limited seating.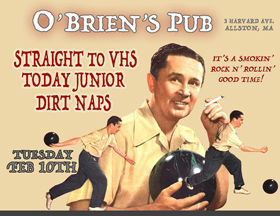 March 6 (Friday) Opus Underground and It's Gonna Get Weird continue to produce great shows up in Salem. Tonight is no exception: Whiskey Kill, Diablogato and The Red Pennys...a very good bill!!
March 6 (Friday) At The Midway there's My Own Worst Enemy, When Particles Collide Preacher Roe and Full Body Anchor.
March 7 (Saturday) and talk about good bills - this one is EXCELLENT! Sean Coleman comes back to Boston with his band the Quazars along with Little Lesley and The Bloodshots and The Red Pennys
March 8 (Sunday) Mark your calendars! Gail Corcoran is putting on an all ages show at the Midway Cafe featuring... The Sheckies, The FUs, Jimmy Jacked, and Jagger Holly (members of the Hollywood Blondes and The Johnie 3!) And she's having a bake sale too!
March 14 (Saturday) Terry Brenner is trying to give the Spotlight Tavern a go again...and he's doing it will almost the same bill as the ill fated show back in November 2014...Wille Alexander and The Boom Boom Band and The Nervous Eaters...sadly no Real Kids this time around but we do get to see The Knock Ups with John Surette. Here's the FB page
March 14 (Saturday) In town there's The Humanoids, Kilslug, Gaskill at The Midway...that should be a hell of an event!
March 28 (Saturday) - Township is at the Midway.
May 16 (Saturday) Hixx are at Club Bohemia at The Cantab
May 22 (Friday)- You have been warned - Book the flight now: Sleep Chamber!! Doing their only show in 34 years in Tel Aviv, Israel at UTC+02. Not only is this their first show in 34 years - its their LAST SHOW ever.
July 18 (Saturday) Mission of Burma opens for The Foo Fighters and the Mighty Mighty Bosstones at Fenway Park
and of course The New England Shake-Up! September 25,26,27 2015! Keep yourself updated at their FB page
CONTACT US AT....misslynbgn @ yahoo.con Send us your gig listings, your news and anything else ya got!!
---