The BGN News Archive
January 21, 2012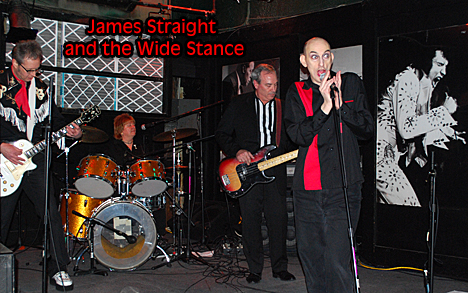 We like James Straight and the Wide Stance so much that we even go to Copperfield's to see them. We've been able to get all the way to 2013 without going there and it seems to me it's been there from about 100BC. Inside the basic setup reminds me of Great Scott's.
It was an early gig and the stars were aligned. As we hit the front door we could hear the music coming through the door. It's an instant cure for the winter blues, if you get that. Laurel Blanchard on drums and Ott Powell on bass are an object lesson on how the rhythm section is the key to success. They carry the day with their propulsive heart. On top of that we get Joe Fagan with his dirty guitar. His tone is so corrosive it seems like the strings, pickups and amp must be covered in rust. But he just seems to get it with a minimum of pedals.
Up front and center is the visual circus of James Straight himself. Tonight he is in darkness...there's no spotlight on him, the club doesn't have a spotlight - at all. So that's half the show you miss right there. The photos we have here give a better idea of his antics than we saw in the darkness.
The Wide Stance sounds different than most groups. They take bits and pieces from different rock eras and shuffle them into a riff oriented structure. It's all snappy and pointed with lyrics that have elements of satire and social commentary suffused with humor.
They attracted enough of their own fans to make attendance very respectable and the response gave them an encore (of Psycho Date).
We loved it and in the end Copperfield's wasn't bad at all - outside of the lack of stage lights and the nasty bathroom stench emanating from one of the bars.
And here's something to look forward to - The Wide Stance is working on their CD now.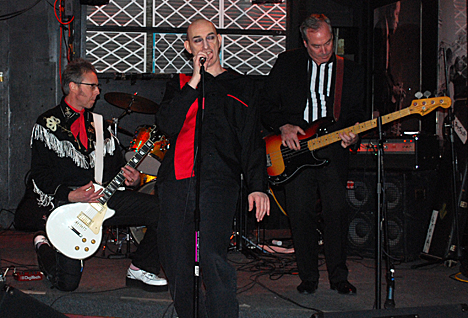 SO for stuff coming up: there's not a ton we see in the clubs this coming weekend but Friday night, Jan 25th, at Q Division Studios is Part 5 of Rock Parent Photo Show...this show includes pics by Kelly Davidson of Robin Lane, Asa Brebner and Jen D'Angora...among other...and providing musical entertainment for the evening will be Mary Lou Lord, Apple Betty and The Ever Expanding Elastic Waistband - it all starts at 7PM and its free!!
Saturday, the 26th you can see The Humanoids at O'Brien's!....
Sunday January 27th there's a surf music show at The Midway with Tsunami of Sound AND Surfer Joe and his Boss Combo - from Italy!!
You may have noticed there was no Upper Crust New Year's Show this 2012… BUT they will do a show one month late on Thursday, January 31st on the stage at Precinct in Union Square Somerville.
Friday Feb 8 The Neighborhoods are at The Met in Pawtucket, RI...for only $15....
On Friday March 1 - The Dirty Truckers and John Powhida's International Airport are at Johnny D's in Davis Sq.
Big Dipper is back together and have a new album out! They are at the Middle East (down) on Saturday March 2nd with Chris Collingwood of Fountains Of Wayne
Dead Kennedys are at Middle East Down on Monday March 11- what a great show- also on the bill are The Welsh Boys, The Cryptics and Burning Streets.
Oh no!!! Billy Joel Night at Radio???? OK that's a trip back in time I may not want to take...but check out the line-ups for the evening...definitely makes it worth showing up:
Heart Attack Ack Ack Ack: featuring Julie Two Times, Kevin Pickering, Josh Pickering, Mel Lederman. Only The Bad Die Old featuring Baker, Brookhouse, Lynch from Dirty Truckers, John Sheeran from Township, Linda Shore from Muck and the Mires, and Alan Levesque then there's The Brinkleys: featuring Kerri-Ann Richard, Jay Frigoletto, Anngelle Wood, Paul Gallo, Mark Dantini, and Seager Tennis and The Root Beer Raggers: featuring members of the Alrighters and the Larkin Brigade. This all happens on Friday March 1st...so mark your calendars up for that one!!
And later in March Nick Cave is at the Orpheum- already got tix for that!!
We also want to remind you that John Surette's (Boy's Life) Kickstarter project as only FOUR DAYS left (ends this week on the 16th!) Its for his Punk Rock Opera Tomorrow The World...You can check out his mini doc (only 7 minutes and good!) about it here too.
On a sad note: Guitarist Dave Cuneo passed away unexpectedly on Jan.9. Dave was a longtime member of Worcester's Rick Blaze & The Ballbusters, whose alumni include Carl Biancucci and Jeff Crane (Classic Ruins), Cheryle Crane (The Crybabies) and Cathy Cah (Musclecah). Great guy, great guitarist! RIP,Dave
EMAIL US AT....misslynbgn@yahoo.com