The BGN News Archive
January 21, 2019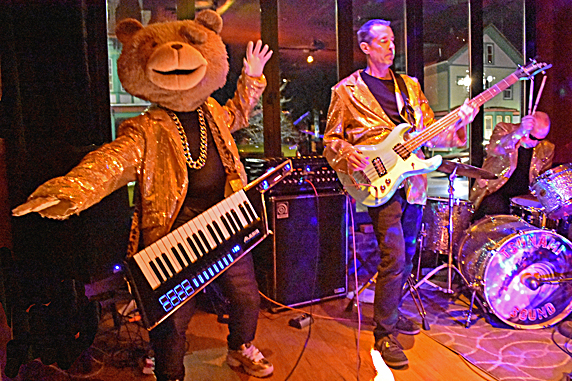 Keytar Bear and Tsumani of Sound
Photo: Blowfish
---
Fred Pineau's new group Little Billy Lost has been playing mostly in the Salem area but finally we caught them at Sally O'Brien's on Friday.
Opening was The Chelsea Curve a new band with Linda Been Pardee who's also singing in Smitt E. Smitty's band. Linda has Tim Gillis on guitar in this band too. He had a stunning looking Rickenbacker and did it good service by banging out the Jam's "In The City". The drummer made his points with some smart playing rather than raw power.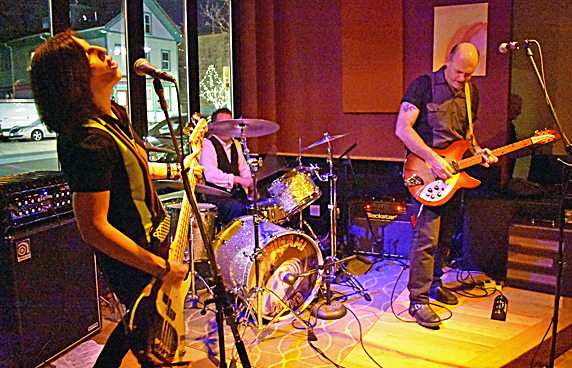 The Chelsea Curve
Photo: Blowfish
They rocked without being brutish about it. Justine Covault described their second song in the set as Lyres sounding and it sure was. It was like two or three Lyres songs all mixed up. You could hear it in the chords, that was the heads up that this band had some interesting ideas and influences.
One song called "Beacon" was only a minute long and about the light on top of the John Hancock Tower. (Thanks again to Justine for that info.) We're looking forward to seeing them again and getting familiar with those songs.
The audience was cheering the band on the whole way. This was one attentive audience and they stuck around to the end. It's one of the reasons Sally O'Brien's is such an enjoyable venue.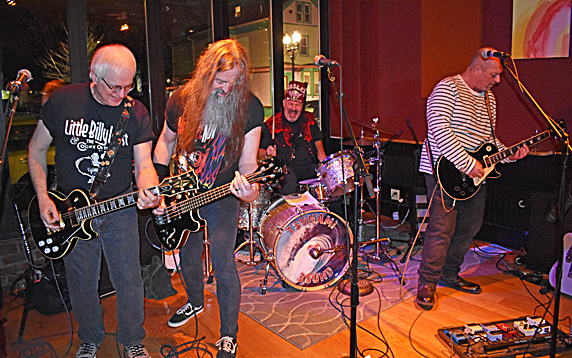 Little Billy Lost
Photo: Blowfish
Little Billy Lost is comprised of all veteran musicians so they start at a high level. You expect a lot of them and they don't disappoint. The first two songs fit right into the sound they presented on their first EP. The second song "St. Vitus Dance" was a driving rocker. Pat Moynihan on bass locked into the pumping chord progression and it was impossible not to get swept up in the driving rhythm. Fred sang those first two songs. We've been missing out by not having Fred sing in his other groups.
After those first two songs Jim Melanson did the singing. Jim has a perfect rock voice. Between him and Fred on guitar you have some tasty guitar interchanges. Jim brought some of the flavor of Pop Gun into the group.
Then there was "Lonely Hearts". Video above. It seemed like people in the audience were waiting for that. It's the hit from Fred's time in the Atlantics. That song wasn't so much written as it was staged. Starting with the throbbing bass and the dramatic drums you were set up for Bobby Morran's theatrical voice. Little Billy Lost had Jim Melanson handle those vocals and he was able to hit all those emotional highs. One thinks of Jim as a guitarist first but he definitely has the vocals cooking too. Then the song ramped down and you get those almost random drum hits and Smitt E. Smitty reproduced those and that was another 'ahh' moment.
Then when the drums settled down the bass stayed steady, the stage was set for the guitar solo. With that set up it had to be good. Fred said that the solo was written in the studio and they gave him as much time as he needed to get it right. In the end it was a beauty. A slow melodic line in the middle strings soon exploded into some slashing lines that keeps up for a few choruses. Fred did that solo note for note at Sally's and it was glorious. "Lonely Hearts" is a song that keeps on giving.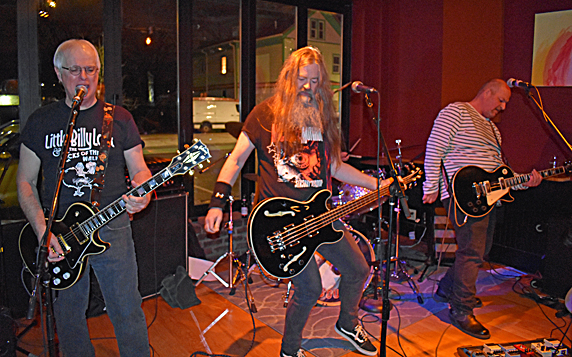 Little Billy Lost
Photo: Blowfish
Overall there's a lot going on in Little Billy Lost. The musicians have a backlog of bands that bring material and influences. They can do a lot and it will pay to keep attention to them as they stake out their territory.
When you think about it: Keytar Bear is maybe the most recognizable musician in Boston. He's fashioned a career for himself by going his own way…and wearing a bear head. He makes everyone smile when they come upon him busking around the area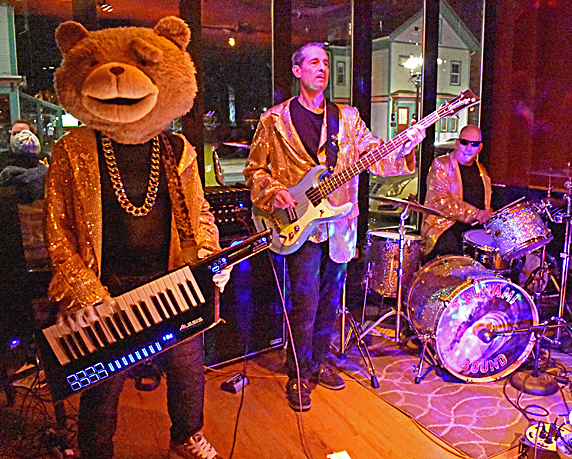 Keytar Bear and Tsunami of Sound
Photo: Blowfish
At Sally O's Keytar Bear and Tsunami of Sound did a set together. They broke out "Happy Organ" by Dave "Baby" Cortez that was a perfect fit. Video below. They were many remarks from the audience as to what a 'happy organ' would be.
"Paint It Black" was a Keytar request. "Time is Tight" and "Green Onions" from Booker T and the MG's were highlights with the rhythm section doing a good job. They did a few of the Venture tunes that they usually do and we always love those. You have to love David Esposito's surf guitar tone. He can't be beat.
Like Keytar Bear, Tsunami of Sound has also created their own circuit of gigs with conventions and promotional shows on top of club gigs. It shows what you can do with some drive and imagination.
More band photos below the show listings.
From last week John Keegan has photos and a review of Smitt E. Smitty, Trusty Sidekick, The Last Supper, Crow Follow and David Yanolis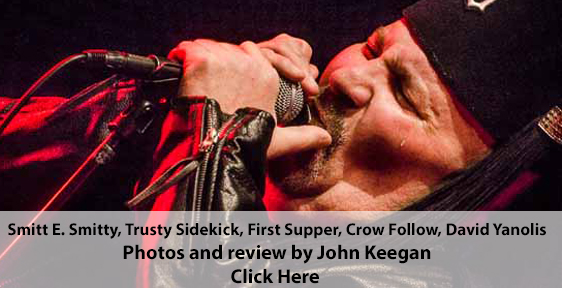 ---
And in other news.....

RIP Lorna Doom (Teresa Ryan) the bassist of the Germs. She was right in the thick of it in the beginning. Punk exists because of people like her. Here's an article in the NYT.

Bim Skala Bim has a new video for their song "Lightning". See it to the right. It's an infectious ska song and the video is very well done. Bim Skala Bim has been around a long time and they still do exciting shows and quality music and vids. There will ne another video for a song called "Gumbo" in a few weeks.

Dumptruck, the Boston 80's band, has set up their own "web store" page to sell their CD's with no intermediary. That's the punk way. Let this be a notice to other bands that this can be done.

Recently, The C-Note held a fundraiser for The Kacie Grenon Band to help pay for their trip to Cleveland, Ohio where they performed at the Rock n' Roll Hall of Fame High School Rock-Off! They won the early round and will now compete The Finals on February 14th. Congrats to the band!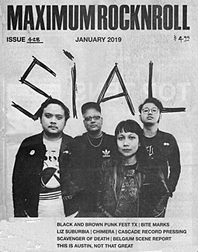 There's just a few more issues of Maximum Rocknroll and then the'll stop the print version of the magazine. It's hard for every print magazine to keep going in the internet age. It's amazing they lasted this long in a way. They did better than us, we stopped the print version in 1982! The latest issue No. 428 of MRR has a cover photo of Sial. We saw them, and loved them, in October at O'Brien's.
LOTS of cool photos from Roberta Bayley and Godlis about CBGB's and the NYC punk scene in this article & interview from I-D.
There was an article in the Herald this week on the Burren Back Room, "Somerville's Burren is the place to rock" written by Jed Gottlieb. That's nice but it's based on ONE show, otherwise there isn't much in the way of rock or punk on their calendar at all. we wish there WAS more!!
Also a reminder to bands out there: Club Bohemia at the Cantab is back in action. They are actively looking for bands so all you bands out there, contact them and get a show!! This is a wonderful turn of fate. Mickey Bliss is still doing thebooking. Contact them on Facebook at Club Bohemia.
Same goes for the revamped Tavern at the End of the World - so contact Natalie Flanagan on Facebook about shows there!
---
Here's some good shows coming up this week.....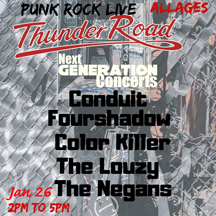 January 24 (Thursday) Alex Lopez, Above the Din, Thee Fightin' Fish, City of Dis @Ralph's in Worcester
January 25 (Friday) Minky Starshine, Corin Ashley, The Rationales at Union Tavern (previously PA's)
January 25 (Friday) Stoploss, Step 13, Sonic Libido, State Of The Union at The Thirsty First Tavern in Lowell.
January 26 (Saturday) The Lost Souls are at Tavern at the End of the World their band for this event will be Tony Kaczynski, Pete Sutton, Dave DeSimone and Brian Worobey!
January 26 (Saturday) Parlour Bells,The Daylilies at the Back Room at the BUrren 7:30 PM show.
And further out we have......
January 28 (Monday) Rawstrum, Newfane, Paper Citizen and Kid Astronemour at the Lizard Lounge.
January 29 (Tuesday) Richard Lloyd solo show at City Winery Boston
January 29 (Tuesday) Gutter Demons, The Evil Streaks, and Diablogato at Shaskeen Pub Manchester, NH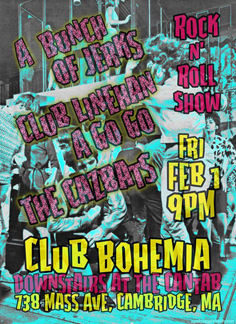 February 1 (Friday) Kid Gulliver, The Knock Ups and Muck and the Mires at Sally O'Brien's
February 1 (Friday) A Bunch of Jerks, Club Linehan A Go Go, The Cazbats at Club Bohemia at the Cantab
February 1 (Friday) The Cryptics, The FUs, Secret Spirit, Triggered at UnchARTed in Lowell.
February 2 (Saturday) Welch Boys Annual Ron Holbrook Memorial Show - proceeds go to The Pine Street Inn...featuring The Welsh Boys, Ice Cold Killers, Blue Bloods and Rockin' Bob Punk Band...at Great Scott.
February 2 (Saturday) Benefit for the MSPCA Boston Adoption Center with Electric Street Queens, Hobo Chili, BINMEN, Dance With Leland, Inconvenience Store 3-7PM the Midway
February 2 (Saturday) Justine and the Unclean, Jakals, Test Meat at Sally O'Brien's
February 2 (Saturday) The Billy Connors Project, Fireking, Crow Follow at Club Bohemia
February 2 (Saturday) Art Thieves, Bundles, Stolen Wheelchairs, Blatch at the Midway 8PM show
February 2 (Saturday) The Natty D's, Satch, CE Skidmore, Garbage Point at the Thirsty First Tavern in Lowell.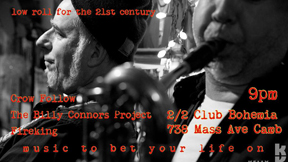 February 5 (Tuesday) Rock n Roll Trivia with Erin and Brett at the Sinclair. FB page for info.
February 8 (Friday) Hey Zeus Record Release & Listening Party (Argonauta Records) with Motherboar, Cocked N Loaded, Labor Hex at Once Somerville.
February 8 (Friday) Murphy's Law with The Black Cheers, More Beer Please at the Middle East
February 9 (Saturday) Thee Fightin' Fish, Club Linehan A Go Go, The Billy Connors Project, and Paul Caporino of M.O.T.O. at The MIdway for a matinee show 3-7PM
February 9 (Saturday) Pajama Slave Dancers with special guests Big Bad Bollocks and Gymnasium Night time show at The Midway
February 9 (Saturday) Lux Lives East Coast 2019 with The Evil Streaks, Jittery Jack & Amy Griffin, Hambone Skinny - and DJ Kogar the Swinging Ape playing Lux and Ivy's Favorites all night long!at Opus Underground Salem
February 16 (Saturday) Stop Calling Me Frank, A Bunch of Jerks, The Knock Ups, and Tsunami of Sound are at The Midway for a matinee show 3-7PM.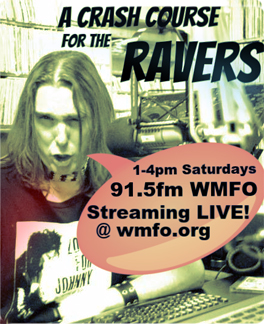 February 16 (Saturday) 2019 Dana-Farber Marathon Challenge Rock 'n' Roll Benefit Show with Sidewalk Driver, Slim Jim and the Mad Cows, and Red Red Rockit! Night itme show at The Midway
February 16 (Saturday) The Chills are at The Middle East Up moved to Feb 20 - ME DOWN.
February 16 (Saturday) DNZL, Flatlager, Loser's Circle, KCUF at The Midway for a matinee show 3-7PM
February 19 (Tuesday) Gang Of Four at Once Ballroom!
February 20 (Wednesday) The Chills are at The Middle East
February 23 (Saturday) The Gala, Bad Larrys, Gold Velvet Sofa at Opus in Salem.
February 23 (Saturday) JPx (John Powhida) and Nat Freedberg's Devil Rockin' Band at Union Tavern which is what used to be PA's Lounge in Union Square Somerville.
February 23 (Saturday) Kid Gulliver, Circus Trees & The Hi-End at Out of the Blue Gallery in Allston.
March 2 (Saturday) "Punk Legends" night - Featuring tributes to The Clash, The Sex Pistols, and The Ramones!!! with Charlie Don't Surf (The Clash), No Future (The Sex Pistols), Warthog (The Ramones)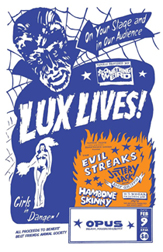 March 2 (Saturday) Robin Lane & The Chartbusters CD Release Show. its at The Burren
March 9 (Saturday) Crunchtime, State Of The Union, Billy Connors Project, Club Linehan for a Matiness (4PM) show at the Midway
March 9 (Saturday) The Gala, Muck and The Mires, The Evil Streaks, Baabes at O'Brien's - wow that is a GREAT line up!!
March 15 (Friday) Dirty Truckers, modifierS, Melatonins at Sally O'Brien's
March 23 (Saturday) Tigerman Woah, Cactus Attack, Coffin Salesman, Nick The Barbarian at Opus Underground
May 24 (Friday) The Undertones at Once Ballroom
CONTACT US AT....misslynbgn@yahoo.com Send us your gig listings, your news and anything else ya got!! You want your CD reviewed?? Contact us for that too.
The Chelsea Curve
Photo: Blowfish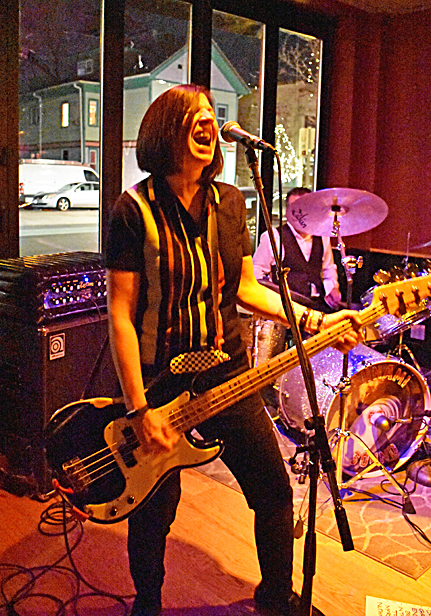 The Chelsea Curve
Photo: Blowfish
Little Billy Lost
Photo: Blowfish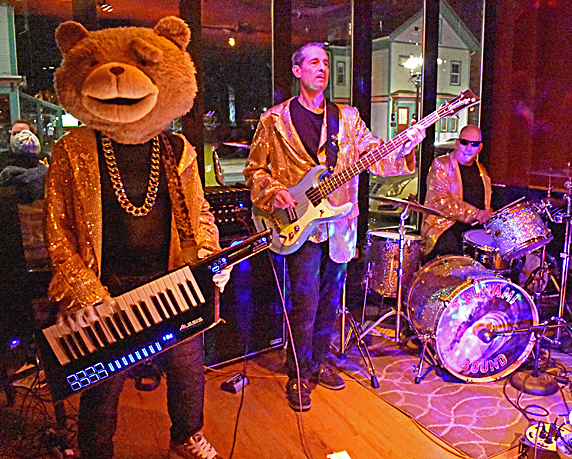 Keytar Bear and Tsunami of Sound
Photo: Blowfish