The BGN News Archive
January 23, 2012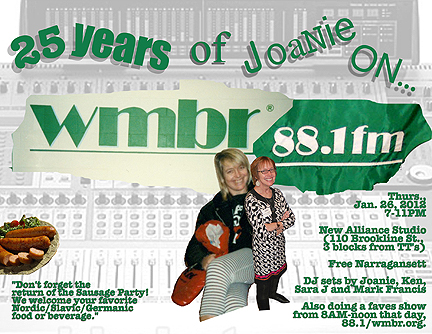 Hey folks, there's a big anniversary coming up this week:
This Thursday January 26th is
Joanie Lindstrom's TWENTY-FIVE YEARS on WMBR's Late Risers Club
She's got a very special day planned; she's doing 4 hours of all time faves on the air from 8AM to noon then at 7PM she heads to the New Alliance studios for a very special Return of the Joanie's Sausage Party from 7-11PM. New Alliance is at 110 Brookline Street (three blocks down the street from TT's) And remember the theme of Nordic/Slavic/Baltic/Germanic food and drink (and the free Narragansett from Zac). DJ sets will be provided by Joanie herself as well as Ken, Sara J and Mark Francis. Oh yeah let's show Joanie how much we all appreciate her being here for 25 years playing great music on a great station....YAY Joanie - THANK YOU!!!
Joanie and the rest of the crew at the Late Risers Club have been playing the pre-released Classic Ruins' songs..here's one here...Classic Ruins...It Ain't Nothing to Me..
Word has it that Looney Tunes lost their lease for the store near Berklee and has to move.
The Reverb Nation website is turning into a favorite and useful platform for musicians. Ian Blast as example has redone the La Peste song 16 Cities and it sounds fine. It's great to hear him in action again. http://www.reverbnation.com/ianblastmusic
There is a film on the way dealing with the Boston early hardcore scene. It uses a lot of Phil n Flash photos. .There's a trailer... Hardcore film...ALL AGES
Now, also this Thursday is another event for a couple long time Boston Scenesters...Clea Simon and Brett Milano have stories in a new anthology of music-related fiction "Tales from the House Band" . Clea's "Ten O'Clock Again" and Brett's "Fancy" will be read, books will be available, a friendly get-together will ensue. This is from 7-10 PM at the awesome Porter Square Books right in the Porter Square Shopping Mall....easy to get too by car or T!!
And maybe after all of that you'll want to head over to Church coz there's a great show there on Thursday with The Jitters, Up Your Bucket, 1977 and Padded Hell ...sounds like a crazy night at Church!.
and that's a great way to start a busy weekend...there's some good shows...like this one at Cantab Club Bohemia Saturday 1/28 w/Cadillac Heart & Reddy Teddy & Hixx and special guest Robin Lane!
Just down the street, on the 28th The Darlings are at The Plough....
Back on the scene is Adventure Set with one of the best front men Boston Rock ever had, Ken Scales. They have released an EP called Centuries to Go and now a video and Saturday is their video release at that great venue The Magic Room. THe DJ for the night will be Christopher Muther, fashion writer for The Boston Globe. Tickets at brownpapertickets.com.
And it's a busy night on the 28th because there's also a great show at The Midway - WMFO's DJ Easy Ed Presents Rockabilly and Rock and Roll with Johnny Carlevale's Juke Joint Rhythm Rockers, The Fathoms and coming back to Boston (from NYC) Sean Coleman (ex of the Swinedells, Bourbonaires ) And if you get there early you can get free 50's dance lessons with Miss Beck!! Sounds like a great night!!
Feb 2nd The Queers are at The Middle East (up)!!; an all ages show in the afternoon and a 18+ show at night....also on the bill: Far From Finished and The Ataris
Here's a really awesome show (2 great nights actually) at Great Scott in Allston on Saturday & Sunday Feb 18 & 19 : it's a CD Release party for The Ducky Boys' new disc "Chasing The Ghost" , with The Hudson Falcons, Energy and Tijuana Sweetheart on Saturday and The Pinerton Thugs, Refuse Resist and Lushlife on Sunday....
And in March (the 10th) there's a killer show at Church with Lyres, Nervous Eaters, Satin Kittens and Port Charles Quintet with Boston's best drummer Dennis McCarthy coming up fropm Pittsburgh for theshow!!- whew!!
HEY!! Email us