The BGN News Archive
January 26, 2015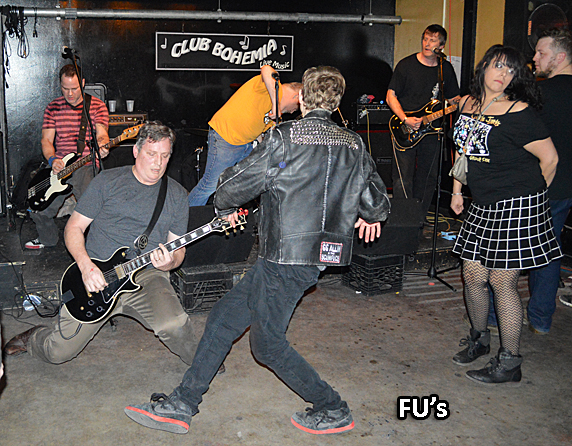 Last Thursday at TT's I thought I would check out Doug Tuttle who I had seen at the Hasslefest Three. That was a wild cellar full of punks shuffling between two ultra humid rooms. I wanted to see if Tuttle was as good as I thought he was that night.
It was another night of psych groups which is becoming more common these days. As there often is they had a light show going on. This is no gimmick, the light show adds a lot to the gig. TT's is set up well for this with its defined stage and wall that is sometimes covered with a sheet. They also lower the house lights so the light show is more pronounced. I don't know who specifically was doing it on this night but it added lots of atmosphere to the evening and put me in the right mood for the groups.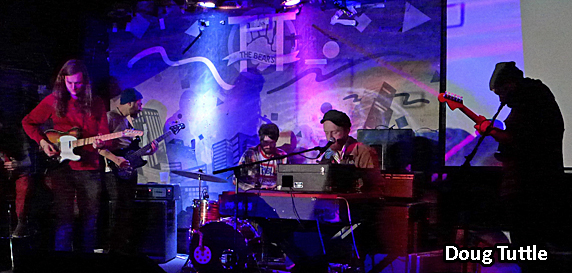 Tuttle proved to be all I thought of him. He rolls out the sunshine pop with ease. The songs are light and with definite form. There are common song structures and chords. One trick of his is to always pick out the chords and not strum them. With two guitarists doing that (with effects) the sound expands and gives a detailed texture that you never get pounding out the block chords. Many of his solos are single string oriented giving that raga feel. He uses his effect pedals to the best advantage, dropping in a texture for just solo or a short riff.
The group is with him the whole way. The bass was adding some notable enhancements. The drummer who was very prominent in the overall style had a stuttering roll he used that added tension and release. During the one longer jam he used that stuttering beat and kept it going for a longer period, building the tension and begging for the eventual release. He had us in his hands at that point. Brilliant.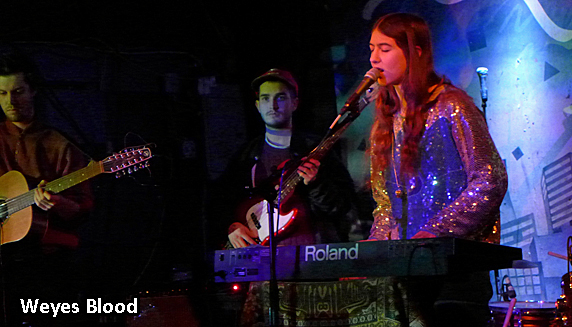 I didn't like what I heard online with Weyes Blood but found lots to like live. Before the show Natalie Mering was walking around and looked like a plain Jane but on stage she put on a sparkly shirt and sang in a strong voice with English folk traits like Steeleye Span. That's not something I like but she was different. She had a potent combination of voice, melody and lyrics. I thought it was undeniable whatever the style. I saw Bob Colby there and this is right up his alley. A few newer songs had less of a madrigal/Celtic feel and more of a straight ballad form and that's where she clicked with me. She spun a spell and with the light show flashing in the darkened club - it was pretty cool.
The next night, Friday, I went a block down the street to Club Bohemia at The Cantab for a night of Hardcore.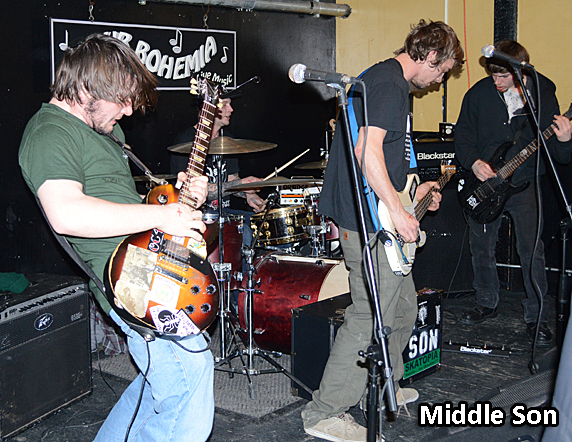 I saw a half a dozen songs by Middle Son. They were a young bunch. Their funny lyrics and attack reminded me of the Angry Samoans. That can be heard on their song I Killed My Wife on Bandcamp. They seemed to have older influences despite their youth. The light hearted material delivered with energy and volume won me over. The fullish club gave them a good response too.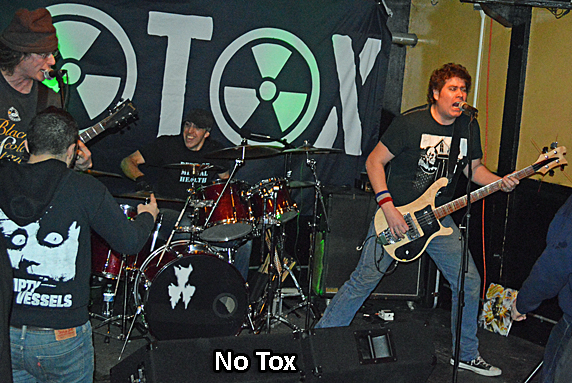 No Tox on the other hand was composed of hardcore veterans from Toxic Narcotic. The no mercy unleashing of volume and angst was a shock. You have to pull yourself together and gird yourself for the onslaught. That's part of what I like about these hardcore gigs, the physical feel of the music. You can't just slouch on the wall and take it in passively, music done like this demands your full attention. The moshing started up and was sporadic during the set. That's another reason to pay attention. Photos lose their priority as I attempt to stay safe.
Joe Packard, the bass player was new to the group but you would never know it. They had every intense note in place. I 'm not familiar with the songs and none of them stuck out to me but the set as a whole certainly made an impression.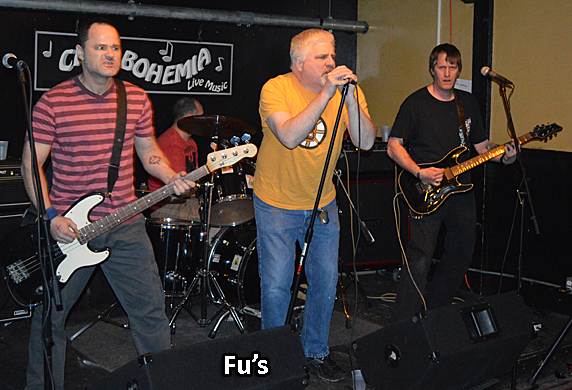 Next we get another group of veterans and in this case hardcore originators in the F.U.'s. In this version there are three of the initial band members in addition to Ed Lynch on bass and Bob Cenci on guitar. They played a long set with lots of the old material. That material is full of tempo and meter changes. It's always been a kick to have that rush of speed that stops on a dime and grinds for verse then BOOM back to the frantic attack. They stuck in some new material and that was good too. John Sox has proven his staying power and takes his place in legendary Boston music figures. He's the hub that all energy runs through. He has a few different ways to deliver the vocals but of course yelling them out is the default setting. It was a generous and satisfying set. Slimedog and Doug from Thrash N Bang were there.
And the club? You know it was The Cantab - Humid like a Turkish bath and smelly like an armpit.
In other news:
Salad Days - The D.C. Punk Revolution a film about the great punk scene that came out of DC is coming to Massachusetts on March 1st. (See listing below)
And speaking of films Andrew Szava-Kovats has started working again on his next film Women Who Rocked Boston. You can see the amusing first trailer here. It's BJ Plattner and her band The Rude Girls!!!!!
We have a really interesting Kenne Highland at Large column this week. He talks among other things, about a classical piano recital, the movie Emmett Otter's Christmas Jug Band, sculptures at The MFA, the movie L'Autre Dumas, tells a couple Mr. Peabody and Sherman jokes and a record collector joke..and tells us about his ancestors of course. check it out.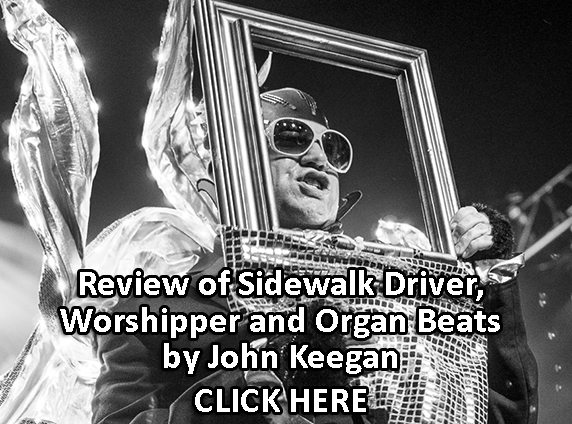 Now for what's coming up this week for some excellent and interesting shows ......THERE IS A BIG STORM STARTING MONDAY NIGHT SO CALL THE CLUBS BEFORE YOU
START OUT ON MONDAY AND WE ASSUME ALL ARE OFF ON TUESDAY.
January 29th (Thursday) We has a lot of fun at The Late Risers Summer Party playing trivia a year and a half ago. They are going to do it again at The Independent . The BGN team got trampled last time and we're looking to save face this time.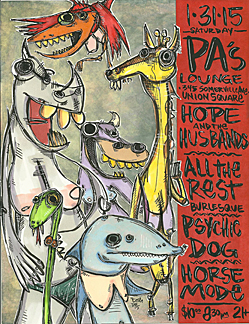 January 30 (Friday) - Here's another Endation gig!! We are blown away by them every time we see these two guys. It's at O'Brien's :Bent Knee, Something Like A Monument, Left Hand Does and Endation - don't miss these guys they are amazing!
January 30 (Friday) Kingsley Flood headlines for their EP Release Show at The Sinclair along with The Grownup Noise and The Lawsuits
January 31 (Saturday) OK wake up early and get over to the Sinclair for a Punk Rock Aerobics class at 10AM This one is special its a benefit for Girls Rock.
January 31 (Saturday) there's a killer ALL DAY show at The Midway...Mark Lind presents Boston's Burning 2. So Show One- 4PM All Ages features: The Welch Boys, Hudson Falcons, Burning Streets, Diablogato and Live Nude Girls playing between sets. Show Two - 9PM 21+ features: Stray Bullets, Hudson Falcons, OC45, New Red Scare and Art Thieves. It's $16 for an all day pass or $10 for a single show.
it's also a good night in Union Square Somerville:
January 31 (Saturday) at Sally O'Brien's conveniently located in fabulous Union Sq Somerville turns into Sally's A Go Go - Muck and the Mires, Tsunami of Sound and The Shambolics. Fun fun!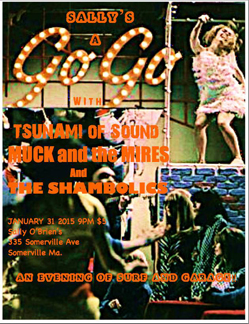 January 31 (Saturday) And a few doors down at PA's Lounge there's the debut of the new Burlesque troupe All The Rest Burlesque will brazen brand of bare-bottomed burlesque. WOOOO!!! There's also a special guest performance from Boston's beautiful and bombastic Catya von Sparkles in one of her trademark acts, and Mikey Shake acting as M.C.. And as though a bunch of gorgeous women taking off their clothes wasn't enough, the evening will feature musical performances by Hope & the Husbands, Psychic Dog, and Horse Mode. All The Rest features Roxy Shake, Clara Blows, Leather Pixie and Stabatha La Thrills.
January 31 (Saturday) Adja The Turkish Queen is doing a record release show at The Plough and Stars. This will be a great intimate place to see Adja perform!! Also on the bill are Anubis Pop and The Freeways
January 31 (Saturday) Classic Ruins are at In a Pig's Eye in Salem. check the FB page
January 31 (Saturday) down in Providence at Dusk are Paraplegics, NoTox, Monsignor Meth, Deathstate & Creeps
and its only $5!!Here's the FB page
February 1 (Sunday) Starts the Swindlers' residency at the Midway and on this day they have Charlie Dont Surf on the bill as well.
And coming up beyond this week there's....
February 2, (Monday) Tigerman Woah!, Cactus Attack and the Radiator Rattlers are at Opus Underground in Salem, MA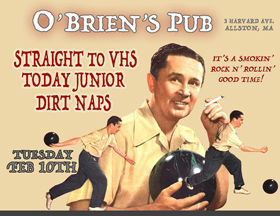 February 6 (Friday) There's a Winter Rock Extravaganza at the Greek American Social Club in Union Square with The Eric Barao Band,
Claws that Catch, Right on Red and Soft Pyramids
February 7 (Saturday) It's Michael J Quirk's Birthday Show!!! at The Granite Rail in Quincy. and the night goes like this: 7:30 Pat on Piano 8:15 Real Real Bayou Boy Band, 9:00 Joey Fingers and the Cottage Ave Band, 10:00 Tokyo Tramps then 11:30 Happy Birthday Mike Quirk Jam
February 7 (Saturday) you can catch Kim and Cam Ackland guesting with Litehouse as The Black Souls at Club Bohemia at The Cantab. Also on the bill Fireking.
February 7 (Saturday)- The Middle East has The Drax (Goddamn Draculas) Record Release Show along with Aquanutz, Township, Planetoid, and Party Bois
February 7 (Saturday) - The Midway has Bella's Bartok, The Sprained Ankles, The Pity Whores, Trashawk and Whoopi Sticks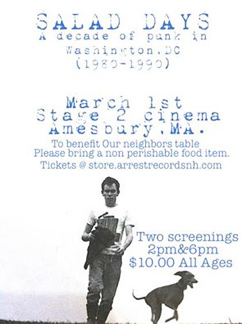 February 9, (Monday) It's Triple Thick's Semi-Annual Cupid Has Rabies Anti-Valentine's Day Party at Charlie's Kitchen with Pioneer Valley Pioneers (9:30), White Pages (10:15), Triple Thick (11) and Cracked Mirror (11:45)
February 9, (Monday) is Punk Rockin' And Pastie Poppin' Burlesque at The Midway
February 10, (Tuesday) O Brien's has Today Junior, Straight To VHS and Dirt Naps
February 13 (Friday)- Nice Friday the thirteenth show!!: The Cretins, Duck and Cover, Scrapes, and The Quins are at The Middle East Up this is a LeaguePodcast show
February 13 (Friday)- Tim Catz' 50th Birthday Party featuring White Dynomite, The Humanoids, Muck And The Mires, Worshipper and DJ sets by DJ Slim Jim at Great Scott's
February 13 (Friday) at The Midway there's The Wrong Shapes, Unstraight, Four Point Restraints and Night Slice
February 13 (Friday) to get you totally in the mood for the 14th "Let the sweet, sassy and smooth duets of the 60's, 70's & 80's apply some silky lotion to your ears, hearts and parts. The evening begins with a duo that puts the gigantic in romantic, Tad & Kate of Sidewalk Driver. Followed by two sets of romance-inducing fever and medication by the one and only Devotion." Devotion is Andrea Gillis, Mark Pinansky and pals.
February 16 (Monday)- Thee Icepicks (from Portland, ME), The Egos, The Boglins, & Tsunami Of Sound! are at Opus Underground in Salem, MA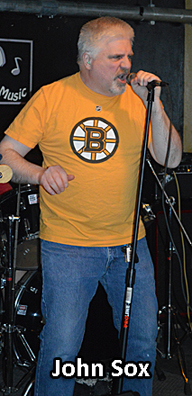 February 20 (Friday) It's the Second Annual Lux Lives celebration of all thing Lux Interior and the Cramps!! at The Midway, who better to play this night than The Evil Streaks, Thee Icepicks and The Skeleton Beats...along with Kogar the Swinging Ape.
February 21 (Saturay) A Crash Course for the Ravers WMFO 91.5 FM 1-4PM has The Radiator rattlers as guests...plus a whole lotta great music.
February 21 (Saturay) Midway Matinee with Urban Waste, Progree, Sick Joke, Honest John and Incidious - this is an All Ages show doors arte at 4PM.
February 23 (Monday) -The Ungraded, Quiggs, Duck & Cover and The Runouts are at Opus Underground in Salem, MA
February 27 (Friday) Squallie Greenthumb's Birthday Party at The Midway with Penalty Kill, B'Loco, The Warning Shots, Squallie Greenthumb, Squallie And The Chaotix, Wayne Da Payne, OC45 and Split Face
February 28 (Saturday) One can never get enough Roy Sludge and he's at Johnny D's in Davis Square.
March 1 (Sunday) Salad Days - The D.C. Punk Revolution is a film about the great punk scene that came out of DC this specifically covers 1980-1990 though there was great stuff in the late 70's too!! Anyway if you want to see it I hope you have a car coz the only place its playing around here so far is in Amesbury. It's at The Stage 2 Cinema Pub on March 1st with two showing 2 & 6PM. Keep up to date and buy your tix ahead of time here. There's limited seating.
March 6 (Friday) Opus Underground and It's Gonna Get Weird continue to produce great shows up in Salem. Tonight is no exception: Whiskey Kill, Diablogato and The Red Pennys...a very good bill!!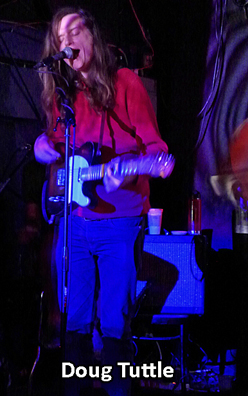 March 6 (Friday) At The Midway there's My Own Worst Enemy, When Particles Collide Preacher Roe and Full Body Anchor.
March 7 (Saturday) A Crash Course for the Ravers on WMFO 91.5, 1-4PM has Heavy Neckers and Jay DiBiasio as guests this time around.
March 7 (Saturday) and talk about good bills - this one is EXCELLENT! Sean Coleman comes back to Boston with his band the Quazars along with Little Lesley and The Bloodshots and The Red Pennys
March 8 (Sunday) Mark your calendars! Gail Corcoran is putting on an all ages show at the Midway Cafe featuring... The Sheckies, The FUs, Jimmy Jacked, and Jagger Holly (members of the Hollywood Blondes and The Johnie 3!) And she's having a bake sale too!
March 14 (Saturday) Terry Brenner is trying to give the Spotlight Tavern a go again...and he's doing it will almost the same bill as the ill fated show back in November 2014...Willie Alexander and The Boom Boom Band and The Nervous Eaters...sadly no Real Kids this time around but we do get to see The Knock Ups with John Surette. Here's the FB page
March 14 (Saturday) In town there's The Humanoids, Kilslug, Gaskill at The Midway...that should be a hell of an event!
March 19 (Thursday) The much loved '80s garage-pop-psych band The Prefab Messiahs has an EP (10", cassette, CD) coming out March 10 on Burger Records & KLYAM Records (split release). It'll be their first new sounds in 32 years! So they are having a record release party at The Middle East Upstairs - it's The Prefab Messiahs, The Fagettes, Magic Shoppe, and Fedavees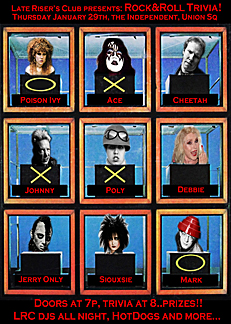 March 21 (Saturday) A Crash Course for the Ravers WMFO 91.5FM, 1-4PM has the Welsh Boys as guests today.
March 28 (Saturday) - Township is at the Midway.
May 9 (Saturday) Johnny and The Jumper Cables at the Midway Cafe!
May 16 (Saturday) Hixx are at Club Bohemia at The Cantab
May 22 (Friday)- You have been warned - Book the flight now: Sleep Chamber!! Doing their only show in 34 years in Tel Aviv, Israel at UTC+02. Not only is this their first show in 34 years - its their LAST SHOW ever.
July 18 (Saturday) Mission of Burma opens for The Foo Fighters and the Mighty Mighty Bosstones at Fenway Park
and of course The New England Shake-Up! September 25,26,27 2015! Keep yourself updated at their FB page
CONTACT US AT.......misslynbgn @ yahoo.con Send us your gig listings, your news and anything else ya got!!
---