The BGN News Archive
January 27, 2014
It was not enough for them to rub the Rat off the face of the earth now the Commonwealth Hotel is creating a Rat themed hotel room at their Kenmore Square location. I hope the bathroom reflects the old club....
The Fleshtones have released an awesome new song saluting the Ramones.... and its aptly called Remember The Ramones...have a listen here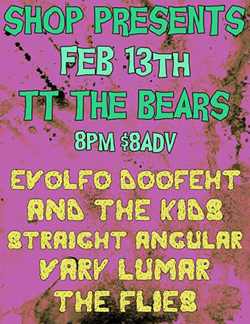 There's a cool line up of Boston punk tunes on this web based radio show called The Mal Thursday Show #53: Mass Pike Memory Lane ....
The ICA (Institute of Contemporary Art) in Boston will show some films by Ken Brown in their special program Psychedelic Cinema Sunday Feb 9 at 7PM: "Transport yourself to the psychedelic 60s. Massachusetts native Ken Brown's astonishing Super 8 films were shot as part of the light shows that accompanied the great bands of the era. Featuring elaborate montages, quirky animations, and lots of swirling lights, they were projected during historic performances by Jimi Hendrix, Santana, The Who, Boston's own The Hallucinations (J. Geils) and practically every other great band to come through town between 1967 and 1969. This special presentation will include live music by a supergroup of silent film accompanists: Ken Winokur of Alloy Orchestra, Beth Custer of Clubfoot Orchestra, and Jonathan LaMaster of Cul de Sac." There'll also be a Q+A with film director Ken Brown immediately follow the screening.." Here's the FB page
Richie Parson's Kickstarter campaign is now on.. .He's looking to fund his new 11 release (available digital and on vinyl) "Honey & Tears" produced by Ken Stringfellow. As Richie says "This is not Hitler's Brains material" he's grown up and this is new stuff about life and all its good and bad. The pledge gifts include a day of Richie driving you around town and showing you the punk landmarks and filling in with real tales of his colorful career. And for $750 Richie will have you over for a BBQ in his backyard while he sings the songs from Honey & Tears just for you!! So my friends...This is way for you to back, and be part of, part of this ultra-worthy effort.
The Unnatural Axe LP Unnatural Axe is Gonna Kick Your Ass is now available on iTunes. And on the Richie Parsons front there's a lot going on: his LP Salaria with The Chord Rockers (which also includes Alex Vargiu (Dissuaders), and Astrid Dante (Miss Chains & The Broken Heels, Naties), is out. It's a foreign release but he has some copies. You can also get it on the Surfin' Ki site; they have a great selection of stuff! And you can hear a cut off Salaria on You Tube
True Age Media just came up with a most awesome idea!! Andy's new project is a book based on the Let's Go To The Rat film!! He's got a funding project to help fund it....Here's what Andy says about the book:
"We want to create an expanded version of the story of the famous Boston nightclub. This will be a Book that includes more stories and more photos than the movie. A great coffee table book. It will bring back memories for those who experienced The Rat."
"Includes stories by Willie Alexander, Dave Minehan, Paul Lovell ("Blowfish"), Miss Lyn, Liz Borden, Eric Van & Bob Colby (of Frenzy), Jamie Shaler and more...Photos are by Wayne Valdez, Jody Moore, Jim Major, Richie Parsons and more...You'll be proud you helped make this historic book a reality." cheers, Andrew Szava-Kovats (Lowell, 2014) - check out the funding page and get funding folks!!
Kenne Highland has a short column this week but there's thoughts about talks about Italian garage bands, Tavern at the End of the World and gets trippy sharing Miss Lyn's teenage memories in his most recent Kenne Highland At Large column Scroll down to just under the news for a link to his current column.
OK here's some gigs coming up:
This Thursday Jan 30th punk rock show at TT's with The Racket, The Ungraded, The F.U.'s and Order 66
And I think Kenne Highland is at the Tavern at the End of the World this Thursday January 30th
On Friday Jan 31st at The Middle East Down Indie Rock Ranger Presents: (an eclectic mix) Mellow Bravo, Sidewalk Driver, Goddamn Draculas, The Silks and Watts..this show was originally scheduled for ARCH/Studio 52 but has been moved to the Middle East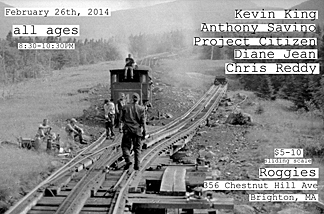 Friday Jan 31st..great gig at The Midway with Classic Ruins, Greg Allen's Fringe Religion, The Skeleton Beats and Love Love....
On Feb 7 (Friday) The Kenne Highland Clan (on at 9:15) is at Copperfields with a bunch of other bands I've never heard of Red Oblivion (gee if on it could be Red Invasion!!), A Modern Armada and Dirty Paxton
And there a Valentine's Day Bash and right on Feb 14th with The Petty Morals, White Dynomite and Lord Classic at O'Brien's in Allston.
Boston Sci Fi Fest is coming up in Feb (7-17) at the Somerville Theater in Davis Square
At the Middle East UP there's a excellent Tuesday show on Feb 18 with Richie Ramone, The Connection and The Gobshites
March 1st - another awesome Nervous Eaters Real Kids show also on the bill Pop Gun - this one is in Salem and anyone who didn't see the 12/28 show (and even those who did!) should definitely go- it'll be great!! It's all happening at The Spotlight Tavern
Put this event in your calendar now folks - Monday March 3rd...Gail C. and Babysitting Calamity Booking present Pop Punk Madness and Bake Sale with The Sheckies, The Pity Whores, Jimmy Jacked, The Labor Pains….not only is it a great bill but Gail C will be having one of her fabulous bake sales so arrive hungry, see a great show and leave with a wicked sugar high!!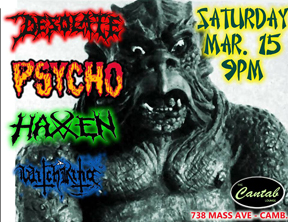 Mary Lou Lord Benefit, Saturday March 8th at the Midway Café. The lineup will consist of both long-time friends of Mary Lou, plus newer acts that she has been championing. The show will go from 9:00 PM till 1:30 AM. We will be doing short sets (20-25 min), so expect a number of acts in addition to this first list:
My Own Worst Enemy (it's also Sue's birthday!)
Kingdom of Love (featuring Linda Viens and Rich Lamphear)
Hilken Macini (acoustic)
Love Love (featuring Chris Toppin and Jefferson Davis)
So Sol (Latin/Americana)
Matt Minigell (brilliant young singer/songwriter)
At Mary Lou's request, the cover has been set low ($5) so everyone who wants to help can afford to come. However, we will have a donation bucket as well, and we encourage you to contribute as much as you can if you are able to do so. More details as they are worked out."
March 8th is also the Richie Parsons 10 Song Set performance at Store 54.
Jonathan Richman is back to the Middle East Up on March 19, 20 & 21 with Tommy Larkin on drums.
Jon Bernhardt is celebrating his 50th Birthday and 30 Year Anniversary on WMBR's Breakfast of Champions with a gig at the Middle East down on April 2 with Bevis Frond and Barbara Manning and Dump. Tickets are $20, to benefit WMBR and are available via TicketWeb.
EMAIL US AT......misslynbgn@yahoo.com