The BGN News Archive
January 30, 2012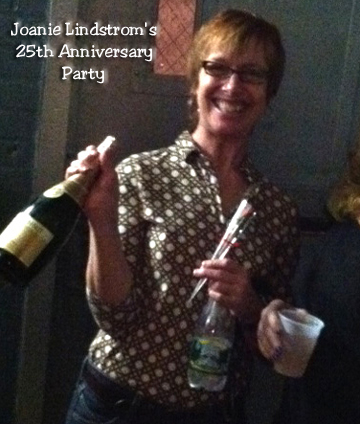 Well it was a great party this past Thursday in celebration of Joanie Lindstrom's 25 years on WMBR's Late Risers Club lots and lots of people showed up to wish Joanie a happy anniversary and thank her for all the great music she has brought us over the years. You can still hear her anniversary show (two hours on the Breakfast of Champians and two hours on the Late Risers Club) in the WMBR Archives. The New Alliance studio was a novel setting for the bash.
So what's coming up? Hmmmm.....
Well there'll be Lords aplenty at Store 54 this Saturday, Feb 4 for some very royal entertainment along with the mere commonersThe Illyrians as well
....Sunday Feb 12nd The Queers are at The Middle East (up)!!; an all ages show in the afternoon and a 18+ show at night...also on the bill: Far From Finished and The Ataris
Friday Feb 17th James Straight and The Wide Stance are at The Cantab....

Here's a really awesome show (2 great nights actually) at Great Scott in Allston on Saturday & Sunday Feb 18 & 19 : it's a CD Release party for The Ducky Boys' new disc "Chasing The Ghost" , with The Hudson Falcons, Energy and Tijuana Sweetheart on Saturday and The Pinerton Thugs, Refuse Resist and Lushlife on Sunday....
And in March (the 10th) there's a killer show at Church with Lyres, Nervous Eaters, Satin Kittens and Port Charles Quintet with Boston's best drummer Dennis McCarthy coming up fropm Pittsburgh for theshow!!- whew!!
HEY!! Email us with your latest news, I'm feelin' lonely here!!....misslynbgn@yahoo.com