The BGN News Archive
January 30, 2017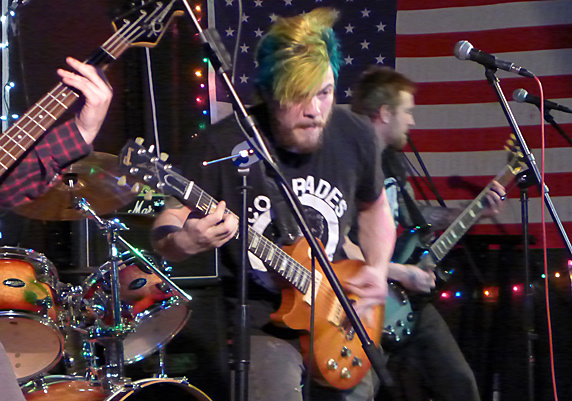 Crime Spree
Photo: Blowfish

We went out to see Crime Spree at the Midway. When we saw then a few months ago it was a wild set that we knew would be hard to beat. The night was set up as a ska/punk show. We saw two hardcore bands.
Crime Spree did play a ska song in the set that people went crazy for but the rest was the hardcore/metal barrage we heard last time. Lead man Chester Timmins takes over the room immediately. He makes everyone come up close to the stage and begs for a circle pit; people oblige. His green/yellow hairdo is hard not to look at. The music has dynamics and changes of pace so it never sits still.
There is a good crowd and they are engaged. It's a good set. No quite as insane as the last time at the Thrash 'n' Bang Christmas Party but you know that would be hard to duplicate.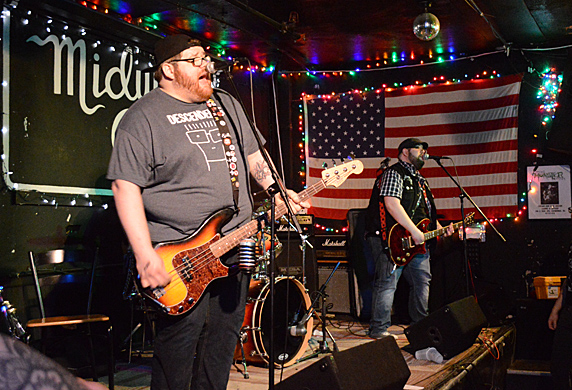 Loser's Circle
Photo: Blowfish
We've seen Loser's Circle a few times before, once was in 2015 so we thought we knew what to expect....well no. Something happened since last time we saw them. The energy level was way up and the songs were all making an impression. We were talking to Slimedog who was there and he said he had the same thought hearing them the week before.
The drummer is fairly new. That may be it. He's all wound up, throwing in rolls every time he can. You could feel him at the center of the sound pushing everything hard, and he sings too!
With the second song we had the thought, 'hey, that's good.' Then it happened with the next song and the next. Some of those songs were new but others were old. It's seems that they've come into their own somehow. They were playing a clump of four songs in a row without stopping. They were working it hard and all sweating. With this set they went from a group we know to a group we will seek out.
We talked to Jamie the bass player who was excited about their new material. He said they should have some vinyl out by summer.
Here's their Facebook Page.

It was a mild night for the winter and we got some hard rocking in. We just saw two bands on the five band bill, all for eight dollars. Do we have it good, or what?

The next day we were at O'Brien's where there was a decent line up and a full club. We ended up seeing two NYC bands and missing the locals Fucko and Earth Heart (that Bob Colby had come to see).
Hard Pass
Photo: Blowfish
Hard Pass describe themselves as "punk NY" and that nails it. They have a very raw sound. It was maybe too raw especially at the beginning with some off key vocals. The bass player was doing well though. As the set went on things got better and as is often the case the last song had it all together and was where the rest of the set should have been. It was not a loss since the whole set rocked and they made up in spirit for other shortcomings....and isn't that punk? Check out their Bandcamp page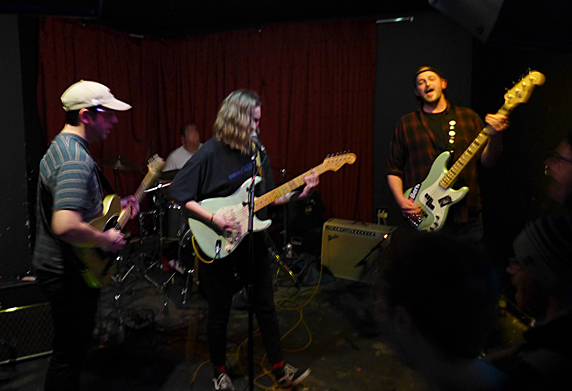 Nervous Dater
Photo: Blowfish
Nervous Dater was an indie band but at double speed. That's a good recipe to us. It was good songwriting and wonderful singing zinging along at a good clip. The guitarist had a clear tone and was adding color with tuneful riffing. You can hear all this on their Bandcamp page.
Both bands talked about what was going on in these charged up times. It's only a matter of time before the songs start reflecting the political situation we're in.

And in other news.....
Danny Garcia who brought us Looking for Johnny and Sad Vacation (about Sid & Nancy) has yet another great movie subject comin' up- Stiv Bators in his new film Stiv - The Life and Times of a Dead Boy. Release Date -May 31, 2018.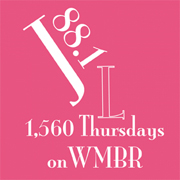 Joanie Lindstrom had some fantastic music, along with her stories on the scene these last 30 years, on her anniversary show. You can still hear all 6 hours of it on the WMBR archive page. See the shows for Thursday Jan 26.
No, Mark Lind From the Ducky Boys Did Not Punch Richard Spencer…that's the headline on the website clrvynt What a story! It seems that after the alt right spokesperson Richard Spencer got sucker punched someone started a web rumor that Mark Lind did it. He was nowhere near it and didn't do it but the righteous web trolls got into Mark's online life especially and are making it hell. This is the world we're in now.......sadly.
The Digs have a 4 song Ep coming out - their release show is at the Middle East March 18 see below for more info.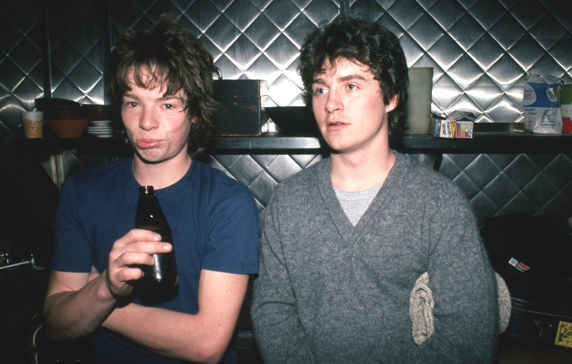 Here's a blast from the past. A great pic of Paul O'Halloran and Jerry Lehane in Cantone's kitchen by Denise Donahue. Sent to us by Frank Rowe.
The day after Adam Ant played Boston his guitarist/musical director Tom Edwards died. Vanyaland covers that.

Our eyes were opened by this article in Pitchfork that explained that the current movie 20th Century Women has some punk as a subject matter. The writer says, "Mainstream culture rarely grapples with punk, let alone feminist outsider art, with as much nuance as Mills does in 20th Century Women."
The article makes a lot of points and worth the read and it looks like the movie is worth going to.
A couple of weeks ago we mentioned Kurt Baker was headed this way...you can find him (with a really great line up) at O'Brien's April 4th (more info below in the gig listings.)
Here's some good shows coming up .....
February 4 (Saturday) Oh this is gonna be a GREAT show!!: OC45 (CD Release/Tour Kickoff), On The Cinder (NY), Fast Times and Back Door Key (it's also their EP Release) at The Midway (FB page here)
February 4 (Saturday) And ANOTHER great show!! State of the Union (11PM) and Charlie Don't Surf (10PM) at Out Of The Blue Gallery - this is a benefit for OOTB - FB Page
February 4 (Saturday) Rebuilder, City Limits (NJ), In The Pines (Philly), and Dan Webb & The Spiders are at O Brien's
February 5 (Sunday) The Cryptics, Brunt Of It, Disaster Strikes, Sick Minds and Matty Carlock are doing a FREE afternoon show at The Midway. NO cover...4-8PM
And further out......
February 9 (Thursday) we love this stuff it's always fun!! Karaoke Underground at O'Brien's in Allston. The Karaoke Underground is for punk and indie rock fans who love to scream, yelp, croon, bark and sometimes even sing their favorites from artists like Black Flag, Modest Mouse, the Misfits, Cat Power, the Pixies, Dead Kennedys, Sleater-Kinney, Pavement, Joy Division, Fugazi, Guided By Voices and many more. It's video karaoke with onscreen lyrics, a stage, you -- and the chance to sing great songs you just can't find anywhere else. Full catalog of songs here.
February 9 (Thursday) Beeef (its their Album Release) with Gymshorts and Black Beach at Great Scott and this show is presented by The Chicken and Rice Guys! HA!
February 10 (Friday) BadassMotherfuzzers, Muck & the Mires,The Real Kids, Richie Parsons at the Midway
February 10 (Friday) The Upper Crust, Watts and Petty Morals are at Great Scott
February 11 (Saturday) Kenne Highland and Ken Kaiser of the Hopelessly Obscure and Afrika Korp fame are on Brian Young's A Crash Course for the Ravers 1-4PM on WMFO 91.5FM FB page
February 11 (Saturday) Club Linehan A Go Go are at the Out of the Blue Gallery
February 11 (Saturday) The Gala, Swivel, The Royal They and Powerslut are at O'Brien's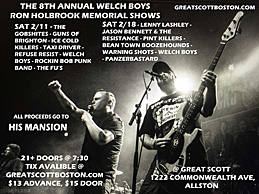 February 11 (Saturday) The 8th Annual Welch Boys Ron Holbrook Memorial Shows benefiting His Mansion (Night One) featuring The FUs, The Welch Boys, Refuse Resist, Taxi Driver, Ice Cold Killers, Guns Of Brighton and Tim Baxter and Tony Snowdale at Great Scott
February 14 (Tuesday) Doped Up Dollies, The Pomps, Mickey Rickshaw and Whoopi Sticks are at O'Brien's
February 14 (Tuesday) The 6th Annual Ruby Rose Fox Valentine's Day Show at Atwood's Tavern
February 11 (Saturday) Tavern at The End of The World Presents: Trusty Sidekick, Fireking, and The Trick Wallace Trio
February 11 (Saturday) Hummingbird Syndicate, Rebel Vargas, Red Right Hand and Eliza and the Organix are at PS's Lounge
February 17 (Friday) Lux Lives East Coast is coming again -this event is in Salem at Koto, on the bill are Thee Fabulous Itchies, The Evil Streaks and The Nebulas. Here's the FB Page Lux Lives is a chance for Bands and DJ's and fans to come together to celebrate the life of Lux Interior. Since it's inception, Lux Lives East Coast has raised over $10,000.00 for Lux and Ivy's favorite charity Best Friends Animal Society. This is a GREAT event all around!

February 18 (Saturday) DJ Easy Ed presents The Crank Tones plus Easy Ed's Record Hop! for an early show (4-8PM) at The Midway

February 18 (Saturday) and for the evening show at The Midway we have Amos Fortune, Endation, Lotus Ignite and GrandEvolution

February 18 (Saturday) The 8th Annual Welch Boys Ron Holbrook Memorial Shows benefiting His Mansion (Night Two) featuring Panzerbastard, The Welch Boys , Warning Shots, Beantown Boozehounds, Mark Doherty and the Pink Killers, Jason Bennett and the Resistance and Lenny Lashley

February 22 (Wednesday) Ten Dollar Mistake are at PA's Lounge

February 24 (Friday) Zip-Tie Handcuffs, Hey Zeus, Wolfsmyth and Tenafly Vipers are at O'Brien's

February 24 (Friday) Actor/Observer, Energy and Partywolfe are at Great Scott
February 25 (Saturday) Duck & Cover, the Dents, Stars like Ours, T.Baker & the Snakes at Sally O'Brien's
February 25 (Saturday) The Billy Connors Project is @ the Cantab with Corrola Deville and Jimmy Bez.
February 26 (Sunday) Roy Sludge Trio is doing a 6PM show at Sally O'Brien's
February 28 (Tuesday) The Hi-End, Low Babies, Four Point Restraints, and the Instamatics are at the Midway Feb 28 Here is the FB page
March 1 (Wednesday) Puppy Problems, Emmett McCleary (MTL), Ricecrackers, Du Vide and Ozlo are at O'Brien's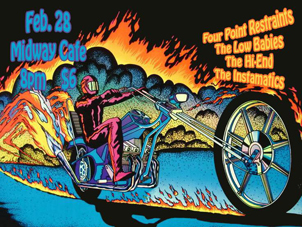 March 3 (Friday) Robyn Hitchcock at Once
March 4 (Saturday) The Manglers, The CWB (Reunion), The Grommets and The Only Things at The Midway - Early show 4-8PM
March 4 (Saturday) Jittery Jack & Miss Amy are at Atwood's for a 4PM show
March 4 (Saturday) Trusty Sidekick, Even Twice (NYC), Nick and The Adversaries and Gymnasium at The Midway (night show)
March5 (Sunday) Save Ferris, Baby Baby and Petty Morals at Brighton Music Hall
March 8 (Wednesday) The Sheckies, Mongorellis, The Prozacs, Meat Depressed at Koto in Salem
March 9 (Thursday) A benefit for Outside the Lines (the special needs art studio) at Thunder Road. Barrence Whitfield & Dennis Brennan will be playing.
March 10 (Friday) Agent Orange, The Queers, & Guttermouth at ONCE Ballroom FB page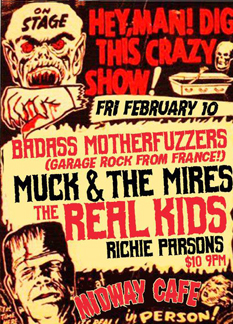 March 11 (Saturday) The Slaves, a British punk duo from the UK are at Great Scott
March 18 (Saturday) Roy Sludge Trio for a 4:00 pm show at Atwood's
March 18 (Saturday) The Digs are having an EP Release Party! Also on the bill are JRV and Psychonaut Underground - FB Page
March 19 (Sunday) Ruby Rose Fox is at Atwoods.
March 23 (Thursday) Beans On Toast, The Old Edison, Troll 2 and Miketon & The Nightblinders at O'Brien's
March 25 (Saturday) Another benefit for the Cambridge Fire victims. Lots of families were displaced and lost everything. Help 'em out by going to the Greek American Social Club (Union Sq Somerville) and listen to Tsunami of Sound and A Bunch of Jerks.
March 25 (Saturday) 45 Adapters (from NYC), Blood Stained Brindle, The Damn Garrison and Quiggs at The Midway - this is an early show 4-8PM
March 25 (Saturday) You might as well just plan on staying at the midway all day coz their night show is The Hi-End, M.O.T.O., Modern Day Idols and Hello Susie
March 25 (Saturday) BETH & The Black Cheers at Sally O Brien's - FB page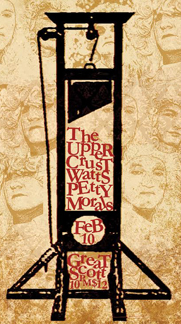 March 26 (Sunday) Ruby Rose Fox is at Atwood's
April 1 (Saturday) State of the Union, The New Frustrations, The Stigmatics and The Only Things doing a GREAT early show (4-8PM) and its ALL AGES at the Midway (FB page)
April 1 (Saturday) The Upper Crust, Sidewalk Driver and When Particles Collide as part of the ArtsEmerson Black Box series at Emerson/Paramount Center, Jackie Liebergott Black Box Theatre - 559 Washington St Boston (Link)
April 2 (Sunday) Six Organs Of Admittance and Minibeast are at Great Scott
April 8 (Saturday) The Kurt Baker Combo, Soraia, Watts and The Connection at O'Brien's Here's the FB page
April 18 (Thursday) Modern English are at The Brighton Music Hall
May 29 (Monday) Teenage Bubblegums, Jagger Holly, Mongorellis, Jimmy Jacked at Opus Underground in Salem
June 1 & 2 (Thurs & Fri) Reverend Horton Heat at Once in Somerville
CONTACT US AT....misslynbgn@yahoo.com - Send us your gig listings, your news and anything else ya got!!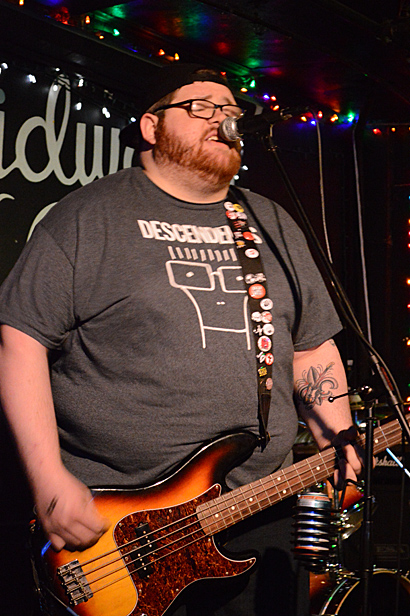 Loser's Circle
Photo: Blowfish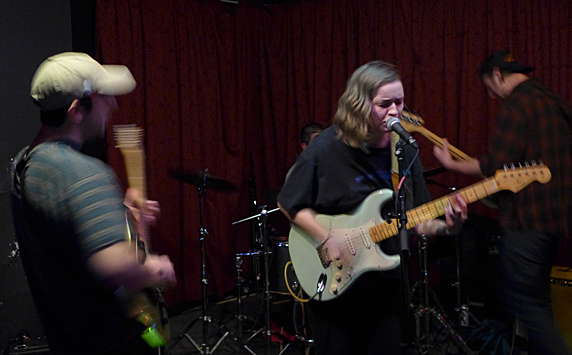 Nervous Dater
Photo: Blowfish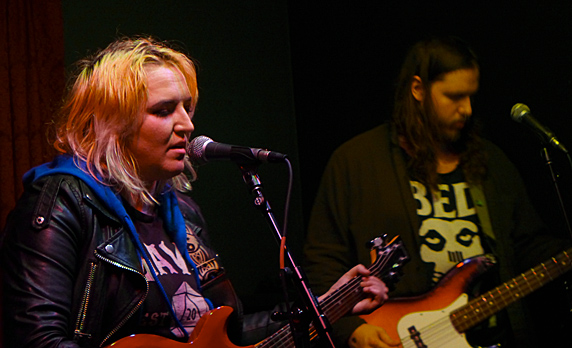 Hard Pass
Photo: Blowfish