The BGN News Archive
February 1, 2010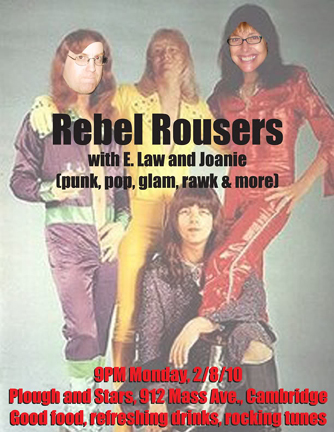 Well no yapping from Miss Lyn this week…I'm nursing a cold and ….bleh…so…
This Friday Feb 5 good show at O'Brien's with Doggfight U.S. , The Acro-Brats and Buried In Leather (who don't play around much anymore so you should catch this show)
then on Saturday 2/6 there's The Dirty Truckers, Muck & the Mires and Watts at Church …
also this Saturday 2/6 The Neighborhoods are at Lupo's in Providence RI with The Joe Perry Project….
and next Monday Feb 8th at The Plough & Star, E. Law and Joanie L will be doing their first installment of "Rebel Rousers" DJ-ing some great music and making it well worth it to go out on a Monday night. They each will be doing a 45 minute set, starting at 10PM. Plough has excellent grub too so go a little early and eat dinner!!
Other stuff coming up later this month: There's a special Valentine's Day show at The Midway, 3-7PM on Sunday 2/14: The Rev. Joe Fagan presents a James Straight and the Wide Stance Valentine Matinee Massacre with James Straight & the Wide Stance, the Mesmerines, and Steve the Farmer and the Murder Balladeers!
And is an excellent show at Precinct on Saturday, Feb 27: The Young Tremors, The Dirty Truckers, Memphis59 and Watts ,,,,,yeah!! and it is the Young Tremors CD Release party so come on down and help them celebrate "Very Nice, Very Nice".
also Foxpass' new CD is available: 'INTEMPOREL' at CDBaby and you can catch Jon Macey with some friends like Sal Baglio and The Bittersweets at The Cantab on Feb 27th,
in March we can look forward to a cool show at The Beachcomber in Quincy with Big Bad Bollocks, Beantown Boozehounds, Paul & The Strings and Drago. and.....Mark your calendars now for Nancy Neon's Rat Reunion Nights in first weekend of April, at Church: The Flashcubes, 1-4-5, The Varmints, The Boize, Foxpass, Third Rail, The Last Ones and The Classic Ruins…….
and that's just one night, we'llhave more info on the other night later....
and to choose the perfect T-Shirt for the evening I suggest you go to QRST's and pick out , oh let's see a Rat T Shirt or better yet a Mitch T shirt!!! (awesome) or many other to pick from as well… you can email us at: Miss Lyn email......