The BGN News Archive
February 1, 2021
Vaccines are slow in rolling out and places are still in shutdown. Maybe they know something we don't, but Dropkick Murphy's have booked a show on April 17 at Hogan's Run, and it's for free, just show up. Seriously? We'll see. The event page.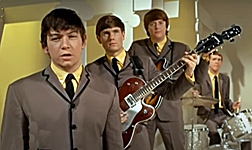 Hilton Valentine the lead guitarist of the Animals died this week. He proved once and for all that you didn't need flash to be a great lead guitarist. Countless guitarists have copied his riffs. Playing the arpeggiated chords to "House of the Rising Sun" was the "Stairway to Heaven" of the sixties. A local moment was when Hilton sat in with the Downbeat 5 at their CD release party. Here's a remembrance in the Daily News. Here's a short article in the NME.

Keeping track of the original punks: Jane Hudson, of Jeff and Jane Hudson back in the day has been ensconced (still with Jeff) in western Mass and doing her art. We love her colorful and geometric paintings. We've seen a lot of her work online through the years so that's why we know that only a small section of it can be seen on her webpage. But check the current paintings at this link.

Jeff Hudson is also busy with a new song/video called "It's Working Real Good". Video above. Jeff was doing multi-media presentations back in the 70s.

Bradley Jay of Jay Talking used to be in the Hudson's. He actually did a remix of "It's Working Real Good". Listen here.

The next Mess Around will be on Sunday February 21 at 6 pm. It will be a fund raiser for the Shine Square Pub, a Mass Ave fave of the Mess Around crowd.

The line up will include the regulars Justine Covault, Tom Baker and Jay Allen. They will feature a video premier and some songs by Dave Wells (of the Pub) and his good friend Matt Charette. The event page.

RED ON RED NEWS!!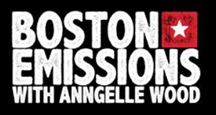 Anngelle Wood did an interview about the Red on Red Record label. It was a smart move to start the BE TV video channel for Boston Emissions. Anngelle had been doing video interviews and she is good at it. Now there is a home for all of them at the BE TV channel here.
When Anngelle asked Justine what incentive she was offering to the band she is signing she revealed that they were seeking her out! That is so cool! We can understand why. Red on Red is getting traction even in the midst of the Covid shutdown. The only real competition is Rum Bar.
Steve Prygoda from Cold Expectations clarified that the group went through a country phase but now is on more of a pop path.
There was a video premier of the new Jacklights single called "Winter". That song is about slogging through a New England winter – can you possibly relate to that?
That video is at the end of the interview or you can watch it below. here.
Red on Red artist Kid Gulliver released a song/video this week of "Beauty School Dropout". We've heard Kid Gulliver play " Beauty School Dropout " live a few times

and it was memorable. In many ways it was a typical Kid Gulliver song, the music drew you along and the lyrics hooked you.
The recorded version does full justice and more to the live version. The group sounds better than ever with Sandy Summer on drums, David Armillotti who wrote the song and Simone Berk puts a face and personality on everything she's involved with as she does here in the song and video.
The video reflects the Covid realities. There are no group shots but the graphics and video manipulations are so good you don't feel deprived. This is a textbook example on how to get a video done in these times.
You can see the video above.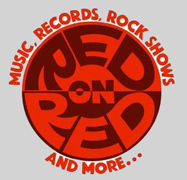 Why would you want to be on Red on Red? Because they know how to get publicity even in these odd times.
Justine and Red on Red cropped up again in an interview in The Dig this week. Read the article is here.
Red on Red records is having a Virtual Showcase on February 12. They are promising some video premiers. Some of the groups in the showcase will be… The Jacklights, Phase Four, Hoods unseen at TT's farewell party Devil Love Speedfossil and Day Lillies. The event page.
With less live music we have a new record store on the North Shore Pleasant Village Records & Collectibles in Beverly, run by none other than Jaime Talia who most of you may know since she used to be practically out at every gig there was. Jaime is a devout member of the Boston music scene and we were happy to find out a little bit more about her and her new store. We asked her a few questions and John Keegan took the photos! Did you know that Jaime grew up playing a variety of musicall instruments? and had wanted to on opening a store for a long time? To read it all in our interview click the photo below.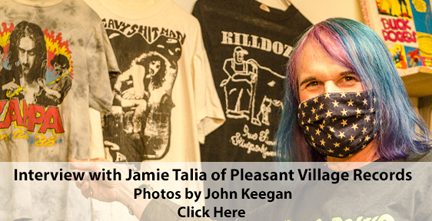 Back Porch Carousel's next live stream is on February 14. It's a benefit for the Boston Health Care for the Homeless. If you haven't seen a Back Porch Carousel it's time you did. This has its own unique vibe. It's roundtable talk and the singers taking turns makes it friendly format for sharing. Here is the event page

Juliana Hatfield did her whole Bed album at Q Division. The album, a few extra B-sides and some questions lasted an hour and a half. These sessions have been a gift for fans. It's a generous up close visit with Juliana. She plans on doing another one in a month with the idea of eventually doing all her albums.

Meanwhile Julianna Hatfield's new song off a new album was posted in Rolling Stone magazine. Read the article is here.

Tim Kelly will be on WMBR Late Risers Club on Tuesday Feb 16. That's from 10am to noon on 88.1 FM.
WMBR website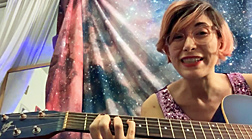 Linnea Herzog did a 50 minute live feed this week. She began with the first song off her next EP by Linnea's Garden which will be on Red on Red Records. The song "Science is You" has a line, " I don't believe in God, only Science and you". That puts it right out there.
We love the title of her next song "Non Dramatic Breakup Song". That was very catchy. In the group context it should be a killer.
She played "Like the Patriarchy" another provocative slice of social commentary. She sang the WhistleStop hit "Queen of the Drive In" and a quarantine themed "I Want to See Your Mouth".
Watch the video is on her Facebook page here.

We love stories about how people got involved in punk, the earlier the better. This week in Thrash and Bang Slimedog talks about Syl Sylvain and buying the first NY Dolls album. The Dolls and the Dictators were the road leading to punk. Slimedog also talks about the early record stores in those days. Read the Sylvain Tribute at Thrash 'n Bang. We miss seeing Slimedog and Andy at the Midway!! (Sad emoji here.)
The Sparks doc The Sparks Brothers is getting closer. They now have a trailer. This is gonna be hilarious.
Here's some more info on the website The Wrap plus a short video interview with Sparks. Check it out here.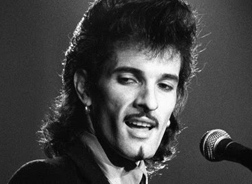 There's also a Willie DeVille doc in the works Heaven Stood Still by Larry Locke. It includes lots of live Willy footage of course, and Chris Frantz (Talking Heads), Peter Wolf (J Geils Band), Ben E King (Stand By Me) and Hal Wilner (Saturday Night Live) were interviewed to share their thoughts on a musical maverick.

It wasn't that Willie DeVille was out of place in the punk era it's that he would be out of place in almost any era. He had so much talent and only a little success. He should have been monstrous. He played and recorded for years after that first album and never got the commensurate popularity he deserved.

A trailer was just released in January. You can watch it here Heaven Stood Still .

Teenage Fanclub have been dropping choice pop rock albums every couple of years since 1990. The next one is coming out this summer and is called Endless Arcade and is due on April 30 on Merge Records. They've released three singles so far leading up to the album. The latest is "I'm More Inclined". It's not a rush of bubble pop but a more measured approach that we find appealing. The song is on YouTube.

The two previous songs, "Home" and "Everything is Falling Apart" can be found on the Under the Radar website.

There Norman Blake an original member talks about how being older has changed their outlook. "We're all getting older, and you can't help but think about mortality, especially when you're being creative and reflecting on your life. I think emotional honesty is really the only lasting value you can offer," McGinley adds. "Don't create a pastiche of yourself. Don't try to be cool or witty, or try too hard." We go along with that clear thinking.

Chris Brokaw's new album Puritan is out now in vinyl form. You have it if you ordered it, which you can do on Bandcamp here.

Bandcamp which posts a zillion albums a day actually spotlighted Chris' album in their newsletter. That's amazing!! You can read it here.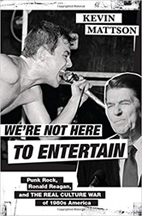 The Nation had a review of Kevin Mattson's book about punk in the Regan era called We're Not Here to Entertain. There have been people questioning why there isn't more politics in current punk music. We do hear lyrics that deal with the current problems, just read the lyrics of the OC45's song City on a Hill (https://oc45.bandcamp.com/ ), but direct confrontation with the administration is much less common. It might take a look back at a future date to figure out why that was.
We're Not Here to Entertain takes on some big questions. It's indicative of the punk literature that's coming out. Punk has had a continuing influence outside music since its inception and these books are documenting it. The Nation review is here.
CDs/ Music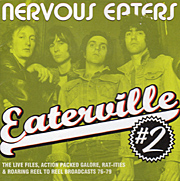 It's taken a few years but we finally get Eaterville #2 on Penniman Records, which was always the plan. In a time when we can't see a live band we get an album of live recordings. Thank the gods of recording.
Eaterville #2 opens with "Hot Steel and Acid" recorded 8 years before its official release. What about "I'm a Degenerate"? It's such a perverse anthem. It stomps along like a dirty march. The lyrics are filthy. Yet we get a burst of excitement when we hear that opening line in the even trebly guitar lower strings. We would say it's all tongue in cheek but they would twist that phrase and make it dirty too.
We finally get a good version a "Necessities". We love that the songs are all upbeat rockers but then again we love it when they slow it down for a second with "Red on White". There are some songs that give you that 'rush' you get when you are smashed in a crowd up near the stage and the song begins (remember that?)..like "Just Head". It's such a rush of energy it's like a fireball swooshing by.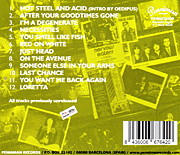 The Nervous Eaters have such memorable songs, that's was true at the beginning and it's been true for forty years.
We wanted to compare this to the cuts on Eaterville #1 that came out in more than a few years ago now but had to forget about that because we just wanted to listen to more of this Vol 2.
There are so many of those hot steel and acid searing guitar moments. On the Avenue Our fave is one Steve's been playing similarly for years in "Last Chance". It starts with some triple strumming some double stops, then goes to some octaves before slashing and slicing his way through the rest of the verse. This is not a classic start from a small motif and then build up solo, this is a mix of ideas thrown out to build a dazzling whirlwind.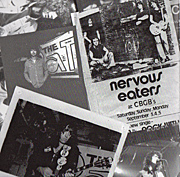 With this recording we finally can listen over and over and appreciate it. During the live shows you are too wrapped up in the frenzy to get what's going on. That's the beauty of this whole album. It captures many of the live moments we have come to know and love and you can go over them over and over and even get some perspective on them which is exactly what you can't do live. "Just Head" always goes by so fast, here it was, "OK, let me hear that again and catch what's going on."
What a different sound the beginning of "Someone Else in Your Arms" has. It must the keyboards, and who is playing those? It's a matter of simple yet effective arrangement.
Eaterville #2 ends with an early version of "Loretta". New or old, any version of this is good by us!! Yeah you can get it on Penniman Records.
It's more Eaters for you , baby!
We got an early copy of the soon to be released Adam Sherman album Triangle Sky. It's 11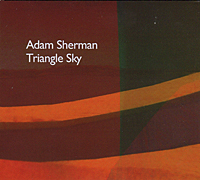 cuts of his sophisticated songwriting performed by quality musicians and recorded and mixed to perfection. This is how Adam does it every time. Adam teaches singing and if he can pass on any of the magic he has with his can voice to those students they are lucky. His voice is what gives all his songs emotional resonance.
The songs are confessional and moody. "Self-Destructive Heart" is the one song with a harder edge. The closing cut "Currents" has a different feel than the other songs. There is a light horn arrangement that gives it a sultry New Orleans vibe. Adam has his fellow Back Porch Carousel musicians on this cut with him and it's all to good effect. It's a stand out cut.
Some of the songs were produced at Woolly Mammoth Sound and Minehan plays bass on those songs.
The album isn't available right now but should show up on his Bandcamp page soon.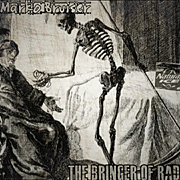 We saw this album The Bringer of Rad by Marko Bruiser, from Central Mass, on Thrash 'n Bang. Slimedog gave it a great review and we agree with him. This thing just clicks on a few levels. It's got an instantly familiar sound about it and there are spots that are as catchy as hell. The song "90 Degrees" has all these qualities. The simple lyrics just seem to pine for a day at the beach with a loved one, so why did we play it a dozen times?
There are songs with a synth playing and that usually is the kiss of death with us but here it works. There's no musicians listed so we assume everything is done by Marko. He has what is becoming common these days, a song titled "Quarantine". Hey, you write what you know about.
We think Thrash'n Bang found a real gem with this extremely listenable album!
CONTACT US AT....misslynbgn@yahoo.com Send us your gig listings, your anything else ya got!! You want your CD reviewed?? Contact us for that too.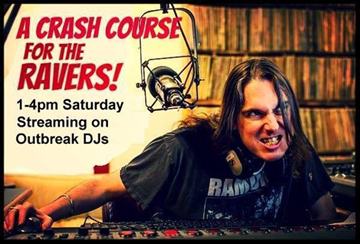 ---