The BGN News Archive
February 2, 2015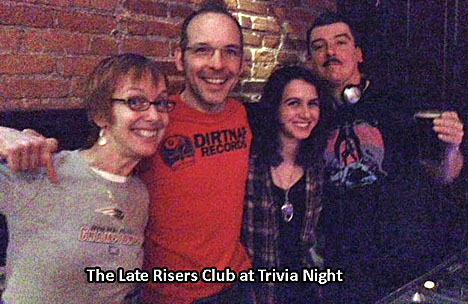 well folks we were pretty snow bound by the storm this past week. A lot of shows were cancelled and the city has been a total mess so we don't have much to report....
Come hell or high water or two feet of snow WMBR's Late Risers Club had their Rock N Roll Trivia Party this past week...we didn't even make it there never mind getting trampled by the likes of E. Law like last time but here's some words from Joanie Lindstrom's report of the night:
"There were 10 or 11 teams but only 8 playing for real. The top team got 37 out of a possible 51 . Eric Law's (and Carl Biancucci's) team was #1 again and Pip from ZBC's was #2 again, those guys know their stuff. It lasted exactly 90 min as predicted and I heard the free hot dogs were great but never grabbed one. Mully, Olga and I handled game duties with Mark arriving as the music started after his hellish day. And right when Mully brought out my anniversary cake! I thought it was a joke when after giving me props for the anniv, he mentioned a cake but it was a really nice baked apple thing from Petsi Pies. Dude you could have just grabbed a Stop & Shop one and it would have been a super surprise."
Well congrats to Eric and Carl and their team for winning (are you even surprised? we aren't. Joanie's right these guys DO know their stuff!!) And a big congrats to Joanie for a job well done and for another LRC Anniversary under her belt.
While we found it hard to get out of the driveway others got out and sold out the Midway on Saturday for Mark Lind's all day Boston's Burning 2 line up of bands including The Welch Boys, Hudson Falcons, Burning Streets, Diablogato, OC45. Great line up so we're glad it still sold out so congrats are in order there as well.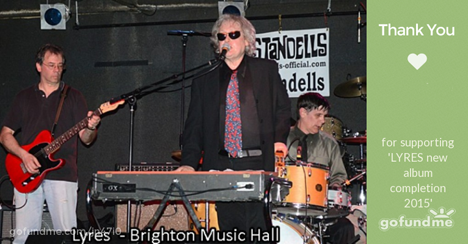 We're all Lyres fans and Lyres have started a Go Fund Me campaign to help get their first album in 20 years completed. With a working title of Completeled Lyres 2015 this disc has been worked on since 1994. Let's get it wrapped up and in our hands so we can listen to mroe Lyres!!! Here's the Go Fund Me page...go fund them!!.....
Bob Colby is putting together Bob Colby Presents gigs to start this spring at Store 54, he's got to shows set up and more to come!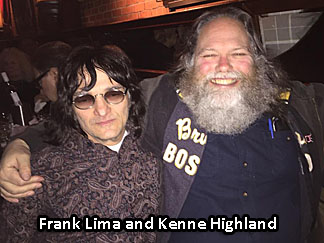 Fireking have wrapped up their January residency at The Midway. By all accounts it was a successful month and John Doherty got some great videos of the band performing. Here's Dukes of Rock for your viewing and listening pleasure!! Thanks John.
There was LOTS of posts on FB when Miss Lyn posted a comment to Kenne Highland about the Smithereens playing at Johnny D's in March....the reason? The outrageous price of the tickets!!! $65.00!!!! $75 day of show. WTF???? People are saying they won't pay those prices. Meanwhile live from New York we just spoke to Kenne Highland and he saw The Smithereens last night at BB King's in NYC for $30!! He's been pals with Frank Lima since the 70's. Frank said Dave Davies was going to show up but in the end could not.
So here are some shows that will be considerably cheaper ....
This week.....
February 2, (Monday) Tigerman Woah!, Cactus Attack and the Radiator Rattlers are at Opus Underground in Salem, MA
February 5 (Thursday) The Upper Crust and Watts are at Johnny D's in David Sq.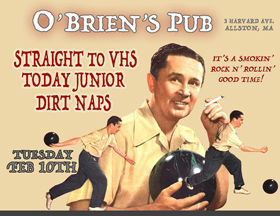 February 6 (Friday) There's a Winter Rock Extravaganza at the Greek American Social Club in Union Square with The Eric Barao Band, Claws that Catch, Right on Red and Soft Pyramids
February 7 (Saturday) It's Michael J Quirk's Birthday Show!!! at The Granite Rail in Quincy. and the night goes like this: 7:30 Pat on Piano 8:15 Real Real Bayou Boy Band, 9:00 Joey Fingers and the Cottage Ave Band, 10:00 Tokyo Tramps then 11:30 Happy Birthday Mike Quirk Jam
February 7 (Saturday) you can catch Kim and Cam Ackland guesting with Litehouse as The Black Souls at Club Bohemia at The Cantab. Also on the bill Fireking and MOTO.
February 7 (Saturday)- The Middle East has The Drax (Goddamn Draculas) Record Release Show along with Aquanutz, Township, Planetoid, and Party Bois
February 7 (Saturday) - The Midway has Bella's Bartok, The Sprained Ankles, The Pity Whores, Trashawk and Whoopi Sticks
February 7 (Saturday) You folks out in Worcester get to see Roy Sludge and Johnny Sciascia! They are at Vincent's (49 Suffolk St, Worcester, Massachusetts 01614)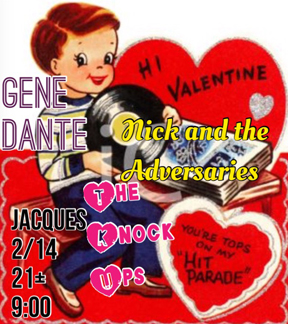 And coming up after this week we have.......
February 8, (Sunday) Roy Sludge is back in town at The Midway for a killer afternoon of Stump The Undertaker!! Here's some video from a previous event. Start thinking of a good song to stump him with!!
February 9, (Monday) It's Triple Thick's Semi-Annual Cupid Has Rabies Anti-Valentine's Day Party at Charlie's Kitchen with Pioneer Valley Pioneers (9:30), White Pages (10:15), Triple Thick (11) and Cracked Mirror (11:45)
February 9, (Monday) is Punk Rockin' And Pastie Poppin' Burlesque at The Midway
February 10, (Tuesday) O Brien's has Today Junior, Straight To VHS and Dirt Naps
February 13 (Friday)- Nice Friday the thirteenth show!!: The Cretins, Duck and Cover, Scrapes, and The Quins are at The Middle East Up this is a LeaguePodcast show
February 13 (Friday)- Tim Catz' 50th Birthday Party featuring White Dynomite, The Humanoids, Muck And The Mires, Worshipper and DJ sets by Joanie Lindstrom at Great Scott's
February 13 (Friday) at The Midway there's The Wrong Shapes, Unstraight, Four Point Restraints and Night Slice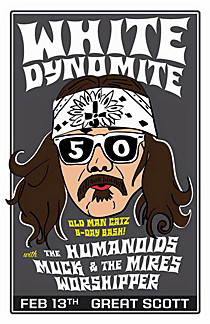 February 16 (Monday)- Thee Icepicks (from Portland, ME), The Egos, The Boglins, & Tsunami Of Sound! are at Opus Underground in Salem, MA
February 20 (Friday) It's the Second Annual Lux Lives celebration of all thing Lux Interior and the Cramps!! at The Midway, who better to play this night than The Evil Streaks, Thee Icepicks and The Skeleton Beats...along with Kogar the Swinging Ape.
February 21 (Saturday) A Crash Course for the Ravers WMFO 91.5 FM 1-4PM has The Radiator rattlers as guests...plus a whole lotta great music.
February 21 (Saturday) Midway Matinee with Urban Waste, Progree, Sick Joke, Honest John and Incidious - this is an All Ages show doors arte at 4PM.
February 21 (Saturday) Spectre Hawk, Bunch of Jerks, The Skeleton Beats and DnA's Evolution are at The Greek American Club in Union Sqwuare Somerville.
February 23 (Monday) -The Ungraded, Quiggs, Duck & Cover and The Runouts are at Opus Underground in Salem, MA
February 24 (Tuesday) Calabrese, BITERS, The Connection, Zipgun Bomber, and Quiggs -are at The Middle East. It's a bit of an early show -NOTE: 7pm Doors. Here's the FB page
February 27 (Friday) Squallie Greenthumb's Birthday Party at The Midway with Penalty Kill, B'Loco, The Warning Shots, Squallie Greenthumb, Squallie And The Chaotix, Wayne Da Payne, OC45 and Split Face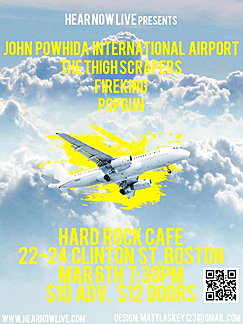 February 27 (Friday) At the Oberon in Harvard Sq!! Bring Us Your Women presented by Catherine Capozzi of Axemunkee is a multi-media performance which includes live band, projected film, dancers and poets - dedicated to women and the pursuit of divinity and freedom. Bring Us Your Women tells existing and re-imagined stories of historic and mythical individuals presenting a message of humanity that transcends gender and religion. 8PM Do Not Forsake Me Oh My Darling and friends will perform.
February 27 (Friday) Tigerman WOAH is having their record release party at Cuisine en Locale also ont he bill The Dirty Bangs
February 28 (Saturday) One can never get enough Roy Sludge and he's at Johnny D's in Davis Square.
March 1 (Sunday) Salad Days - The D.C. Punk Revolution is a film about the great punk scene that came out of DC this specifically covers 1980-1990 though there was great stuff in the late 70's too!! Anyway if you want to see it I hope you have a car coz the only place its playing around here so far is in Amesbury. It's at The Stage 2 Cinema Pub on March 1st with two showing 2 & 6PM. Keep up to date and buy your tix ahead of time here. There's limited seating.
March 6 (Friday) Opus Underground and It's Gonna Get Weird continue to produce great shows up in Salem. Tonight is no exception: Whiskey Kill, Diablogato and The Red Pennys...a very good bill!!
March 6 (Friday) At The Midway there's My Own Worst Enemy, When Particles Collide, Preacher Roe and Full Body Anchor.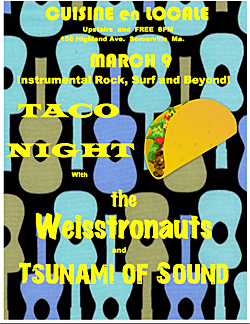 March 7 (Saturday) A Crash Course for the Ravers on WMFO 91.5, 1-4PM has Heavy Neckers and Jay DiBiasio as guests this time around.
March 7 (Saturday) and talk about good bills - this one is EXCELLENT! Sean Coleman comes back to Boston with his band the Quazars along with Little Lesley and The Bloodshots and The Red Pennys
March 8 (Sunday) Mark your calendars! Gail Corcoran is putting on an all ages show at the Midway Cafe featuring... The Sheckies, The FUs, Jimmy Jacked, and Jagger Holly (members of the Hollywood Blondes and The Johnie 3!) And she's having a bake sale too!
March 9 (Monday) Cuisine en Local has it's Taco Night on Mondays and this one also includes sets by The Weistronauts and Tsunami of Sound.
March 14 (Saturday) Terry Brenner is trying to give the Spotlight Tavern a go again...and he's doing it will almost the same bill as the ill fated show back in November 2014...Willie Alexander and The Boom Boom Band and The Nervous Eaters...sadly no Real Kids this time around but we do get to see The Knock Ups with John Surette. Here's the FB page
March 14 (Saturday) In town there's The Humanoids, Kilslug, Gaskill at The Midway...that should be a hell of an event!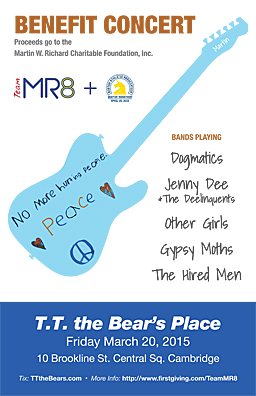 March 19 (Thursday) The much loved '80s garage-pop-psych band The Prefab Messiahs has an EP (10", cassette, CD) coming out March 10 on Burger Records & KLYAM Records (split release). It'll be their first new sounds in 32 years! So they are having a record release party at The Middle East Upstairs - it's The Prefab Messiahs, The Fagettes, Magic Shoppe, and Fedavees
March 19 (Thursday) at Atwoods in Cambridge, MA. World-renowned rockabilly sensation Jittery Jack, along with Miss Amy Griffin on guitar, Johnny Sciascia - America's Bass Player , and Judd Williams on drums. Two big sets of top-notch rockabilly and rock 'n' roll on a thirsty Thursday evening ! WMFO's Easy Ed spins platters early, late, and on the break.
March 20 (Friday) at TT's - Join The Dogmatics, Jenny Dee & The Deelinquents, The Hired Men, GypsyMoths - band, and The Other Girls for a night of rock and roll to benefit Team MR8, running for The Martin W. Richard Foundation in the 2015 Boston Marathon. The Martin W. Richard Charitable Foundation honors Martin's message of "No more hurting people. Peace" by investing in education, athletics and community..
March 21 (Saturday) A Crash Course for the Ravers WMFO 91.5FM, 1-4PM has the Welsh Boys as guests today.
March 28 (Saturday) - Township is at the Midway.
March 28 (Saturday) Bob Colby presents Thalia Zedek Band and Banditas at Store 54.
April 3 (Friday) -It's Party Time at TT's with Party Bois, Petty Morals, Parlour Bells and Gene Dante & The Future Starlets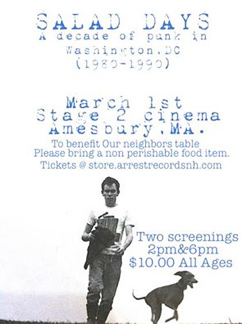 April 24 (Friday) The Upper Crust, The Grannies, White Dynomite and I Am Next are at Cuisine en Locale. You can buy tix for this killer show here.
April 25 (Saturday)- Bob Colby Presents Sarah Rabdau & Self-Employed Assassins and The Wrong Shapes at Store 54
May 9 (Saturday) Johnny and The Jumper Cables at the Midway Cafe!
May 16 (Saturday) Hixx are at Club Bohemia at The Cantab
May 22 (Friday)- You have been warned - Book the flight now: Sleep Chamber!! Doing their only show in 34 years in Tel Aviv, Israel at UTC+02. Not only is this their first show in 34 years - its their LAST SHOW ever.
July 18 (Saturday) Mission of Burma opens for The Foo Fighters and the Mighty Mighty Bosstones at Fenway Park
and of course The New England Shake-Up! September 25,26,27 2015! Keep yourself updated at their FB page
CONTACT US AT…….misslynbgn @ yahoo.con Send us your gig listings, your news and anything else ya got!!