The BGN News Archive
February 4, 2019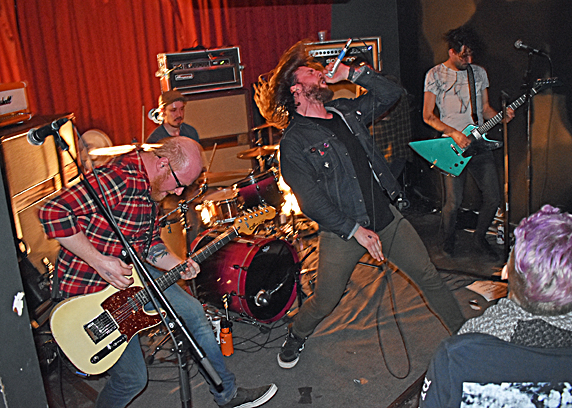 Actor Observer
Photo: Blowfish
---
The insane cold backed off in time for the weekend. This weekend there were a tons of good shows. Even in the middle of winter great music will not stop. To add to the mix the Cantab had shows going again.
We hit Sally O'Brien's on Friday for the "Three Hour Tour" as they were billing it. We caught all three bands right from the beginning: Kid Gulliver, The Knock Ups and Muck & the Mires.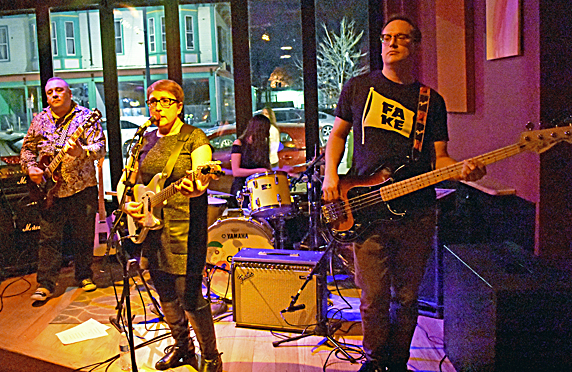 Kid Gulliver
Photo: Blowfish
John Keegan first saw Kid Gulliver at the Cantab in March of 2018. We've seen them a few times since then and every time we like them more. They go from pop to punk, and in that way fit on a lot of different bills. On the punk side they sound like Justine and the Unclean in some ways. Their song "You'll Never Know" illustrates this.
The first song they did that stuck in your head was "I Like Your Hair". Another irresistible nugget followed called "Beauty School Dropout" which isn't recorded yet. One song was psychedelic sounding with the guitar utilizing a flanger of some kind and if you doubled the temp of "I Want to Be a Pop Star" it could be a Muck and the Mires song.
They ended with "Suzie Survived Chemotherapy" which sounds like the best song the Ramones never recorded. They didn't blast the music out but kept things restrained. The rhythm section was even bouncy at times. There was always nice guitar work going on.
Then there's Simone Berks' vocal work. We've always been impressed with her singing.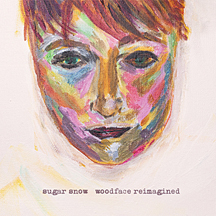 Now, she has completed an almost inconceivable project in her parallel solo career, which she calls Sugar Snow. She has re-imagined Woodface, the album by Crowded House. They're known for the song "Don't Dream It's Over" but their crowning achievement is the Woodface album. It's 14 cuts of the half dreamy songs that seem so individualized to the Finn brothers that redoing it would seem folly.
But after a year with the help of Brian Charles at Zippah Studios she's has stamped her own brand on it. Most of the time she stays close to the original thrust of the songs while letting her voice find the feeling even while using similar inflections to the original. They change the backdrop for some songs, to add a different character and Brian adds some echo laden guitar, Twin Peaks style, to some songs.
In "Whispers and Moans" she gets some more traction on the lyrics with her higher voice. Sometimes when the original has strings she uses keyboards. In "Four Seasons in One Day" she has plucking strings instead of keyboards. We are giving it attention here because it is such a unique accomplishment. You can hear it on Bandcamp Sugar Snow
The Knock Ups
Photo: Blowfish
The Knock Ups have done a lot of shows in the last few years and we've seen a few. We were bowled over all over again with Gretchen Shae's voice, it's big and expressive that commands attention. It fits their material and drives home the worth-hearing lyrics.
They did a changeup mid-set by doing "Jane Says" by Jane's Addiction. Cat Verlicco on bass switched to acoustic guitar while the drummer kept it low and Gretchen put down her guitar. It was a tour de force. With just a little echo on her voice she made Sally O's feel like a cathedral.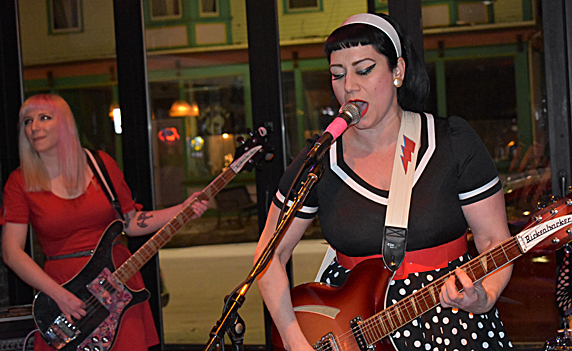 The Knock Ups
Photo: Blowfish
We like their own songs a lot, like : "Shut Up (and Put Your Dress On)", "1969" and our fave that always gets people laughing – "The Anti-beard Beard Song (Paul Weller's Blues)".
Cat Verlicco on bass wasis hard not to notice. She hits the bass hard. Tonight you could not only hear it but see Cat hitting it wildly with her thumb. We thought for sure it would be bruised or bleeding but we asked later and she showed us an unmarked thumb. She said she does it all the time and somehow with the bass she has, it doesn't hurt her.
That was two good sets and only a little time to get ready for Muck and the Mires because we all know how that works. All of sudden, unannounced, they jump start the set and there's no looking back for 40 minutes. And that's the way it was.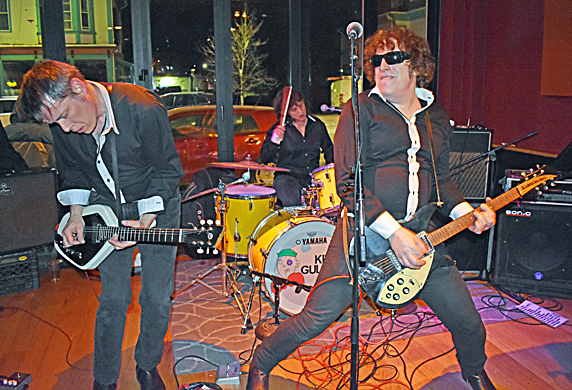 Muck and the Mires
Photo: Blowfish
There were a few songs we didn't know amongst the faves. Those were new ones we assume. Muck and the Mires seem to always be looking forward with new material and exciting tour destinations. It was the usual set of irresistible Muck songs, even though they do this every time we are not jaded by them at all. Every time seems like the best time – and that would be a good song title for them.
After a generous set people kept cheering and they came back for two more songs. They ended with "Commando" by The Ramones with Jay Allen jumping up to the mic – in his own commando style.
The Sally O's audience continues to be one of the best. Matt Burns said Sally O's was becoming like another Abbey and you can see that. With the extra footage, the redesign and the new sound system last year, along with the consistent booking policy they are getting their own vibe.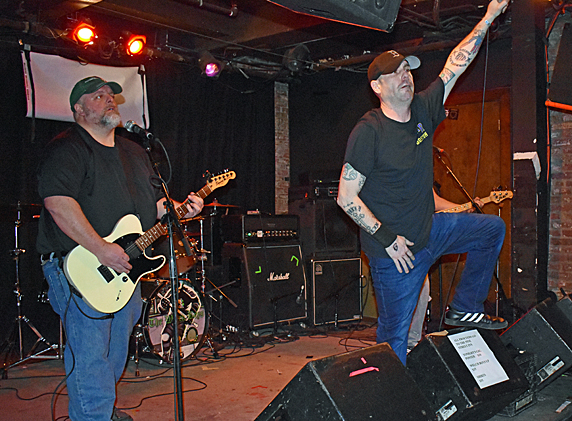 Pint Killers
Photo: Blowfish
Saturday we went both for the music and to support the fund raising for the Pine Street Inn at the Ron Holbrook Memorial Show at Great Scott. Ron Holbrook was the Welch Brother's original drummer. T.J. Welch was the MC for the night.
We only saw two songs by the Pint Killers. That was enough to see Mark Doherty doing his thing. We have to catch a whole set soon!!
Guns of Brighton
Photo: Blowfish
We saw Guns of Brighton at this same benefit in 2017 and we liked them then but I don't think we got the whole picture till this night. Their main sound was early Clash English punk. Their own songs had some dynamite riffs on the low strings and they hammered those home. They have three voices going a lot of the time. They have two doing simple background melodies that add a lot.
Michael, the guitarist was a standout. He had some very tasty leads done with a rusty tone. He also proved himself in the covers which were interesting. Out of left field they pulled out "Daydream Believer" by the Monkees. They also did AC/DC's "Let There Be Rock". They even had a light on stage that went on when they hit the line, "Let there be light". The guitarist went to town on the solos even moving his feet like Angus. It was a long set with fine originals and those covers.
Here's a link to their CD .....Time for them to record again.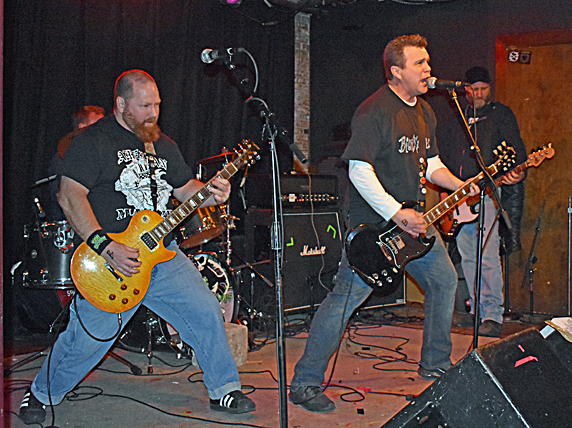 Chad's Other Man
Photo: Blowfish
Rockin' Bob Punk Band had to bow out coz one of the guys was sick but Chad's Other Band were rocking hard and we wanted to stay but Actor/Observer was playing down the street at O'Brien's.
As it turned out we timed it well as they were just starting their set. The show was a sell out. Inside it was hot and sticky showing the effects of hours of a full club. People were jammed up front.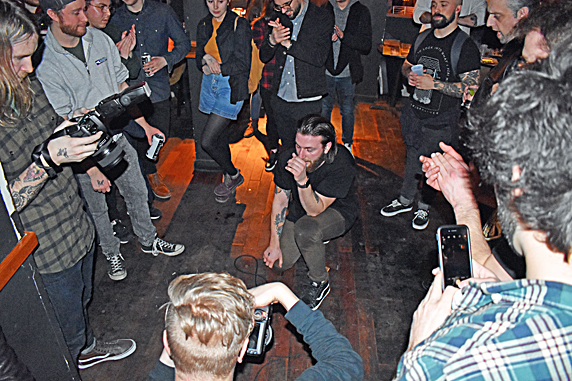 Actor/Observer
Photo: Blowfish
We've seen Actor/Observer many times but this show might have been the most intense, the most emotional and personal of them all, and that's saying something. Every note and lyric is driven to dig deep into the psyche. They are all about plumbing life's challenges. There's no let up outside of some atmospheric single guitar interludes which despite their airy tone still are introspective. Soon enough the emotional storm returns.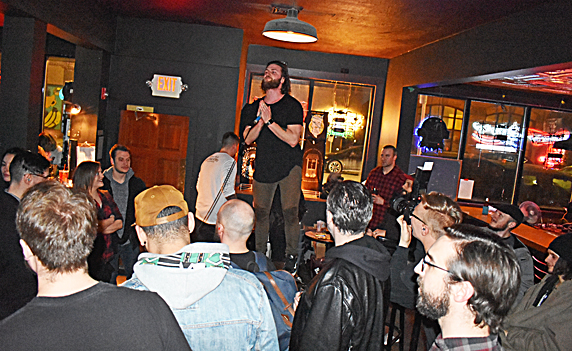 Actor/Observer
Photo: Blowfish
The group is super tight. The overall sound is very busy with the two guitarists playing off each other. They have a thick lower end to which they add pounding accents. Singer Greg often duping the accents with a broad hammering gesture. Greg was the focus. He was often off the stage and into the crowd, the audience often singing along. He was down on the floor and up on a chair in the rear of the club. He started one song in the middle of the audience. As the band kept it low, he sang without a mic. The personal lyrics done in that setting were very powerful.
We go on about this group because we get so much out of them. All we can do is tell you to check them out. They are back at O'Brien's in April.
More band photos below the show listings.
John Keegan was down the Club Bohemia at the Cantab both Friday and Saturday. He writes about A Bunch of Jerks and has a slide show of all the bands that played:Club Linehan A Go Go, The Legendary Cazbats, Billy Connors Project, Fireking, and Crow Follow. Click the photo below for the goods.
---
And in other news.....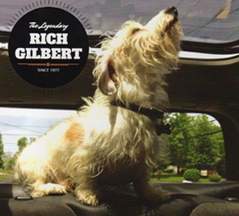 Rich Gilbert ex of Human Sexual Response/Zulus has another solo CD out. This one is called 11:59. It's a real guitarist work. It's quiet artfulness reminds us of those Harvey Mandel records like Cristo Redentor. He's having great success down in Nashville. You can get it here
The Connection have turned out to be a music machine. The group puts out regular albums and then Brad Marino does his solo work. Geoff Palmer also is a busy guy. Currently he is in the middle of a project where he releases a song a month and you know they are all pop perfect. Hear some of those on his Bandcamp page.
Theo Greenblatt who won that Literary Prize she picked up in London has another very short story on line you should read called "Archangel".
Here's a trailer for STIV the documentary by Chip Baker Films. It's directed by Danny Garcia who did Looking For Johnny, Sad Vacation. They have posted show dates for the film now. It's at The Regent Theater on March 37!! You can buy tix here. And here is the Facebook page.
---
Here's some good shows coming up this week.....

February 5 (Tuesday) Rock n Roll Trivia with Erin and Brett at the Sinclair. FB page for info.
February 8 (Friday) Hey Zeus Record Release & Listening Party (Argonauta Records) with Motherboar, Cocked N Loaded, Labor Hex at Once Somerville.
February 8 (Friday) Murphy's Law with The Black Cheers, More Beer Please at the Middle East
February 9 (Saturday) A Crash Course For The Ravers has 61 Ghosts as guests today - 1-4PM WMFO 91.5FM
February 9 (Saturday) Thee Fightin' Fish, Club Linehan A Go Go, The Billy Connors Project, and Paul Caporino of M.O.T.O. at The Midway for a matinee show 3-7PM ...BTW- this is also Mike Quirk's birthday party!! Happy Birthday to The Q!!!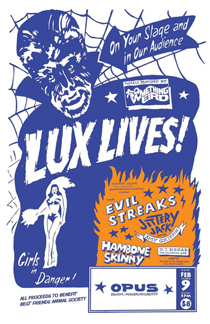 February 9 (Saturday) Pajama Slave Dancers with special guests Big Bad Bollocks and Gymnasium Night time show at The Midway
February 9 (Saturday) Lux Lives East Coast 2019 with The Evil Streaks, Jittery Jack & Amy Griffin, Hambone Skinny - and DJ Kogar the Swinging Ape playing Lux and Ivy's Favorites all night long!at Opus Underground Salem
February 10 (Sunday) Luv Buzz market at Once- This sip and shop event features more than 40 local vendors of vintage, records, handmade, and fine art items. This time around we are adding in some exciting interactive experiences including DIY workshops, tarot readings, caricatures, and more! 11AM- 5PM. FB page for more info.
And further out we have.....
February 12 (Tuesday) It's an 'MFO Mess-Around- Sky bar is having the Mess Around crew on his show tonight- 91.5 WMFO 8-9Pm
February 16 (Saturday) Stop Calling Me Frank, A Bunch of Jerks, The Knock Ups, and Tsunami of Sound are at The Midway for a matinee show 3-7PM.
February 16 (Saturday) 2019 Dana-Farber Marathon Challenge Rock 'n' Roll Benefit Show with Sidewalk Driver, Slim Jim and the Mad Cows, and Red Red Rockit! Night itme show at The Midway
February 16 (Saturday) Mr. Airplane Man, Sticker Shock, Johnnie and the Foodmasters are at Club Bohemia at Cantab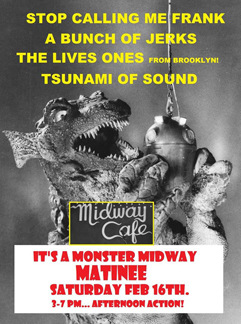 February 16 (Saturday) State of the Union and Pavlov's Dogs are at Key West Lounge North Adams MA.
February 16 (Sunday) DNZL, Flatlager, Loser's Circle, KCUF at The Midway for a matinee show 3-7PM
February 17 (Sunday) Randy Black and the Heathcroppers, Adam Sherman, The Skirts at ONCE Lounge doors 7PM
February 19 (Tuesday) Gang Of Four at Once Ballroom!
February 20 (Wednesday) Baabes, The Lipstick Boys, Vanishing Point at The Midway
February 20 (Wednesday) The Chills are at The Middle East
February 22 (Friday) The Gala, Bad Larrys, Gold Velvet Sofa at Opus in Salem.
February 23 (Saturday) JPx (John Powhida) and Nat Freedberg's Devil Rockin' Band at Union Tavern which is what used to be PA's Lounge in Union Square Somerville.
February 23 (Saturday) Kid Gulliver, Circus Trees & The Hi-End at Out of the Blue Gallery in Allston.
March 1 (Friday) Funeral Cone, The Laces, Kind!, Feedbag, Human Dust at The Dorchester Art project FB page
March 2 (Saturday) "Punk Legends" night - Featuring tributes to The Clash, The Sex Pistols, and The Ramones!!! with Charlie Don't Surf (The Clash), No Future (The Sex Pistols), Warthog (The Ramones)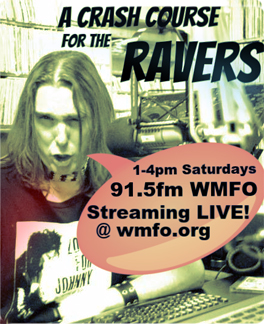 March 2 (Saturday) Robin Lane & The Chartbusters CD Release Show. its at The Burren
March 9 (Saturday) Crunchtime (Record Release!), State Of The Union, Billy Connors Project, Club Linehan for a Matinee (3PM) show at the Midway
March 9 (Saturday) The Gala, Muck and The Mires, The Evil Streaks, Baabes at O'Brien's - wow that is a GREAT line up!!
March 9 (Saturday) Thrust Club, Electric Street Queens, Weather Weapon, Fur Purse at The Midway 9PM.
March 9 (Saturday) Brother, Reveries, Foxtails, Hundreds of Au, Mangled at The Democracy Center Mt Auburn St Cambridge. FB page
March 15 (Friday) Dirty Truckers, modifierS, Melatonins at Sally O'Brien's
March 16 (Saturday) Today Junior, Dutch Tulips, Good Fiction, Salty Greyhound at O'Brien's
March 21 (Thursday) Hood Rats, Andy California, Mongorellis, Sticker Shock at O'Brien's
March 21 (Thursday) Feed The Punks DJ Night at Jeannie Johnston Pub in JP with Mangled and DJ Sweets spinning records
March 23 (Saturday) Carissa + The Cure-Alls, Justine & The Unclean, Tiger Bomb, RunHideFight at Sally O'Brien's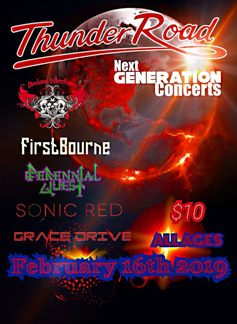 March 23 (Saturday) Tigerman Woah, Cactus Attack, Coffin Salesman, Nick The Barbarian at Opus Underground
March 23 (Saturday) The Gala, Sapling, Kid Gulliver, Mister Vertigo at Ralph's in Worcester.
March 30 (Saturday) When Particles Collide and Tiger Bomb at Bayside Bowl Portland ME
April 6 (Saturday) When Particles Collide and Petty Morals at The Plough.
April 7 (Sunday) Tørsö (CA), Low Vision (Japan), Laughing Stock, Crisis Actors at The Greek Club in Union Sq Somerville. 7:30PM
April 10 (Wednesday) Slovenly Recordings presents: Tommy and The Commies, Les Lullies, and The Monsieurs plus DJ Pete Slovenly at The Midway
April 20 (Saturday) Junkyard, Derailer, The Hi-End, Demons Alley at Koto in Salem.
April 25 (Thursday) The Proletariat, Moving Targets, The Northern Skulls at Alchemy Provi RI
April 27 (Saturday) The Proletariat and Moving Targets at Once
May 3 (Friday) Barrence Whitfield & The Savages w/ Muck and the Mires at The Middle East
May 4 (Saturday) The McGunks, Silver Screams, Revilers, Damnation, Live Nude Girls at The Midway 3-7PM
May 24 (Saturday) Lo Wreck's birthday with The Downhauls, The Dents, Duck & Cover and Skytigers at Sally O'Brien's
May 11 (Friday) The Undertones at Once Ballroom
CONTACT US AT....misslynbgn@yahoo.com Send us your gig listings, your news and anything else ya got!! You want your CD reviewed?? Contact us for that too.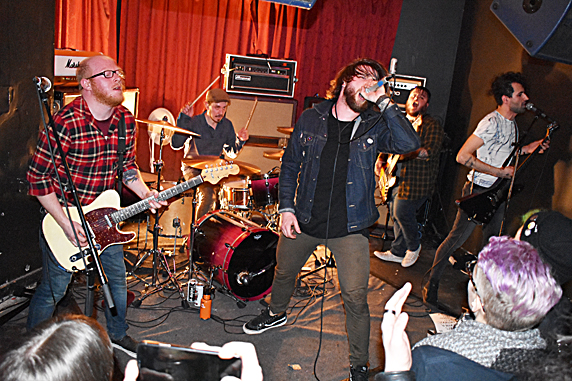 Actor/Observer
Photo: Blowfish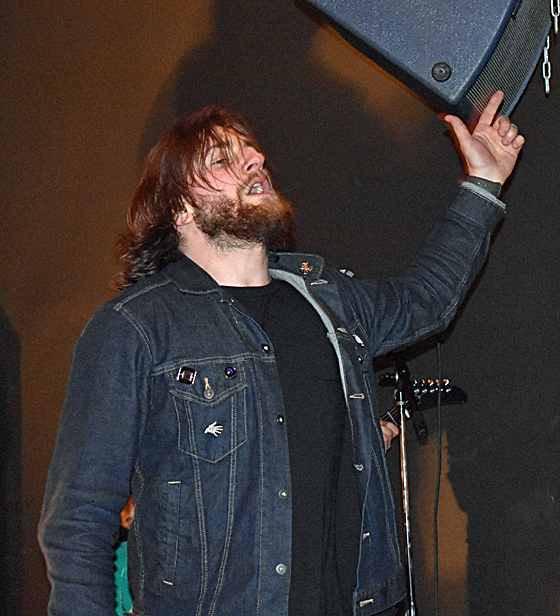 Actor/Observer
Photo: Blowfish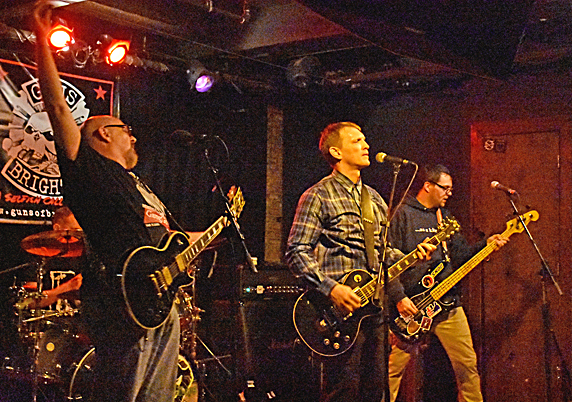 Guns of Brighton
Photo: Blowfish
T.J. Welch
Photo: Blowfish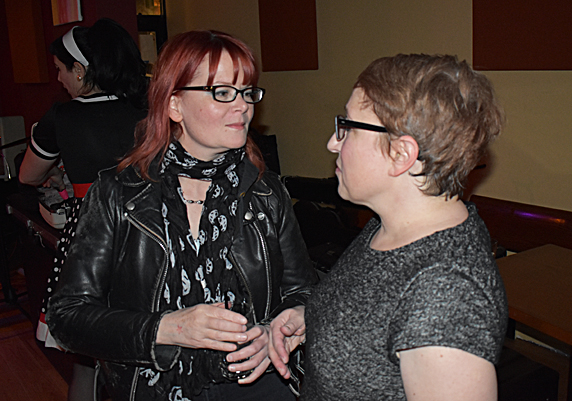 Justine Covaoult and Simore Berk
Photo: Blowfish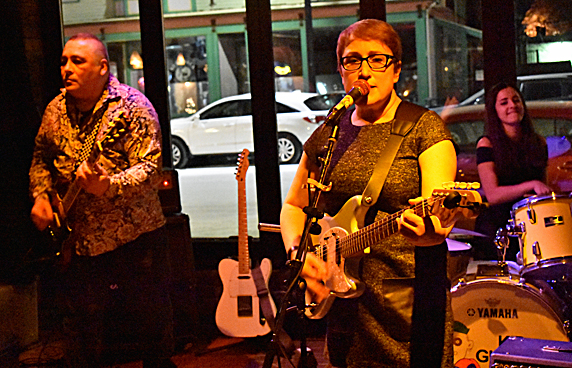 Kid Gulliver
Photo: Blowfish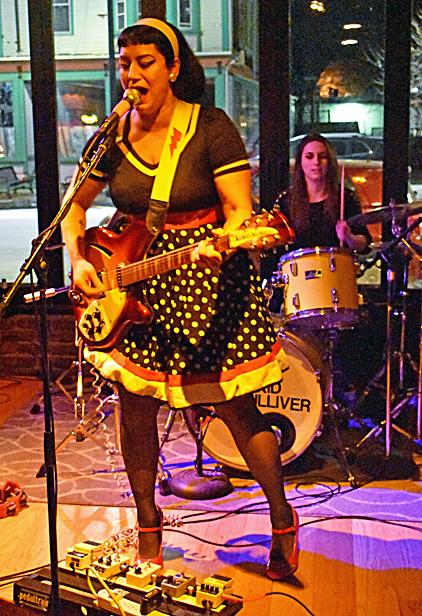 The Knock Ups
Photo: Blowfish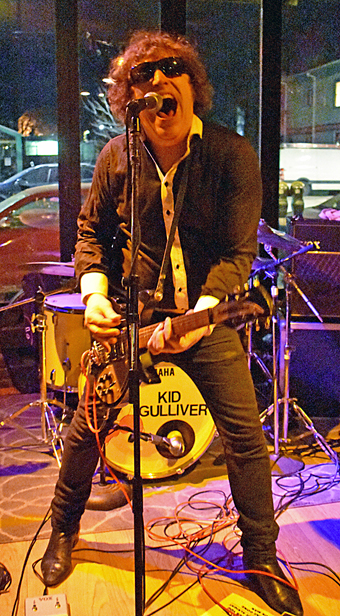 Muck and the Mires
Photo: Blowfish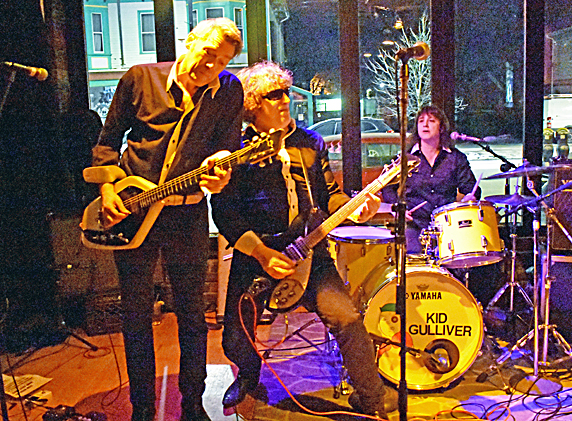 Muck and the Mires
Photo: Blowfish
Muck and the Mires
Photo: Blowfish