The BGN News Archive
February 5, 2018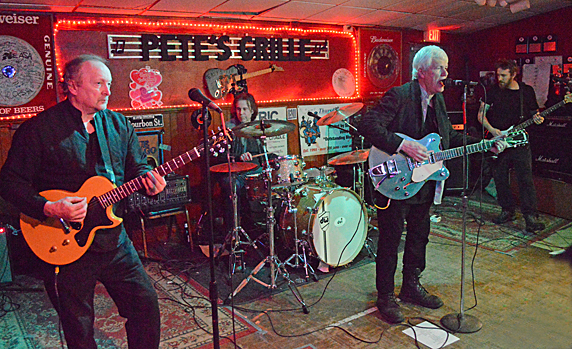 Nervous Eaters
Photo:Blowfish
It was another one of those rare occasions: a punk show on the South Shore. Pete's Grill in the Quincy Fore River Shipyard area had the Nervous Eaters with DUI and The Straight Eights.
Pete's Grill has a sweet set up: a bar area on one side and the music room on the other. It was all very comfortable. The place was full but not crowded. The Nervous Eaters said when they got there the PA wasn't set up and there was no sound guy there either. They set the PA up themselves ....and if it was on the small side it did the job. All bands set their amps respectively and the overall sound was great all night.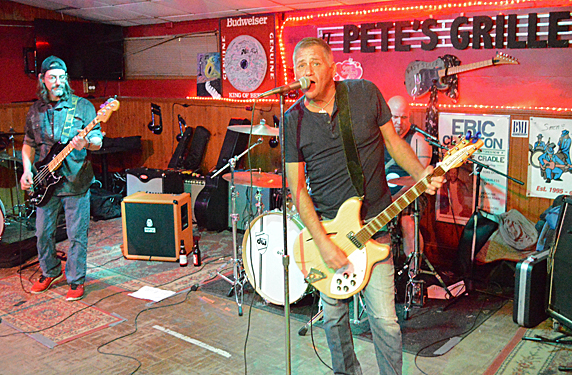 DUI
Photo:Blowfish
DUI is a trio from Manchester, NH. They started with No Place Like Home by the Neighborhoods. That got our attention. Then they played Summertime by the Unnatural Axe. Now we were intrigued. Looking to the back of the room we could see Richie Parsons. Did DUI know he was there? As it turned out, they didn't. They were just playing a lot of Boston punk covers. They played two Real Kids, "Common At Noon" and "Do the Boob". When they started "To Sir With Love" we thought it must be the Lou Miami version and sure enough in the middle was the "he dragged me up a flight of stairs, he dragged me down a flight of stairs" bit.
They played a bunch of other covers ("Leaving on a Jet Plane", "Pleasant Valley Sunday", and "Mrs. Robinson") and maybe an original or two. It was all thoroughly enjoyable and they had an appealing stage presence. The crowd gave them lots of applause. These locals are music lovers and they treated all the bands with attention and response. Joe the lead singer of DUI later met Parsons and that was fun. He had stories of seeing Axe and other bands back in the day.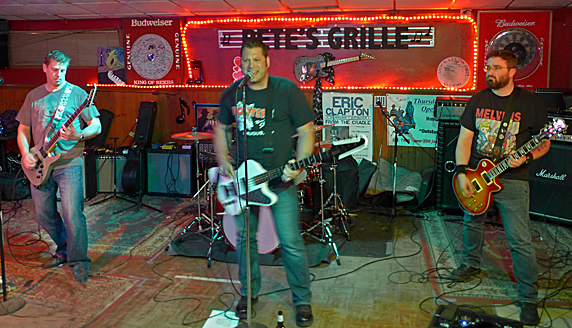 The Straight Eights
Photo:Blowfish
The Straight Eights had a hardcore edge to them. Songs started very slow then kicked into double time. It was done very well and the set had a nice flow to it. They ended with a Twisted Sister cover of Shoot 'Em Down. We liked their version even better than Twisted Sister but that was a good find. Video by Twisted Sister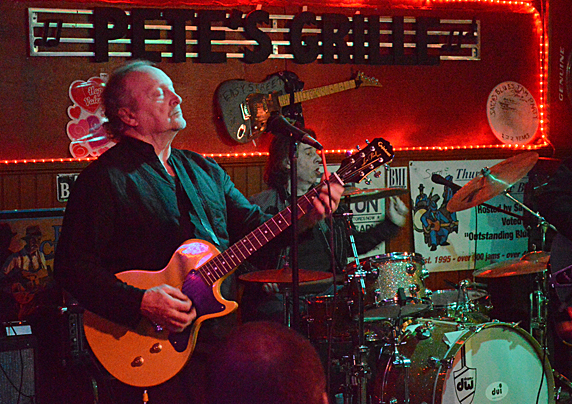 Alan and David - Nervous Eaters
Photo:Blowfish
The Nervous Eaters are in a new push to raise their profile a bit. That Boston Globe article a few weeks back was part of that effort. They started with two new songs and they were so well written and well done you just wanted to hear them again. We have a partial video of one of these new songs below. This should be no surprise with these guys where all their material is on the same level. Still that's quite an accomplishment - to be still at the top of the creative game in 2018. They're recording these songs, along with some older songs that never got recorded. That's a CD to look forward too.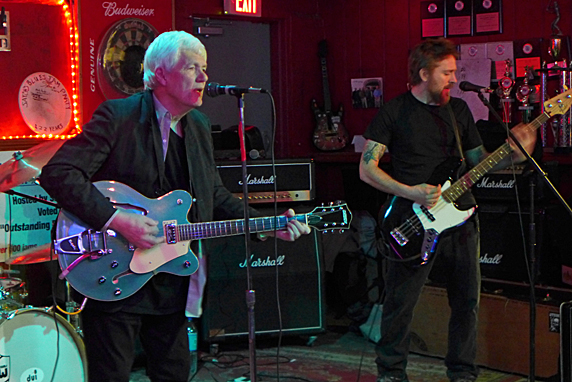 Steve and Nick - Nervous Eaters
Photo:Blowfish
They were in good form as they hit their classics like "I'm A Degenerate", "Last Chance" (video below), "Call Kevin", "No More Idols", "On The Avenue" (video below), and the big live favorite "Shit for Brains". People were dancing up front and the rest of the audience mostly moved up front to get close to the band. They pumped it up for the last song "Just Head". Someone got the microphone and asked the crowd did they want more and of course they did; there was lots of cheering. The Eaters came back and did "Today and Tomorrow" from 2003's Eat This release.
We got to see one of our Boston classic punk bands and some new groups and all in a comfortable setting. We're hoping that more shows in our sphere get booked at Pete's! I hear they are welcoming to bands that come to them for a booking. If you're a band you might want to give them a call. Here's their FB page.
Mark Davis presents some photos from last weeks Mess-Around at Once. This session had: Jay Allen, Justine Covault, Therese Bellino, Dave Fredette, Scott Janovitz, and Tom Baker. Click photo below for the pictures.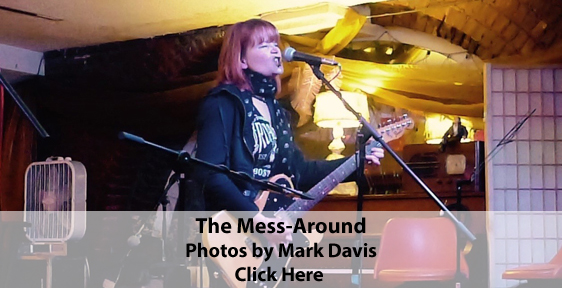 ---
And in other news.....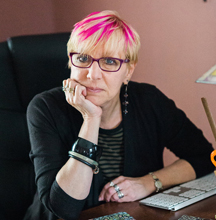 Theo Greenblatt was one of the main cogs in Subway News. These days she teaches and writes. Her story "Solitaire" won a short story contest by The London Magazine and the award will be presented in London. Way to go Theo!! We want to read that story somehow. Read more about Theo here.
Randi Millman has joined WUMB (UMASS radio). Known more these days for her booking career ( TT's, Johnny D's and Atwood's ), she was a DJ at WLYN (later turned into WFNX) at the dawn of the 80's. She's going to be involved with the afternoon schedule and then doing more as time goes by.
David Crespo is moving to Utah. David has put a lot of energy into the Boston music scene. He was part of Carmelita's WAAF Baystate Rock. He worked at PA's, he had a group called Spo, he was on WEMF…the list goes on. There will be a noticeable gap when he goes.
---
Here's some good shows coming up .....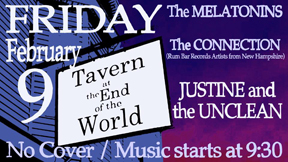 February 8 (Thursday) Powerslut, Thrust Club, Leafcutter, Ski Bunny at O'Brien's Pub
February 9 (Friday) The Melatonins, The Connection, Justine and the Unclean at the Tavern at the End of the World
February 9 (Friday) The Bentmen are at Once Ballroom
February 10 (Saturday) A Crash Course for the Ravers has Geoff Pango and Mr Curt. 1-4PM 91.5FM
February 10 (Saturday) Hudson Falcons 20th Anniversary Tour with special guests The Sprained Ankles and more! at the Midway - this is a 4PM show.
February 10 (Saturday) The Humanoids, Mercury On Mars, Uncomfortables, Il Mostro at O'Brien's Pub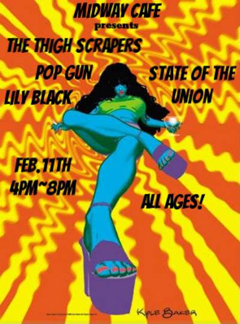 February 10 (Saturday) The Classic Ruins, TJ Wheeler, Black Cat Road at Bayside Bowl, Portland ME. Free Show! Starts 8:30 Sharp!

February 11 (Sunday) The Thigh Scrapers, State of The Union, Pop Gun, Lily Black for an early show at 4PM at The Midway

And further out we have...

February 12 (Monday) Rocker Zine's Rock n Roll Trivia at Once. With Brett Milano and Erin Amar. Starts at 7Pm And they have a very special guest this time around- Keytar Bear!!!

February 15 (Thursday) Major Stars, Black Helicopter & Henry Owings at Once Ballroom

February 16 (Friday) Jittery Jack, Stop Calling Me Frank, Kenne Highland and friends at Sally O'Briens

February 16 (Friday) Bundles, Dan Webb & The Spiders, Birdwatching, Michael Kane & The Morning Afters at OBriens

February 17 (Saturday) Roy Sludge at Atwood's at 4Pm

February 17 (Saturday) MOTO, Crunchtime, State of the Union, Little Billy Lost & the Cocks of the Walk at Tavern at the End of the World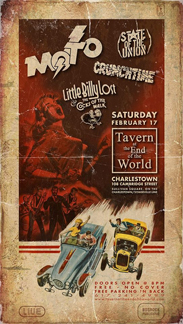 February 17 (Saturday) Damn why isn't this in Boston?? LUX LIVES at Koto in Salem with SPiTZZ, Evil Streaks, Tsunamibots. FB Page
February 18 (Sunday) The Crank Tones at Atwoods
February 23 (Friday) The Dirty Truckers "Best of" double shot release party with very special guests: Tad Overbaugh & The Late Arrivals and Michael Kane & the Morning Afters
February 26 (Monday) Thrust Club, Electric Street Queens, Sister,Disco Nap at Charlie's Kitchen
February 24 (Saturday) Jason Bennett & the Resistance, Blood Stained Brindle, Jesse Ahern and The Roots Rock Rebel Revue, and Jake Bell & the Maybe One More's at The MIddle East -this is an early evening show at 6:30PM
February 24 (Saturday) A Bunch of Jerks, Muck & the Mires, Jay Allen & The Archcriminals, Hambone Skinny at The Midway 9PM show
March 2 (Friday) Damon & Naomi, Thalia Zedek and Kevin Robert Thomson at The Lily Pad Inman Square 7-10PM
March 2 (Friday) Fat Togue Music presents! .Black Helicopter, Blackletter and more TBA- check the FB page for updates.
March 3 (Saturday) Silver Screams, Duck & Cover, Too Many Voices, EVERT ..this is a .4-8PM show at The Midway. Evert is a new band with Joe Packard, Matt Burns and Jim Alger...can't wait to see them!! Evert FB page. Gig FB page.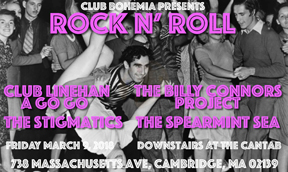 March 3 (Saturday) Peter Perrett (of The Only Ones) at The Brighton Music Hall FB page for tix etc
March 9 (Friday) Nick & The Adversaries, Continental (ex-Dropkick Murphys/The Outlets), The Hi-End, The Gala at The Midway
March 10 (Saturday) The F.U.'s, The Lost Riots, The Humanoids, Punk Band at The Midway for the afternoon show ( 4pm - 8pm)
March 10 (Saturday) Carissa Johnson Talk Talk Talk Album Release at Great Scott also on the bill: The Organ Beats, Lady Pills, and Watts!
March 14 (Wednesday) Clan Of Xymox and Stoneburner at Once
March 14 (Wednesday) Dropkick Murphys, Agnostic Front & Bim Skala Bim at The State Theatre, Portland, Maine FB PAGE!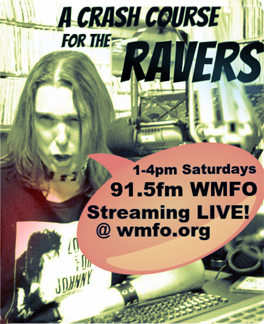 March 16 (Friday) Bonecrusher, The Welch Boys, The Blue Bloods, The Ice Cold Killers at The Midway
March 16 (Friday) Richie Ramones, Marko and the Bruisers, Musclecah, at Ralph's Diner in WistahThe Pathetics
March 18 (Sunday) State of the Union, The New Frustrations, Billy Connors Project, Far Above The Ground at The Midway- this is a day time show 4Pm
March 23 (Friday) Barrence Whitfield & the Savages at the Middle East!! FB page and tix link here.
April 17 (Tuesday) My Life With The Thrill Kill Kult: 30th Anniversary Show at the Brighton Music Hall
CONTACT US AT....misslynbgn@yahoo.com Send us your gig listings, your news and anything else ya got!! You want your CD reviewed?? Contact us for that too.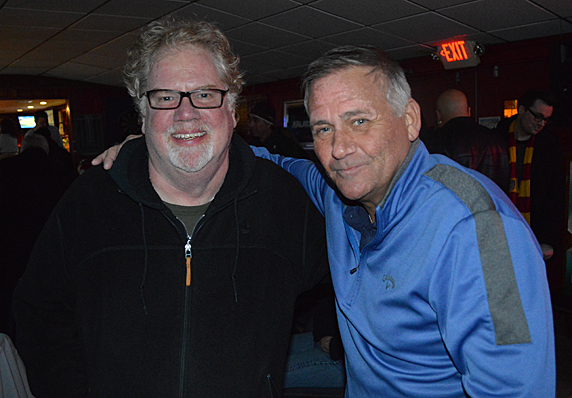 Joe from DUI and Richie Parsons
Photo: Blowfish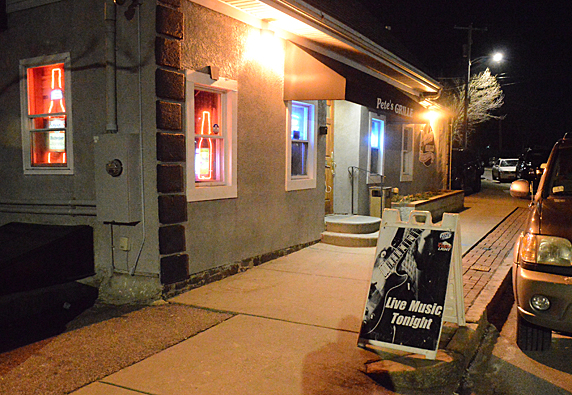 Pete's Grill in Quincy
Photo: Blowfish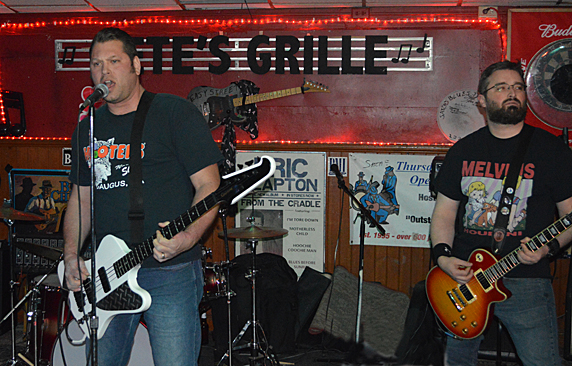 The Straight Eights
Photo: Blowfish