The BGN News Archive
February 4, 2017
OC45
Photo: Blowfish
Idiot Genes do everything to put out the idea that they are a bunch of party people who don't give a crap. The music they have on Bandcamp is loose and raw. Live, they give off the vibe that they just woke up after a drunk. This was especially true last time we saw them over a year ago. Their Bandcamp release is called Lousey with songs like Foster's and a Nip, Soaked Pillow and Puke. Check out their Bandcamp page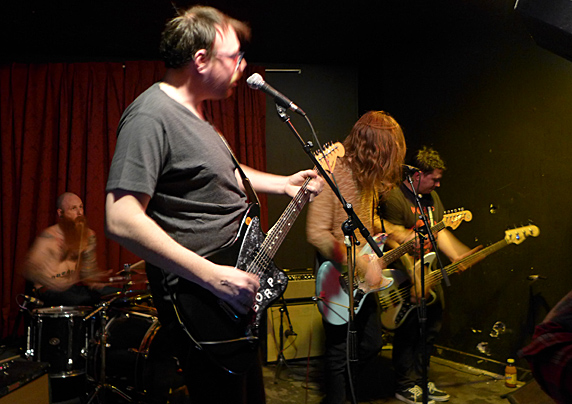 Idiot Genes
Photo: Blowfish
But they were also fun live. Last Sunday we hit O'Brien's to catch them again. We had just missed Thee Cavemyn. There were a few people dressed like Fred Flintstone breaking down the gear. Mr B. who saw them said the set was wild.
Idiot Genes played a set that was much more together than we would have expected. They started with a song that had lyrics declaring "everything sucks" and "we don't have much to say". Despite that announcement of nihilism and their laconic nature they've definitely been practicing. They were tighter and the songs had more details in them. The guitarists both kicked in some nice lines.
They did one song that even had a sort of sultry swing to it that talked about "my natural girl". That's a whole different world from not caring.
But most of the set was more primal and punk, like the song we have on video below, and that's what we want too. They got down and sweaty, especially the drummer who was really going at it. One of the singers' face gets covered with his hair as he sings and he looks like Cousin It.
I think Idiot Genes is in a good place. They should continue to care but not too much.
Every time we see OC45 it's a good bye show coz they leave for a tour or a welcome back show as they return. What we don't get is just regular shows. Looks like that's just the way it is. They haven't played for a few months and Saturday at the Midway was another good bye show as they take off on another tour. This time it's a 7 week tour of the US and a 2 week tour in Europe!
Fast Times
Photo: Blowfish
We missed the openers Back Door Key but the club was on the full side for this punk/hardcore bill. We've seen Fast Times previously so we were waiting for the melodic hardcore they delve out. They're from the Plymouth/Cape area and there were a few dozen fans that drove up for this gig.
The song of the night was their "The Bottom Line" which was on a Split with the missing-in-action Pity Whores. Check it out on Bandcamp.....It's 1:37 seconds long and catchy.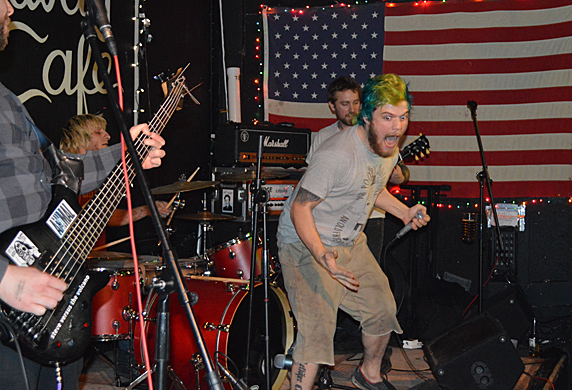 Fast Times with Chester
Photo: Blowfish
The mosh action broke out a few times. When Nick said his voice was going up popped Chester from Crime Spree who sang a song. That upped the energy level again. It was a solid set that spread some good feelings to a receptive crowd.
In retrospect you could see that each set would build from this. The whole night benefited from the like-minded groups keeping the momentum going through the night.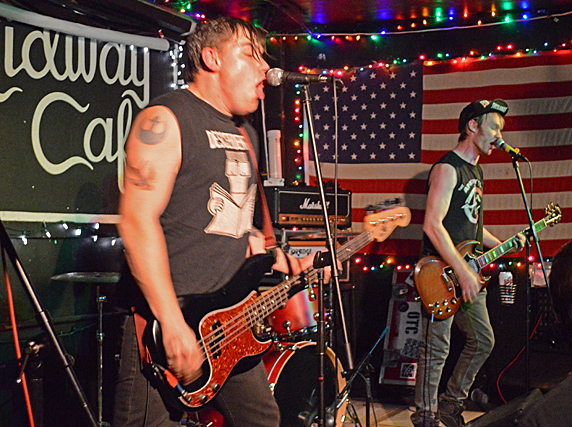 On The Cinder
Photo: Blowfish
The stage was set for On The Cinder. We saw them before at O'Brien's but maybe it was the sound system or some other variable but they seemed much stronger on this night. The group sound had real punch that delivered their hardcore with a little metal influence. One of our favorite things they do is trade off the singing. It goes back and forth during almost every song and that's a big point of interest. They are also very dynamic on stage. If you check their Bandcamp page you can check out their lyrics, they have a lot to say. They grapple with a lot of current issues but they don't preach on stage, they let the songs do the work. In this current political environment they are poised to hit the ground running. There's a lot to like about these guys.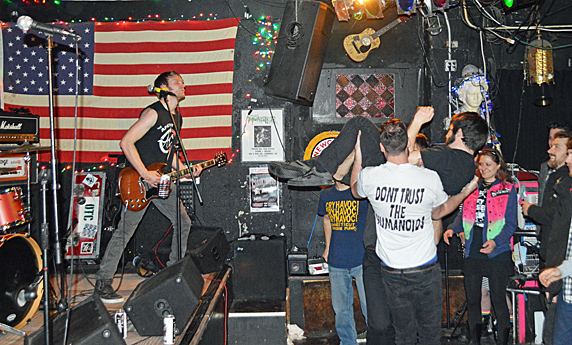 On The Cinder
Photo: Blowfish
We were proud of our local crowd as they cheered on this Buffalo band. It was their last day of a three week tour and it was a good night to end their journey. They have been in town a few times before and we hope to see them again.

Now the crowd was really revved up for OC 45 who did not disappoint. They said they were rusty from not playing for a few months but you couldn't tell. They played in front of the well done backdrop that stated that they have been a band since 2011.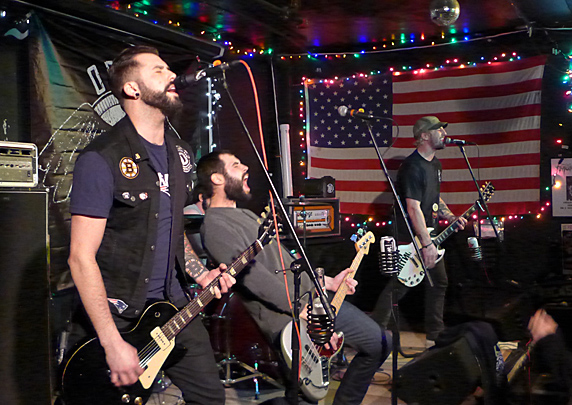 OC45
Photo: Blowfish
This was fast and bouncy hardcore that also had that sonic drill that cuts. Many times three of them line up to the mics and sing together. It's a visual wall that mimics the wall of sound you're getting. There was a lot of moshing and crowd singing. The guitarist has his patented jump and rotate move that is something to see. They've gone through bunch of drummers, at least six, but always seem to find another good one as their current one is.
Everyone was up front and having fun. The set went by too fast. People called for some more and they did three more songs.
They just released their latest CD Happy Accidents a couple weeks ago, it has 11 cuts. You can order it here. That's what they do....put out some material and take off on tour.
And in other news.....
Yet another reason to practically live at the Midway..they are cranking up their Saturday Afternoon Hard Core Shows again in March! It's in by 4 out by 8pm and you will have your ears bleeding. Check out gig listings below.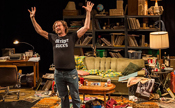 The play How to Be a Rock Critic will have a run this May 11- 21 at ArtsEmerson. Its a play based on the writings of Lester Bangs! Here's some info on it: ".....a solo piece focused on the inventor of modern rock 'n' roll journalism, Lester Bangs. Inside his wild, all-night typewriter sessions, Bangs embraced mistakes as strokes of genius and popularized the now ubiquitous terms like "Heavy Metal" and "Punk Rock". Join us for an unforgettable evening with music's great, lost critical voice." Check out more and get tix at HOW TO BE A ROCK CRITIC - BASED ON THE WRITING OF LESTER BANGS
We are just a little jealous of Milwaukee. There is a new book out that tells the story of the main years of Milwaukee "punk, new wave and noise". It's called Brick Though The Window.
This article says: "Brick offers origin stories, histories and post-mortems (and photos) of many memorable local bands, including hardcore giants Die Kreuzen, the psychedelic Plasticland and the reggae-inflected X-Cleavers, to name just a few." The Violent Femmes and Death are also from Milwaukee. The book also talks about touring acts when they hit the city like Captain Beefheart and The Ventures. All in all, it looks very interesting. Check out the article here - it's a weird website...scroll down past all the stuff that says you have to log in or join)
There's another book that will sell itself to Pop fans: The Yellow Pills Book by Jordan Oakes who founded the Power Pop magazine Yellow Pills
Check out the Go Fund Me page here. "Advance orders of this limited book -- which is thicker than a power-pop guitar riff -- are now being accepted for only $45, which includes US postage, and $75 for overseas orders , including postage." It looks to be well worth it too!!
Rum Bar continues to be very busy. Watts is getting the attention lately. They have a few shows coming up inclucing the Pre-St Valentines Massacre on Feb 10th at Great Scott's w/The Uppercrust, Watts, and Petty Morals!!! There also have a video with some production values. It was shot in NH at Haunted Overload and here it is below.....
Here's some good shows coming up .....
February 8 (Wednesday) Fully Celebrated Orchestra, Andy California at the Midway - only a $5.00 cover!
February 9 (Thursday) we love this stuff it's always fun!! Karaoke Underground at O'Brien's in Allston. The Karaoke Underground is for punk and indie rock fans who love to scream, yelp, croon, bark and sometimes even sing their favorites from artists like Black Flag, Modest Mouse, the Misfits, Cat Power, the Pixies, Dead Kennedys, Sleater-Kinney, Pavement, Joy Division, Fugazi, Guided By Voices and many more. It's video karaoke with onscreen lyrics, a stage, you -- and the chance to sing great songs you just can't find anywhere else. Full catalog of songs here.
February 9 (Thursday) Beeef (its their Album Release) with Gymshorts and Black Beach at Great Scott and this show is presented by The Chicken and Rice Guys! HA!
February 10 (Friday) BadassMotherfuzzers, Muck & the Mires,The Real Kids, Richie Parsons at the Midway
February 10 (Friday) The Upper Crust, Watts and Petty Morals are at Great Scott
February 11 (Saturday) Kenne Highland and Ken Kaiser of the Hopelessly Obscure and Afrika Korp fame are on Brian Young's A Crash Course for the Ravers 1-4PM on WMFO 91.5FM FB page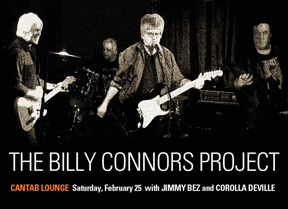 February 11 (Saturday) Club Linehan A Go Go are at the Out of the Blue Gallery
February 11 (Saturday) The Gala, Swivel, The Royal They and Powerslut are at O'Brien's
February 11 (Saturday) The 8th Annual Welch Boys Ron Holbrook Memorial Shows benefiting His Mansion (Night One) featuring The FUs, The Welch Boys, Refuse Resist, Taxi Driver, Ice Cold Killers, Guns Of Brighton and Tim Baxter and Tony Snowdale at Great Scott
And further out......
February 14 (Tuesday) Howardian, The Monsieurs, JoJo and the Angry Girls at Zuzu!
February 14 (Tuesday) Doped Up Dollies, The Pomps, Mickey Rickshaw and Whoopi Sticks are at O'Brien's
February 14 (Tuesday) The 6th Annual Ruby Rose Fox Valentine's Day Show at Atwood's Tavern
February 11 (Saturday) Tavern at The End of The World Presents: Trusty Sidekick, Fireking, and The Trick Wallace Trio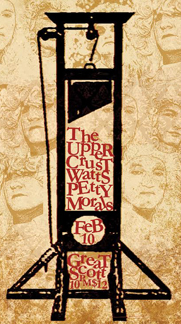 February 11 (Saturday) Hummingbird Syndicate, Rebel Vargas, Red Right Hand and Eliza and the Organix are at PS's Lounge

February 17 (Friday) Lux Lives East Coast is coming again -this event is in Salem at Koto, on the bill are Thee Fabulous Itchies, The Evil Streaks and The Nebulas. Here's the FB Page Lux Lives is a chance for Bands and DJ's and fans to come together to celebrate the life of Lux Interior. Since it's inception, Lux Lives East Coast has raised over $10,000.00 for Lux and Ivy's favorite charity Best Friends Animal Society. This is a GREAT event all around!

February 18 (Saturday) DJ Easy Ed presents The Crank Tones plus Easy Ed's Record Hop! for an early show (4-8PM) at The Midway

February 18 (Saturday) and for the evening show at The Midway we have Amos Fortune, Endation, Lotus Ignite and GrandEvolution

February 18 (Saturday) The 8th Annual Welch Boys Ron Holbrook Memorial Shows benefiting His Mansion (Night Two) featuring Panzerbastard, The Welch Boys , Warning Shots, Beantown Boozehounds, Mark Doherty and the Pink Killers, Jason Bennett and the Resistance and Lenny Lashley

February 22 (Wednesday) Ten Dollar Mistake are at PA's Lounge

February 24 (Friday) Zip-Tie Handcuffs, Hey Zeus, Wolfsmyth and Tenafly Vipers are at O'Brien's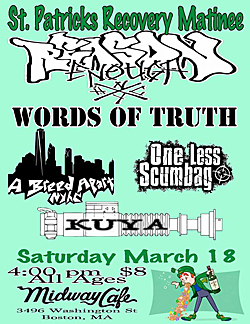 February 24 (Friday) Actor/Observer, Energy and Partywolfe are at Great Scott
February 25 (Saturday) Duck & Cover, the Dents, Stars like Ours, T.Baker & the Snakes at Sally O'Brien's - This is the CD Release party for TB & The Snakes CD on Rum Bar Records (here's the FB page)
February 25 (Saturday) The Billy Connors Project is @ the Cantab with Corrola Deville and Jimmy Bez.
February 25 (Saturday) Sasquatch & the Sick-a-billys return to Worcester! along with Marianne Toilet & the Runs, Leaving Eden and Tigerman WOAH all at the Cove Music Hall in Worcester. FB page
February 26 (Sunday) Roy Sludge Trio is doing a 6PM show at Sally O'Brien's
February 28 (Tuesday) The Hi-End, Low Babies, Four Point Restraints, and the Instamatics are at the Midway Feb 28 Here is the FB page
March 1 (Wednesday) Puppy Problems, Emmett McCleary (MTL), Ricecrackers, Du Vide and Ozlo are at O'Brien's
March 3 (Friday) Robyn Hitchcock at Once
March 3 (Friday) Japanese Monster, Red Right Hand, The Additions, The Tenafly Vipers at The Midway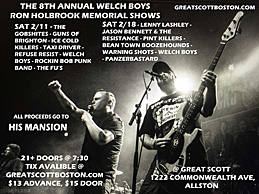 March 4 (Saturday) The Manglers, The CWB (Reunion), The Grommets and The Only Things at The Midway - Early show 4-8PM (FB page)

March 4 (Saturday) Jittery Jack & Miss Amy are at Atwood's for a 4PM show

March 4 (Saturday) Trusty Sidekick, Even Twice (NYC), Nick and The Adversaries and Gymnasium at The Midway (night show)

March 4 (Saturday) Jittery Jack & Miss Amy Griffin at Katrina's in Gloucester

March5 (Sunday) Save Ferris, Baby Baby and Petty Morals at Brighton Music Hall

March 8 (Wednesday) Fully Celebrated Orchestra, Trinary System at The Midway

March 8 (Wednesday) The Sheckies, Mongorellis, The Prozacs, Meat Depressed at Koto in Salem

March 9 (Thursday) A benefit for Outside the Lines (the special needs art studio) at Thunder Road. Barrence Whitfield & Dennis Brennan will be playing.
March 10 (Friday) Agent Orange, The Queers, & Guttermouth at ONCE Ballroom FB page
March 11 (Saturday) Off World, Lon Chaney Jr., Garbage Point, The Ghost Boys at The Midway - this is an afternoon show 4-8PM
March 11 (Saturday) The Slaves, a British punk duo from the UK are at Great Scott
March 17 (Friday) Boston Hassle Presents: Simply Saucer, Poppy Seed & The Love Explosion, Dyr Faser, Doug Tuttle, Major Stars at the Middle East Up (FB page)
March 17 (Friday) Sasquatch And The Sick-a-billys Return To Salem! along with Damnation, Creepin Cadavers and The Womps at Koto in Salem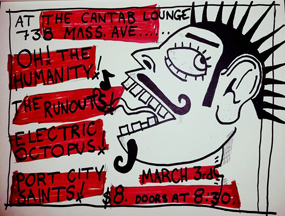 March 18 (Saturday) Roy Sludge Trio for a 4:00 pm show at Atwood's
March 18 (Saturday) Reason Enough, Words Of Truth, A Breed Apart (from NYC), One Less Scumbag and KUYA at The Midway - an afternoon 4-8PM show (FB page)
March 18 (Saturday) DFMC (Dana Farber Marathon Challenge) Benefit Show with Sidewalk Driver, Township, The Fatal Flaw, Red Red Rockit at The Midway
March 18 (Saturday) The Digs are having an EP Release Party at the Middle East Up ! Also on the bill are JRV and Psychonaut Underground - FB Page
March 19 (Sunday) Ruby Rose Fox is at Atwoods.
March 23 (Thursday) Beans On Toast, The Old Edison, Troll 2 and Miketon & The Nightblinders at O'Brien's
March 25 (Saturday) 45 Adapters (NYC), Blood Stained Brindle, The Damn Garrison, Quiggs at The Midway - this is an afternoon show 4-8PM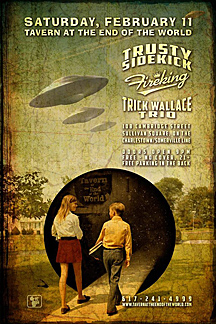 March 25 (Saturday) Another benefit for the Cambridge Fire victims. Lots of families were displaced and lost everything. Help 'em out by going to the Greek American Social Club (Union Sq Somerville) and listen to Tsunami of Sound and A Bunch of Jerks.
March 25 (Saturday) 45 Adapters (from NYC), Blood Stained Brindle, The Damn Garrison and Quiggs at The Midway - this is an early show 4-8PM
March 25 (Saturday) You might as well just plan on staying at the midway all day coz their night show is The Hi-End, M.O.T.O., Modern Day Idols and Hello Susie
March 25 (Saturday) BETH & The Black Cheers at Sally O Brien's - FB page
March 26 (Sunday) Ruby Rose Fox is at Atwood's
April 1 (Saturday) State of the Union, The New Frustrations, The Stigmatics and The Only Things doing a GREAT early show (4-8PM) and its ALL AGES at the Midway (FB page)
April 1 (Saturday) The Upper Crust, Sidewalk Driver and When Particles Collide as part of the ArtsEmerson Black Box series at Emerson/Paramount Center, Jackie Liebergott Black Box Theatre - 559 Washington St Boston (Link)
April 2 (Sunday) Six Organs Of Admittance and Minibeast are at Great Scott
April 8 (Saturday) The Kurt Baker Combo, Soraia, Watts and The Connection at O'Brien's Here's the FB page
April 13 (Thursday) Modern English are at The Brighton Music Hall
April 17 (Monday) Terry Malts, Shark Toys with Idiot Genes and Bad Deals at O'Brien's Pub
May 4 (Thursday) Walter Sickert & the Army of Toys, Scarlet Sails, Radiator King at Once
May 27 (Saturday) The Runouts, The Martians, Blame Shifters, Nymphidels at The Midway this is an afternoon show - 4-8PM
May 29 (Monday) Teenage Bubblegums, Jagger Holly, Mongorellis, Jimmy Jacked at Opus Underground in Salem
June 1 & 2 (Thurs & Fri) Reverend Horton Heat at Once in Somerville
September 16 (Saturday) Chameleons VOX At the Middle East
CONTACT US AT....misslynbgn@yahoo.com -Send us your gig listings, your news and anything else ya got!! You want your CD reviewed?? Contact us for that too.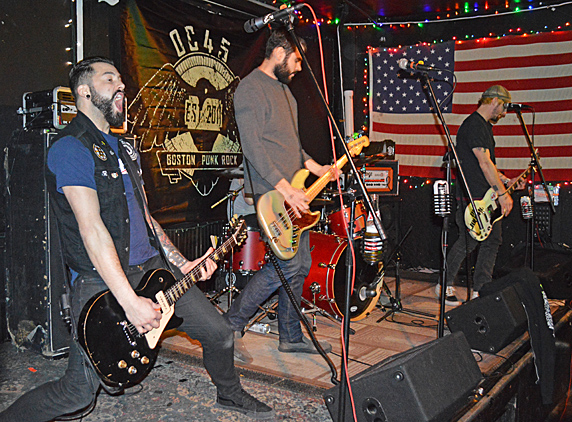 OC45
Photo: Blowfish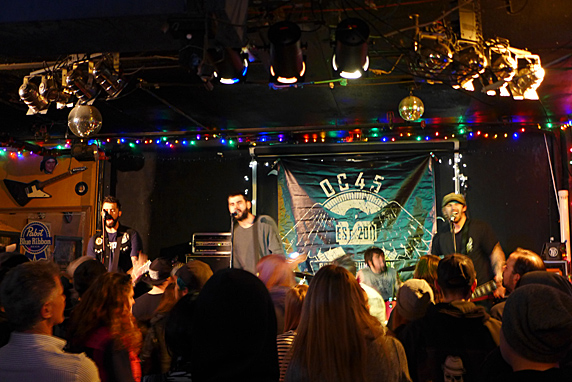 The backdrop made it look like a BIG rock show
Photo: Blowfish
Fast Times
Photo: Blowfish