The BGN News Archive
February 7, 2011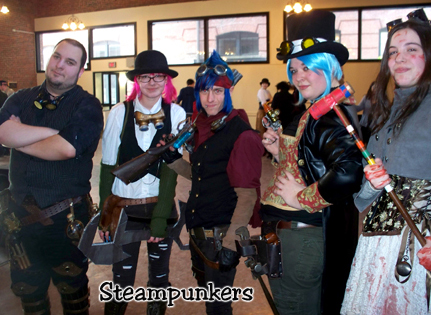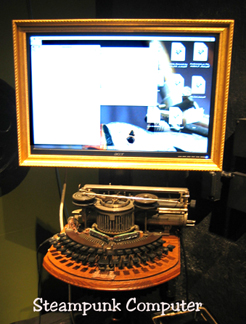 We took a little trip out to Waltham to check out the Steampunk, Form & Function show at the Charles River Museum of Industry and Innovation They had all manner of widgets, gadget and items transformed and built to be totally and truly Steampunkified.....my fave was the Steam Punk walker!!! Ah yes when we are in need of a walker we GOTTA do it in style! Excellent!...they had guitars and most amazingly a computer that had a keyboard that looked like an old fashioned turn of the century typewriter that did actually work!! It's a great intro to the whole movement/genre and its creativity and obsessiveness. Lots of fashion too and stuff in the museum store as well.
While we were there they were having some kind of photo shoot so a ton of SteamPunks showed up dressed to the nines. It s a great show and cool little museum and entry is only $5.00!
And this week we have a new Journal Entry for the awesome writer, oh and bass player...Rick Coraccio sharing memories of the DMZ recording session which was majorly screwed up (and maybe their futures too!) by that monster storm The Blizzard of '78. (link is also below the news....) This is a must read!! Thanks Rick!
Per Perry Adler (Thanks Perry!): if you missed the doc "Lemmy" at the Regent Theater you can catch it on VH1 coming up this Friday Feb 11th at 11:30PM http://www.vh1.com/shows/vh1_rock_docs/series.jhtml
We're BIG on glam these days and we don't know why...but there it is. So, it's good news that Joanie and Sara at WMBR are doing two shows dedicated to glam this Wednesday and Thursday called WIG WAM GLAM...see the poster below.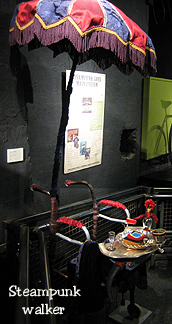 and this coming Sunday February 13th is the Pawtucket R.I.Rock'n'Roll yard sale at The Met in Pawtucket from Noon to 6 PM and it is FRee FREE to get in!!! The folks at What Cheer always have a bunch excellent vendors so go on down!!!...
Next Wednesday Feb 16th The Godfathers are at Johnny D's in Davis Sq Somerville
Here's a excellent show....at The Rosebud on Friday Feb 18: Muck and The Mires, Wicked Whiskey and The Acro-brats
Friday, Feb 25 is a big night with lots of excellent shows...for example.....another Noise 30th Anniversary Party, at The Middle East with Tijuana Sweetheart, Blow Your Face Out Jason Bennett And The Resistance, Mark Lind (Ducky Boys) & Mike Savitkas (Death & Taxes) .....
also on 2/25....Even though Buried in Leather told us they weren't playing out anymore they are doing a show (and that's a VERY good thing!!) at The Rosebud on Friday Feb 25th along with The Spoilers, Those Hated Hearts and With a Bullet. Get there early coz BIL goes on first.
Also....on 2/25...At TT's The Bears is Jesse Malin and The St.Marks Social, JJ and Thee Cuban Heels and Andrea Gillis....
And coming up on March 3rd at The Somerville Theater Jonathan Richman is doing a show featuring Tommy Larkins on the drums! - This is an All Ages show.
We got word of another Marky Mayhem benefit coming up at The Midway on Sunday March 13 in the afternoon. The lineup is 5-Point, Hixx, Welch Boys
And whoa!! I hear tell there's a Del Fuegos reunion coming up June 23rd at the Paradise as a benefit for Right Turn !!!
Hey keep in touch huh?? click click click