The BGN News Archive
February 8, 2010
So we were al set for the excellent show at O'Brien's Friday night with Doggfight U.S. , The Acro-Brats and Buried In Leather we got there at 10PM and were turned away…filled to capacity they were…I have to say I wasn't surprised I guess…but we were a whole lotta bummed out….damn!!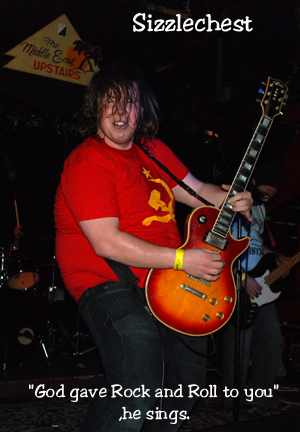 So Blowfish wanted to go to a club and see some music regardless…argh…I knew it would be less than stellar to ahem say the least…so we tried TT's…didn't look good …turns out it was one of those DJ nights called Heroes.....OK, over to the Middle East down….a Guns N Roses tribute band…oh please…..no way!!
So we try ME UP…Joanne was at the door and she tells us it 's metal, rock'n'roll heavy metal. "It's a Team Shred night" says Blowfish…I roll my eyes and in we go….to see Sizzlechest and Sticky Fuzz. SizzleChest: is on stage... .a blonde Leslie West type lead guitarist, hair pasted to his face with sweat, is crossing guitar necks with the rhythm guy; that's first thing we see…of course he actually could play quite well! There was one girl up front waving her arms to the music frantically and completely alone… They aptly ended their set with Kiss's "God Gave Rock'n'Roll to You"
…up next Sticky Fuzz..well I spied the super cutie from Whole Foods Prospect St setting up his huge guitar control board (it is so big I actually thought he payed a keyboard!)on stage so my interest was ever so slightly perked ….up come the rest of the band to do a set of that sort of jazz inspired fusion rock the suburban guys and gals
Blowie said it not me: "Hipster Doofus"…OK, we left. …just not our cup o'tea one iota…..
lesson learned": leave earlier if there is a good line up at O'Brien's that for damn sure!!!
So all I can do is look forward to the next gig I'd like to go to….. Now THIS
Monday Feb 8th at The Plough & Star, E. Law and Joanie L will be doing their first installment of "Rebel Rousers" DJ-ing some great music and making it well worth it to go out on a Monday night. They each will be doing a 45 minute set, starting at 10PM. Plough has excellent grub too so go a little early and eat dinner!!
and THIS Friday Jay Allen and The Archcriminals are at The Plough & Stars
and here it comes…Valentine's Day…..grrrr.
so we have….
There's a special Valentine's Day show at The Midway, 3-7PM on Sunday 2/14: The Rev. Joe Fagan presents a James Straight and the Wide Stance Valentine Matinee Massacre with James Straight & the Wide Stance, the Mesmerines, and Steve the Farmer and the Murder Balladeers!
AND on Valentine's Day is a special show at Church with the return of the New Frustrations and Arkanes from the UK.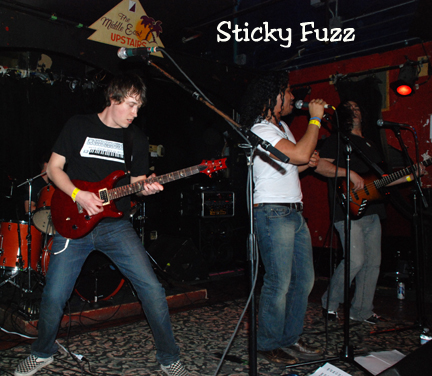 And the big V Day is hoppin' in Boston coz there's also a benefit at Great Scott's with featuring: The Welch Boys, The Blue Bloods, The Refuse Resist , and The Murder
Then moving on …at Church on Wednesday February 17th there will be a very interesting show with Humanwine, Walter Sickert, Do Not Forsake Me Oh My Darling, Sarah Rabdau
And there is an fun show at Precinct on Saturday, Feb 27: The Young Tremors, The Dirty Truckers, Memphis59 and Watts ,,,,,yeah!! and it is the Young Tremors CD Release party so come on down and help them celebrate "Very Nice, Very Nice".
and you can catch Jon Macey with some friends like Sal Baglio in a band called The Bittersweets at The Cantab on Feb 27th,


also Foxpass' new CD is availablee: 'Intemporal' at CDBaby

in March we can look forward to …
YAY!!! A Marvels show at Middle East UP……on Saturday, March 7th, on the bill: OH OH OH…The Marvels, Vagiant and Doggfights US...now THIS is an excellent bill!! Go to this show!!!
And there's a cool show at The Beachcomber in Quincy on Friday March 19th with Big Bad Bollocks, Beantown Boozehounds, Paul & The Strings and Drago. and.....
Mark your calendars now for Nancy Neon's Rat Reunion Nights in first weekend of April, at The Cantab The Flashcubes, 1-4-5, The Varmints, The Boize, Foxpass, Third Rail, The Last Ones and The Classic Ruins…….
and that's just one night, we'll have more info on the other night later....
and to choose the perfect T-Shirt for the evening I suggest you go to QRST's and pick out , oh let's see a Rat T Shirt or better yet a Mitch T shirt!!! (awesome) or many other to pick from as well… you can email us at: Miss Lyn email......