The BGN News Archive
February 11, 2013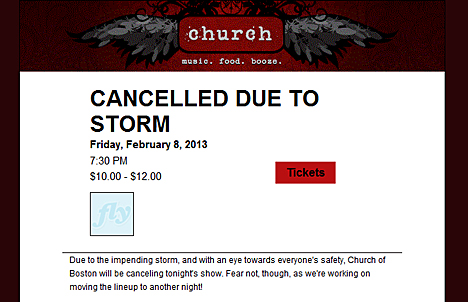 Unlike the truly dedicated Lenny Lashley who got to the Midway on both Friday and Saturday we were snowed in this weekend thanks to Blizzard Nemo. So we've got nothing much to report….
Except what's coming up....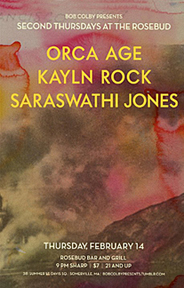 It looks like there's finally some good punk shows at The Middle East down again...
This Monday 2/11 The Dead Kennedys are there with The Welch Boys, The Cryptics and Burning Streets....then ...
This weekend, Saturday the 16th there's a good show at Club Bohemia/Cantab yet again: Shepardess is having their CD Release party and joining them on the bill are, Cotton Candy, Mary Lou Lord and Fur Purse .
Saturday Feb 23rd there's another great show at The Middle East down with The Cockney Rejects, The Youth Brigade and Dan Webb and The Spiders who kick off their spring tour to Europe with this show.
Thursday 2/28 Adja The Turkish Queen is doing a solo show at The Midway...
And I can't think of a better way to celebrate Valentine's Day than with a Thalia Zedek show...she's at the Plough on Thursday the 14th also on the bill is the LUV day appropriate Love Up Time.
On March 1st Let's start March off with a Billy Joel Night at Radio???? OK that's a trip back in time I may not want to take…but check out the line-ups for the evening…definitely makes it worth showing up:
Heart Attack Ack Ack Ack: featuring Julie Two Times, Kevin Pickering, Josh Pickering, Mel Lederman. Only The Bad Die Old featuring Baker, Brookhouse, Lynch from Dirty Truckers, John Sheeran from Township, Linda Shore from Muck and the Mires, and Alan Levesque then there's The Brinkleys: featuring Kerri-Ann Richard, Jay Frigoletto, Anngelle Wood, Paul Gallo, Mark Dantini, and Seager Tennis and The Root Beer Raggers: featuring members of the Alrighters and the Larkin Brigade.
March 2 there's a great afternoon punk show at The Midway with The Welch Boys, The F.U.'s, Blastmat, Redline Rebels and Trashkillers
And up on the North shore on March 2nd: GREAT show from Terry Brenner!! The Nervous Eaters and The Darlings are at the Spotlight Tavern in Beverly
And Bob Colby's got a good one on his Second Thursday at The Rosebud on March 14th with Classic Ruins, Corin Ashley and Moose and the Mudbugs ....we hear shows are booked into April at The Rosebud but after that we dont' know what's up.
EMAIL US AT.......misslynbgn@yahoo.com