The BGN News Archive
February 11, 2019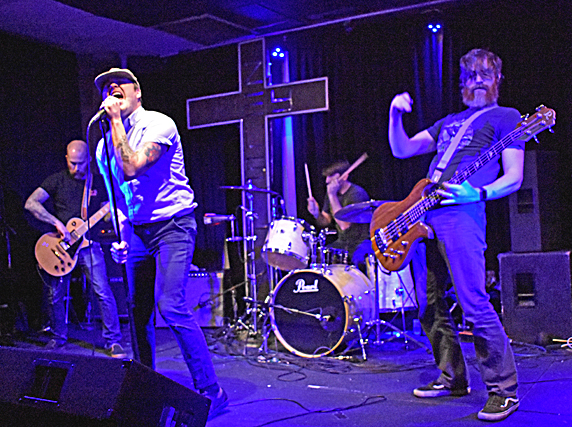 Labor Hex
Photo: Blowfish
We waited too long to get tickets for Murphy's Law at the ME on Friday the show sold out. So we went elsewhere....
First to Once for a mostly metal show. We were interested in openers Labor Hex who are more hardcore/post punk. We were awed at their set at O'Brien's last December.
We talked to the bass player Greg before the show. We learned that Labor Hex means the curse of having to work your whole life. He also told us that three of the members are from Wormwood who we saw them in 2015 at the Middle East up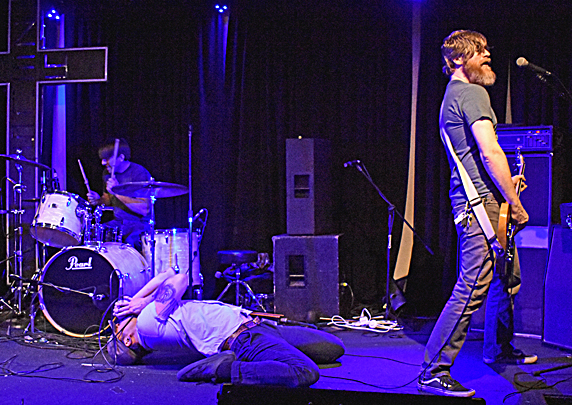 Labor Hex
Photo: Blowfish
Usually you think the best sets are in the small intimate clubs, but Labor Hex on the big Once stage was even better than the O'Brien's show. The whole set was intense from beginning to end. The sound was big and crisp and the antics of lead singer Evan were hard to take your eyes off. He was on and off the stage a few times but mostly he was on the floor one way or another. Often his head is bent to the floor and pressing his forhead down as he screamed his lyrics. A few times we could hear the words in a chorus and they made us curious to know the lyrics. Bandcamp has a song that they played called "Red Tape".
The lyrics are there but they are oblique. They may be hard to understand but they certainly give Evan something to bear down on. This second time we could see the shape of the songs more. The more you hear this band the better they get.
Like last time we caught the endless quality riffing the guitarist puts out. It was always jagged and scraping. There was no sense of rest or release ever. That's the same with the rhythm section who played with fury. The bass playing was raw but had some lines that propelled the songs. This band is our new fixation.
We were happy to see the audience respond to the band. The club was on the full side.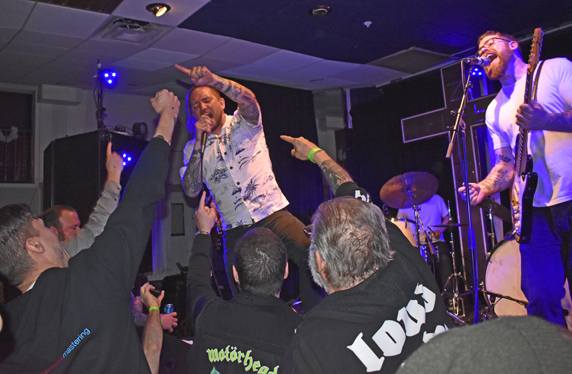 Cocked n' Loaded
Photo: Blowfish
Next up was Cocked n Loaded. When Cocked n Loaded started up around 2004, they were doing something different on the scene. They were doing metal that was half serious and maybe not so serious. Fast forward to today were that's a whole set of bands, like Hey Zeus playing the next set, that are doing the same thing.
There are seven band members. They have two drummers and three guitars. They could have a whole orchestra up there but in the end it's all about lead man Kyle and his whole persona. He runs the kingdom for as long as he is on stage.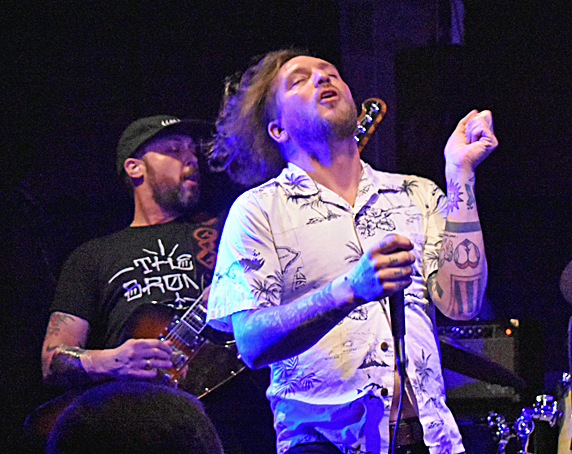 Cocked n' Loaded
Photo: Blowfish
The group pounds out the metal riffs and there are some good ones. The whole thing works like it always has. The audience was up front and hand pumping and they knew all the words to the songs. It was pretty much a metal love fest going on.
After Cocked n' Loaded was going to be Hey Zeus which takes everything C n' L does and adds even more theatrics, histrionics and unfettered glee.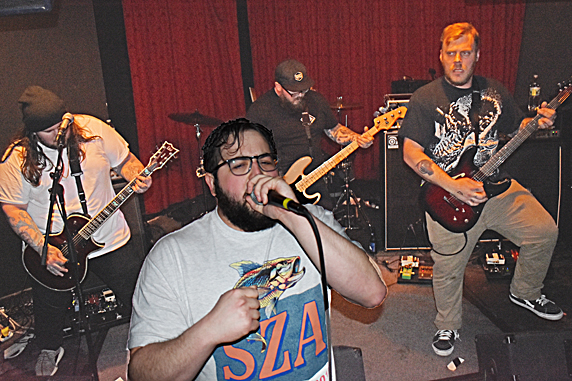 Years Apart
Photo: Blowfish
We took off looking for more hardcore at O'Brien's. What we didn't take into account was that this was an all hardcore bill and those hardcore sets are short. We ended up with just seeing on band, Years Apart. They were doing some brutal hardcore and that's what we wanted. There was some moshing that was happening and it was sudden and wide ranging. Years Apart's set was fast and raging. We like their recorded material just as much. Check it out on Bandcamp.
O'Brien's was close to sold out, Once was full up and Murphy's Law at ME was sold out. There was a lot of people out this Friday and that is a great thing!!
In keeping with the hardcore groups we went to Great Scott's on Saturday, they had a hardcore bill with Myocastor Coypus and Needle Play,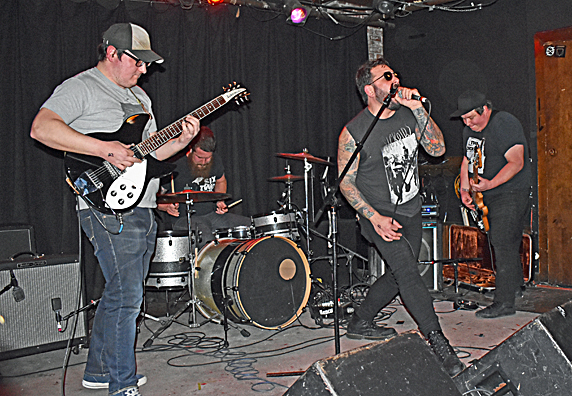 Myocastor Coypus
Photo: Blowfish
Myocastor Coypus was on stage when we got there. We saw them at O'Brien's last June. The guitarist had a Rickenbacker which seemed wrong for hardcore. The group has grafted some disparate elements into its hardcore base. They would blast some core but jerk to a stop to play some more calm and intricate sections. There's actually a lot to digest in their music. We only caught a few songs and will take more listening to figure out what these guys are doing but some good hardcore none the less.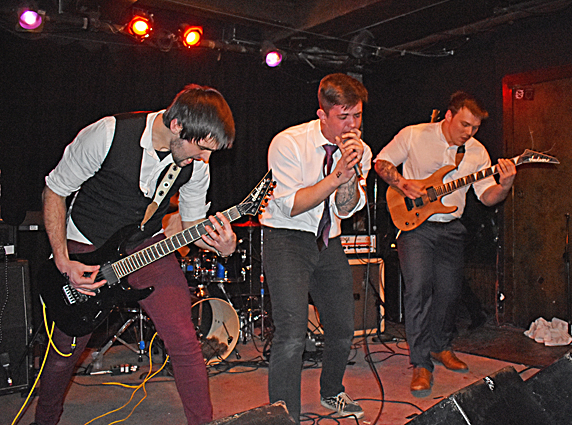 Needle Play
Photo: Blowfish
Then just when you think you've seen it all Needle Play starts setting up and they all have white dress shirts on, looking very student like. Then there is a Roland keyboard. During the sound check the keyboardist sounds like jazz, say McCoy Tyner style. Now, we're thinking maybe we'll make it an early night.
They start the set sounding jazzy….for ten seconds, then they launch into some raw hardcore. It was jaw drop time. There's a video below of this opening song. Even though it's hardcore the playing is precise. These guys must be Berklee connected. On their FB page its tagged as "Mathcore".
To hear these major chops devoted to hardcore was a new experience. The keyboardist was able to add some melodic elements in that you rarely hear in the genre. The two guitarists were creating some shifting harmonic elements that expanded the sound. About halfway through the set the fretboard tapping and shred action started, which wasn't our favorite thing but you can't have it all.
In a genre that seems codified at times both Needle Play and Myocastor Coypus expanded the boundaries.
More band photos below the show listings.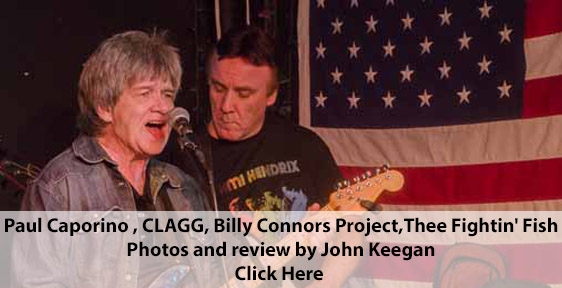 ---
And in other news.....
The Midway has officially changed their gig times. Matinee shows are now 3-7PM and night shows are 8PM doors with music starting at 8:30.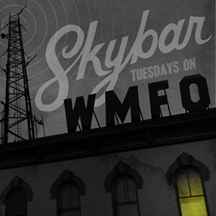 Jay Allen's Mess Around is such a cool thing. Skybar at WMFO thinks so too and is going to turn his show over to the Mess Around this Tuesday 2/12. He has Jay Allen, Justine Covault and Tom Baker recreating what they do at a club. It's going to be loose, like the Mess Arounds are. Justine has been talking about some odd song choices she's line up which we will not divulge here. So tune in on WFMO on Tuesday at 8pm on the Rising show. The next Mess Around is at the Plough and Stars on Sunday Feb 17. Here's the FB page for that.
Brian Coleman is putting together another show of Magnus Johnstone's works. The Nave Gallery announces "LARGER WORKS & MORE," March 9 - 17, 2019. The opening is on March 10 at 3:30 pm will be preceded by a 1:30 PM Panel Discussion about Magnus's life in Boston from the 70s – 90s, hosted by friends Mark Flynn, Margaret Bailey Rosenbaum, Michael Shores and Chris Guttmacher. The panel will also explore Johnstone's associations with the Punkt/Data Gallery, Skunk Piss Magazine and Gallery East. More info here.
And a Phil N Phlash retrospective is coming up in March as well!! Midway Gallery is set to premier PHLASH, a photography exhibition featuring the work of Phil In Phlash. Sponsored by Gallery East and the Midway Artist Studios, the exhibit runs from Tuesday, March 5 through Saturday, April 6, 2019. Gallery Hours are Monday through Friday 10AM-4PM (15 Channel Center Street Boston MA 02210). The reception takes place on Saturday, March 9, from 5-9PM. Come meet the artist; it is FREE and open to the public. FB page here.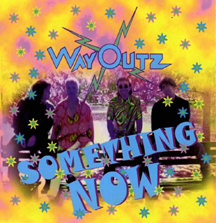 There's so much back story to Rich Mirsky, it's hard to know it all. Part of it his tenure in the Wayoutz. That band is having a reunion show at Tavern at the End of the World on March 9 with Sugar Snow. Check out the Wayoutz It starts around 9:30pm.
Brian Young another WMFO DJ has things coming up. His band The Thigh Scrapers will be on the provocative Heavy Leather Topless Dance Party on March 30. On March 24 they'll be part of a Midway Matinee show with The Classic Ruins,1.4.5. and the Stigmatics.
The Nervous Eaters are going north for their CD release party – for their forthcoming CD of new recordings. It's at 9 Wallis in Beverly, Saturday April 27 with Corolla DeVille and Mr. Airplane Man. Info and tix here.
Greg Walsh, the drummer for Pop Gun, has been recording his own material at Woolly Mammoth with David Minehan. Counting Down to Zero (From 1) has Pop Gun-er himself James Melanson on guitar. It's right here!! "June Gloom" is way different and interesting with its thunder like drum booms.
Chris Stein has a new book out called Point of View: Me, New York City, and the Punk Scene. It's got lots of photos of Blondie of course but many others too. More info here. And here's an article on the book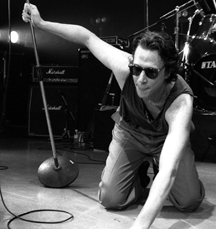 Here's an great article on Richard Hell and his Journals 1969-1979 which are at Fales Library at New York University. Richard Hell's Journals
There's a surprise at the end where they state: "In addition to NYU's Downtown Collection, where Richard Hell's papers are stored, Cornell University is currently cataloguing its own Punk Collection with materials from various artists from 1974 to 1986." So Cornell is getting serious about punk. Nice to see.
Here's a short article in Billboard about Suzi Quatro. She's getting upset that she's not in the Rock n Roll Hall of Fame. Suzie Snubbed
The latest from RumBar Records is The Yeah You Rights. It's a two man group from Louisiana doing thumping swamp rock. They have the song "Lucy Anna" available on Bandcamp.
---
Here's some good shows coming up this week.....
February 12 (Tuesday) It's an 'MFO Mess-Around- Skybar is having the Mess Around crew on his show tonight- 91.5 WMFO 8-9Pm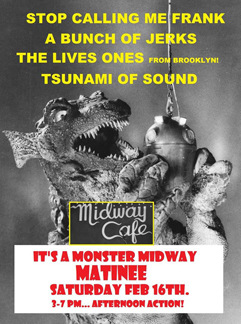 February 16 (Saturday) Stop Calling Me Frank, A Bunch of Jerks, The Lives Ones, and Tsunami of Sound are at The Midway for a matinee show 3-7PM.
February 16 (Saturday) The Crank-tones! Live! at Atwwods 4-6PM
February 16 (Saturday) 2019 Dana-Farber Marathon Challenge Rock 'n' Roll Benefit Show with Sidewalk Driver, Slim Jim and the Mad Cows, and Red Red Rockit! Night time show at The Midway. 8PM doors music around 8:30.
February 16 (Saturday) Mr. Airplane Man, Sticker Shock, Johnnie and the Foodmasters are at Club Bohemia at Cantab
February 16 (Saturday) Devil's Twins, Diablogato, Salem Wolves at Opus in Salem
February 16 (Saturday) State of the Union and Pavlov's Dogs are at Key West Lounge North Adams MA.
February 17 (Sunday) DNZL, Flatlager, Loser's Circle, KCUF at The Midway for a matinee show 3-7PM
February 17 (Sunday) Randy Black and the Heathcroppers, Adam Sherman, The Skirts at ONCE Lounge doors 7PM
And further out we have.....
February 19 (Tuesday) Gang Of Four at Once Ballroom!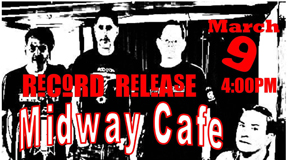 February 20 (Wednesday) Baabes, The Lipstick Boys, Vanishing Point at The Midway -8PM doors music around 8:30PM
February 20 (Wednesday) The Chills are at The Middle East
February 22 (Friday) The Gala, Bad Larrys, Gold Velvet Sofa at Opus in Salem.
February 23 (Saturday) The Winter Moto Expo with custom motorcycles from some of the northeast's finest builders, as well as vendors hawking their motorcycle/hot rod/punk rock/metal/Kustom kulture parts and merch! In the evening there will be Scissorfight, The Von Traps, The Humanoids performing. Starts at Noon!! at Once Somerville, FB page for more info
February 23 (Saturday) JPx (John Powhida) and Nat Freedberg's Devil Rockin' Band at Union Tavern which is what used to be PA's Lounge in Union Square Somerville.
February 23 (Saturday) Kid Gulliver, Circus Trees & The Hi-End at Out of the Blue Gallery in Allston.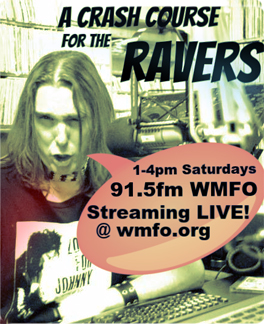 March 1 (Friday) Funeral Cone, The Laces, Kind!, Feedbag, Human Dust at The Dorchester Art project FB page
March 2 (Saturday) "Punk Legends" night - Featuring tributes to The Clash, The Sex Pistols, and The Ramones!!! with Charlie Don't Surf (The Clash), No Future (The Sex Pistols), Warthog (The Ramones)
March 2 (Saturday) Jittery Jack & Amy Griffin full band at the Plough! 9:30PM
March 2 (Saturday) Robin Lane & The Chartbusters CD Release Show. its at The Burren
March 9 (Saturday) Opening reception for the Phil N Phlash retrospective at the Midway Gallery (15 Channel Center Street Boston MA) 5-9PM FB page for more info
March 9 (Saturday) Crunchtime (Record Release!), State Of The Union, Billy Connors Project, Club Linehan for a Matiness (3PM) show at the Midway
March 9 (Saturday) The Gala, Muck and The Mires, The Evil Streaks, Baabes at O'Brien's - wow that is a GREAT line up!!
March 9 (Saturday) Thrust Club, Electric Street Queens, Weather Weapon, Fur Purse at The Midway 8PM doors music at 8:30.
March 9 (Saturday) Brother, Reveries, Foxtails, Hundreds of Au, Mangled at The Democracy Center Mt Auburn St Cambridge. FB page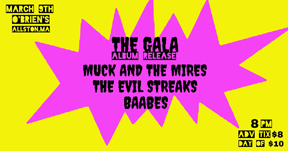 March 10 (Sunday) Opening reception for the Magnus Johnstone show Larger Works and More at 3:30PM at the Nave Gallery somerville.
March 15 (Friday) Dirty Truckers, modifierS, Melatonins at Sally O'Brien's
March 15 (Friday) Anthony Kaczynski, Eric Martin Band, Richie Parsons Band, Trophy Wives at McGann's Pub Portland St Boston.
March 16 (Saturday) Today Junior, Dutch Tulips, Good Fiction, Salty Greyhound at O'Brien's
March 16 (Saturday) Justine & The Unclean @ 9, Crow Follow @10, Randy Black @ 11 - at Tavern at the End of the World. Crow Follow are shooting a video at this show.
March 21 (Thursday) Hood Rats, Andy California, Mongorellis, Sticker Shock at O'Brien's
March 21 (Thursday) Feed The Punks DJ Night at Jeannie Johnston Pub in JP with Mangled and DJ Sweets spinning records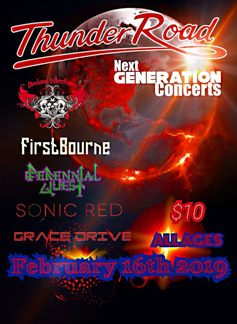 March 23 (Saturday) TRiPLE THiCK, MOTO, The Hi-End, The Inebriations at The Midway for a 3-7PM matinee show
March 23 (Saturday) Carissa + The Cure-Alls, Justine & The Unclean, Tiger Bomb, RunHideFight at Sally O'Brien's
March 23 (Saturday) Tigerman Woah, Cactus Attack, Coffin Salesman, Nick The Barbarian at Opus Underground
March 23 (Saturday) The Gala, Sapling, Kid Gulliver, Mister Vertigo at Ralph's in Worcester.
March 24 (Sunday) Classic Ruins, The Stigmatics, 1.4.5, The Thigh Scrapers 3-7 matinee at the Midway
March 30 (Saturday) Bowery Boston presents The Devils Twins, Party Bois, Ned and the Dirt, Gray Bouchard & the Dedications at Great Scott
March 30 (Saturday) Scott Damgaard and Richard Mirsky and their respective bands at Club Bohemia at the Cantab
March 30 (Saturday) Intercourse, Bed Time Magic, Labor Hex, Pain Chain at The Worthen Attic (141 Worthen st, Lowell) 7:30-Midnight
March 30 (Saturday) When Particles Collide and Tiger Bomb at Bayside Bowl Portland ME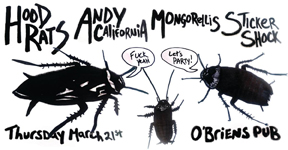 March 30 (Saturday) Il Mostro, z/28, Rockin' Bob Punk Band, Gasoline Virgins at Koto / Salem
March 31 (Saturday) The Radiator Rattlers, Diablogato, The Von Traps, Loser's Circle up in Haverhill, MA at RG's Pub 242 Winter St
April 6 (Saturday) When Particlas Collide and Petty Morals at The Plough.
April 7 (Sunday) Tørsö (CA), Low Vision (Japan), Laughing Stock, Crisis Actors at The Greek Club in Union Sq Somerville. 7:30PM
April 10 (Wednesday) Slovenly Recordings presents: Tommy and The Commies, Les Lullies, and The Monsieurs plus DJ Pete Slovenly at The Midway
April 12 (Friday) Low Dose, Leopard Print Taser, Labor Hex at O'Brien's
April 20 (Saturday) Junkyard, Derailer, The Hi-End, Demons Alley at Koto in Salem.
April 25 (Thursday) The Proletariat, Moving Targets, The Northern Skulls at Alchemy Provi RI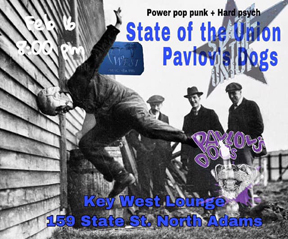 April 27 (Saturday) The Proletariat and Moving Targets at Once
April 27 (Saturday) Nervous Eaters CD Release, Mr Airplane Man, Corolla DeVille at 9 Wallis Beverly.
May 3 (Friday) Barrence Whitfield & The Savages w/ Muck and the Mires at The Middle East
May 4 (Saturday) The McGunks, Silver Screams, Revilers, Damnation, Live Nude Girls at The Midway 3-7PM
May 24 (Saturday) Lo Wreck's birthday with The Downhauls, The Dents, Duck & Cover and Skytigers at Sally O'Brien's
May 11 (Friday) The Undertones at Once Ballroom
CONTACT US AT....misslynbgn@yahoo.com Send us your gig listings, your news and anything else ya got!! You want your CD reviewed?? Contact us for that too.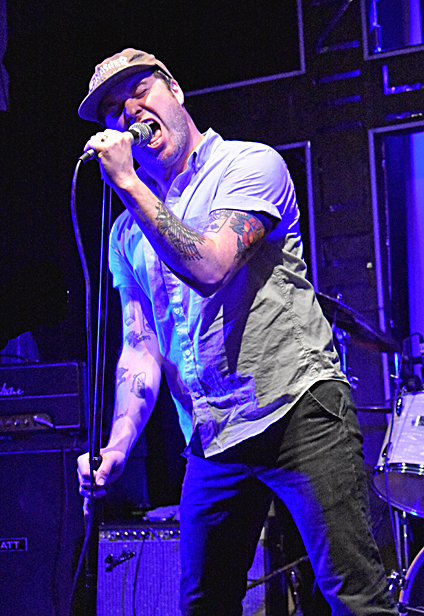 Labor Hex
Photo: Blowfish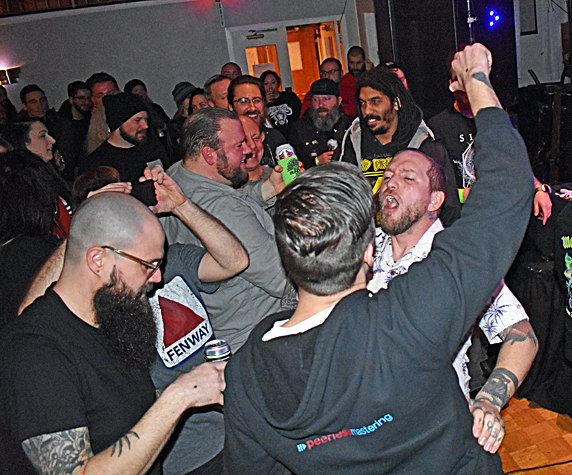 Cocked n' Loaded
Photo: Blowfish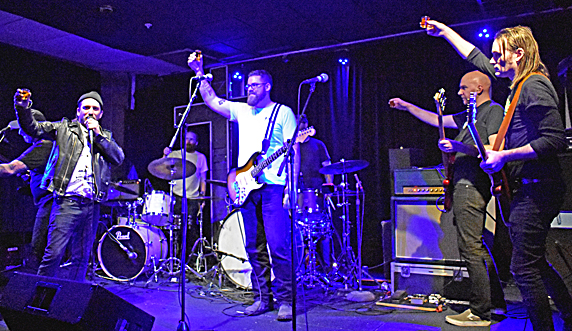 Cocked n' Loaded
Photo: Blowfish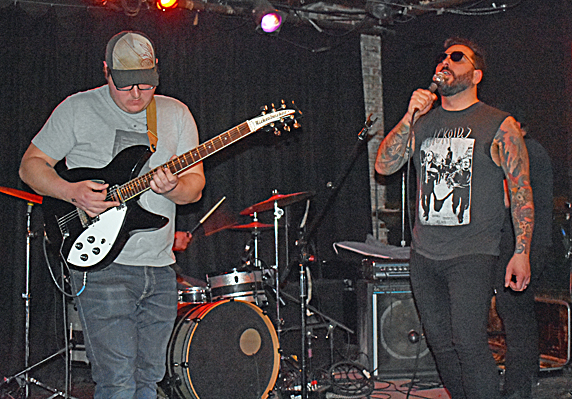 Myocastor Coypus
Photo: Blowfish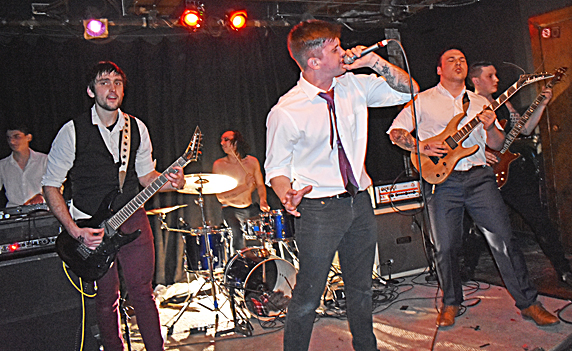 Needle Play
Photo: Blowfish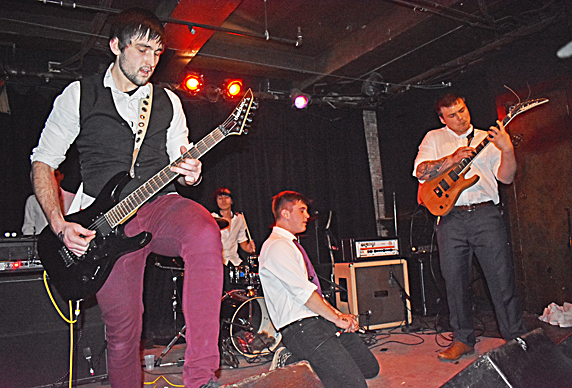 Needle Play
Photo: Blowfish
Needle Play
Photo: Blowfish