The BGN News Archive
February 14, 2011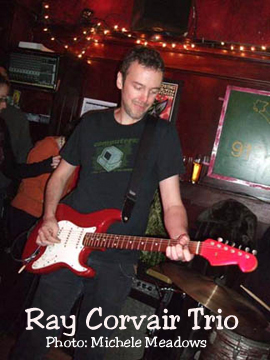 One of our roving reporters Michele Meadows headed over to the Plough & Star this saturday night to catch the Ray Corvair Trio.....she reports "they were out of control." This noir/surf inspired instrumental bands is made of of seasoned Boston musicians like Ray Sutton and Chris Dyas. They've been in many bands and write for Blue Man Group as well. We got a couple pics for ya!
So I was watching this show called Art Race about artists who have to travel across country using only their art to fund their trip and one of the artists visit Cherie Currie , former Runaways lead singer, who now calls herself The Chainsaw Chick and does wood carvings using a chain saw!! She's got some cute bears you might want to buy for a belated V Day prezzie for yr sweet 'ums.
This Wednesday Feb 16th The Godfathers are at Johnny D's in Davis Sq Somerville
And this Friday excellent show....at The Rosebud on Friday Feb 18: Muck and The Mires, Wicked Whiskey and The Acro-brats
Friday, Feb 25 is a big night with lots of excellent shows...for example.....another Noise 30th Anniversary Party, at The Middle East with Tijuana Sweetheart, Blow Your Face Out Jason Bennett And The Resistance, Mark Lind (Ducky Boys) & Mike Savitkas (Death & Taxes) ...
also on 2/25....Even though Buried in Leather told us they weren't playing out anymore they are doing a show (and that's a VERY good thing!!) at The Rosebud on Friday Feb 25th along with The Spoilers, Those Hated Hearts and With a Bullet. Get there early coz BIL goes on first.
Also....on 2/25...At TT's The Bears is Jesse Malin and The St.Marks Social, JJ and Thee Cuban Heels and Andrea Gillis....(SECRET: let's all show up to this one and wish JJ Rassler a big huge happy birthday!) And of course there is ...a month or so away...the Marky Mayhem benefit coming up at The Midway on Sunday March 13 in the afternoon. The lineup is 5-Point, Hixx, Welch Boys
And whoa!! I hear tell there's a Del Fuegos reunion coming up June 23rd at the Paradise this is a benefit for Right Turn , an excellent organization helping musicians and artists get and stay straight....!!! And here's a cool viddy from the Del Fuegos definitely a very cool step back in time!
We wanted to give a shout out to our friend Richard Nolan (Third Rail) , he recently suffered from a stroke and is in rehab fighting like the fighter he is and will be back to good health soon!! Let's all spread some good thoughts about Richard's recovery!! Yeah! Love you Richard!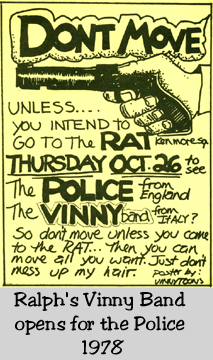 We also want to wish a hugely gigantic get well to Richie Parsons (Unnatural Axe) who is having more back problems that will hopefully be taken care of soon! Get well Richie damn it!
We got some news from Ralph Fatello the worlds first surf punk. First of all he's got some new surf videos coming out which we will view and review like the others. The other news is that he is over 200 days into a year of surfing EVERY DAY. It's a fund raiser called Catch a Wave for Molly. What a year to have to keep that promise. Amazing!
Ralph also has a Rat documentary that he wants to start soon. I don't know…the mountains may wash into the sea before someone gets that done, but if anyone can Ralph can.
Check out his webpage and see how much he's got going on....www.ralphspic.com
If you haven't read it yet Rick Coraccio shares memories of the DMZ recording session which was majorly screwed up (and maybe their futures too!) by that monster storm The Blizzard of '78. (link is also below the news....) This is a must read!! Thanks Rick!
and a new Razz Rants (click to read the first one) should be coming your way very soon!! AND in case you have not read it as yet here is a link to our fab JJ Rassler interview from back in 2003 (wow time does fly huh??)
Hey keep in touch huh?? click click click