The BGN News Archive
February 18, 2008
HI All, went to see The New York Dolls this past weekend at The Paradise. I'm gonna tell ya the story you may have heard before..the first time I saw the Dolls was at The Cricket Lounge in Ashland in 1974 (maybe 1975) with Reddy Teddy as the opening band. It was without a doubt a life changing experience. Those of us...who needed something new,musically, the New York Dolls had come along and I was dying to see them. I'd seen them on Don Kirschner's Rock Concert.
I remember standing there, right at the front of the stage that night, in awe and smiling...knowing I had found what I was looking for, hoping for. Johnny Thunders lurching around up there, under a huge teased up head of black hair, Arthur Kane in platform boots looking a million feet tall. I was right in front of David Johansen, there was not much of a crowd there that night, he was wearing a hot pink polyester suit; bell bottoms and suit coat, no underwear. I could see every curve, wrinkle and vein in his penis and I have to say, that was life altering too, being a virgin at the time and REALLY intrigued after that!!
OK now we're 33 years later...I go to the Paradise, I was almost right up front, 'cause unlike the first time, there was a huge crowd to deal with this night. The New York Dolls come on and out comes David Johansen, with a mug only a mother, and a million fans could love, and he's wearing a hot pink jersey!!
And I could see the big bulge in his pants but this time under jeans. (Please refer to my column from last week...now these pants were NICE A TIGHT!!!)

The New York Dolls

| | |
| --- | --- |
| Sylvain Sylvain | Steve Conte |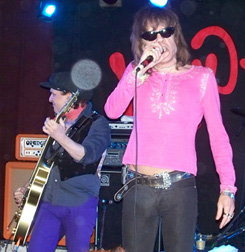 I had issues going to see "The Dolls" knowing there were only two original members left, but after lost of positive reviews of their last show I figured I'd pay the outrageous sum to get in to check 'em out.
Well, it was worth the money. Johansen and Sylvain Sylvain were enjoying themselves SO much, that right there was enough. But the band was AWESOME and powerful and rocking and rumbling and damn, they were great! Steve Conte sure does have a lot of the Johnny Thunders aesthetic down and I could feel Sami Yaffa's bass from the feet up! They did all The Dolls' hits AND Piece of My Heart by Janis Joplin, very weird choice for a cover! But the show was just bursting at the seams with energy, it was so enjoyable and I am glad I went.
I don't even want to think this is some kind of "full circle" thing. But it felt like a strange event to me. Especially when Johansen said, mid-show; "We probably won't be back., if you want to talk to us , look us up on the Ouija Board."

The opening band was a group from Ohio called We Are The Fury...I didn't' think there was much "fury" there, except when the lead singer screamed but his voice was so ...I don't know falsetto and he was rather limp wrested, don't get me wrong I have always loved androgynous thing, but he reminded me too much of a glammed down Freddie Mercury. Here's what a friend had to say and I agree: "And David Jo's still got it, he never makes it seem contrived, who else can get away w/ wearing a pink bedazzled shirt? Unlike that little goofy shite from We Are Fury who made me feel like I was watching a high school musical w/ soundtrack from Blink182." Perfect, "nuff said.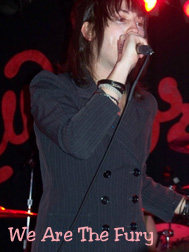 So the other news is the house behind mine, here is densely packed Somerville was on fire, and I mean completely engulfed in flames, Saturday morning, 4:30AM. It was scarier than anything I've experienced yet, we had to evacuate the house, Cam Ackland is now my hero, he lives downstairs and burst into my place to rouse me out of bed and tell me to get the hell out of the house. I grabbed the cats and a coat and ran outside. But first I looked out my living room window and.....holy crap, I have never seen flames like that...I mean the whole house was engulfed, my living room was glowing orange from the light of the flames not 25 feet away and the house stunk like smoke and still does.... The firemen told me afterwards that if it had been windy, like it had been earlier in the day, we'd have probably caught fire as well. You can go to my MySpace page to check out the photos
So lucky to be here and safe, yay! Stuff is coming up...in fact it's a busy week over in Allston my friends: every night for 8 days...at Harper's Ferry over in Allston coz its Darkbuster's 3rd Annual Hometown Throw Up,
it all started on the 17th with Darkbuster, The Throwaways and The Pinkerton Thugs and it keeps going until the 24th.
Darkbuster every night with a plethora of great bands.....whew...for more info go to Darkbuster... Oh and note that for Monday The 18th, per Darkbuster: "The Welch Boys had to cancel Monday's slot on the Throw Up but we've managed to get our old pals The Big Bad Bollocks to come down and play. We're pumped to play with these guys again!!!" so get on over and check 'em out!@!
This Friday at The Abbey is The 3rd Annual Idle Barons Ball with Sprained Ankles, The Swinedells, The Almighty Terribles and Nate Gibson & the Gashouse Gang
February 22nd at Church is Thalia Zedick band along with The Big Disappointments, Woman and Most Bitter Next Monday, Feb 25th over at O'Brien's is their Premature Mondays thing with The Prime Movers, Lesser Evils, The Sprained Ankles and Skeletor & the Man
February 29th at Dodge Street in Salem is an really great show with Red Invasion, Joe Mazarri and The Illegals....
And Harper's Ferry is really getting good, Nancy Neon has March 7th set up with The Fleshtones, Lyres and Prime Movers
And folks here is a gig not to be missed; March, 28 2008 at The Living Room in Providence RI: Red Invasion, The Murder Junkies, The Sleazies, Midnight Creeps And its all ages!!!WOW!!
And last but never least; we heard from Johnny Angel and all you BlackJacks fans will be happy to know T Shirts are now available...Johnny tells us: "Because you are tasteful and natty dressers, I have chosen you before all others to consider sampling this wonderful line of sartorial splendor: That's right, Johnny shwag! Pretty snazzy looking t-shirts and best of all, somewhat insulting, in keeping with the Angel (or Wendell) ethos. " so go over to the site, pry open the wallet and buy!!
There you have it....click and say HI or send some news if ya wanna..... Bye for this week, ML