The BGN News Archive
February 18, 2019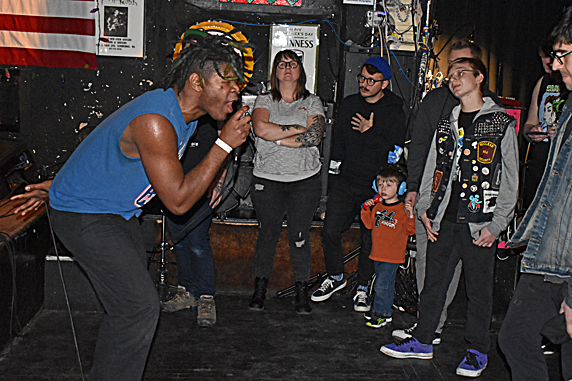 DNZL
Photo: Blowfish
---
The bill at the afternoon show with DNZL and Loser's Circle at the Midway was hard to resist for us.
And heads up people, show times at the Midway have changed to an hour earlier. The afternoon shows now start at 3 pm and the night time shows are at 8 pm with the music starting at 8:30.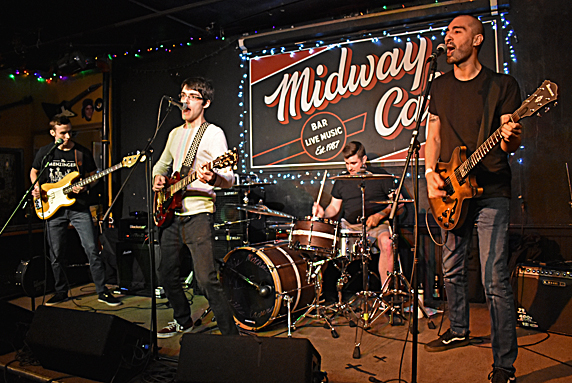 Bad Reminders
Photo: Blowfish
The show started with Bad Reminders (name change from Flatlager) from New Bedford. Being a younger band their punk influences are mostly latter punk groups.
The material was easy to take in. They had three songs that we liked a lot. One was very punk pop. They had some odd song subjects like: the death of Captain America, sword fighting in Medieval Times and a song about tenure.
They all played well. The drummer had a fast snare drum roll that worked wonders. You can hear that at the beginning of "Bought and Sold" on their Bandcamp page.
The club was on the full side and the audience was all up front taking in the band.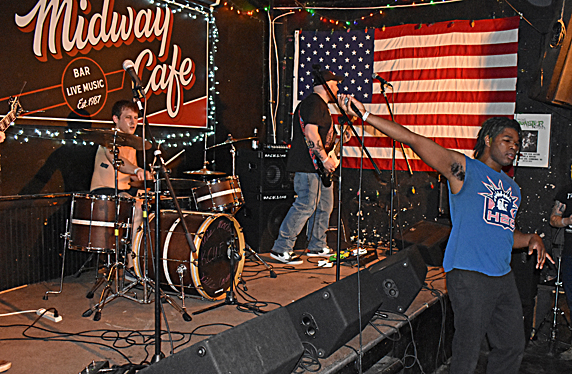 DNZL
Photo: Blowfish
Next up was DNZL a band that has impressed us from the first time we saw them and continues to awe us. It's hard to believe we first saw them only last June.
DNZL amazes right from the concept of the band: doing hardcore songs only about Denzel Washington movies. Just having that concept gives them qualities that separate them from the pack.
At the Midway the first thing you noticed was Mel the singer. He was off the stage in front of the audience in full screamo mode. As the set goes on you catch those moments were the words resonate. Once it was, "Give the gun Eli. Eli, give me the fucking gun", "You know what happens to a cop in prison? They treat him like a human toilet," and "I'm not strong enough!". Mel is half singing, half acting it out. Those moments get to you if you pay attention. It's what makes Mel one of the best front men out there now.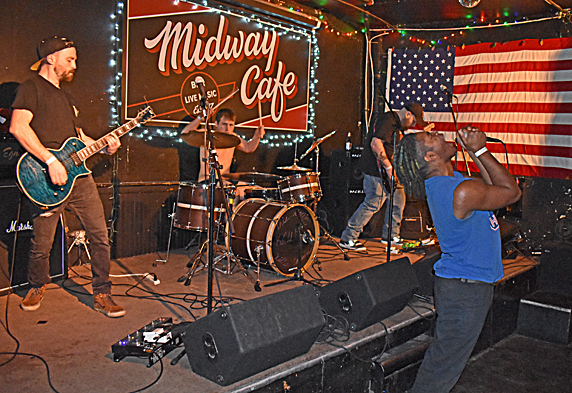 DNZL
Photo: Blowfish
The other noticable thing about the band this time around - they have gotten way tighter since we last saw them. Mel says it's from the recording sessions that they're doing (in Haverill) where they are playing to a 'click track'. That discipline has left its mark. We noticed the bass player right off the bat. The rhythm section sounded massive. The only other band to compare them to is Minibeast. This was the main difference with this show that raised the bar for DNZL. This band sound with Mel's vocals are pretty much an undeniable combination.
Like a lot of other bands they only need some attention from the critics and people to go to the gigs. They are going on a tour this June but before that they are at the Midway on March 30. Go see them!!!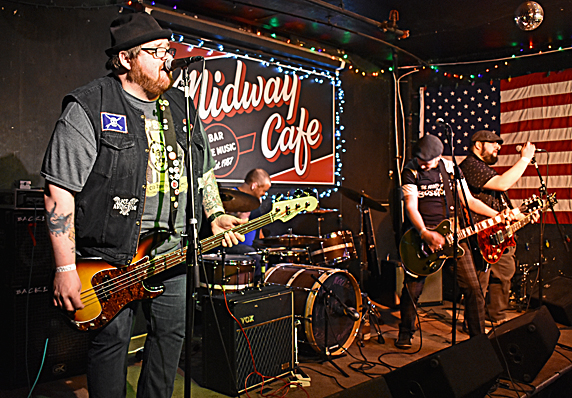 Loser's Circle
Photo: Blowfish
Then it was Loser's Circle, they've been doing dependable pop punk for a few years now. They are the go to band for this. At this point their album Took Long Enough is looking like one of the best of its time. It's packed with memorable tunes.
The band runs through the album's songs with the crowd singing along to "Who's Bitter? I'm Not Bitter." "Ghosts of Yesterday", "Losing It", "The Great Illusion of Time" etc. It was very communal feeling on top of being cool pop punk. They throw in a surprise by covering Lit's "My Own Worst Enemy" which was mega fun.
The show was one of those that make you feel you are lucky to be in Boston now. There's great music and some of it is easy to get to on Saturday and Sunday afternoon.
More band photos below the show listings.
People were still talking about the Stop Calling Me Frank show the day before at Midway. Also on the bill was A Bunch of Jerks and Live Ones. John Keegan was there and has a review and many photos. He also was at the Bauhaus show at The Palladium in Worcester. Click the photo below to see the photos.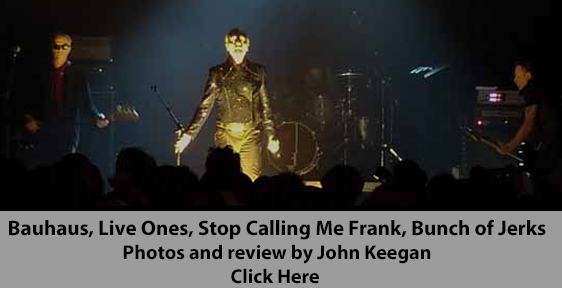 ---
And in other news.....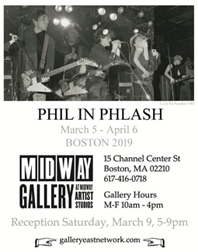 And a Phil N Phlash retrospective is coming up on March 9thl!! Midway Gallery is set to premier PHLASH, a photography exhibition featuring the work of Phil In Phlash. Sponsored by Gallery East and the Midway Artist Studios, the exhibit runs from Tuesday, March 5 through Saturday, April 6, 2019. Gallery Hours are Monday through Friday 10AM-4PM (15 Channel Center Street Boston MA 02210). The reception takes place on Saturday, March 9, from 5-9PM. Come meet the artist; it is FREE and open to the public. FB page here.

That Nervous Eaters show up at 9 Wallis in Beverly is for the Eaters' new album. This 14 cut album is some new material and some older songs newly recorded like "Last Chance" and "The Girl Next Door". We hear this one was recorded in Steve Cataldo's basement.

Joanie Lindstrom got her photo in the Improper Bostonian this last week (Feb 13-26 issue). She's in the Sightings! page. She's in front of a wine cask in Moldova. That part of her Bulgaria/Romania Vacation that we have posted here.

Here's a video interview with Mach Bell on American Heartbreak.com

1.4.5. have recorded their Boston oriented song "PAHK YA CAH!". They made a video for the song and used some of our live videos we have posted of the group.

The Thigh Scrapers are now signed up to Otto Records. The immediate result of that is that their EP is now available via Otto Records HERE. This is material that was recorded by David Minehan at Wooly Mammoth.

Oh, we are romantic punk rockers!! But if you didn't check our Facebook page this week you might not know that because you missed the Valentines we sent out. We now have them all on our Valentines! page for you to see…..
---
Here's some good shows coming up this week.....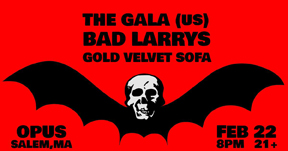 February 19 (Tuesday) Gang Of Four at Once Ballroom!
February 20 (Wednesday) Baabes, The Lipstick Boys, Vanishing Point at The Midway -8PM doors music around 8:30PM
February 20 (Wednesday) The Chills are at The Middle East
February 22 (Friday) The Gala, Bad Larrys, Gold Velvet Sofa at Opus in Salem.
February 23 (Saturday) The Winter Moto Expo with custom motorcycles from some of the northeast's finest builders, as well as vendors hawking their motorcycle/hot rod/punk rock/metal/Kustom kulture parts and merch! In the evening there will be Scissorfight, The Von Traps, The Humanoids performing. Starts at Noon!! at Once Somerville, FB page for more info
February 23 (Saturday) JPx (John Powhida) and Nat Freedberg's Devil Rockin' Band at Union Tavern which is what used to be PA's Lounge in Union Square Somerville.
February 23 (Saturday) Kid Gulliver, Circus Trees & The Hi-End at Out of the Blue Gallery in Allston.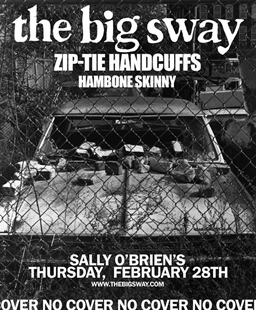 February 28 (Thursday) The Big Sway, Zip-Tie Handcuffs & Hambone Skinny at Sally O's
And further out we have.....
March 1 (Friday) Funeral Cone, The Laces, Kind!, Feedbag, Human Dust at The Dorchester Art project FB page
March 2 (Saturday) "Punk Legends" night - Featuring tributes to The Clash, The Sex Pistols, and The Ramones!!! with Charlie Don't Surf (The Clash), No Future (The Sex Pistols), Warthog (The Ramones)
March 2 (Saturday) Jittery Jack & Amy Griffin full band at the Plough! 9:30PM
March 2 (Saturday) Robin Lane & The Chartbusters CD Release Show. its at The Burren
March 5 (Tuesday) Rock & Roll Trivia w/ Erin & Brett at The Sinclair
March 9 (Saturday) Opening reception for the Phil N Phlash retrospective at the Midway Gallery (15 Channel Center Street Boston MA) 5-9PM FB page for more info
March 9 (Saturday) Crunchtime (Record Release!), State Of The Union, Billy Connors Project, Club Linehan for a Matiness (3PM) show at the Midway
March 9 (Saturday) The Gala, Muck and The Mires, The Evil Streaks, Baabes at O'Brien's - wow that is a GREAT line up!!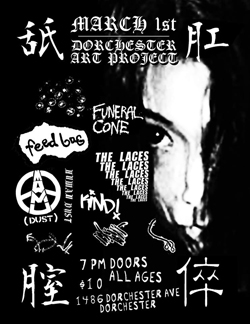 March 9 (Saturday) Thrust Club, Electric Street Queens, Weather Weapon, Fur Purse at The Midway 8PM doors music at 8:30.
March 9 (Saturday) Brother, Reveries, Foxtails, Hundreds of Au, Mangled at The Democracy Center Mt Auburn St Cambridge. FB page
March 10 (Sunday) Opening reception for the Magnus Johnstone show Larger Works and More at 3:30PM at the Nave Gallery somerville.
March 15 (Friday) Dirty Truckers, modifierS, Melatonins at Sally O'Brien's
March 15 (Friday) Anthony Kaczynski, Eric Martin Band, Richie Parsons Band, Trophy Wives at McGann's Pub Portland St Boston.
March 16 (Saturday) Sunken Ships, Neighborhood Shit, New Hell, Psychic Weight for a 3-7PM matinee show at the Midway
March 16 (Saturday) Today Junior, Dutch Tulips, Good Fiction, Salty Greyhound at O'Brien's
March 16 (Saturday) Justine & The Unclean @ 9, Crow Follow @10, Randy Black @ 11 - at Tavern at the End of the World. Crow Follow are shooting a video at this show.
March 16 (Saturday) Demon Seeds, Miss Fits, Thee Fightin' Fish, Scare City at Ralphs in Worcester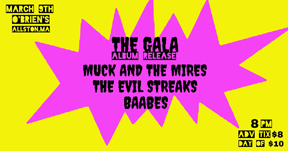 March 20 (Wednesday) Wine Lips, Zip-Tie Handcuffs, Baabes at O'Brien's Pub
March 20 (Saturday) Brian Young of WMFO and his band The Thigh Scrapers will be on the Heavy Leather Topless Dance Party Brian should LUV that!!
March 21 (Thursday) Hood Rats, Andy California, Mongorellis, Sticker Shock at O'Brien's
March 21 (Thursday) Feed The Punks DJ Night at Jeannie Johnston Pub in JP with Mangled and DJ Sweets spinning records
March 23 (Saturday) TRiPLE THiCK, MOTO, The Hi-End, The Inebriations at The Midway for a 3-7PM matinee show
March 23 (Saturday) Carissa + The Cure-Alls, Justine & The Unclean, Tiger Bomb, RunHideFight at Sally O'Brien's
March 23 (Saturday) Tigerman Woah, Cactus Attack, Coffin Salesman, Nick The Barbarian at Opus Underground
March 23 (Saturday) The Gala, Sapling, Kid Gulliver, Mister Vertigo at Ralph's in Worcester.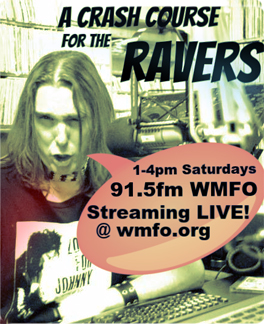 March 24 (Sunday) Classic Ruins, The Stigmatics, 1.4.5, The Thigh Scrapers 3-7 matinee at the Midway
March 29 (Friday) The Big Sway, Bad Larrys & Imaginary Animals at Sally O's! !
March 30 (Saturday) See This World, The Runouts, DNZL, WarGraves at the Midway for a 3-7PM matinee show
March 30 (Saturday) Bowery Boston presents The Devils Twins, Party Bois, Ned and the Dirt, Gray Bouchard & the Dedications at Great Scott
March 30 (Saturday) Scott Damgaard and Richard Mirsky and their respective bands at Club Bohemia at the Cantab
March 30 (Saturday) Intercourse, Bed Time Magic, Labor Hex, Pain Chain at The Worthen Attic (141 Worthen st, Lowell) 7:30-Midnight
March 30 (Saturday) When Particles Collide and Tiger Bomb at Bayside Bowl Portland ME
March 30 (Saturday) Il Mostro, z/28, Rockin' Bob Punk Band, Gasoline Virgins at Koto / Salem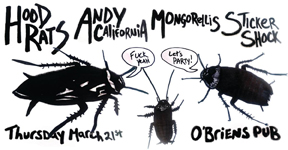 March 31 (Saturday) The Radiator Rattlers, Diablogato, The Von Traps, Loser's Circle up in Haverhill, MA at RG's Pub 242 Winter St
April 6 (Saturday) When Particles Collide and Petty Morals at The Plough.
April 7 (Sunday) Tørsö (CA), Low Vision (Japan), Laughing Stock, Crisis Actors at The Greek Club in Union Sq Somerville. 7:30PM
April 10 (Wednesday) Slovenly Recordings presents: Tommy and The Commies, Les Lullies, and The Monsieurs plus DJ Pete Slovenly at The Midway
April 12 (Friday) Low Dose, Leopard Print Taser, Labor Hex at O'Brien's
April 20 (Saturday) Junkyard, Derailer, The Hi-End, Demons Alley at Koto in Salem.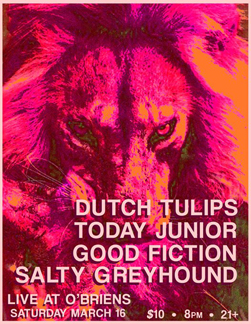 April 25 (Thursday) The Proletariat, Moving Targets, The Northern Skulls at Alchemy Provi RI
April 27 (Saturday) The Proletariat and Moving Targets at Once
April 27 (Saturday) Nervous Eaters CD Release, Mr Airplane Man, Corolla DeVille at 9 Wallis Beverly.
May 3 (Friday) Barrence Whitfield & The Savages w/ Muck and the Mires at The Middle East
May 4 (Saturday) The McGunks, Silver Screams, Revilers, Damnation, Live Nude Girls at The Midway 3-7PM
May 24 (Saturday) Lo Wreck's birthday with The Downhauls, The Dents, Duck & Cover and Skytigers at Sally O'Brien's
May 11 (Friday) The Undertones at Once Ballroom
CONTACT US AT....misslynbgn@yahoo.com Send us your gig listings, your news and anything else ya got!! You want your CD reviewed?? Contact us for that too.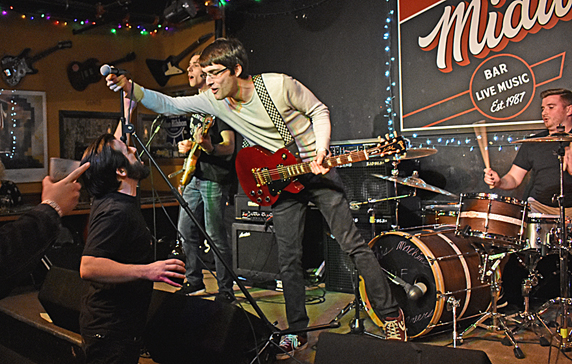 Bad Reminders
Photo: Blowfish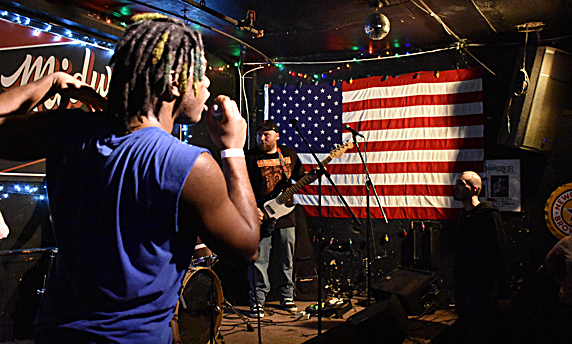 DNZL
Photo: Blowfish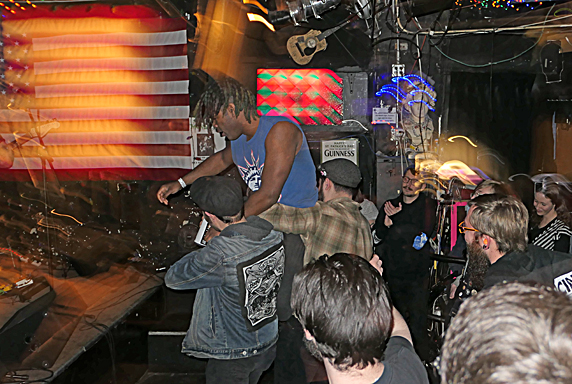 DNZL
Photo: Blowfish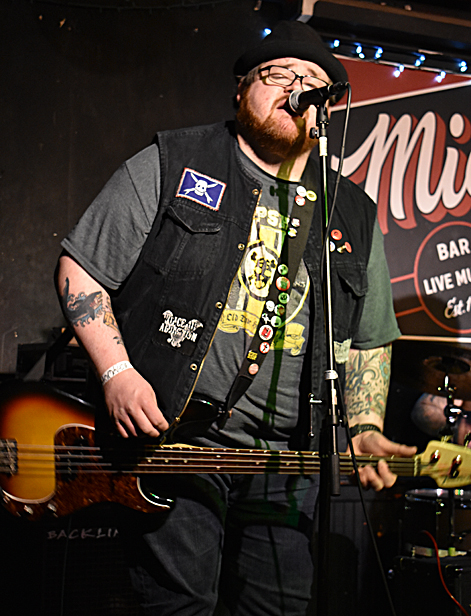 Loser's Circle
Photo: Blowfish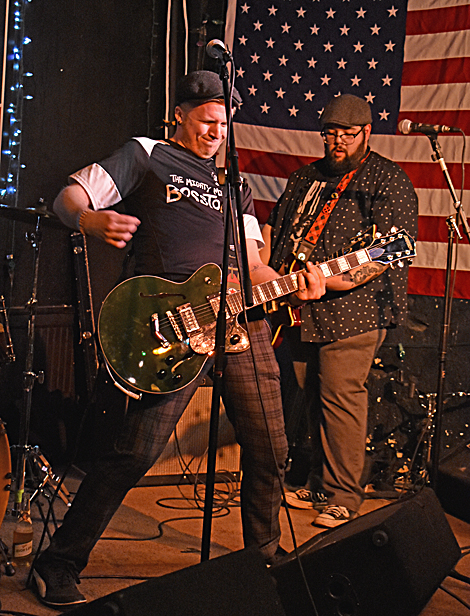 Loser's Circle
Photo: Blowfish