The BGN News Archive
February 19, 2018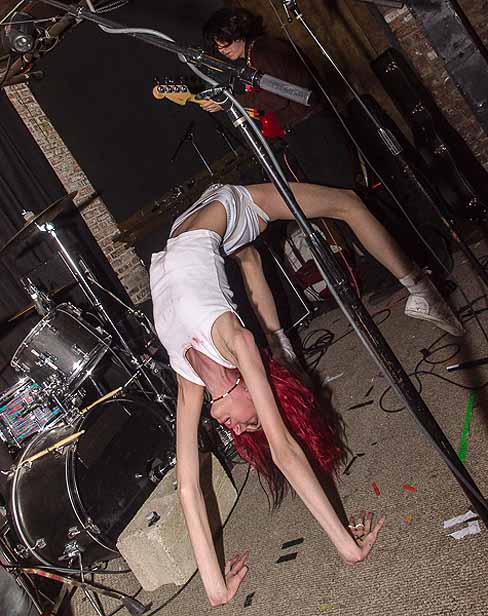 Starcrawler at Great Scotts
Photo:John Keegan
On Tuesday John Keegan was at Great Scott's for Starcrawler from Los Angeles. It was a wild show. Click on photo below for review and photos.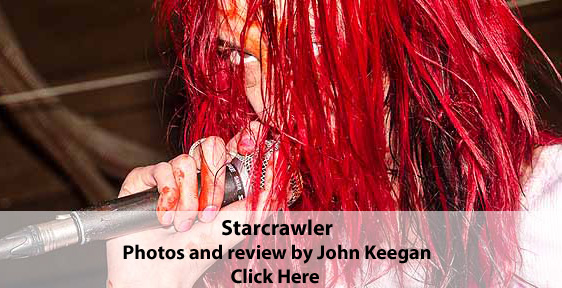 Later that week at Great Scott's they had the Graneros who we've been wanting to hear since we came across their song "Red Rug" (here it is on Bandcamp) and we added it to our Top Ten list. We also had a song off their premier EP on the Top Ten a while back.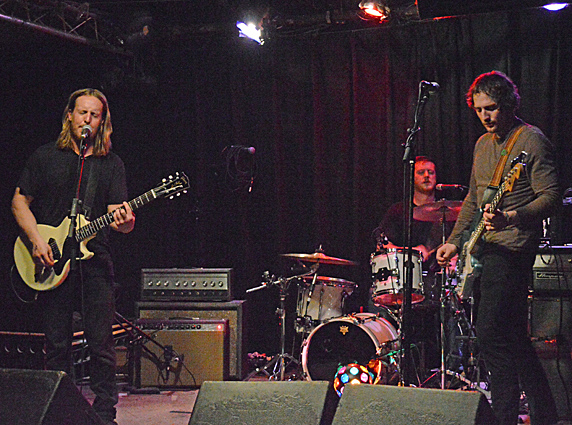 The Graneros
Photo:Blowfish
There were 25 people actively up front listening to The Graneros on stage as we got there. There were others hanging at the bar but not a lot of people. We liked everything about The Generos. They were a mix of punk/garage/indie influences. The singer, Matt Wolz, had such control of his voice that he could hold a word and move the pitch around to give it a nice melodic fillip. The bass player is Chris Wolz. (Hey, is this another brother band like The Bruvs?) Chris was moving around the fret board with ease and adding fills that were a good fit melodically and in the groove at the same time. Travis Tenney on drums was a powerhouse; even his fills were power driven.
One highlight was indeed "Red Rug". Live, the melody sounded uncannily like a Pixies song. Check it out in the first video above between 9 to 33 seconds and again at 115 to 150 seconds. That's the best thing the Pixies never wrote.
The Graneros had a noisy rocking sound that shook the winter blues out of us. They are a Boston band too!! We'll be seeking them out in the future!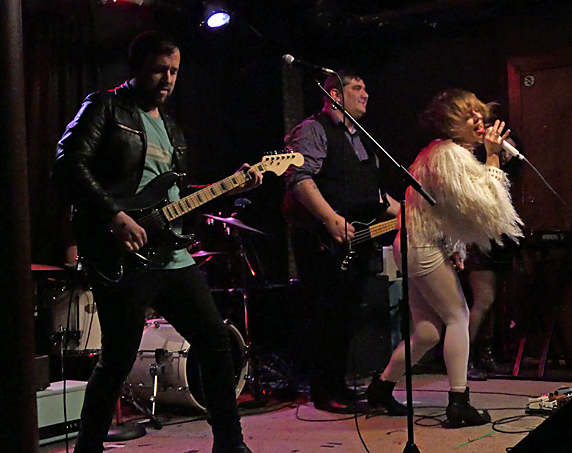 The Gala
Photo:Blowfish
We were wary of the next band The Gala ...because the bass player was wearing a vest, which seemed too formal, and the singer completely dressed in white with a couldn't ignore shaggy top. We got won over pretty quickly. They got together in March of 2016 and have gotten some airplay and attention already. Their song "Between the Lines" got played on the Rodney Bingenheimer Show on Sirius Radio. Despite the look, they have garage roots.
Their sound isn't simple however. They also have a keyboard player with a cheesy organ sound coming out of it. That on top of the hard edged guitar sound brings to mind eighties New Wave. The strong voice and exuberant stage antics of the lead singer bring a slew of groups to mind: Blondie, Go Go's, The Donna's – you can go on but most of all they reminded us of the Charms. This group is getting the job done. Good songs and energy on stage. We were super impressed. They brought us around big time.
We've seen other groups trying to do this and coming over sticky sweet. The Gala makes sure their sound has bite so it never gets wimpy. The lead singer comes across as a strong personality. Her coat may be fluffy but she has a hard edge. Now that we've seen them it will be interesting to keep tabs on them to see if they can get some traction out there in a busy scene.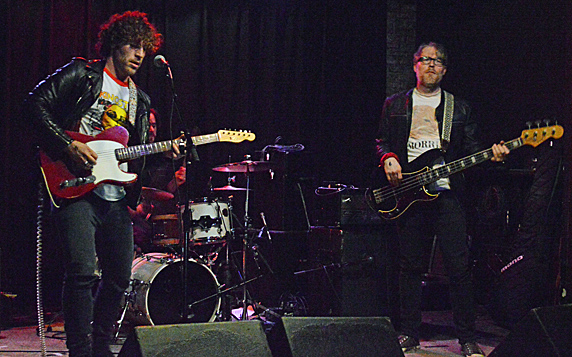 The Maxims
Photo:Blowfish
The headliners were The Maxims. They were blues based but packaged in a modern way. That's no small thing. There was some garage influence in there that was appealing too. The singer's vocals were processed to sound like it was coming out of an old radio. We've seen this sort of thing before. Actually, Randy California does this but pushes it to the extreme. The crowd came for them judging by the response.
Three good bands. We were happy campers.
Friday we were at a show at PA's booked by Dave Crespo. He's gone to Utah but his shows are still going on. It was two known bands and two band debuts.
Circus Battalion
Photo:Blowfish
We missed the first group but the second, Circus Battalion, was just setting up. They did well for their first show. It was rough as you would expect but there were things of interest. Number one, they have Tak from Electric Octopus (they are on hiatus but not dead yet, says Tak) on bass. He's just the super coolest guy and he keeps the bottom end in a busy rumble.
The other standout was the singer. He was long haired and bare footed. His look and manner reminded us of the lead singer of Hey Zeus!. He had a lot of funny chatter in between songs and they needed it because the guitarist broke two strings and that took a while to deal with. They handled it fine.
A few of the songs stood out. One with the chorus "we want to destroy this place" was a anthem for anarchists that got you pumped up. Another one had the final line, "We all want the bullfighter to DIE!". They did a ragged "Jet Boy, Jet Girl". We love when a band pulls one of the faves out like that. If they can tighten everything up they have a good thing going.
The next two bands have been on shows that we have gone to but missed them playing.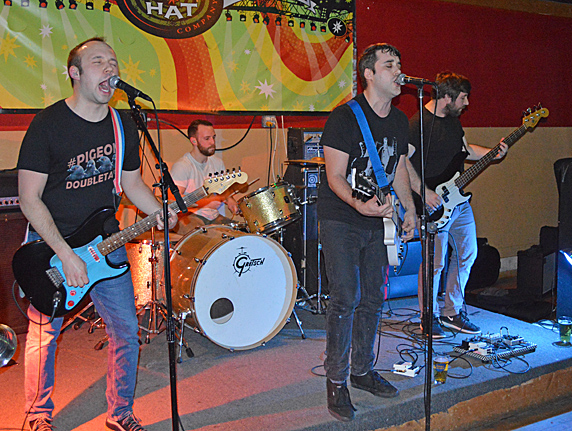 Yo Ticonderoga
Photo: Mark Davis
Yo Ticonderoga is a no-bull punky band. They've been around since about 2011. We're always out there seeking out the punk bands and Yo Ticonderoga is right up our alley. The band was focused and dug into the songs which got emotional. It's always good to catch the lyrics with these sort of songs. The more you're familiar with the recorded songs the more rewards you get out of it live. Next time we will be more prepared.
A minute and twenty one seconds, if you can spare it, can show you what they do by listening to "Little Letting Go"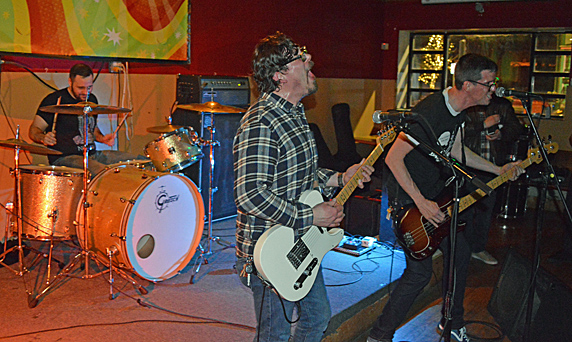 The New Warden
Photo:Blowfish

We saw The New Warden once before, in August 2013, but the mix was so bad we just didn't get what they were doing. Turns out we were missing some good music. The New Warden is similar to Yo Ticonderoga which is why they have shared many bills but New Warden kicked everything up a notch. They were tighter and louder and the songs were even more emotional. They had some heart wrenching and throat shredding moments. Their intensity is what distinguished them. When someone is giving it all like these guys did, you just can't help but be invested yourself. We were transfixed to the last note.

That was the second night in a row with three good bands.

Saturday John Keegan ventured out....."Neither snow nor rain nor heat nor gloom of night stays these couriers from the swift completion of their appointed rounds". Our rounds took us to the best ongoing living room party in town, T@teotW.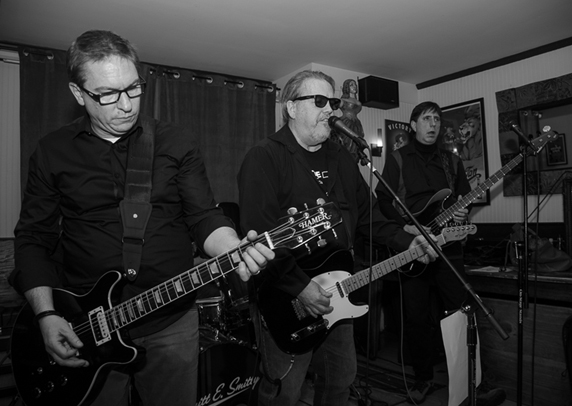 Crunchtime
Photo:John Keegan
The recently formed Crunchtime had put together a rip-roaring punked up sampler. They set the tone with a crisp set of original pop-punk rockers. Chris Burke, last seen gun slinging for Charlie Don't Surf, and Peter Parcellin late of the Brigands handle guitars and vocals. It shouldn't be a surprise that a group of grizzled vets comes out of the box fully formed. Catchy Boston rock tunes, good gang chorus. Appropriately named.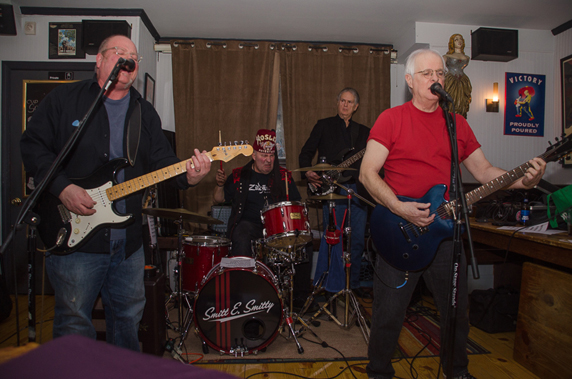 Little Billy Lost and the Cocks of the Walk
Photo:John Keegan
Little Billy Lost and the Cocks of the Walk give T@teotw a run for their money on longest local rock name. Speaking of grizzled vets, these guys are holding all aces; Smitty from Fireking on drums, Desi/TB Player on bass and Fred Pineau from Third Rail, etc. on guitar and Pop Gun's Jim Melanson also on guitar. That pedigree would get them best in show at Westminster. Melanson and Pineau have complementary guitar styles that push on the pop side of punk and ramp up the hook quotient. Desi lays down a big, smooth bass groove and Smitty keeps the punctuation snappy.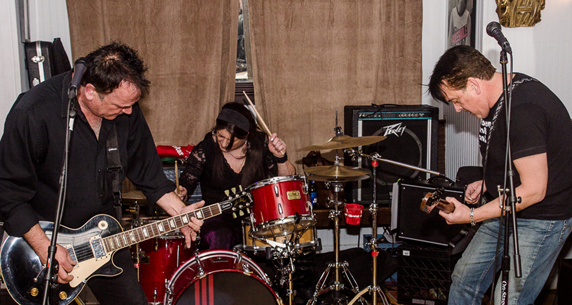 State of the Union
Photo:John Keegan
It's snowing like a bastard out. I love snowstorm shows. The fact that the bands and the crowd made it out always seems to concentrate the intensity. State of the Union is concentrated. I saw them last summer. They were starting work on a new disk at Woolly Mammoth, and I thought they were injecting a touch of subtlety into their black leather mix. Well, the albums almost done, they've gotten comfortable with the tunes, and they have layered on their punked up intensity and the new stuff cranks. Big Oi! Choruses. "Man Overboard" from a few years back should still be on your car tunes summer playlist.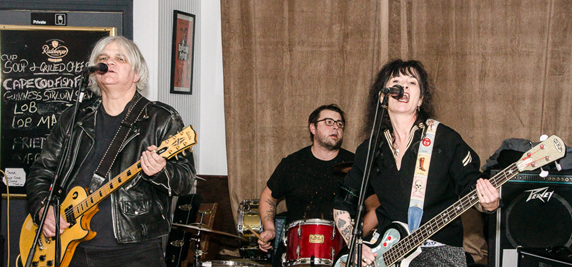 M.O.T.O.
Photo: John Keegan
How do you top that? The mighty MOTO. Paul Caporino, Julia V. McDonough, and Dr. Taylor ran through a wide selection of hits and near misses. Caporino played through Joe Perry's SOTU Marshall half stack, so the sound at T@teotw was pinned to the walls. Between Caporino's stage patter and wicked, tongue lightly in cheek interests, the set flew by. "Shitty Kids", "OTCOD", "I Hate My Fucking Job"- it was a lo-fi punk sing-along for the twisted and bent.
---
And in other news.....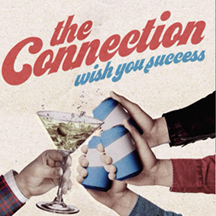 The Connection is excited to announce their new album "Wish you Success" 11 brand new original tunes. CD/Vinyl being released on 2WIN DISC Records run out of NJ. Release date 4/27- First single was Thursday 2/15!
There's a new CD Time of the Signs by See This World - that's Dave Tree's band. They do a cover of "Gonna Fly Now" by Bob Conti! Gotta hear that! CD release Party Sat Mar 24 (See below for more details) Listen and buy Time of the Signs here.
One of the many things Tony Kaczynski is involved with is the Magnetic Fields and they will be playing the Apollo Theater on June 15 and 16. Wowsa! You can read a bit more about it on Brooklyn Vegan.
Rock and Roll Trivia with Erin & Brett moves to The Sinclair (in the restaurant). Their first night there is Tuesday, March 6 at 8 PM - 11 PM
Johnny Angel has written a song for Phil Haynen called "Nobody's Dawg (Hey Phil)"
Johnny says :"But from the heart and brought to life inspired by the Grand Poobah of all imbeciles, Mr Asa Brebner"
Some of the lyrics are…..
Hey Phil
Your soul ventured out
Does it finally rest
In an eternal Cantone's?
Hey Phil
Man, it's so gentrified
The streets that we walked
Could never be home
Phil died in 2009. You can watch Johnny's video of the song here We are looking forward to it being recorded, thank you Johnny!!
---
Here's some good shows coming up .....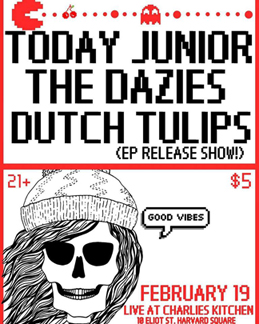 February 19 (Monday) Today Junior, The Dazies, Dutch Tulips at Charlie's Kitchen
February 21 (Wednesday) Gutter Demons, The Skeleton Beats, The Negans, Nick The Barbarian at KOTO in Salem
February 23 (Friday) The Dirty Truckers "Best of" double shot release party with very special guests: Tad Overbaugh & The Late Arrivals and Michael Kane & the Morning Afters
February 26 (Monday) Thrust Club, Electric Street Queens, Sister, Disco Nap at Charlie's Kitchen
February 23 (Friday) PUNK! at Club Bohemia/Cantab! with Hardwired, Worm, The Straight Eights and Grace Drive
February 24 (Saturday) Jason Bennett & the Resistance, Blood Stained Brindle, Jesse Ahern and The Roots Rock Rebel Revue, and Jake Bell & the Maybe One More's at The Middle East UP-this is an early evening show at 6:30PM
February 24 (Saturday) A Bunch of Jerks, Muck & the Mires, Jay Allen & The Archcriminals, Hambone Skinny at The Midway 9PM show
And further out we have.......
March 2 (Friday) Damon & Naomi, Thalia Zedek and Kevin Robert Thomson at The Lily Pad Inman Square 7-10PM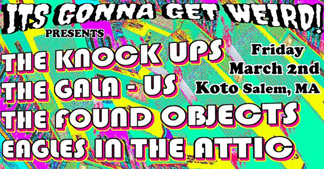 March 2 (Friday) The Gala US, The Found Objects, Eagle In The Attic, The Knock Ups at Koto in Salem
March 3 (Saturday) A Crash Course for the Ravers featuring The Pint Killers 1-4PM 91.5 WMFO
March 3 (Saturday) Silver Screams, Duck & Cover, Too Many Voices, EVERT ..this is a .4-8PM show at The Midway. Evert is a new band with Joe Packard, Matt Burns and Jim Alger...can't wait to see them!! Evert FB page. Gig FB page.
March 3 (Saturday) The Von Traps, The Brave Noise, RooFTops at O'Brien's Pub
March 3 (Saturday) Peter Perrett (of The Only Ones) at The Brighton Music Hall FB page for tix etc THIS SHOW HAS BEEN CANCELLED
March 3 (Saturday) Wimpy Rutherford's 60th w/ The Guts reunion & Time Out Timmy at Sue's Space in Rollinsford, NH. FB page
March 4 (Sunday) All ages matinee with Lenny Lashley's Gang Of One, Genuine Rust, The Abductors, Restraining Order at the Thirsty First: Tavern & Grill, 280 Central St, Lowell, only $5!! FB page for info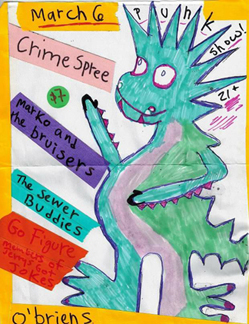 March 6 (Tuesday) Crimespree, Marko and The Bruisers, The Sewer Buddies, Go Figure at O'Brien's
March 6 (Tuesday) Rock and Roll Trivia with Erin & Brett moves to The Sinclair (in the restaurant) 8 PM - 11 PM FB page
March 7 (Wednesday) Ghostwriter, Coffin Salesman, Olde Boy at OBrien's
March 7 (Wednesday) 138, Cost, System Blister, Punk Band at Opus/Salem
March 8 (Thursday) Richie Parsons at The Midway 8-9:30
March 8 (Thursday) Sternman (formally Rawstrum) which Yo Ticonderoga, Cardinal and Rival Cinema at PA's Lounge Facebook post.
March 9 (Friday) Nick & The Adversaries, Continental (ex-Dropkick Murphys/The Outlets), The Hi-End, The Gala at The Midway
March 9 (Friday) Club Linehan a Go Go, Stigmatics, The Billy Connors Project and the Spearmint Sea ….at the Club Bohemia at The Cantab.
March 10 (Saturday) The F.U.'s, The Lost Riots, The Humanoids, Punk Band at The Midway for the afternoon show ( 4pm - 8pm)
March 10 (Saturday) Fat Togue Music presents! .Black Helicopter, Blackletter and more TBA- check the FB page for updates.
March 10 (Saturday) Carissa Johnson Talk Talk Talk Album Release at Great Scott also on the bill: The Organ Beats, Lady Pills, and Watts!
March 10 (Saturday) A garage rock'n'roll extravaganza with The Monsieurs, Johnny & The Food Masters, Atlantic Thrills, Clever Girls, Strange Fuzz and a bunch more band- starts at 6PM- at the News Cafe Pawtucket RI...here's the FB page.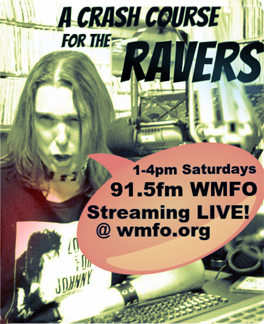 March 11 (Sunday) Continental, The Damaged , The Capps at The 13th Floor Music Lounge in Florence, MA
March 12 (Monday) OTP, Michael Kane &the Morning Afters, Headspace at Charlie's Kitchen
March 13 (Tuesday) Loser's Circle, Squallie Greenthumb, You Scoundrel, Live Nude Girls at O'Brien's
March 13 (Tuesday) A special solo acoustic night with Trick Wallace, Chris Wagner, Anthony Kaczynski, and Corin Ashley at The Midway
March 14 (Wednesday) Clan Of Xymox and Stoneburner at Once
March 14 (Wednesday) Dropkick Murphys, Agnostic Front & Bim Skala Bim at The State Theatre, Portland, Maine FB PAGE! SOLD OUT BTW
March 16 (Friday) Bonecrusher, The Welch Boys, The Blue Bloods, The Ice Cold Killers at The Midway
March 16 (Friday) Bonecrusher, The Welch Boys, The Blue Bloods, The Ice Cold Killers at The Midway
March 16 (Friday) Richie Ramones, Marko and the Bruisers, Musclecah,The Pathetics at Ralph's Diner in Wistah
March 17 (Saturday) St Patrick's Day RocknRoll show with Beantown Boozehounds, State of the Union, Natty D's, The Imposers and Worm at Thirsty First: Tavern & Grill Lowell, MA FB page for more i nfo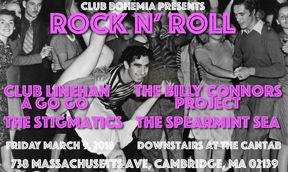 March 18 (Sunday) State of the Union, The New Frustrations, Billy Connors Project, Far Above The Ground at The Midway- this is a day time show 4Pm
March 22 (Thursday) Black Beach, Bike Thieves, Nest at O'Brien's
March 22 (Thursday) Bystander, Oh The Humanity, Sternman, The Color Me at OPUS in Salem. Facebook page.
March 22 (Thursday) Crowfeeder, SkyTigers, Table Trash, the Sewer Buddies at UnchARTed, Lowell, MA FB page
March 23 (Friday) BirdGangs, The Bruvs, The Quins, Something Sneaky at O'Brien's
March 23 (Friday) Barrence Whitfield & the Savages with Mr. Airplane Man at the Middle East!! FB page and tix link here.
March 23 (Friday) Demon's Alley, The Hi-End, Greg Allen, Otter River at Ralph's in Worcester.
March 24 (Saturday) Nervous Eaters, The Connection, Classic Ruins at O'Brien's
March 24 (Saturday) See This World's CD Release Party for Sign of the Times at the Launch Pad at Norwood Space Center, also on the bill Neighborhood Shit and The Pint Killers.It's a 6-11PM show- FB page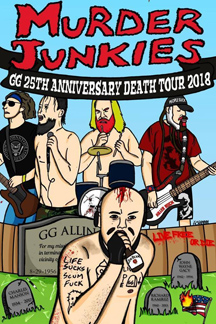 March 24 (Saturday) Michael Kane & The Morning Afters, Reverend Dan, Pull it Together at The 13th Floor Music Lounge in Florence, MA
March 25 (Sunday) Rebuilder, The Penske Files, Dan Web & The Spiders, Buy My Book at O'Brien's
March 28 (Wednesday) The Strypes are at Brighton Music Hall
March 30 (Friday) Flathead Rodeo, Creepin' Cadavers, Diablogato at The 13th Floor Music Lounge in Florence, MA FB page
March 31 (Saturday) A Crash Course for the Ravers is featuring The Jonee Earthquake Band....1-4PM WMFO 91.5
April 17 (Tuesday) 1476, Crimespree, Crowfeeder, John Trudeau at Koto in Salem
April 17 (Tuesday) My Life With The Thrill Kill Kult: 30th Anniversary Show at the Brighton Music Hall
April 21 (Saturday) The McGunks, Jason Bennett and the Resistance, The Dimwits, Loser's Circle an early show 4-8:30 at The Midway
April 21 (Saturday) The Bush Tetras (their FB page) are at the Middle East Up - early 6:30 show. They are touring to promote their new record! Get tix here.
April 21 (Saturday) The Residents are at Brighton Music Hall.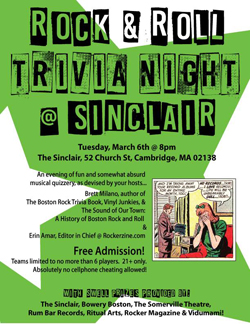 April 22 (Sunday) Hardcore Stadium presents: The Unseen, American War Machine, Moose Knuckle, The Von Traps at the Middle East - this is an ALL AGES show - starts at 6PM
April 22 (Sunday) The Bush Tetras are at Cafe Nine in New Haven CT
April 25 (Wednesday) The Guilloteenagers, Houston & The Dirty Rats, Sewer Buddies, Blame It On Whitman at O'Brien's
May 10 (Thursday) Mickey Rickshaw and Buster Shuffle at Thunder Road
May 12 (Saturday) The Nervous Eaters with Justine and the Unclean, The Hi-End at The Midway 8pm show
May 12 (Saturday) Crimespree, Pruf, Crossthreads at The 13th Floor Music Lounge in Florence, MA
May 17 (Thursday) Tsunami Bomb, Diablogato at Once
May 19 (Saturday) The Knock Ups, State of the Union, The New Frustrations, The Imposers at The Midway- early show 4-8Pm
June 2 (Saturday) Sheer Terror, Nothing But Enemies, Brando, American War Machine at The Middle east - this is an early show 5:30-10:30
June 13 (Wednesday) doing their G.G. ALLIN 25th Death Anniversary Tour the Murder Junkies are at Cafe Nine in New Haven CT FB page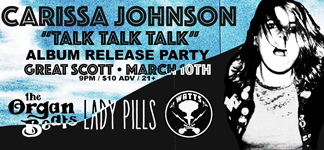 June 16 (Saturday) The Nervous Eaters, Justine and the Unclean, Stop Calling Me Frank are at Thunder Road
June 16 (Saturday) GBH with Pinata Party are at The Middle East Down.
June 20 (Wednesday) Reverend Horton Heat, Big Sandy, Lara Hope & The Ark-Tones at Alchemy Provi RI
June 22 (Friday) Tied To A Bear, Duck &Cover, The Von Traps, Sonic Libido at Opus in Salem
July 1 (Sunday) G.G. ALLIN 25th Death Anniversary show with The Murder Junkies, Smoking Triples, Jonee Earthquake, They Hate Us, Malcolm Tent at The Dutch Treat Franconia NH Here's the FB page
July 11 (Wednesday) The Goddamn Gallows, The Koffin Kats, Viva Le Vox at Alchemy in Provi, RI
July 12 (Thursday) Koffin Kats, The Goddamn Gallows, Viva Le Vox at The Middle East
CONTACT US AT....misslynbgn@yahoo.com Send us your gig listings, your news and anything else ya got!! You want your CD reviewed?? Contact us for that too.
The Gala
Photo:Blowfish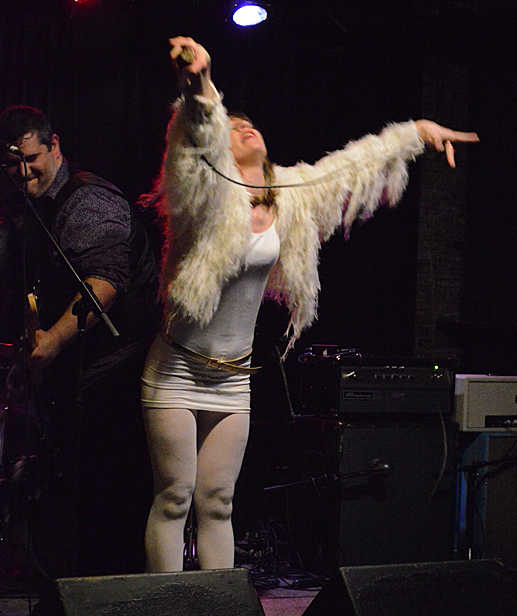 The Gala
Photo:Blowfish
Graneros
Photo: Blowfish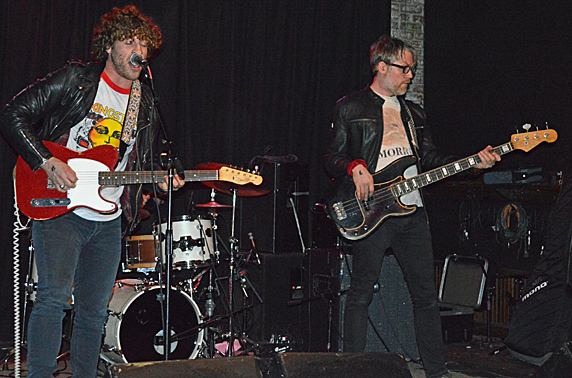 The Maxims
Photo: Blowfish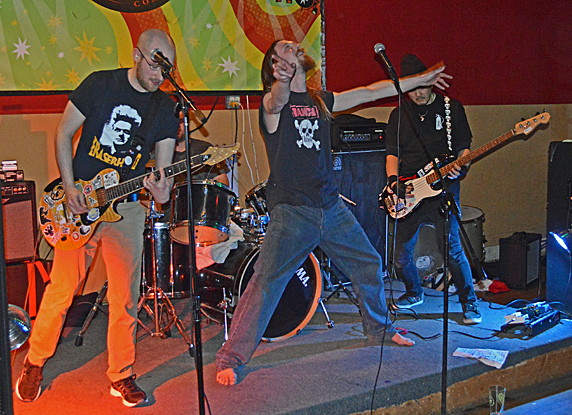 Circus Battalion
Photo: Blowfish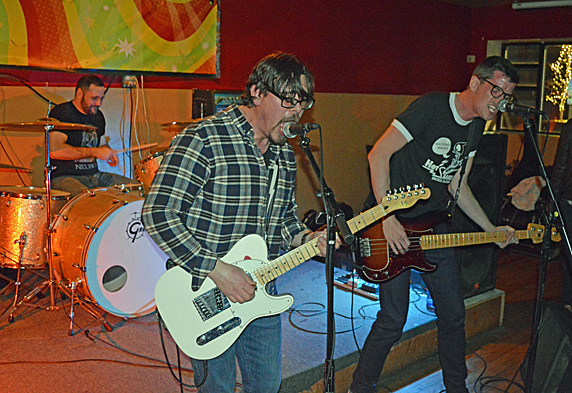 The New Warden
Photo: Blowfish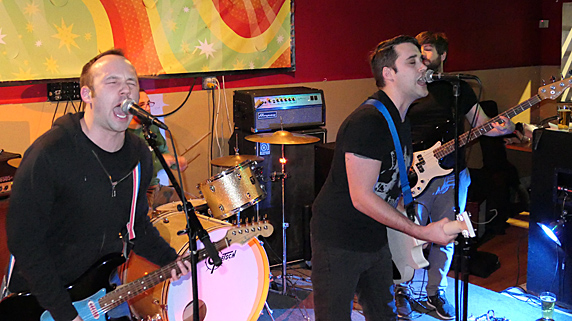 Yo Ticonderoga
Photo: Blowfish