The BGN News Archive
February 20, 2017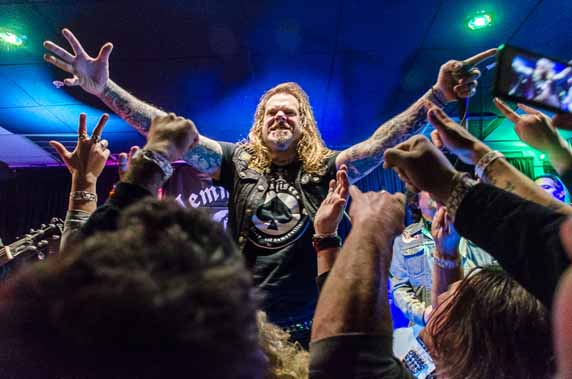 Iron Fisted at Lemmyfest
Photo: John Keegan
Our John Keegan went to The LemmyFest! at Once and reports: "The local hard rock crowd hit the stage and the dance floor to pay homage to the man who gargled with rusty razor blades: Lemmy Kilmister. Ken Cmar's Space Ritual did a thirteen minute take on Hawkwind's classic Silver Machine....Dave Tree and See This World didn't need no warm up time. They rode the silver machine into the punked up metal zone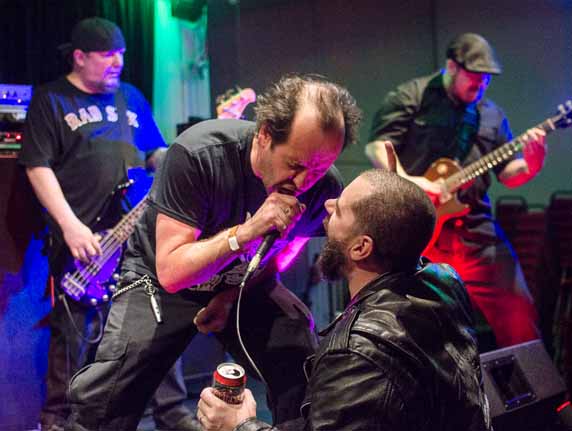 Dave Tree
Photo: John Keegan
Whether the occasion or the mix or the combination, The Humanoids sound very Big tonight. They produce their own local element from the punk metal alchemy....Iron Fisted are a supergroup of local hard rocksters including featuring members of Sam Black Church, Roadsaw, Milligram, Wrecking Crew, Destruct-a-thon, White Dynomite, and Goddamn Draculas. They didn't need any help but bring up a few ringers to blow the tops off a few numbers." You know you want to see more and John has a full page of photos and more text on his page.

More LEMMYfest photos CLICK HERE.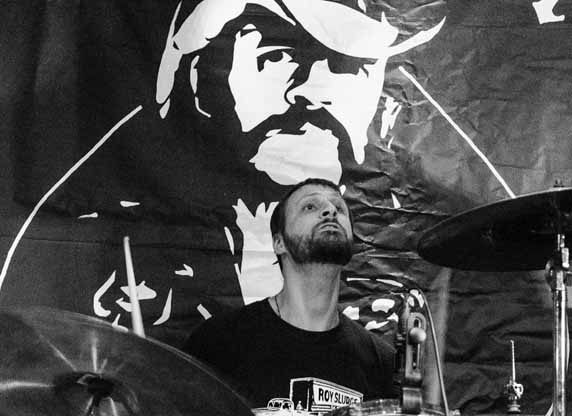 Space Ritual
Photo: John Keegan
Saturday we did what we tell you to do all the time – we saw The Cranktones. They played the Midway with no other band on the bill, just two sets by them and DJ Easy Ed: That's all you need. The Cranktones were wondrous. All their strengths were on display; tight harmonies done with ease, a rhythm section that swings and has a heartbeat at the center, a collection of covers and originals that cover surf and rockabilly….and I could go on and on. Some of the covers were Soldier of Love and Three Cool Kats. In the videos below we have Soldier of Love along with an original instrumental and a slow song (we don't know the title of that one).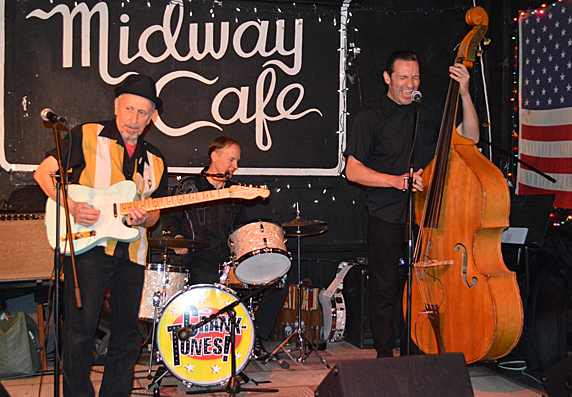 The Cranktones
Photo: Blowfish
On top of the group attributes you have Cranky Frankie Blandino on guitar. The Midway stage was a perfect platform to see what he was doing on the fretboard. He begins with a classic Telecaster tone and a sure touch on the frets. Five fret stretches are no problem. He plays rockabilly riffs with a heavy jazz flavor. Hearing him play is a joy, to see him play (if you are a musician) is a lesson too. Lucky you; the videos show some of that action.
This was an Easy Ed show too and that always means it's a good feeling show.
Sunday was another good feeling show that was more low key. It was Randy Black and the Heathcroppers at the Tavern at the End of the World's first Sunday early show from 4 to 8. The Band room filled up and there were people at the bar in the other room. And if everyone ate like we did then they had a successful opening.
This is a perfect setting for the Heathcroppers. You can hear and see everything. The three members of the band are all top rate musicians and you can focus on any single one and be rewarded with the tasteful playing.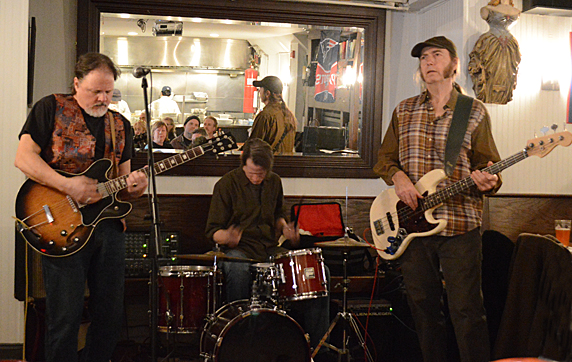 Randy Black and the Heathcroppers
Photo: Blowfish
We've seen Randy many times and have come to know most of his songs. We wait for our favorites and appreciate new things in them every time. The group is always playing things a little differently. Sadness Comes in Waves (not recorded) which we always go on about was transformed and had sections that hit differently.
We've seen them play Don't Let Me Be Misunderstood before and it has been a show stopper and this day it hit even deeper. Randy puts down the guitar and lets Matt on bass and Larry on drums play the backdrop. The bare bones attack takes the song beyond the Animals version and closer to the original Nina Simone version. If you have lived, you will relate to the sentiment. There were a few teary eyed people in the crowd with this one.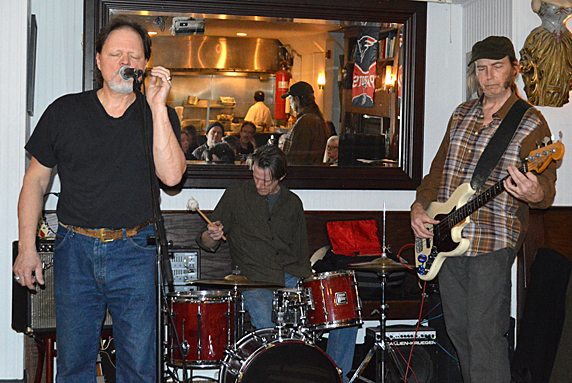 Randy Black and the Heathcroppers
Photo: Blowfish
They played an original called This Is Not Logic This Is The Blues that grappled with the violence and terror in our time. A few songs painted pictures of city life. One had lyrics depicting an Indian Summer which was very appropriate on the February day that reached 59 degrees.
Randy says he doesn't want to talk about Limbo Race all the time but he wrote a cool song called The Ballad of Limbo Race.
They played two sets. We ate big meals. It was a cozy winter afternoon.
At one point we looked up and who was standing there like an apparition? Matt Burns! He had a seizure a while back. He has recouped well. He's watching his diet. He's not up to drumming speed yet but he's slowly getting there. He was the old Matt we know and love. That made it an ever better day.
And in other news.....
In case you haven't seen it yet Simon Ritt has just created an amazing video of the Standells' song Dirty Water......BUT he's added about 10 minutes of additional lyrics and images paying tribute to the Boston Scene and all of us in it; musicians, writers, managers, club owners and lots of others too! The images range from as far back as Reddy Teddy & The Modern Lovers right up to current bands. There are shots of dirty old Boston the way it used to be too. Simon is joined in the studio (The Barn in Canton) with Tony Savarino on guitar, Ed Reimer on bass, Norm Hartley on drums and Kelly Knapp on vocals. And the video production is by Red Wood. This viddy is certainly a true labor of love of Boston and its music...and such fun to watch...and more than once! Enjoy and THANK YOU Simon Ritt!!

And speaking of videos.....one has surfaced of Iggy Pop playing Wooly Bully with NRBQ at the WBCN Rock and Roll Rumble 1990.
NRBQ were the Guest Band for that year. Iggy was around and it happened. Check it out here.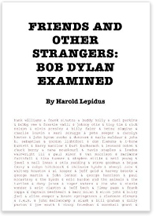 Harold Lepidus who has been on the scene a way long time and involved with Boston Rock Mag (The Boston Harold column) and Newbury Comics, has a book out on Dylan. It's officially out today (2/20/17) and its called Friends and Other Strangers: Bob Dylan Examined. "From 2009 to 2016, Harold Lepidus wrote 1000-plus articles for the no longer available Bob Dylan Examiner column - a go-to resource that was viewed millions of times. Lepidus broke many a story about Dylan, in addition to analyzing his art with a trenchant and astute perspective. This curated anthology features Lepidus' most pertinent articles and focuses on the unique perspectives of people associated with Dylan, from Buddy Holly to the Beastie Boys, Leonard Cohen to Barry Manilow, President John F. Kennedy to Tiny Tim, Johnny Otis to Otis Redding." You can grab it on Amazon.
And try to keep up with this guy: Kurt Baker just released a 12 song LP Shot Through The Heart with a new band called The Bullet Proof Lovers. (You can listen and download on Bandcamp) And here's their FB page with vids etc

From the LADBible here's a article on G.G. Allen, just to refresh your memories.

Boston Magazine had a long article on "Boston's counter-culture". They author drove around with the Boston Hassle people, who booked more than 400 artists last year, looking to see if there was still a scene?! Can't see the forest for the trees? Read it here.


Here's some good shows coming up .....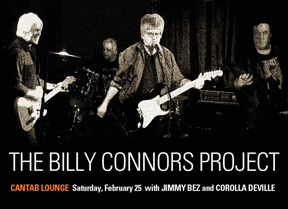 February 22 (Wednesday) Ten Dollar Mistake are at PA's Lounge
February 22 (Wednesday) There's a special benefit show featuring Tigerman Woah!, Town Meeting, These Wild Plains, and Creaturos at State Park in Kendall Square. Proceeds will be donated to the Sacred Stone Legal Defense Fund
February 24 (Friday) Zip-Tie Handcuffs, Hey Zeus, Wolfsmyth and Tenafly Vipers are at O'Brien's
February 24 (Friday) Boston Stands: A Mardi Gras Benefit for the ACLU at Once. Featuring features the Legendary Vudu Krewe plus special guests: Dennis Brennan, Rick Berlin, Amber Casares, Chris Cote, Ad Frank, Bo and Rachel Barringer, Jen D'Angora, Andrea Gillis, Erica Mantone, The Revelations, Jittery Jack & Miss Amy, Michelle Paulhus, Bertrand Laurence, Yolanda Scott, Andy Plaisted, Ed Valauskas and Russ Gershon.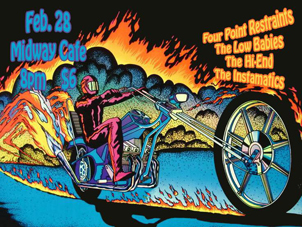 February 24 (Friday) Actor/Observer, Energy and Partywolfe are at Great Scott
February 25 (Saturday) Duck & Cover, the Dents, Stars like Ours, Tom Baker & the Snakes at Sally O'Brien's - This is the CD Release party for TB & The Snakes CD on Rum Bar Records (here's the FB page)
February 25 (Saturday) The Billy Connors Project is @ the Cantab with Corrola Deville and Jimmy Bez.
February 25 (Saturday) Sasquatch & the Sick-a-billys return to Worcester! along with Marianne Toilet & the Runs, Leaving Eden and Tigerman WOAH all at the Cove Music Hall in Worcester. FB page
February 26 (Sunday) Roy Sludge Trio is doing a 6PM show at Sally O'Brien's
And further out......
February 28 (Tuesday) The Hi-End, Low Babies, Four Point Restraints, and the Instamatics are at the Midway Feb 28 Here is the FB page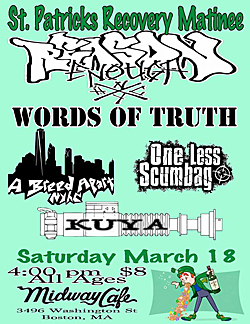 March 1 (Wednesday) Puppy Problems, Emmett McCleary (MTL), Ricecrackers, Du Vide and Ozlo are at O'Brien's
March 3 (Friday) Robyn Hitchcock at Once
March 3 (Friday) Japanese Monster, Red Right Hand, The Additions, The Tenafly Vipers at The Midway
March 3 (Friday) Oh The Humanity, The Run Outs, Electric Octopus and The Port City Saints at Club Bohemia Cantab down
March 4 (Saturday) The Manglers, The CWB (Reunion), The Grommets and The Only Things at The Midway - Early show 4-8PM (FB page)
March 4 (Saturday) Jittery Jack & Miss Amy are at Atwood's for a 4PM show
March 4 (Saturday) Hambone Skinny and The Guilloteenagers at Club Bohemia at The Cantab down
March 4 (Saturday) Trusty Sidekick, Even Twice (NYC), Nick and The Adversaries and Gymnasium at The Midway (night show)
March 4 (Saturday) Jittery Jack & Miss Amy Griffin at Katrina's in Gloucester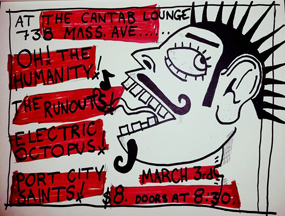 March 5 (Sunday) Save Ferris, Baby Baby and Petty Morals at Brighton Music Hall
March 5 (Sunday) The Return of The Sunday Night Mess-Around: We're back for a one-time engagement at The Plough and Stars where we made our first mess. Joining our cast of characters will be Jay Allen, Justine Covault, Tom Baker, Mr. President-Ken Kaiser and last but not least Chris DeBarge
March 8 (Wednesday) Fully Celebrated Orchestra, Trinary System at The Midway
March 8 (Wednesday) The Sheckies, Mongorellis, The Prozacs, Meat Depressed at Koto in Salem
March 9 (Thursday) A benefit for Outside the Lines (the special needs art studio) at Thunder Road- Barrence Whitfield & Dennis Brennan will be playing.
March 10 (Friday) Agent Orange, The Queers, & Guttermouth at ONCE Ballroom FB page
March 11 (Saturday) Off World, Lon Chaney Jr., Garbage Point, The Ghost Boys at The Midway - this is an afternoon show 4-8PM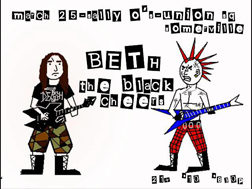 March 11 (Saturday) The Slaves, a British punk duo from the UK are at Great Scott
March 11 (Saturday) The Knock Ups, The Forz, The Furs and The Evil Streaks are at O'Brien's
March 17 (Friday) Boston Hassle Presents: Simply Saucer, Poppy Seed & The Love Explosion, Dyr Faser, Doug Tuttle, Major Stars at the Middle East Up (FB page)
March 17 (Friday) Sasquatch And The Sick-a-billys Return To Salem! along with Damnation, Creepin Cadavers and The Womps at Koto in Salem
March 18 (Saturday) Roy Sludge Trio for a 4:00 pm show at Atwood's
March 18 (Saturday) Reason Enough, Words Of Truth, A Breed Apart (from NYC), One Less Scumbag and KUYA at The Midway - an afternoon 4-8PM show (FB page)
March 18 (Saturday) DFMC (Dana Farber Marathon Challenge) Benefit Show with Sidewalk Driver, Township, The Fatal Flaw, Red Red Rockit at The Midway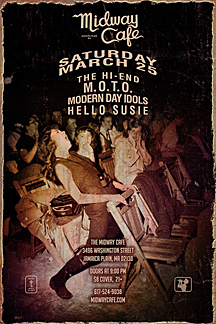 March 18 (Saturday) The Digs are having an EP Release Party at the Middle East Up ! Also on the bill are JRV and Psychonaut Underground - FB Page
March 19 (Sunday) Ruby Rose Fox is at Atwoods.
March 19 (Sunday) Hillbilly Holiday and Cold Expectations (here's their Bandcamp page) are at Aeronaut Brewery for a FREE afternoon show starting at 2PM. As part of Aeronaut's " Bring Your Own Picnic" music series, friends, families, kids, and, well heck, anybody, is encouraged to pack some tasty morsels and supplement them with tasty Aeronaut drafts on this lazy Sunday afternoon! Grab a beer, pull up a picnic table and dig the country-fried song stylings of these two local bands playing all afternoon long. Or skip the picnic and just drink!
March 23 (Thursday) Beans On Toast, The Old Edison, Troll 2 and Miketon & The Nightblinders at O'Brien's
March 25 (Saturday) 45 Adapters (NYC), Blood Stained Brindle, The Damn Garrison, Quiggs at The Midway - this is an afternoon show 4-8PM
March 25 (Saturday) Another benefit for the Cambridge Fire victims. Lots of families were displaced and lost everything. Help 'em out by going to the Greek American Social Club (Union Sq Somerville) and listen to Tsunami of Sound and A Bunch of Jerks.
March 25 (Saturday) Muck & The Mires, The Evil Streaks and Tiger Bomb are at The Chit Chat Lounge in Haverhill. FB Page
March 25 (Saturday) Rockin' Bob Punk Band, The Pragmatics, Sick Joke, Profit Margin, Laughing Stock and Screw Cart are at The Spotlight in Beverly. FB Page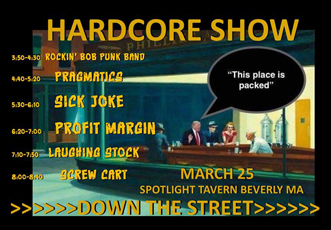 March 25 (Saturday) 45 Adapters (from NYC), Blood Stained Brindle, The Damn Garrison and Quiggs at The Midway - this is an early show 4-8PM
March 25 (Saturday) You might as well just plan on staying at the midway all day coz their night show is The Hi-End, M.O.T.O., Modern Day Idols and Hello Susie
March 25 (Saturday) BETH & The Black Cheers at Sally O Brien's - FB page
March 26 (Sunday) Ruby Rose Fox is at Atwood's
March 27 (Monday) Jay Allen's Mess Around moves to Taco Mondays at Once with Jay Allen, Tom Baker, Justine Covault, Chrissie Vaccaro And Special Guests...FB Page Starts at 7:30
April 1 (Saturday) State of the Union, The New Frustrations, The Stigmatics and The Only Things doing a GREAT early show (4-8PM) and its ALL AGES at the Midway (FB page)
April 1 (Saturday) The Upper Crust, Sidewalk Driver and When Particles Collide as part of the ArtsEmerson Black Box series at Emerson/Paramount Center, Jackie Liebergott Black Box Theatre - 559 Washington St Boston (Link)
April 2 (Sunday) Six Organs Of Admittance and Minibeast are at Great Scott
April 8 (Saturday) The Kurt Baker Combo, Soraia, Watts and The Connection at O'Brien's Here's the FB page
April 13 (Thursday) The Rumjacks, Jason Bennett and the Resistance, Michael Kane & The Morning Afters and The Runouts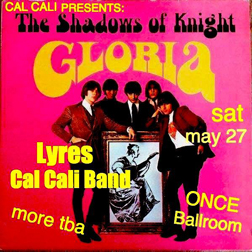 April 13 (Thursday) Modern English are at The Brighton Music Hall
April 15 (Saturday) The Last Ones are at The Midway with Tsunami of Sound (a PM show)
April 17 (Monday) Terry Malts, Shark Toys with Idiot Genes and Bad Deals at O'Brien's Pub
April 22 (Saturday) Electric Frankenstein, Symbol Six, Hey Zeus and Duck & Cover at O'Brien's Pub
April 22 (Saturday) The Last Ones, Tiger Bomb and Corolla deVille at The Spotlight Tavern in Beverly
May 4 (Thursday) Walter Sickert & the Army of Toys, Scarlet Sails, Radiator King at Once
May 3 (Friday) Oh the Humanity, The Run Outs, Electric Octopus and the Port City Saints are at Cantab's Club Bohemia
May 8 (Monday) Indonesian Junk who have just released a digital single "Turn to Stone" on Rumbar Records are at O'Brien's. HearTurn to Stone here.
And buy more Indo Junk at Rumbar Records, as Malibu Lou says "We are carrying slabs of the wax version too!!"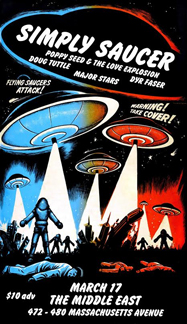 May 12 (Friday) Mike Watt (Minutemen) and Meat Puppets are at the Brighton Music Hall Here's the FB page
May 12 (Friday) Rockin' Bob Punk Band w/ Special Guests TBA at O'Brien's
May 27 (Saturday) Cal Cali has booked a great show! The Shadows of Knight are at ONCE Ballroom w/ Lyres, CalCaliBand &more! FB page Get tix here.
May 27 (Saturday) The Runouts, The Martians, Blame Shifters, Nymphidels at The Midway this is an afternoon show - 4-8PM
May 29 (Monday) Teenage Bubblegums, Jagger Holly, Mongorellis, Jimmy Jacked at Opus Underground in Salem
June 1 & 2 (Thurs & Fri) Reverend Horton Heat at Once in Somerville
June 17 (Saturday) Held Hostage, Point Blank, Infernal Diatribe, Profit Margin at Koto in Salem
June 18 (Sunday) Help Save Out of the Blue Gallery Too - this will be an all day affair (3PM-11PM) with LOADS of bands including: Brian Young -wmfo as Emcee plus Thalia Zedek, Fireking, Randy Black, The Knock Ups, Tsunami of Sound, The Stigmatics, State of the Union, Cal Cali Rockin' Trio, The Last Ones, The KENZ (Highland & Kaiser), The Thigh Scrapers and Club Linehan A Go Go ~ 50th Birthday Party for Joe Quinn. Check out the FB page
September 16 (Saturday) Chameleons VOX At the Middle East
CONTACT US AT....misslynbgn@yahoo.com -Send us your gig listings, your news and anything else ya got!! You want your CD reviewed?? Contact us for that too.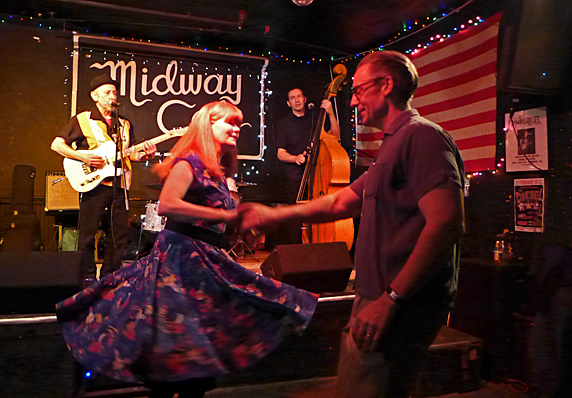 Dancing to the Cranktones
Photo: Blowfish
Cranky Frankie
Photo: Blowfish