The BGN News Archive
February 21, 2011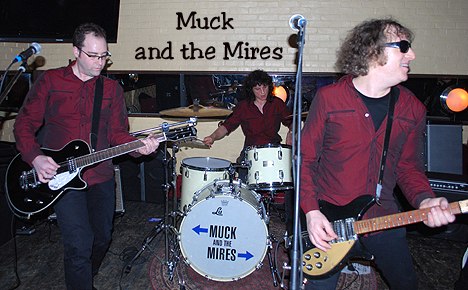 Hey there folks.....spent the evening at The Rosebud this past Friday night to see The Acrobrats, Muck & The Mires and The Organs....(sorry we missed excellent Wicked Whiskey-set times got changed.)
The Acrobrats were as good as ever. Just enough pop mixed into their punk....and good lyrics to boot!! They don't just do 3 chord songs, they have maybe 8, enough to make a difference and accommodate their melodies. They have a great time performing and are full of personality a real change to some of the stiffs we've seen on stage in the last couple of months. At one point Staffy joined in the fun and jumped in for a chorus. The minute it was over I would have loved to hear the whole thing again. A great set.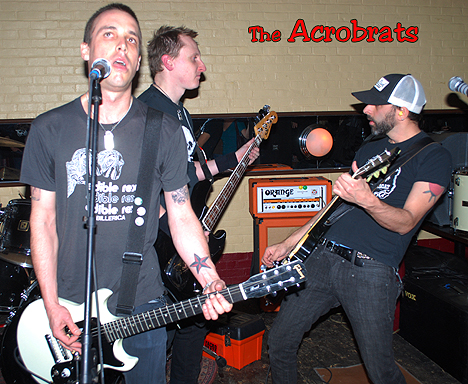 Muck & The Mires now has Dave Aaronoff on guitar - makes for quite a different feel for the band....Dave has been around...he's been in lots of local bands (The Shods, Mighty Mighty Bosstones and other) as well as making a few solo records. Dave gets some attention but I think he still is underappreciated. His CD's are full of great songs and worth finding. He's playing straight into the Muck and the Mires style but even so there was a small change. I don't know if a casual listener could tell the difference but for the dedicated fan it was there. It's hard to describe and it was not dramatic. The Muck experience was all intact still and loads o' fun was had by all and yes, we sang those hooky songs all the way home.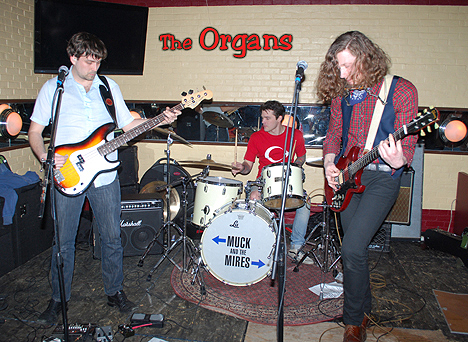 The final band was the Organs from NYC. They get points by surviving the FUNG WHA bus to get into Boston. They reminded me of a band you might have seen down the Rat in 1976. I liked the mega reverb vocals. They also gave out a very cool zine called BANANAS MAGAZINE. It's jammed with articles, reviews and pics and even some quitar tab. Like the group the mag captures some of the feeling of the late seventies when punk zines flourished ....pre web.
It was a cool booking by Jim from Triple Thick and we are feeling very comfortable at the Rosebud where the help are super friendly.
So this Friday, Feb 25 is a big night with lots of excellent shows....
Central Square:
Noise 30th Anniversary Party, at The Middle East with Tijuana Sweetheart, Blow Your Face Out Jason Bennett And The Resistance, Mark Lind (Ducky Boys) & Mike Savitkas (Death & Taxes) ....and
TT's The Bears is Jesse Malin and The St.Marks Social, JJ and Thee Cuban Heels and Andrea Gillis.....(SECRET: let's all show up to this one and wish JJ Rassler a big huge happy birthday!)
Davis Square:
Even though Buried in Leather told us they weren't playing out anymore they are doing a show (and that's a VERY good thing!!) at The Rosebud on Friday Feb 25th along with The Spoilers, Those Hated Hearts and With a Bullet. Get there early coz BIL goes on first.
At Email me if you want Richard Nolan's address to send him a get well card....Richie, hope you are doing well too!! ARGH!
Hey keep in touch huh?? click click click