The BGN News Archive
February 22, 2010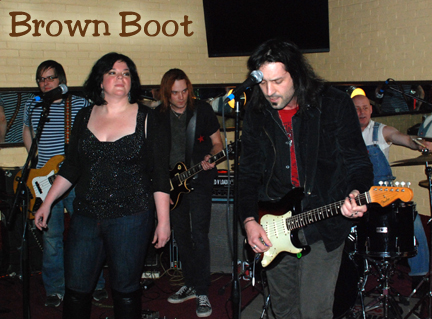 We wanted to check out The Rosebud with Jordan Valentine in it one last time and man what a night last Friday was! It was the Township CD Release and Jordan Valentine singing with Brown Boot. Well, we were pretty much clueless...I have to admit....I mean how could we have known,. We lived through (or should I say suffered through) classic rock in the 70's and threw ourselves madly into punk because of it but here it is...a resurgence of the stuff ( it's all riff rock with tandem leads a la Allman Brothers and of course - cowbell action.) ....with bands like Brown Boot and Township ... but I will be the first one to say this was an excellent gig!! These bands were fun and commanding and talented!!!
Township are excellent!!! I am a huge fan of John the bass player (who is also in Spitzz) and he is just one hell of a bass player and awesome to watch too...the lead singer despite his(what should be illegal amount of) facial hair had and great voice and was a fantastic front man...I was there and present and enjoying it rather than feeling like the minutes were dragging by....if you are anywhere near into this kind of stuff visit Township's site and buy their new CD and check 'em out at their next gig!!!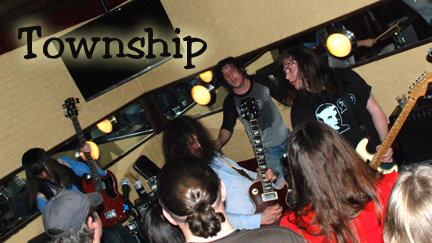 This Monday. MArch 7th, we got a pleasant alternative available at The Middle East Corner with "Vinyl Solution" Blood Spit PUNK DJ Nite" with Dj Skitskrieg (spinning all Foreign Punk) DJ Space Cat - (Spinning Punk, Hardcore, Oi!,77,82 etc) and as they say go early for din din and stay to pogo!! (I hope they move some tables out of the way for that!!) ...sounds like a good way to start out the week.......you can listen to music from real vinyl...psst, hiss, pop and scratch and all!!....and there's no cover!!...
Here is it her final weekend .....Jordan Valentine is retiring from her awesome DJ position (and booking the club too) at The Rosebud Diner and we suggest you get your butt over to the Rosebud and spend a Friday night listening to some awesome music spun by Miss Valentine and maybe dance your ass off too!!, her last night is February 27th....so get over there to bid Jordan bye bye from the Rosebud....
Oh but there's SO many good choices for this last weekend of Feb!!! besides the Rosebud…
This Saturday 2/27, you can go to Johnny D's in Davis Square, there's Rock Bottom and Thee Cuban Heels.…just in case all that talk about 70's music got you craving… …coz…. Rock Bottom came about when a bunch of well known Boston rockers (from bands the Upper Crust, the Baggs, Ross Phasor, and other bands) started playing their favorite 70 s covers, strictly for kicks. Fortunately, they didn't know when to quit and you'll never hear better renditions of guilty pleasure classics by Kansas, Billy Squire, Styx, and Led Zeppelin. Setting off the evenings fireworks, Downbeat 5/DMZ guitarist, JJ Rassler, and his hot new quartet, Thee Cuban Heels, churn out dirty rock 'n soul, and greasy R&B. Comes with two side dishes, country, and doo-wop...friends this is not for the squeamish. OH! Sounds like a good night…but then….
And there is an fun show at Precinct on Saturday, Feb 27: The Young Tremors, The Dirty Truckers, Memphis59 and Watts ,,,,,yeah!! and it is the Young Tremors CD Release party so come on down and help them celebrate "Very Nice, Very Nice".
and you can catch Jon Macey with some friends like Sal Baglio in a band called The Bittersweets at The Cantab on Feb 27th as well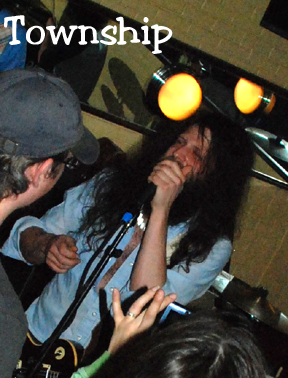 Now, in March we can look forward to ....
Another excellent Monday starts out the month with Gibby and the Buzzkills, Cutthroat Society, Kermits Finger, Tex Railers Doomtown at Charlile's Kitchen. Monday March 1st......
YAY!!! A Marvels show at Middle East UP.......on Saturday, March 6th, on the bill: The Marvels, Dead Friends and Tijuana Sweetheart (formerly Vagiant but the name has changed since Chrissie left the band), Never Got Caught ...now THIS is an excellent bill!! Go to this show!!!
but there's also another great show that night (Sat, 3/6) over in Allston, at O'Brien's with The Curses , Coffin Lids, The Tampoffs and The Thick Shakes ....so take your pick n that night!!...
And there's a cool show at The Beachcomber in Quincy on Friday March 19th with Big Bad Bollocks, Beantown Boozehounds, Paul & The Strings and Drago. and.....
Mark your calendars now for Nancy Neon's Rat Reunion Nights in first weekend of April, at The Cantab The Flashcubes, 1-4-5, The Varmints, The Boize, Foxpass, Third Rail, The Last Ones and The Classic Ruins........
and that's just one night, we'll have more info on the other....
This week we add Joanie Lindstom's latest vacation with a rock and roll flavor. This time it's Arizona..... Joanie's Arizona Vacation.
...... you can email us at: Miss Lyn email......