The BGN News Archive
February 22, 2021
Green Day just released a new video, premiering their song "Here Comes The Shock" but the shocker is the entire video IS Hilken Mancini doing her Punk Rock Aerobic routine! Huge congrats to Hilken on this! She's even in Rolling Stone and NME and a ton of other sites. We are sure there will be more exposure as well!
This go around we have a John Keegan interview and photo shoot with Little Billy Lost while the band was recording at Woolly Mammoth. John tell us: "It's been getting a little close in the old covid pod lately. So, when the opportunity to do a socially distanced photo shoot with Little Billy Lost and David Minehan behind the board I grabbed the long lens and made the best of the circumstances. The Woolly Mammoth space gave us plenty of room to play with. Those charming Little Billy Lost boys were focused, stoked to be working on new music with David at Woolly Mammoth, masked up, talkative, and, they kept the blood spatter to a minimum."
Check out what they had to say by clicking the photo below.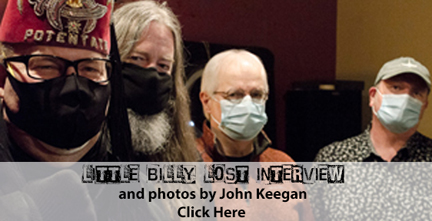 The Dropkick Murphys always do the St Patty's day thing. This year will be like last year – live streamed. But this live stream will be free...OR...you can drop some money into the virtual hat, via their page, to pay for the crew and setup. That's a good idea. We know their fans will help and it allows everyone to see the concert no matter what. Go to the Dropkick Murphys' page to "tip" etc.
Syl Sylvain's New York buddies lined up for a tribute this week on his birthday, which is Valentine's Day. It was a pay for view and is not posted online as far as we know.
| | | |
| --- | --- | --- |
| Syl Sylvain | Jayne County | Jesse Malin |
It began with a overview of Sly career by Lenny Kaye over lots of photos, then into the Doll's appearance on the Midnight Special show. There were covers of Sylvain's songs. The Lemon Twiggs did "I Cant Forget Tomorrow", Michael Monroe did "Trash". Jayne County talked for a while then played a clip of Syl on stage with Jayne playing "(If You Don't Want to Fuck Me Baby, Baby) Fuck off". Jesse Malin did a touching version of "Leaving New York" and Ivan Julian related a few interactions he had with Syl. Then there was Thurston Moore, Debra Harry, Henry Rollins and Glen Matlock and the final act was David Johansen.
| | |
| --- | --- |
| David Johansen | Michael Monroe |
One takeaway is that Sylvain wrote some great songs and that gets lost in the shuffle of the Dolls outrageousness. In fact, he wrote "Frenchette" which helped David Johansen's career.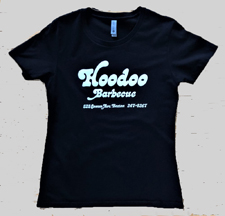 Brian Coleman of Buy Me Boston book fame got some attention in the Boston Globe on Wednesday for his new charity project. He's selling the Hoodoo Barbeque shirts (officially approved by James Ryan and The Hoodoo) for $26.00. The money goes toward Project Restore Us which helps restaurants and communities during the Covid quarantine. It seems unlikely that the Hoodoo Barbeque would pop up now but stranger things have happened.
While the Hoodoo t-shirt is currently sold out, keep checking for re-stock on Brian's site GoodRoadGoods or at James Ryan's Hoodoo site which also has a lot of interesting historical Hoodoo/Rat info to read. Brian has Billy Ruane and Phil'N'Phlash t-shirts too!
The Weistronauts play instrumental music that can't be easily pegged and that's a good thing. Their compositions are varied. They had material ready for another album when the coronavirus shutdown happened. They slowly worked on the album and now have it done. This week they did an hour Zoom style video where they explain the songs and play sections from the songs. Now, it's on YouTube here.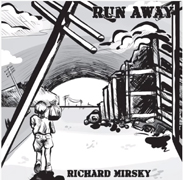 Rich Mirsky will be live streaming from home at 9 on Friday, February 26, 2021. he'll be doing songs from his new album Run Away and others. The live stream will be followed by the premiere of the video for Run Away. Mirsky always puts out quality work, both in the art and the production. He's kept that up even with the pandemic restrictions. So this will be worth viewing. This will be Rich's first attempt at live stream...so give him some support and be there. Here's the FB event page.

Random Ideas is a band from China, ME. They are triplets. How's that for an attention getter? They play pretty good too. Our buds over at Thrash'n Bang did a long review of their album We Met In the Womb and have the songs embedded on the page, so we're going to pass you over to them and let them do the heavy lifting on this. Here's the link.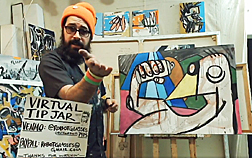 A reminder that Thursday is Art day with Dug McCormack. Dug has brightened our Covid cocooning with his live art show/lesson. He explains what he's doing which means a lot to those who have no idea how a painting gets done. He also dispenses some local music news through the night. Most times it's a two part show. This week it was one session. There's nothing quite like it. You can catch the show around 7:00 pm on Thursdays on Dug's Facebook page.
The Eastern Standard restaurant which was in the Hotel Commonwealth, the hotel that replaced The Rat, closed this week along with The Hawthorne and Island Creek Oyster Bar! Wow that's a huge blow to the current Kenmore Square. The Rat room is still in the hotel as far as we know. The story is in the Globe if you can get past the paywall.
The New Zealand band The Chills are doing a live concert on Wednesday March 3 at 3 pm. Tickets are $20.00, you can get 'em here John Keegan fought a snow storm to see them at the Middle East in February of 2019. Check out his coverage here.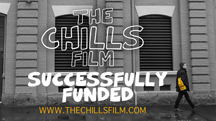 The Chills Film - A Theatrical Documentary is in the works. The Kickstarter page and trailer are here. And read this: "Late last year, we were filming with The Chills lead singer Martin Phillipps when he was informed he had a 30% chance of dying within six to twelve months if he did not make substantial lifestyle changes. His subsequent decision to reconcile with the world and confront past mistakes has provided the foundation for a compelling and dramatic documentary narrative."
We were blown away with "Pink Frost" back in the day: They also captured something completely different with "I Love My Leather Jacket".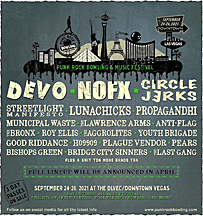 The Punk Rock Bowling festival in Las Vegas has been postponed a few time. Now they have a new date, September 24-26, 2021, and are going ahead with it. They're betting that that live concert experience will be allowed by then. Groups include: Devo, NOFX, Circle Jerks, Streetlight Manifesto, Lunachicks, Propagandhi, Municipal Waste, The Lawrence Arms, Anti-Flag, The Bronx, Roy Ellis, The Aggrolites, Youth Brigade, Good Riddance, H09909, Plague Vendor, Pears, Bishops Green, Bridge City Sinners, The Last Gang and more to be announced. There's some more info on Brooklyn Vegan. You can get tickets at Punk Rock Bowling.
Alternative Press has and exclusive interview with Chrissie Hynde on the occasion of the issue of her own Fender guitar model. She talks a lot about Punk and what motivated her and what should motivate current people too. She mostly blames electronic media for syphoning off energy for forming bands. Read the interview here.
---
CDs/ Music.........
Roger Miller of MOB has posted a few of his older albums on Bandcamp. One is Win! Instantly! It was released on SST in 1989. This was under his No Man moniker. It has altered piano along with a few quests like Tanya Donelly and Larry Dersch. He includes a version of MOB's "This Is Not A Photograph" which gives you a comparison as to how the No Man project sounds next to MOB. "The Quarry" is one of the most quiet and almost calm pieces Roger has done that we know.
We like "No Man's Landing" because it has a nice arc to it and the tonalities are interesting.
Roger Miller's Exquisite Corpse: Unfold is another posted album. This was Roger's fifth one for SST in 1994. He put together a group that would make pieces using the method of the surrealists' game of the Exquisite Corpse There are disparate music styles played by disparate instruments like the Renaissance trombone called the sackbut and a steel guitar (by Rich Gilbert). He covers the "Looney Tunes" theme song. "Metabolism" is experimental sounding but has a drive to it.
Rum Bar released a new Beebe Gallini album called Pandemos. They've pre-released two songs from the album. Take a listen to "My Way of Thinking". It sounds like an old Paul Revere and the Raiders song, yet rawer. The singing in the chorus is distinctive and the guitar solo is ripping.
Mister Vertigo has released Indie Nerd Strikes Again a most interesting album. It only gets more interesting as you spend time with it. The title song seems like an indie rock tune that references 'FNX and 'BCN. However there is a backstory where they link the material with Randall Flagg, the Stephen King character and the lyrics are pegged as satirical. We don't think it needs all that because the song works on it's own.
The next song "Hack Therapist" is done acapella, the lyrics being the thoughts of a psychiatrist and a patient in session. The singing is excellent.
In "You Are Clearly The Reason Why" they try to blend multiple musical styles (18 by our count) into one song. Again the song is good on its own and we don't know if it needs all the extra trappings. But interesting…oh ya.
Once you get into these songs they are a real rabbit hole. They generously give notes on each song on their individual page in Bandcamp....Talk about a thinking man's group. We were impressed mightily!!
Give "Indie Nerd Strikes Again" a listen and go from there.
Inspector 34 are from Lowell and describe themselves as junk rock and, yeah, they do sound messy. We actually like them when they sound less messy and more structured like in songs "Slake" and "Grow Old". There's a lot of experimenting going on with this group and we think that is a good thing. They get to some interesting places.
"Grey House" has a video, if you read the lyrics and see the video that will help to bring the song home. It's about life being an existential horror. It could be about the whole planet warming up and burning up the human race.
Stems are ex-Endation and we loved Endation!! Stems released a few albums this latest Hollow Bones and Withered Rust is maybe the best. The music has a serious and somber tone. There are some goth overtones too. We like the yearning vocal in the song "Believe".
We talked about Juniper here before. At that time we had heard "Punk Rock Boy" a Ramones like pop punk. Now we have the whole album and it's a little different from that. It's much more in a pre Beatles 60's vein than in a punk era one. Juniper Shelley with help from her father Michael Shelley ( a WFMO DJ) have created a good feeling teen world in the music and lyrics. The innocence of "Girls Just Want A Boy To Rest Their Heads On" is so refreshing that it makes you question why so much music seems to be nasty and sex obsessed in a bad way.
"It All Started On the Dragon Coaster" captures a night at the amusements park, "Everybody's Got A Crush On Chad" puts you back in high school, "How Long She Gonna Stay In That Room?" makes you feel like your living with a teen in the house. The songs are like time machines.
There are some quests like Marshall Crenshaw, Greg Townson of Los Straightjackets and more but the album is all about Juniper. It's her voice that does the magic. The album is on Bandcamp.
Juniper was released by Fabcom records which is a Boston label, but they also have put out Love Songs for all Occasions by The Harrisonics, a power pop outfit. We hear a lot of Jam-like guitar sounds a lot of the time. We like "Trailer Goth Girls", "A Good Year to Shut Up" and the first cut "Useful Buffoon".
(A side note here: the LP version has a glossy jacket on heavy duty carboard the likes of which we haven't seen in decades. )
CONTACT US AT....misslynbgn@yahoo.com Send us your gig listings, your anything else ya got!! You want your CD reviewed?? Contact us for that too.
---