The BGN News Archive
February 23, 2009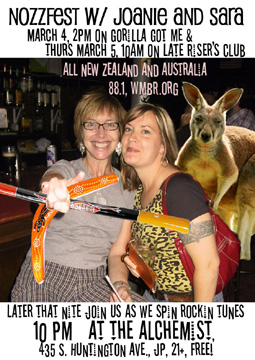 So what we got for ya this week....well...
LowBudget Records is proud to announce the release of Pastiche's "ARC" Proudly produced by PASTICHE [Ken Scales: multi-vocals, keyboards; Ron Marinick: keyboards, piano, samplers; Mr. Curt: guitars, keyboards, vocals, fx; and Brad Hallen: electric & acoustic basses], and Ray Boy Fernandes & Doctor X (Tim Casey), it brings their past essence into a totally contemporary context. Pastiche was a top Boston group that thrilled local club-goers with their dynamic theatrical shows (voted #1 band in the 1980 WBCN Rumble) and hit recordings ("Talk Show", "Lock It Up", "Psychoblonde" - check out this video of their 80s incarnation). They parted ways in 1983, and it's pretty amazing that we have a new recording from them. Visit Low Budget Records and check out some mp3 previews. The CD is available for $13.99 (includes S&H).
Also I've been hearing from the infamous and unforgettable AJ Wachtel a lot recently. Seems he was working with Mickey O years back on a project of Boston bands covering Aerosmith songs called Boston Gets a Grip. Things got confused but he's back to getting this thing out...
So what do we have for music coming up....its gonna be a busy few weeks my friends so get ready now: This Tuesday Feb 24th at The Middle East UP is John Joseph (singer from the Cro-Mags) doing Spoken Word - "I Got Your Back" - this is an early show at 7 PM then stay around for Jason Bennet & The Resistance, The Throwaways .....
Mark Kennedy and Fred Pinneau of The Illegals have put together a new band that includes Joe D'Arco (x-Godsmack, Controlled Aggression & Tin Pan Alley) on drums and Adi Luv (of Noble Rot, x-Defrokt) on guitar. The new band is called 5-Point and their debut gig is next Saturday,February 28th at O'Brien's. They go one first so get there early (on the club site they are listed as The Night Terrors) also on the bill is OneBigMess, Jake and The Jakes and Drunks Don't Lie......
And in March:Joanie and Sara broadcast another geocentric punkfest. This time it's music from New Zealand and Australia. It begins on WMBR on Wednesday March 4 and then again on the LRC March 5 and then to the Alchemist Lounge for a club night spinning general punk/garage/etc., not confined to NOZZ.
The next day on Friday March 6th is The Johnny Black Trio And Doom Buggies are at The Midway
and can you believe this: we have two months in a row with Friday the 13ths...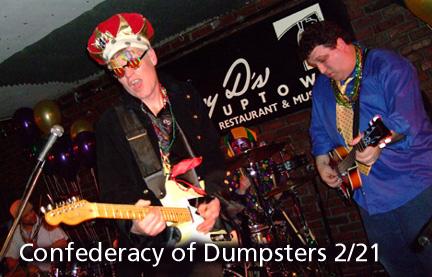 March 13th is The New Collisions, The New Alibi's, Televandals, at the Middle East UP...
and at Church on the 13th it's the Tommy & the Terrors 16th Annual Drop Kick Murphey's aftershow with The Krays, The Tampoffs , The Welch Boys, and The Scars
I also got word that the Prime Movers are doing their actual real make-up last show...at the Dilboy VFW Hall in Davis Sq. It's Kim Ackland's birthday and she's celebratin' big...
Then next night March 14th The Throwing Muses (!) are at the Middle East UP!! Wow
BUT also just down the street on March 14th, at The Cantab, THE REAL KIDS will be playing..with Jimmy Birmingham on drums! Whew...I hope this happens. Also on the bill will be The Mezmerines and Corolla DeVIlle...
and also on the 14th at Church are The Larkin Brigade's Evacuation Day Extravaganza Iv With Confront + Mouth Sewn Shut + Ten Gallon Scally Featuring Rockin' Bob Cenci
Then at Church on Tuesday 3/17 are Coffin Lids + The Throwaways + Buried In Leather + The Guns Of Navarone, that's a good show!
And a big one: At Church on Friday March 20th is another DMZ show along with Unnatural Axe (YEEHAW!!! Richie's back on stage!!) Vagiant...if you missed DMZ last time do not miss them this time, they were awesome!!!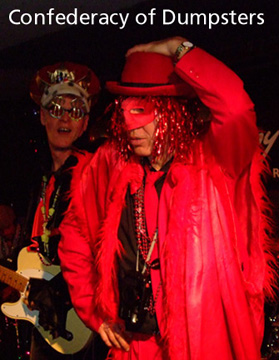 In April there's an awesome 2 day punkfest at Harper's Ferry! Check it out: Saturday April 4th is an ALL AGES show at NOON with Far From Finished, The Pinkerton Thugs, The New Alibis, Blood Stained Brindle, Flat Foot 56 and Razors in the Night....THEN that night for a 21+ show you get: Blanks 77, The Wretched Ones, The Skels, The Side Effects and Oi! The Band.....
Next day Sunday April 5th is another NOON , ALL AGES show with The Casualties, Mouth Sewn Shut, Tommy & the Terrors, For The Worse, War of The Words and Word for Word ....
Ok THEN there's the night time 18+ show with Mark Lind & The Unloved, Lost Cause, Nothing But Enemies S.C.F.F., Hammer & Nails, Doggfight U.S. and Red Invasion
Excellent way to spend your weekend!!
Looks like The Damned rescheduled at The Paradise, they are playing there Friday, May 8th!!
But also May 8th there's a killer show down in Providence RI at Club Hell: Mouth Sewn Shut, The Meatmen AND Fear...whew!! worth the drive!!
And in June The Blackjacks are slated to perform on June 19th and June 20th at TT The Bear's Place , hey! It'll be good to see Johnny Angel again!...get ready Boston!
Also our friend Michele Meadows went to the Madi Gras Party at Johnny D's in Davis Sq this weekend to see the Confederacy of Dumpsters...she sent us a couple pictures for you! IS that Mickey Bliss I spy in all red??? Wasn't he supposed to be at the Cantab?
OK, there you have it for this week friends....email me huh....????.... Lyn