The BGN News Archive
February 24, 2014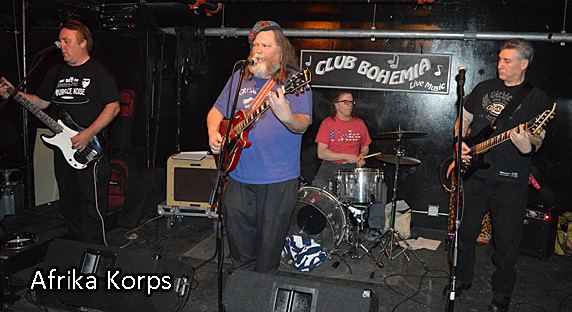 The horrible winter conditions have really put a crimp in our club going lately. We really wanted to go to the Petty Morals and White Dynomite show at O'Briens, which actually sold out. We heard it was a great show but our question is: How did anyone find parking?
Saturday we headed to the Cantab to catch the Afrika Korps Survivors Reunion, basically that means Kenne Highland and Kenny Kaiser since the Grueberger (Jay and Solomon) brothers have both passed on.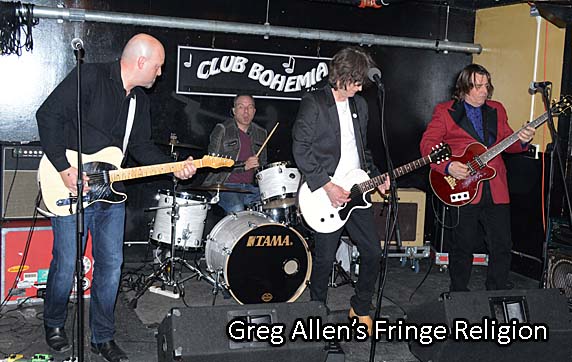 As we arrived, even the music filtering up the stairway sounded good. It was Greg Allen's Fringe Religion. We saw them a few weeks ago and liked elements of what they were doing but tonight they seemed to crank everything up and the whole thing was working really well! Everyone was playing with fire. Was this the same drummer?? Because tonight we couldn't help but notice his hard pounding? Then again everyone was playing hard. The audience was eating it up. I think they got a lot of new fans tonight. The guitarist did those fine, inventive and well thought out solos that got our attention last time.
There was a good crowd especially for the Cantab and hey, the tables and chairs are back. We got to sit every now and then, though there was a lot of jumping up to dance throughout this night.
We missed Cutis Suburban unfortunately. Everyone we talked to said they were great. Ed Moose Savage said they were loud and played a few good covers like the Damned's Neat Neat Neat. Funniest thing is that the lead singer Curtis is a Greg Allen look alike! And they know each other via their days in NYC paying with former Dolls members. Check out their awesome Curtis Suburban cartoon viddy to find out more about them and hear their sound!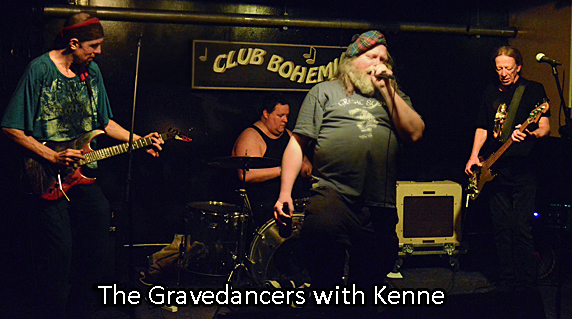 A late addition to the gig was a CD release party for the Gravedancers. Lead man Mat Gilbert was in Harlequin back in the day. This guy plays in the Van Halen vein , shredding and tapping lots of notes, a plethora of notes, a 10 tetra bite hard drive full of notes. They played material from their CD. This band and their music just didn't jibe with anyone or anything else on the bill. Many people jumped ship and ran upstairs to hang out in the street, eat pizza, take a walk, etc. They also had a skimpily dressed 'cigarette girl' selling their CD. We will say she sure had a lot of energy which never flagged through the evening. Mat just needs to learn to let others have the spotlight and respect their time on stage as theirs and theirs alone.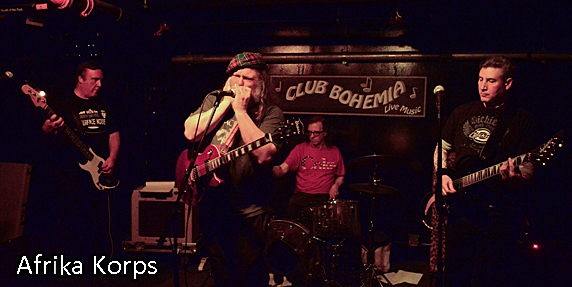 Now to the meat of the matter....Kenne Highland has had one of his periodic rock and roll rebirths and is now showing up all over town and in all sorts of configurations. Tonight it's the Afrika Korps Survivors' Reunion. So here he has Kenny Kaiser on stage with him. They get dependable Matt Burns on drums and Mike Quirk who not only does the bass but is like a musical manager keeping the set list going and knowing every song inside out. Mike cares and it helps steady the show and you need that with Mr. Gizmo flying off the cuff.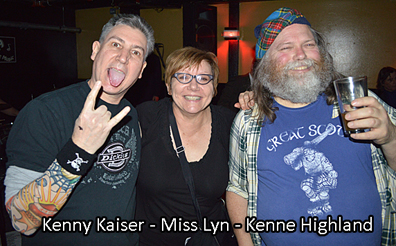 The Korps' still recaptured their distinctive sound created by that Kenne/Kenny combo and some primo primitive songs by Highland. But tonight turned out to be a combination of Gizmos, Afrika Korps and Hopelessly Obscure tunes making up the set. They started with the classic Gizmos song which has it all: Jailbait Janet, an absolute classic of fun loving adolescent story telling. The chorus gives the tune its grove and that's all they need. That was followed by a couple Grueberger penned Afrika Korps tunes then two more commanding Gizmos tunes That's Cool and . Kenne Highland has written some amazing songs over the years and some of them were on the list tonight Kiss of the Rat, Mad at The World, Rain of Death, Cryptic and Best Bette...they also did a couple clever Kaiser tunes like The Progression though I was hoping to also hear Blizzard of 78 and Wild Mouse!! All went well until Mad At the World where Kenne goes out of tune. Unfortunately that hurt that worthy, slower song. But Mr. Highland barreled through the rest of the set. It was loads of fun but a little ear-jarring. Hey, Kenne has to live up to his reputation ya know??
Somewhere along the way Bob MacKenzie showed up and got up on stage to play cowbell. Then as the set neared its end all hell broke loose with people piling on stage and a few covers being performed. Mostly it was a great night of really good music and performances and a fun walk down memory lane with the Afrika Korps Reunion.
Andrew of Let's Go To the Rat movie fame is going to be on the "Crash Course for the Ravers" Radio show (WMFO 91.5 1-4PM) on Saturday March 8 at 3 pm, where he will be talking about the book version of the Documentary that has some extra material in it including the BGN's Dammed interview and the history of the Hoodoo Barbeque which will be a welcomed addition for many!
YAY!!!! Richie Parsons made his Kickstarter goal for the funding of his Honey & Tears release!!! Congrats Richie.
Betsy "Buttons" Sherman was a movie writer for the Boston Globe several years after she punked heavily and sold buttons on the scene. She now writes for The Arts Fuse and has a review of a new Louis C.K. film called Tomorrow Night that looks interesting.
I always think of Devo when I think of Betsy...because she and Tony V went to the Paradise show of Devo dressed in yellow trash bags…doing up the de-evolution shtick. Sadly, this week Bob Casale the lead guitarist died…
On Impose Magazine Thalia Zedek talks about some of her favorite Boston Bands. And this week (Feb 26 to be exact) Thalia's newest EP Six will be released. You can get it among other places at Thrill Jockey. Where you can also see the list of dates on her upcoming extensive European tour.
Here's some shows coming up And every Thursday - for a good shot of "R & B, Punk and Pop Drek from the has beens, shoulda beens, woulda couldas and never weres from the 50's through the present day" turn on yr radio to WMFO 91.5 and give a lissen to Alex Piandes' The Desperate Hours show....6-8PM.
Hey this Thursday, Feb 27th another good show at Tasty Burger with The Sprained Ankles, Thee Legendary Rockin' Prophets and Dots on Dice . This place rules, check it out!
So this Saturday, March 1st Spotlight Tavern, Beverly - is the Nervous Eaters, Pop Gun , Classic Ruins show
Crash Course for the Ravers WMFO on Saturday has a Mary Lou Lord Birthday Bash this Saturday and Bob Colby will be there because they will be talking about the benefit for Mary Lou Lord that is happinging on March 8th...we have info below on that.
And if you're going to the big Frank Maratta car show in Springfield Ma make sure to go to the Skeleton Beats show at the after party at the lovely La Quinta Hotel's Mount Tom Ballroom...check out their FB page for info and how to get a discount... that's this saturday too!
and coming up next Monday March 3rd...Gail C. and Babysitting Calamity Booking present Pop Punk Madness and Bake Sale at the Middle East with The Sheckies, The Pity Whores, Jimmy Jacked, The Labor Pains....not only is it a great bill but Gail C will be having one of her fabulous bake sales so arrive hungry, see a great show and leave with a wicked sugar high!!
WOW! will be an awesome show Friday March 7 at The Midway: Punk Goes Acoustic with Glen Matlock and Sylvain Sylvain - and now its even better coz Jay Allen has been added to the roster! Has this sold out yet??? It most likely will…get yer tix now friends!
Mary Lou Lord Benefit, Saturday March 8th at the Midway Café. The show will go from 9:00 PM till 1:30 AM. This list keeps changing...new bands are getting added all the time so check the link.... My Own Worst Enemy (it's also Sue's birthday!), Kingdom of Love (featuring Linda Viens and Rich Lamphear) , Hilken Macini (acoustic), Love Love (featuring Chris Toppin and Jefferson Davis)
So Sol (Latin/Americana), Matt Minigell (brilliant young singer/songwriter)
At Mary Lou's request, the cover has been set low ($5) so everyone who wants to help can afford to come. However, there will be a donation bucket as well, and we encourage you to contribute as much as you can if you are able to do so. More details as they are worked out."
March 8th is also the Richie Parsons' 10 Song Set performance at Store 54. And Cadillac Heart is at the Cantab along with The Brigands and Lucky 88s
and we have St Patrick's Day coming up so on the 15th you could do an all day St Patty's affair at The Midway...it starts out with
Swamp Patrick's Day Celebration - 4 to 8:30 PM with Everymen, Yankee Cockfight, The Radiator Rattlers and The Old Edison...
Then it's another DJ Easy Ed Show - Saturday March 15th - and this one's amazing!! With Sean Coleman coming back for a visit to Boston with Sean Coleman and The Quazars along with Leah and Her J-Walkers and The Bloodshots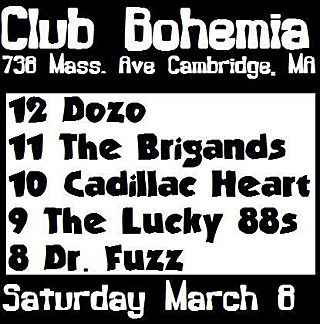 Jonathan Richman is back to the Middle East Up on March 19, 20 & 21 with Tommy Larkin on drums.
Wow Friday March 21 there a mega OI!! Show at TT's with Yellow Stitches, Victory, Razors in the Night (who are great and are celebrating a record release this night) And The Warriors real Oi! Straight from London you know...(and named after one of my fave films!)
Saturday March 29 at The Midway you can get a double dose of Chris Brat plus these are some damned good bands - its The Old Edison (In case you missed them last week), The Warning Shots, The Black Cheers and Duck & Cover
Jon Bernhardt is celebrating his 50th Birthday and 30 Year Anniversary on WMBR's Breakfast of Champions with a gig at the Middle East down on April 2 with Bevis Frond and Barbara Manning and Dump. Tickets are $20, to benefit WMBR and are available via TicketWeb.
Friday April 4th at The Regent Theater is the debut of Tim Jackson's film "When Things Go Wrong": Robin Lane began as an artist singing with Neil Young in the Laurel Canyon music scene of the late 1960's. A decade later, in the Boston music scene, she achieved high critical praise with her own band, The Chartbusters, which became the 11th band to be broadcast on MTV. After the birth of a daughter she was rejected by the music business and after decades of struggle and ups and downs, she began songwriting workshops for women who have survived trauma and abuse. The film is a feminist perspective on the difficulties of sustaining a career as an independent woman in male dominated business. Directed by filmmaker and musician Tim Jackson who has played drums with Robin Lane for 35 years. The soundtrack features 21 songs by Robin Lane, many heard for the first time, with additional music by John Kusiak.
This one-time screening is to help raise money for publishing rights for Robin's Lane's own songs which are featured in the film. The film will be followed by a Q&A with Tim and Robin and live performances from Robin, The Chartbusters, Barrence Whitfield, Ramona Silver, and others TBA . You can buy tix here Regent Theater site.
Saturday April 19th at The Cantab a rare performance by The Bittersweets...a song writing duo comprised of Sal Baglio and Jon Macey
April 26th Barry & The Remains are at Johnny D's in Somerville....this aint a cheap show folks...$40 for tix and another $15 food minimum if you want guaranteed seating...but hey...you just can't keep a good fan down.....so go buy those tix here.
Sadly the Standells show at TT's was canceled because lead singer Dick Dodd passed away...but that's not holding them back it seems..the show has been rescheduled The Cavestomp (Boston) Standells and Lyres is now at The Brighton Music Hall on Monday May 5th.... You can buy tix here
Thursday, May 22 at The Middle East Up...... The Woggles with Muck and the Mires, Lyres - whoa what a show!!!!
EMAIL US AT......misslynbgn@yahoo.com