The BGN News Archive
February 25, 2013
We start out with some very sad news: Magnus Johnston, well remembered and loved scenester and artist from back in the day passed away this week. He was an amazingly creative person... Magnus did the fanzine Skunk Piss with Mark Flynn, he did the Lost and Found show on MBR, then he became an early adopter of hip hop and had a Hip Hop Show, he is considered a major figure in the Boston Hip Hop Scene. He also did all the illustrations for Oedipus's WMBR top song list for many years. And along with all of this was an accomplished artist! RIP Magnus!!
Magnus art site.
Gigs and other news:
this Thursday 2/28 Adja The Turkish Queen is doing a solo show at The Midway....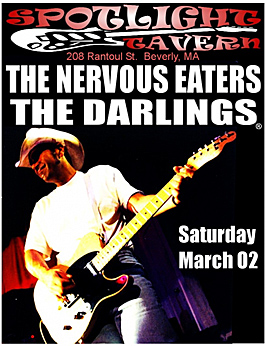 March is there this week....and during the month of March Thalia Zedek, one of Boston's musical geniuses, is doing a residency at TT's every Monday. She goes on at 10:15 each night...so get over there!
So check out the TT's Calendar for info on the shows... And the last show on Monday March 25: she's doing "Via" - (This is Thalia's NEW CD to be released in March!! And you can pre-order it here: Thrill Jockey) So Also on the bill Brokeback.
OK so other shows in March: This Friday March 1st there's the Billy Joel Night at Radio Julie Two Times, Kevin Pickering, Josh Pickering, Mel Lederman, Tom Baker, John Lynch, John Sheeran Linda Shoreand Alan Levesque And ... Kerri-Ann Richard, Jay Frigoletto, Anngelle Wood, Paul Gallo, Mark Dantini, and Seager Tennis and also members of the Alrighters and the Larkin Brigade. Whew! That's quite a line-up.
Saturday March 2 there's a great afternoon punk show at The Midway with The Welch Boys, The F.U.'s, Blastmat, Redline Rebels and Trashkillers
And up on the North shore on March 2nd: GREAT show from Terry Brenner!! The Nervous Eaters and The Darlings are at the Spotlight Tavern in Beverly
And the Stompers are doing a...um...Dinner Show??? At Johnny D's in Davis Square. Actually the menu looks quite good!
It's that Irish/Punk mix night at The Middle East on Wednesday March 6th with The Tossers - on their 20th Anniversary Tour with special guests Continental ( Rick Barton ex- Outlets, Dropkick Murphys and his son Stephen) and The Gobshites -
On Sunday March 3rd The Queers are coming!!! Over at Church it's The Queers, Teenage Bottlerocket, Masked Intruder, The Acro-brats - awesome bill!
March 9th at 2PM Genya Raven is being interviewed on WMFO's (91.5) A Crash Course for Ravers with DJ Brain Young and Mike Stewart. Show starts at 1PM. And Bob Colby's got a good one on his Second Thursday at The Rosebud on March 14th with Classic Ruins, Corin Ashley and Moose and the Mudbugs ....we hear shows are booked into April at The Rosebud but after that we don't' know what's up.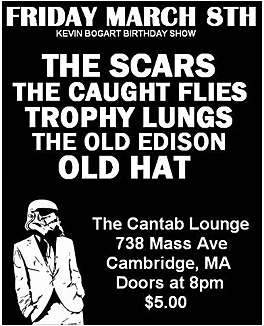 Saturday March 16th there's The Swaggerin' Growlers at the Middle East Up with The Old Edison, Threes Away (touring from Austin), OC45 and The Wolf Hongos
And Monday March 18th it's Jim Seery's 40th Birthday at Charlie's Kitchen!!! There's a load of bands playing including Triple Thick of course..and I am sure there'll be loads of beer drunk too! HaPPY BirtHDay Jim!
Saturday 3/23 Walter Sickert and His Army of Broken Toys are at the Brighton Music Hall...always makes for an interesting night!
Saturday March 30 we got electro music by some of Boston's best with Adventure Set (Ken Scales) , Workforce (Michael Abbot/James Straight), and DJ Ike at The Middle East Up.
Mark your calendars guys coz the big night's a comin': April 6th we celebrate JAY ALLEN'S 50TH BIRTHDAY!!! At Radio with 10 bands ...Of course the Archcriminals will play...also on the bill The Dogmatics, Much & The Mires, The Bristols, The Dirty Truckers, The Other Girls, Underball and even Quest for Tuna......I'm looking forward to wishing Jay a very happy birthday!!
And before you head out to Radio....spend some time in the afternoon listening to the Rick Harte Interview at 2PM (show starts at 1) on WMFO's (91.5) A Crash Course for Ravers. And April 12th is Mary Lou Lord performance and interview!!
The Middle East Up on Friday May 12th are The 360's, Classic Ruins and Terrible Beauty...time to get out the old calendar and mark it for that one too!
Hey folks there's a good Kickstarter project underway…it ends this Thursday so lease visit ASAP...it's a worthy cause...Help The Brattle Theater and you get tix to see a movie too!!
Expatriate Johnny Angel, or Johnny Angel Wendall, has a new single out called My Lesbian Friend . I heard the song on the LRC on WMBR and Johnny Angel directed us to his Bandcamp page. That's the way you find out about things now (says grandpa Blowie) not by seeing it in the record store. Johnny's CD called IT! of a year ago was a success showing sharp playing and song writing. This is a much more lose affair and much more fun. The song begins with a siren like riff to get your attention and then the chunky chords roll along as you catch some very funny lyrics about the ins and outs (or not) of having a lesbian friend. Overall it sounds like a late seventies pop song (which I love) with a dash of Lou Reed maybe and other stuff. Vamanos A Panama puts a Tex Mex twist to the proceedings. It sounds like he had a ball writing and performing these things. Along with last year's CD Johnny proves he got the chops to continue with a lot a quality music.
EMAIL US AT.......misslynbgn@yahoo.com