The BGN News Archive
February 25, 2019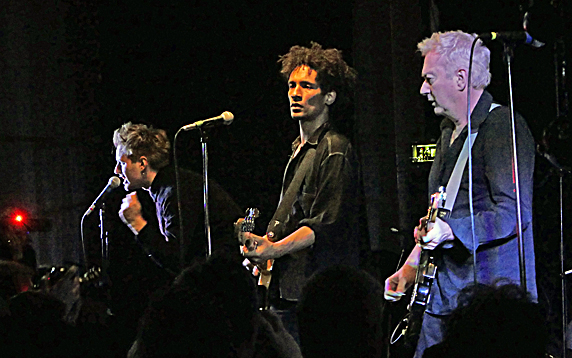 Gang of Four
Photo: Blowfish
We were at the Gang of Four show at the Paradise around 1979. They were pointed lyrically and sharp instrumentally. Frankly it's been a long time since we listened to their music but they were playing Once on Tuesday. When we got there it was a 15 minute wait outside as they processed the sold out crowd going in.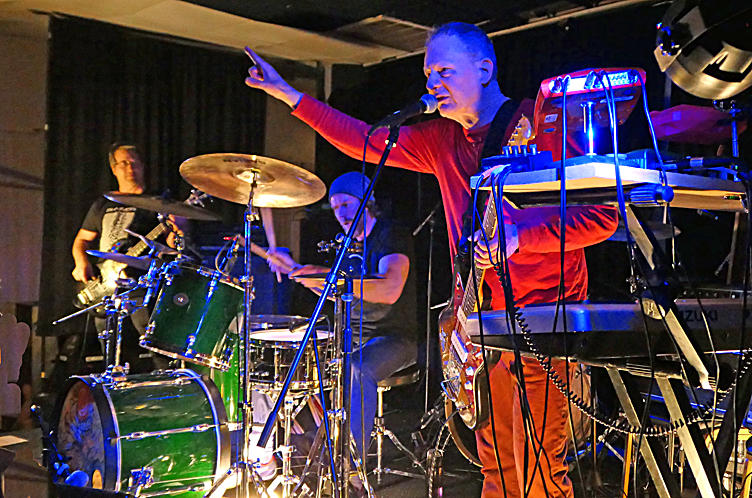 Mini Beast
Photo: Blowfish
Mini Beast was already playing. The thing with Mini Beast is that it doesn't matter what song they are playing, you are bombarded by their unique sound. To quote our own John Keegan, " The drums and bass lock in and never let go."
We were immediately a prisoner of their strident time keeping drummer. This guy is a Phenom. We have a video below that shows just four minutes of what he does.
They sounded just like the other times we've seen them so we were surprised when Mark Davis, their soundman, said that the bass player was new. Somehow they recreated the same bass playing as another guy, good trick.
Then there is Peter Prescott who is the mad director/preacher man of all this. He sets up the tape loops and samples that dress up the industrial groove. He keeps things edgy with some off the wall remarks and observations.
It was a winning set and the sold out crowd gave them a good reception. Just a few weeks ago they were in the tiny Sally O'Brien's. To see them win over such a big audience was encouraging.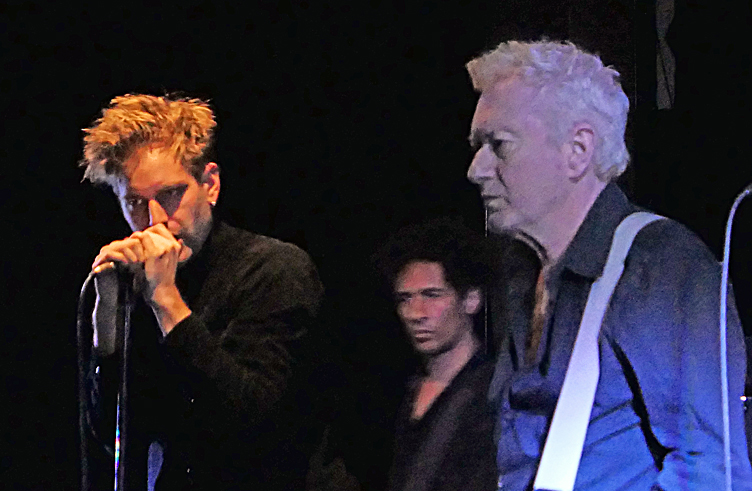 Gang of Four
Photo: Blowfish
Then it was about a forty minute wait before Gang of Four came out. They kept the room very dark. That was a pain in the butt.
Finally Andy Gill came on stage and held up his guitar and let if feedback for a while. Then he threw it in the air and let it hit the ground. I guess that's his idea of 'air guitar'. The rest of the group came out and they went into "Love Like Anthrax". It sounded pretty good, considering the only original member is Gill. Over the rest of the set you could notice a lack of getting to the depths of the material. Many people we talked to also had that feeling.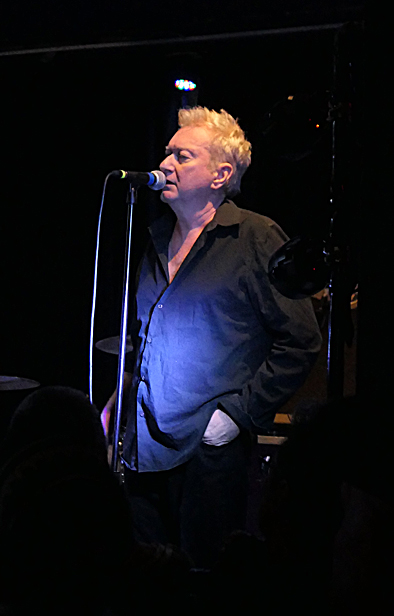 Andy Gill - Gang of Four
Photo: Blowfish
We were focused on Andy's guitar playing and that was still amazing. It was still choppy and angular. It's as if he takes regular guitar riffs and cuts them up and reassembles them in random order. We thought it was all genius playing all night.
Despite the reserves of some of us older punks the audience was enjoying the set with all the Gang of Four notable songs getting played.
Once is still getting these interesting shows. Which reminds us that, outside of The Chills show this week, there hasn't been much to go to at the Middle East.
We look at the listings and listen to some of the groups and they are way far from anything we want to hear. We invite you to go to their web page and check it out for yourself. What's going on over there? Giving up the rock?
It was back to one of our standbys lately: the Midway afternoon show. We wanted to see Death Pesos who we saw over a year ago at O'Brien's and liked a lot.
The new starting time is 3pm we got there after 4pm and already two bands had played!! The club was on the full side like it seems to be every time we go. The Saturday early show is now officially a hit from our observations.
We were about to get a good dose of stoner rock from two bands left. There's a lot bands in that area now.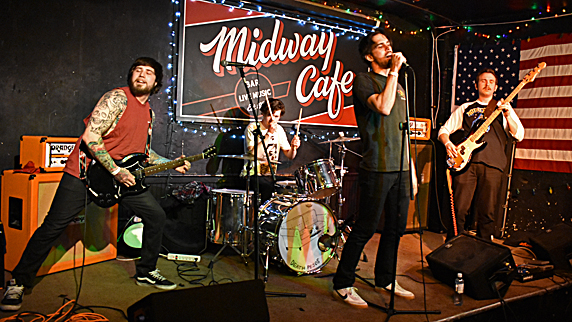 Grass
Photo: Blowfish
Grass from Brooklyn started with a minute of head banging right off the bat to leave no doubt as to what they were about. There was a lot of Black Sabbath style power chord riff based songs. The lyric subject matter: demons = check, drugs = check, devil = check, black clouds = check, dystopian world = check…continue on your own.
If it was typical that didn't mean we didn't enjoy it, we did. They had the heavy groove at the bottom and looked like they were having fun on stage. The guitarist looked like he was in a dream about being on stage in a stoner band. PHOTO He was posing and reacting to what he was playing as if he was seeing himself play it for the first time himself.
By the end we felt like we needed to have a bong party ourselves. Grass is well represented on their Bandcamp page.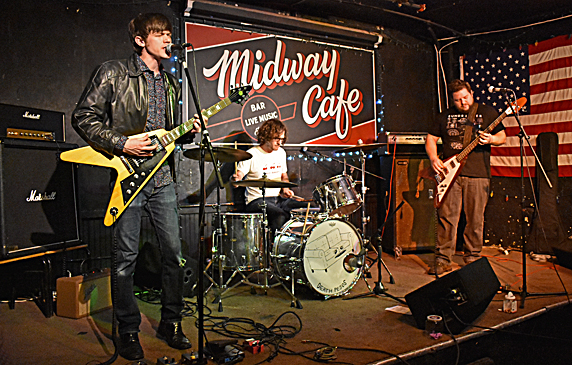 Death Pesos
Photo: Blowfish
Death Pesos are also a stoner band but have a few extra elements that make them different. They also had the riff based tunes but they were usually single line ones rather than power chord based. That allowed them to pick up the tempo a bit. Much of the time both the guitarist and bass player duped the line with the drummer matching the rhythm. When all three were doing the same thing that grove was deep.
The guitarist had about eight pedals and used them in a specific fashion to change tones for songs. He had an overdriven tone that made a sustained note shift into feedback after a few seconds. That reminded us of Ted Nugent in his Amboy Dukes days. That's just one of the best tricks. A lot of his leads had a clearer sound which is different than the completely distorted tone other stoners go for.
The drummer often plays in synch with the guitar and bass but knew enough to add variety in the fills and even going against the grain with a staggered beat here and there, keeping things interesting.
Larry on bass played with his fingers rather than a pick and that gives him an ability to play fast and that adds to the overall sound. He also has a wider range in his singing than most. He has a clear higher register, when he used that voice that was our favorite times. One of those times was in the song "Sean Spicer" 9video above) which we loved when we first saw them and loved all over again.
It also illustrates that their lyrics have more to it than devils and demons. There's politics in there too. Their song Couch Glue examines the slacker/stoner lifestyle. Evil Eye is about 1984's Big Brother's power. All of this is what raises them above their fellow stoners.
More band photos below the show listings.
A little snow didn't stop John Keegan from seeing The Chills at the Middle East on Wednesday. For photos and his report click the photo below.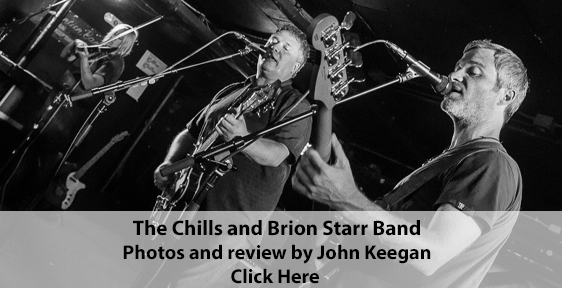 ---
And in other news.....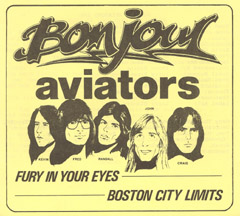 Fred Pineau posted on Facebook that his record with the Bonjour Aviators from 1976 will be re-released:
"I just finalized arrangements for the very first record that I ever recorded with Bonjour Aviators, the band that I was in when this was released in 1976, to be newly released as part on a compilation on an LA based record company. Bonjour Aviators were playing at CBGB's and Max's Kansas City in mid '75, opening for Television, Talking Heads, The Dead Boy. We also were I believe the 3rd band to play The Rat when Jimmy opened it to original bands We also brought up Johnny Thunders & The Heartbreakers for their first Boston show. "
---
Here's some good shows coming up this week.....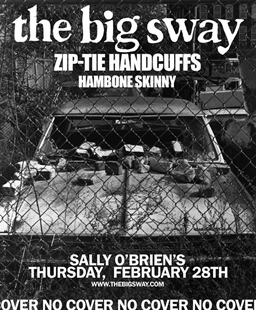 February 28 (Thursday) The Big Sway, Zip-Tie Handcuffs & Hambone Skinny at Sally O's
February 28 (Thursday) TinyOak Booking Showcase Newfane EP Release 8:30 pm Paper Citizen, 9:30 Rawstrum, 10:30 pm Pineapple Jam at The Lizard Lounge
March 1 (Friday) Funeral Cone, The Laces, Kind!, Feedbag, Human Dust at The Dorchester Art project FB page
March 2 (Saturday) "Punk Legends" night - Featuring tributes to The Clash, The Sex Pistols, and The Ramones!!! with Charlie Don't Surf (The Clash), No Future (The Sex Pistols), Warthog (The Ramones) at Club Bohemia
March 2 (Saturday) Jittery Jack & Amy Griffin full band at the Plough! 9:30PM
March 2 (Saturday) Robin Lane & The Chartbusters CD Release Show. its at The Burren
And further out we have.....
March 5 (Tuesday) Rock & Roll Trivia w/ Erin & Brett at The Sinclair
March 7 (Tuesday) Nat Freedberg, Mill Pond Falls, Justine's Black Threads at The Lizard Lounge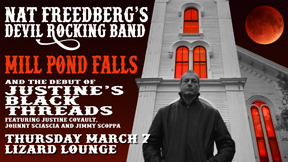 March 9 (Saturday) Opening reception for the Phil N Phlash retrospective at the Midway Gallery (15 Channel Center Street Boston MA) 5-9PM FB page for more info
March 9 (Saturday) Crunchtime (Record Release!), State Of The Union, Billy Connors Project, Club Linehan for a Matiness (3PM) show at the Midway
March 9 (Saturday) The Gala, Muck and The Mires, The Evil Streaks, Baabes at O'Brien's - wow that is a GREAT line up!!
March 9 (Saturday) Thrust Club, Electric Street Queens, Weather Weapon, Fur Purse at The Midway 8PM doors music at 8:30.
March 9 (Saturday) Brother, Reveries, Foxtails, Hundreds of Au, Mangled at The Democracy Center Mt Auburn St Cambridge. FB page
March 10 (Sunday) Opening reception for the Magnus Johnstone show Larger Works and More at 3:30PM at the Nave Gallery somerville.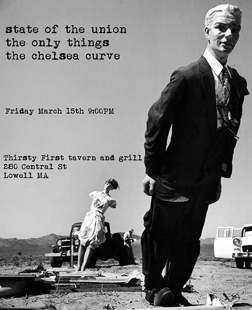 March 15 (Friday) Dirty Truckers, modifierS, Melatonins at Sally O'Brien's
March 15 (Friday) Anthony Kaczynski, Eric Martin Band, Richie Parsons Band, Trophy Wives at McGann's Pub Portland St Boston.
March 15 (Friday) State of the Union, The Only Things, The Chelsea Curve at The Thirsty First Tavern, Lowell.
March 16 (Saturday) Sunken Ships, Neighborhood Shit, New Hell, Psychic Weight for a 3-7PM matinee show at the Midway
March 16 (Saturday) Today Junior, Dutch Tulips, Good Fiction, Salty Greyhound at O'Brien's
March 16 (Saturday) Justine & The Unclean @ 9, Crow Follow @10, Randy Black @ 11 - at Tavern at the End of the World. Crow Follow are shooting a video at this show.
March 16 (Saturday) Demon Seeds, Miss Fits, Thee Fightin' Fish, Scare City at Ralphs in Worcester
March 20 (Wednesday) Wine Lips, Zip-Tie Handcuffs, Baabes at O'Brien's Pub
March 21 (Thursday) Hood Rats, Andy California, Mongorellis, Sticker Shock at O'Brien's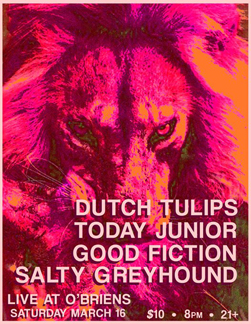 March 21 (Thursday) Feed The Punks DJ Night at Jeannie Johnston Pub in JP with Mangled and DJ Sweets spinning records
March 22 (Friday) Rawstrum, Bad Larrys, Rolling Stony at Magnolia Pub Gloucester.
March 23 (Saturday)A Crash Course For The Ravers 1pm to 4pm at http://www.wmfo.org/popout_player.php?bitrate=256 and 91.5FM Medford. This week they have Thee Fightin' Fish in for a set!
March 23 (Saturday) TRiPLE THiCK, MOTO, The Hi-End, The Inebriations at The Midway for a 3-7PM matinee show
March 23 (Saturday) Carissa + The Cure-Alls, Justine & The Unclean, Tiger Bomb, RunHideFight at Sally O'Brien's
March 23 (Saturday) Tigerman Woah, Cactus Attack, Coffin Salesman, Nick The Barbarian at Opus Underground
March 23 (Saturday) The Gala, Sapling, Kid Gulliver, Mister Vertigo at Ralph's in Worcester.
March 24 (Sunday) Classic Ruins, The Stigmatics, 1.4.5, The Thigh Scrapers 3-7 matinee at the Midway
March 29 (Friday) The Big Sway, Bad Larrys & Imaginary Animals at Sally O's!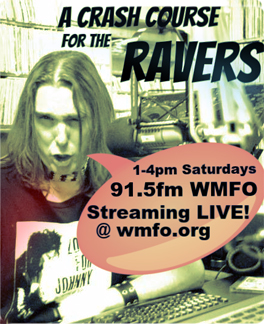 March 30 (Saturday) Brian Young of WMFO and his band The Thigh Scrapers will be on the Heavy Leather Topless Dance Party Brian should LUV that!!!
March 30 (Saturday) See This World, The Runouts, DNZL, WarGraves at the Midway for a 3-7PM matinee show
March 30 (Saturday) Bowery Boston presents The Devils Twins, Party Bois, Ned and the Dirt, Gray Bouchard & the Dedications at Great Scott
March 30 (Saturday) Scott Damgaard and Richard Mirsky and their respective bands at Club Bohemia at the Cantab
March 30 (Saturday) Intercourse, Bed Time Magic, Labor Hex, Pain Chain at The Worthen Attic (141 Worthen st, Lowell) 7:30-Midnight
March 30 (Saturday) When Particles Collide and Tiger Bomb at Bayside Bowl Portland ME
March 30 (Saturday) Il Mostro, z/28, Rockin' Bob Punk Band, Gasoline Virgins at Koto / Salem
March 31 (Saturday) The Radiator Rattlers, Diablogato, The Von Traps, Loser's Circle up in Haverhill, MA at RG's Pub 242 Winter St
April 1 (Monday) Gooch Palms, theband Vú, Louzy - at Sonia.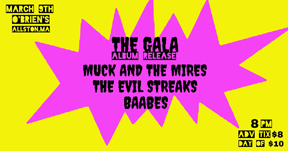 April 6 (Saturday) Roy Sludge Trio, Barley Hoppers, Easy Ed's Record Hop 3-7PM Matinee at The Midway.
April 6 (Saturday) When Particlas Collide and Petty Morals at The Plough.
April 7 (Sunday) Tørsö (CA), Low Vision (Japan), Laughing Stock, Crisis Actors at The Greek Club in Union Sq Somerville. 7:30PM
April 10 (Wednesday) Slovenly Recordings presents: Tommy and The Commies, Les Lullies, and The Monsieurs plus DJ Pete Slovenly at The Midway
April 12 (Friday) Low Dose, Leopard Print Taser, Labor Hex at O'Brien's
April 20 (Saturday) Junkyard, Derailer, The Hi-End, Demons Alley at Koto in Salem.
April 25 (Thursday) The Proletariat, Moving Targets, The Northern Skulls at Alchemy Provi RI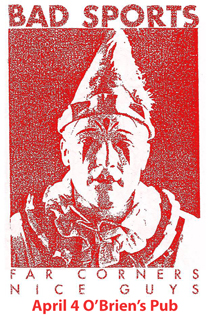 April 27 (Saturday) The Proletariat and Moving Targets at Once
April 27 (Saturday) Nervous Eaters CD Release, Mr Airplane Man, Corolla DeVille at 9 Wallis Beverly.
May 3 (Friday) Barrence Whitfield & The Savages w/ Muck and the Mires at The Middle East
May 4 (Saturday) The McGunks, Silver Screams, Revilers, Damnation, Live Nude Girls at The Midway 3-7PM
May 4 (Saturday) Carissa+Cure-Alls, Justine & The Unclean, Tiger Bomb, RunHideFight at Sally OBrien's
May 24 (Saturday) Lo Wreck's birthday with The Downhauls, The Dents, Duck & Cover and Skytigers at Sally O'Brien's
May 11 (Friday) FUs, GLiDER, Classic Ruins, Screw Cart at KOTO in Salem
CONTACT US AT....misslynbgn@yahoo.com Send us your gig listings, your news and anything else ya got!! You want your CD reviewed?? Contact us for that too.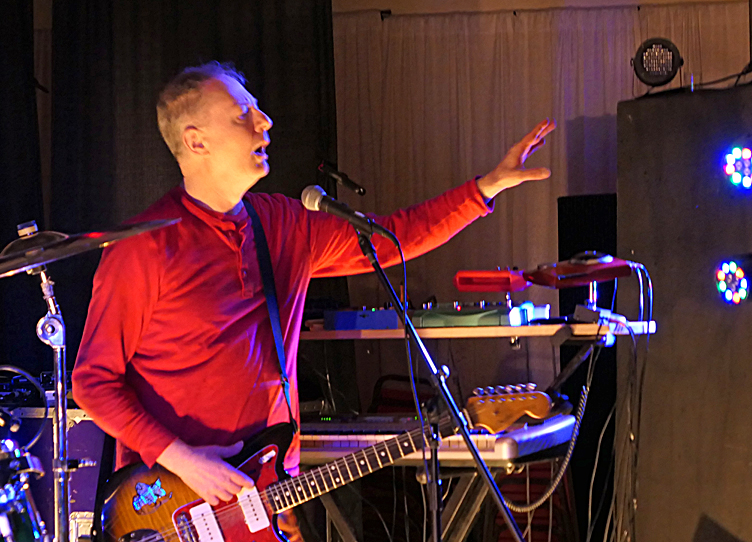 Mini Beast
Photo: Blowfish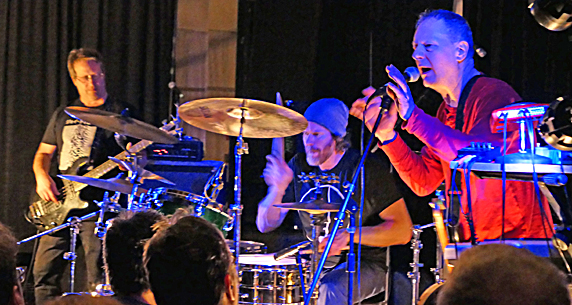 Mini Beast
Photo: Blowfish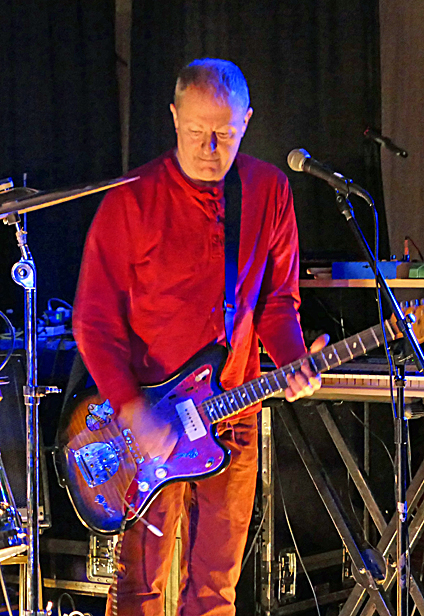 Mini Beast
Photo: Blowfish
Gang of Four
Photo: Blowfish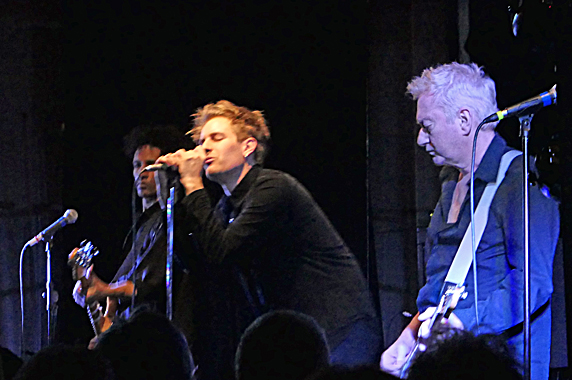 Gang of Four
Photo: Blowfish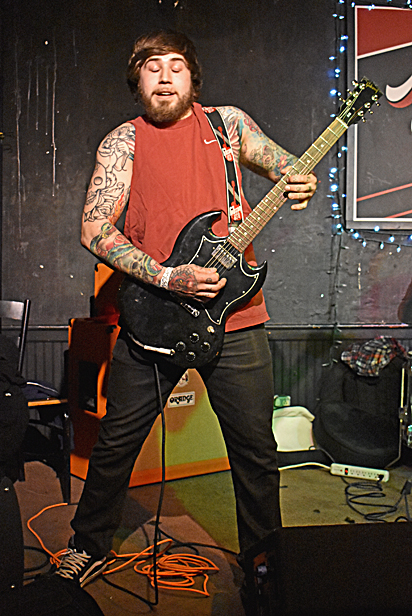 Grass
Photo: Blowfish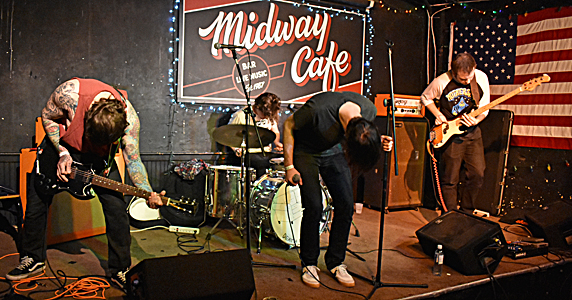 Grass
Photo: Blowfish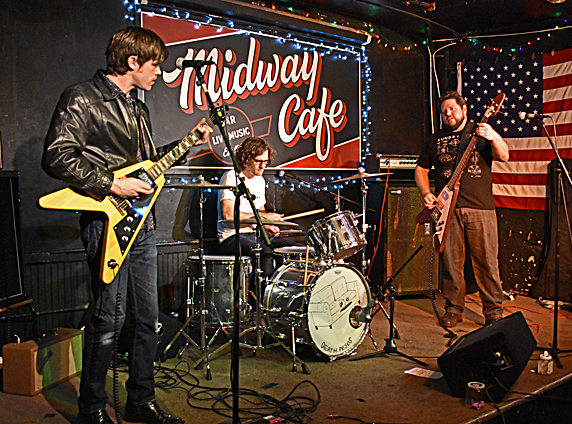 Death Pesos
Photo: Blowfish
Death Pesos
Photo: Blowfish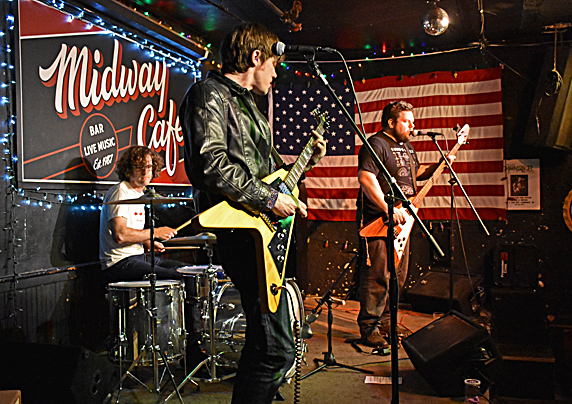 Death Pesos
Photo: Blowfish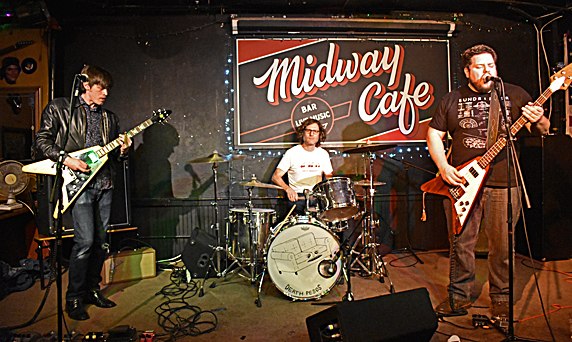 Death Pesos
Photo: Blowfish
Young Death Pesos Fan
Photo: Blowfish