The BGN News Archive
February 27, 2012
We went over to Radio to check out their Brit Night with Chris Skel as the Smiths; Rikki Rocksteady and the Arrangements as the Specials; Devil on Horseback as the Buzzcocks; The Scars as Cock Sparrer and the Wrong Guys as Billy Idol. We walked in just as Rikki Rocksteady and the Arrangements as the Specials were tearing down...but we immediately ran into Jimmy Felice (John's brother) and he told me Mr. Rocksteady and his band rule...Jimmy loves Ska and Rikki is a Ska fanatic so it must have been a great set of Specials songs!...(check him out at Church 3/16)
Next up was Devil on Horseback as the Buzzcocks...their front man guitarist Eric Waxman will in my mind always be the doorman from the Abbey but regardless, they were excellent! He had the right nasal vocal and snarl that mimicked Pete Shelley and looked great under the British flags pinned to the wall. The band had all the details of the songs down. It took a few tunes for the crowd to warm up to the group but they did and by the end were pushing up to the front and really getting into it. The Buzzcocks have tons of great songs so when they finished the set it seemed short and you wanted for them to keep going.
The Scars are a band we should all be seeing more. Their CD is good and they are putting on fine live shows. They shinned this night doing a set of Cock Sparrer. I have to admit I didn't know about Cock Sparrer and that's my bad. The audience tonight had no such deficiency they were jammed up front singing along and pumping fists. Mark Lind was a surprise singing guest for one song. All in all it was a fine set of Oi.
After the set the crowd thinned a bit. Next, a very chatty woman was telling a long story I didn't quite get but maybe the lead singer for the Wrong Guys was sick (and he was her father) and she was filling in the Billy Idol spot. She wasn't too bad although she read the lyrics off a music stand. They did capture all the trash that White Wedding can give.
A lot of these nights which seemed to me to start from Halloween night shows have proliferated and I enjoy them even though I want to retch when I see all the 'tribute' shows that populate some main stream clubs (like Foxboro). So, I'm a hypocrite...add that to my list of faults.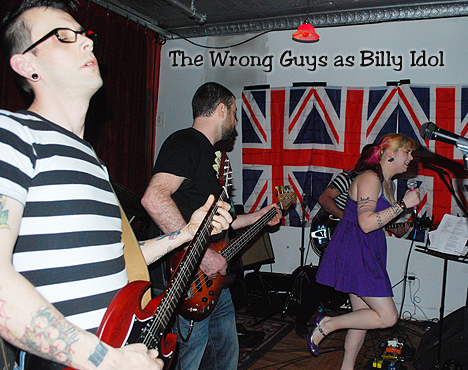 And check this out...our friend the wonderful Richie Parson is such a celebrity now that he got his name dropped in the Boston Globe column "The Names Blog - All the buzz on celebrities"! Mmhmm...it said : "An adoring crowd turned out for Glen Campbell's sold-out show at the Wilbur. And the 75-year-old country crooner was in fine form despite suffering from Alzheimer's disease. Among the familiar faces in the crowd were Wilbur Theatre boss Bill Blumenreich, newsman Chet Curtis, J. Geils frontman Peter Wolf, Unnatural Axe's Richie Parsons, and photographer Jon Strymish...Um gee, I hope Richie will talk to me next time I see him.
We got an interesting email from some folks in Muskegon MI about an old Punk club called The Icepick. seems this club has been around for a long time and in this same location for 25 years. Punks have called it home and its beloved to those in Muskegon...as I can imagine..think The Rat , CBGB's all the other awesome places we've lost over time that were like home to us all.
Well the owner is planning on selling the place and the punks want to keep it going ( an honorable choice!) so they are starting a Kickstart Project on March 10th to get up the money to buy The Icepick at a special price and keep it going as a Punk Rock venue...if you love punk and honor all its memories...you maybe will think of going to the page and donating some dough for this good cause. We here at the BGN wish them all the luck in the world on this project!!!
And music coming up : Oh! This very Monday Feb 27 The Spits, The Tampoffs and TV Ghost are at Church....and this Thursday Thalia Zedek is there as well...good week of music there!
Tony Savarino is celebrating his new CD Stratospherical Premiere and Release Show on Saturday, March 3 at The Magic Room
And March 10th there's a killer show at Church with Lyres, Nervous Eaters, Satin Kittens and Port Charles Quintet with Boston's best drummer Dennis McCarthy coming up from Pittsburgh for the show!!- I believe it will be the last PCQ show...and that's Kim Ackland's birthday weekend so wish her an excellent one!!
And then its St ZPatty's day weekend...a saturday mno less! There are two good nights over at Church: on March 16th is Jason Bennett, The Cretins, Riki Rocksteady& The Arraignment, CuDubh, and The Beantown Boozehounds...and as a special added attraction everybody that pays to get in (or buys a ticket in advance) will get a ticket stub for a chance to win a pair of tickets to the Cock Sparrer show on May 19th. We will be drawing the winner before the Beantown Boozehounds set. The winner must be present to win the tickets!!....and on St Patrick's Day, Saturday, March 17th is The Swaggerin' Growlers, The Pinkerton Thugs, Refuse Resist, Dead Aces and The Old Edison
Store 54 has been consistently hosting some pretty way cool events and here's another one on Saturday, March 24th: The New Frustrations and Darling Pet Monkey will be playing there - show start s at 9PM...that definitetly promises to be a good show!.
On April 21st James Straight and the Wide Stance with Cadillac Heart will be at The Magic Room - and this has become a rather special show because Third Rail's Richard Nolan will be performing with Cadillac Heart that night. Here's a note Richard wrote us: "I am trying hard to make a comeback following my stroke last year. I'm looking for a personal manager to help me reach my singing goals. Until 2 weeks ago, I did not try to sing since my speech impediment from the stroke got in my way. Happily, I am recovering and I can sing once again. Today my fan base is bigger than ever plus I have garnered nearly 2,000 friends on Facebook. On April 21, I have accepted an invite to sing 3 songs with Cadillac Heart and I am so happy to be back onstage if only for 15 minutes. See you there." We look forward to this show and seeing old pal Richard on stage once again!!
And on Monday April 17th Bad Brains are at The Paradise...they have a new album out and are touring to promote it...wow..I saw them at The Gallery East some gazillion years ago...and I should say pre"Mosh Pit" days but I watched loads of punks get bloodied noses and other things as they good danced, pogod and stage dived like possessed madmen...it was an incredible show!
HEY!! Email us with your latest news, I'm feelin' lonely here!!....misslynbgn@yahoo.com
home | interviews | photos | features |BGN issue list | reviews
links | contact us

Copyright © 2010 Paul Lovell. All rights reserved.