The BGN News Archive
February 27, 2017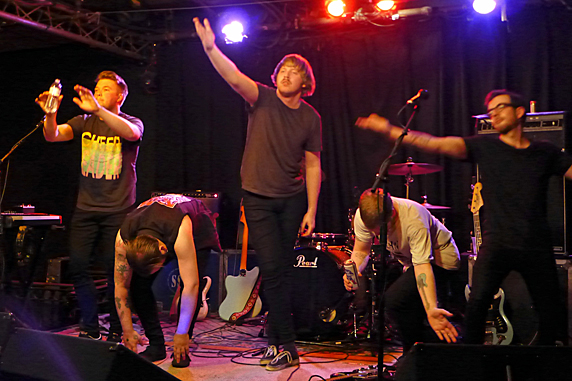 Death by Unga Bunga
Photo: Blowfish
Looking for groups to see early in the week we come across this band name: Death by Unga Bunga. Ahem....That's enough to get us to check out their Facebook page. The video at the top of the page closed the sale. It was some nice garage rock. They are from Norway and Boston is the second date on their USA tour. They were playing Great Scott's and they were the only band on the bill.
We got there at 9:45pm when the band was schedule to play. There was hardly any one there. The door man said they would hold off for a while to see if more people showed up. The extra time was spent reading Harold Lepidus' new book Friends and Other Strangers: Bob Dylan Examined on the Kindle app on the phone. Love the technology.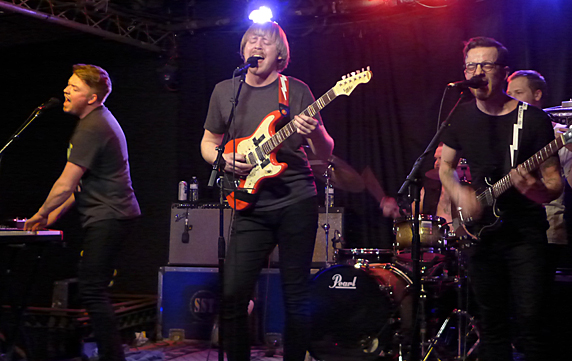 Death by Unga Bunga
Photo: Blowfish
A while later, with 10 people there the band starts up. Right off, they are good but it was only after a few songs that you could see how good. They had the whole package: the songs, the musicianship, the showmanship and the rockin' attitude. It wasn't just garage rock, there were many facets to the music. One big one was the pop side. I could hear echoes of many 70s pop rock groups.
Then they did twin leads a la Thin Lizzy. They also do some surf but they never play down to their garage rock roots. They can play smoothly in a wide range of styles and they bring that all to bear in the set and in their CD's. Many songs had elaborate beginnings and endings which showed how much work they put into each arrangement. They never but never let things get serious. They joke around and the set had lots of laughs. The between song patter came from all of them.
Near the end they did a song that had those Thin Lizzy like twin leads and at one point they actually break into famous Boys Are Back in Town riff. All four guitarists, and that's including the bass, played the riff behind their backs. A moment one will remember forever. That's captured in the middle video above. Finally at the end, they put down their equipment, line up on stage and proceed to give elaborate bows like this was a stadium performance (that's the photo on top of the page)....all this to I Don't Want to Miss A Thing by Aerosmith piped in over the PA. We captured some of this in the third video above.
In Death by Unga Bunga's CD's you can see their musical chops more clearly. We should pay more attention to this group. The band name comes from a joke. Hilarious.
No way did we think we could get a show this elaborate from an unknown band (to us) and on a Wednesday. It was a crime that there weren't more people there. One person we knew in the place was Andrew from The Digs/Runouts. He's out there all the time, he just loves the music.
Actor Observer
Photo: Blowfish
Nine months ago the group Actor/Observer gave us a powerful introduction. We don't see them playing out there too often so when their name popped up as being at Great Scott's we were there despite loads of competition all over town. Look at the BGN list of gigs below or anywhere, the town is rockin' like crazy for the next few months.
Actor/Observer are a hardcore/punk/metal combination of some sort. One thing they do constantly is a staccato sledgehammer pounding. It's the knock of Fate run through a wall of amps. Sometimes when they do it the singer moves like he's throwing a punch to the floor. Every member of the group is doing it with a singular mind. It's a powerful cathartic moment. You can see this in the videos below. The videos can't deliver the experience of getting hit with all that energy and sound though.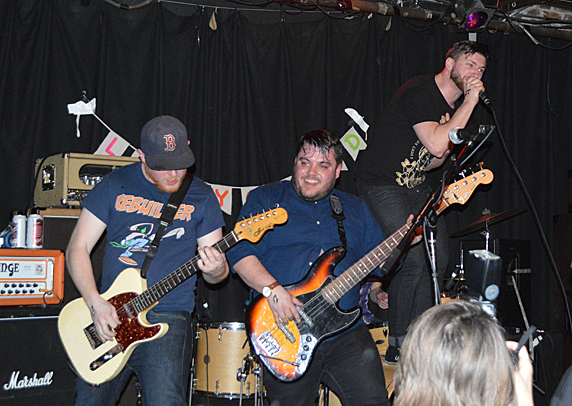 Actor Observer
Photo: Blowfish
They began their set so powerfully that there was no way you could not be impressed. One guitarist was swinging his guitar so wildly I thought someone, maybe him, would get hurt. The band members were all pumped up. This was intensity combined with emotion.
Greg the singer lives every word of the lyrics. Once or twice he talked about what the songs meant. Most of the lyrics to their first album are on Bandcamp The songs are word heavy and worthy of getting into. You can see that more familiarity with the material would be rewarding. If they were better than last time that could be contributed to the responsive audience. The club was about half full during this school vacation week. The involved were up front and there were many moshing outbreaks.
The singer was in the audience a lot and got crowd surfed at one point. Photos were hard to get. With the volume and the crowd activity it was a visceral experience all around. Much impressed again.
Saturday was another night-of-a-hundred shows. We ended up at Sally O'Brien's in Union Square where Tom Baker and the Snakes were having a CD release party. The line-up also included Stars Like Ours, Duck and Cover and The Dents. That combo packed the place. There were a lot of familiar faces there and there was a lot of socializing going on. We were happy to catch all groups.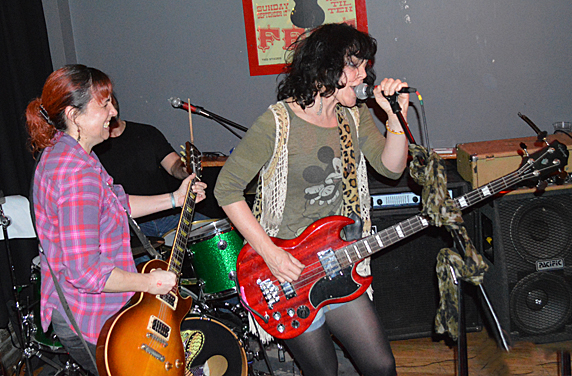 Stars Like Ours
Photo: Blowfish
We had first seen Stars Like Ours last March at Once. We loved the songs and their stage presence. We just realized that we didn't spot them in our year-end review and we should have!! So now they are in there.
We loved the first song that might have been called Shadow World and then the next called I Don't Mind…and well, we liked almost every song. One of the last called Radio was also a hit. It got to the point when they closed with a cover song that we wished they did another original instead. They had a good mix. The miracle of this night is that at this small club with a small mixing board at the side that all bands had a good mix.
This group finally puts Michelle Paulhus up front and leading. She's been part of many groups and was due for this. She's a lively front person and to us this is what she should be doing. Stars Like Ours is a group that projects her personality and it's definitely a winner!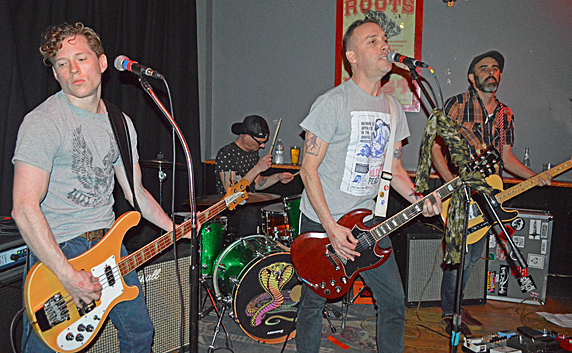 Duck and Cover
Photo: Blowfish

Duck and Cover is one of our faves. They've done one of the tricks we love - they get better with every show we see. They have a confident attack that comes from years of playing and constantly upping their game. We knew we were going to get a guitar display with Tom Baker and the Snakes but Duck and Cover gave us one too. In our past reviews we never give credit to Dan Sussman on lead but he's a critical cog. The play between him and Chris creates many of the highlights. Sometimes when the song is raging they slip into a short section doing twin leads that gets your attention and then back to the raging. It's four guys synced up to one energy source. That's where a group wants to be. All that's useless without the songs and they have plenty of good ones.

By the time they got to the end with Stand Corrected the whole place was cheering. There was no denying this set or this group. And we can't forget to mention Chris' voice. That's where it all begins. It's one of the most identifiable ones on the scene.

In this video listen to the way the chords take a dip and catch your ear. It's at 1:00 and 1:57 and when they do it a third time at the end at 2:52 they do variations on it make a cool ending riff. There's so much more in this song arrangement too.
In this video you can hear the twin leads at :50 seconds.
The video of Stand Corrected. What a song!
Dents
Photo: Blowfish
Then it was another reunion gig by The Dents. Somehow they don't even seem to be reunion gigs. They just seem like another gig. On their Facebook page there is no mention that they broke up. Again, why did these people break up? We know how good they were because they sound exactly the same now. It's like the group was frozen at the time of break up. You get the same set. There's no new songs. Are we complaining? Not at all.
They pound it out like they mean it. The songs never sounded better. In a night of guitar one-upmanship Craig Adams was stellar. Also we got that reminder of the magic of the combined voices of Jen and Michelle that got them their initial attention.
Usually this would be more than enough music for one night but we knew we would never leave before Tom Baker and the Snakes. Lou Mansdorf of Rum Bar has put the full force of his Rum Bar machine behind the release of TB & The Snakes new CD. It captures them well.
Tom Baker and the Snakes
Photo: Blowfish
One thing people from out of town will not be able to appreciate is knowing who these guys are. When they line up on stage and you see guitarists Charles Hansen on the left and John Brookhouse on the right - it's like looking under the tree on Christmas morning. Then you have to wrap your mind around seeing Watts guitarist/fashionista John Blout sitting behind the drums. Then there's bassist John Sheeran from Spittz, Township, Gymnasium and more, who has his signature moves on stage.
Then, to his credit, Tom Baker still commands the focus because despite the shock and awe instrumentalists it's Tom's voice that makes everything work. It's a workhorse voice, nothing fancy, but with wonderful phrasing. Many times it's the way he sings a word that hooks you. He has the Tom Hanks of voices - it represents the regular guy…or maybe the "satisfied fool" as he sings in one song.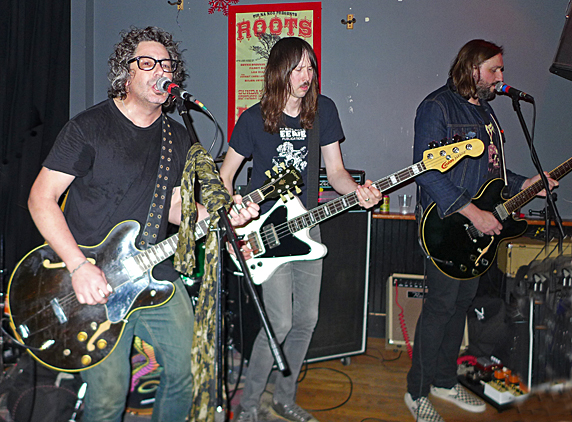 Tom Baker and the Snakes
Photo: Blowfish
Music-wise it's a pre Punk sound and for those raised on Rawk the AC/DC chord attack is virtually irresistible. The joke of the show was that the 'set list' was actually the list of songs on the back of the CD. We were waiting for Doll Eyes and got it. It's falling bass line is mesmerizing and reinforced with Tom doing his thing with the vocals. All the songs are worthy and the arrangements are subtle but detailed as you would expect from these players.
We did get our guitar fireworks. They kept things mostly restrained (like the CD) but a few times they unleashed. One of their tricks is to have both Hansen and Brookhouse play two different but compatible leads way up on the neck. The trebly entanglement emanates a sizzle of overtones that seem to float above the din. The recorded reference of this would be the Clapton/Allman soloing at the end of Layla. It's a auditory high and they can do it at will. They did it twice this night.
Here's a video of Run It Out.
By the end of all this it was one club full of happy people. We talked to a lot of people including some BGN readers we hadn't meet before.
While we were at Sally O'Brien's John Keegan was at the Cantab to see the Billy Connors Project. Earlier he went to the ICA for Anne Waldman. Links Below.
And that's our week in rock.
And in other news.....
David Minehan is crazy for Harrows Chicken Pot pies…on Chronicle.
Long awaited Sonia the new club where TT the Bears used to be will be officially opening April 1. We're excited!! Read about it in The Boston Globe Photo to the right.
Boston Hassle is having the second round of 24 hour TV content on Somerville SCATV on April 7 and 8. They also use this as a telethon to raise money for Boston Hassle. They say : Submissions for performances are being accepted now! Any type of performance you can imagine! So if you got an act of some sort go for it! It seems to us that Ed Moose Savage alone could fill a few hours.
Submit here: dan@brain-arts.org
Speaking of Ed Moose - he is so perfect for some things....like at Chetstock when he extemporaneously talked about Chet. That's featured in the trailers for the Chet's movie. Here's new two minute trailer out now. Get in there and contribute if you can. They're doing a lot of work and the results are a professional job.
This article from The Guardian spotlights a new book Order of Appearance which chronicles the old San Francisco punk scene by Jim Jocoy best known for his pic of Sid Viscious. The article talks about some other books on the scene published in the last few years as well.

Robert Barry Francos of FFanzeen posted some mid-80s photos by Rocco Cippilone on his blog.
Rocco used to do Bang! magazine that went for a few years. The BGN had a few photo spreads in there as well. Check it out here
Jerry Harrison of the Modern Lovers/Talking Heads now is involved with crowdfunding medical startups with his company called RedCrow according to this week's Sunday Globe.
Here's some good shows coming up .....
March 2-5 (Thurs-Sat) Slovenly Recordings & Sticker Guy! present the We're Loud Fest in Puerto Rico...there's a ton of bands from all over the place (Puerto Rico, Canada, NYC, SF and even Boston) and that includes our own Andy California. Andy has My Dying Bed an EP released by Solvenly. Sounds like a great fest...we should planned a vaca around this! Damn!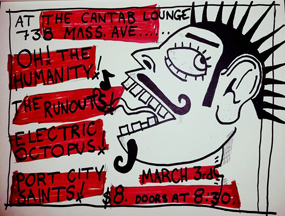 March 3 (Friday) The new Greg Allen's Fringe Religion is at The C Note in Hull along with Tsunami of Sound and Club Linehan A Go Go FB page
March 4 (Saturday) Hambone Skinny Banda De Goma, The Knock Ups and The Guilloteenagers at Club Bohemia at The Cantab down (FB page)
March 4 (Saturday) Trusty Sidekick, Even Twice (NYC), Nick and The Adversaries and Gymnasium at The Midway (night show)
March 4 (Saturday) MG Lederman with Lord Classic(NYC) and Lost Lake at The Greek in Union Square (FB page)
March 4 (Saturday) Jittery Jack & Miss Amy Griffin at Katrina's in Gloucester
March 5 (Sunday) Save Ferris, Baby Baby and Petty Morals at Brighton Music Hall
March 5 (Sunday) The Return of The Sunday Night Mess-Around: We're back for a one-time engagement at The Plough and Stars where we made our first mess. Joining our cast of characters will be Jay Allen, Justine Covault, Tom Baker, Mr. President-Ken Kaiser and last but not least Chris DeBarge
And further out......
March 8 (Wednesday) Fully Celebrated Orchestra, Trinary System at The Midway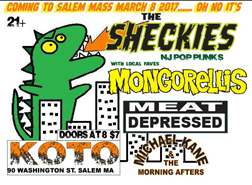 March 8 (Wednesday) The Sheckies, Mongorellis, The Prozacs, Meat Depressed at Koto in Salem
March 9 (Thursday) Asa Brebner (8PM) Randy Black and The Heathcroppers (9:30) and Tony Savarino and the Savtones (10:45) are at Sally O'Brien's
March 9 (Thursday) A benefit for Outside the Lines (the special needs art studio) at Thunder Road- Barrence Whitfield & Dennis Brennan will be playing.
March 10 (Friday) Agent Orange, The Queers, & Guttermouth at ONCE Ballroom FB page
March 11 (Saturday) Off World, Lon Chaney Jr., Garbage Point, The Ghost Boys at The Midway - this is an afternoon show 4-8PM
March 11 (Saturday) The Shitfits (Misfits tribute band), Bon Shootin' (AC/DC cover band), High Karate & Leeds Point at The Midway for the night time show.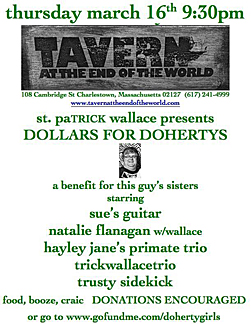 March 11 (Saturday) The Slaves, a British punk duo are at Great Scott
March 11 (Saturday) The Knock Ups, The Forz, The Furs and The Evil Streaks are at O'Brien's
March 16 (Thursday) A Benefit for John Dougherty's sisters... At Tavern at the End of the World:
In honor of John Doherty, one of THE most supportive people in our music scene, Trick Wallace is putting on a benefit for John's sisters, Krista & Kara. Long story short, Krista needs a kidney. Kara is a donating one of hers. They both need some help to offset medical expenses and lost wages. Dollars for Dohertys -- a night chock full of fun and great music -- aims to raise some extra cash to contribute. So come on down to hear Sue's Guitar, Natalie Flanagan & Trick, Hayley Jane's Primate Trio, Trick Wallace Trio and Trusty Sidekick. And throw some cash in the bucket to help two beautiful sisters through a tough journey. If you can't make it, please donate at https://www.gofundme.com/dohertygirls. But we'd love to see y'all in person! (Music starts at 9:30 with Sue's Guitar.).FB Page
March 17 (Friday) Boston Hassle Presents: Simply Saucer, Poppy Seed & The Love Explosion, Dyr Faser, Doug Tuttle, Major Stars at the Middle East Up (FB page)
March 17 (Friday) Sasquatch And The Sick-a-billys Return To Salem! along with Damnation, Creepin Cadavers and The Womps at Koto in Salem
March 18 (Saturday) Roy Sludge Trio for a 4:00 pm show at Atwood's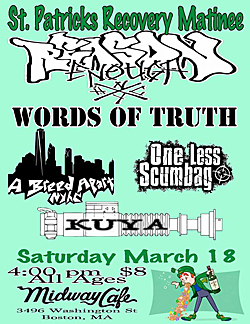 March 18 (Saturday) Reason Enough, Words Of Truth, A Breed Apart (from NYC), One Less Scumbag and KUYA at The Midway - an afternoon 4-8PM show (FB page)
March 18 (Saturday) DFMC (Dana Farber Marathon Challenge) Benefit Show with Sidewalk Driver, Township, The Fatal Flaw, Red Red Rockit at The Midway (FB page)
March 18 (Saturday) The Digs are having an EP Release Party at the Middle East Up ! Also on the bill are JRV and Psychonaut Underground - FB Page
March 19 (Sunday) Ruby Rose Fox is at Atwoods.
March 19 (Sunday) Hillbilly Holiday and Cold Expectations (here's their Bandcamp page) are at Aeronaut Brewery for a FREE afternoon show starting at 2PM. As part of Aeronaut's " Bring Your Own Picnic" music series, friends, families, kids, and, well heck, anybody, is encouraged to pack some tasty morsels and supplement them with tasty Aeronaut drafts on this lazy Sunday afternoon! Grab a beer, pull up a picnic table and dig the country-fried song stylings of these two local bands playing all afternoon long. Or skip the picnic and just drink!
March 23 (Thursday) Beans On Toast, The Old Edison, Troll 2 and Miketon & The Nightblinders at O'Brien's
March 25 (Saturday) 45 Adapters (NYC), Blood Stained Brindle, The Damn Garrison, Quiggs at The Midway - this is an afternoon show 4-8PM
March 25 (Saturday) Another benefit for the Cambridge Fire victims. Lots of families were displaced and lost everything. Help 'em out by going to the Greek American Social Club (Union Sq Somerville) and listen to Tsunami of Sound and A Bunch of Jerks. Here's the FB page
March 25 (Saturday) Muck & The Mires, The Evil Streaks and Tiger Bomb are at The Chit Chat Lounge in Haverhill. FB Page
March 25 (Saturday) 45 Adapters (from NYC), Blood Stained Brindle, The Damn Garrison and Quiggs at The Midway - this is an early show 4-8PM
March 25 (Saturday) You might as well just plan on staying at the midway all day coz their night show is The Hi-End, M.O.T.O., Modern Day Idols and Hello Susie
March 25 (Saturday) BETH & The Black Cheers at Sally O Brien's - FB page
March 25 (Saturday) Boston Underground Summit 9! brought to you by Boston Hassle - 9 bands will set up round-robin-style in two rooms, 3 stages and take turns playing a song. When the cycle is complete, the loop repeats again...and again... and again. UNTIL THE SHOW ENDS! Here's the bands Pink Navel, Sidney Gish, Ozlo, Boston Cream (ex Barbazons) Kármán Voh, Mint Green, Solei, Divided Self (Worcester) and Kiss Concert. Its at The Elks Lodge on Bishop Allen Drive Here's the FB page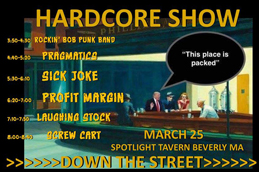 March 25 (Saturday) Rockin' Bob Punk Band, Pragmatics, Sick Joke, Laughing Stock, Piss Dogs, and Screw Cart are all at The Spotlight Tavern in Beverly MA 3:30pm show/$10
March 26 (Sunday) Ruby Rose Fox is at Atwood's
March 27 (Monday) Jay Allen's Mess Around moves to Taco Mondays at Once with Jay Allen, Tom Baker, Justine Covault, Chrissie Vaccaro And Special Guests...FB Page Starts at 7:30
March 31 (Friday) Classic Ruins and Randy Black and the Heathcroppers are at The Tavern At The End of The World
April 1 (Saturday) State of the Union, The New Frustrations, The Stigmatics and The Only Things doing a GREAT early show (4-8PM) and its ALL AGES at the Midway (FB page)
April 1 (Saturday) The Upper Crust, Sidewalk Driver and When Particles Collide as part of the ArtsEmerson Black Box series at Emerson/Paramount Center, Jackie Liebergott Black Box Theatre - 559 Washington St Boston (Link)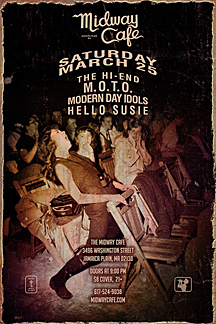 April 2 (Sunday) Six Organs Of Admittance and Minibeast are at Great Scott
April 8 (Saturday) The Kurt Baker Combo, Soraia, Watts and The Connection at O'Brien's Here's the FB page
April 13 (Thursday) The Rumjacks, Jason Bennett and the Resistance, Michael Kane & The Morning Afters and The Runouts
April 13 (Thursday) Modern English are at The Brighton Music Hall
April 15 (Saturday) The Last Ones are at The Midway with Tsunami of Sound,Trusty Sidekick and Sammy Kay (a PM show)
April 17 (Monday) Terry Malts, Shark Toys with Idiot Genes and Bad Deals at O'Brien's Pub
April 22 (Saturday) Electric Frankenstein, Symbol Six, Hey Zeus and Duck & Cover at O'Brien's Pub
April 22 (Saturday) The Last Ones, Tiger Bomb and Corolla deVille at The Spotlight Tavern in Beverly
April 29 (Saturday) A special evening of performances at The Met by Throwing Muses, Neutral Nation, and Plan 9, and their inductions into the Rhode Island Music Hall of Fame! Tickets are scheduled to go on sale on February 27!!! For unveiling ceremony and rock inductions day #2 check out the FB page!!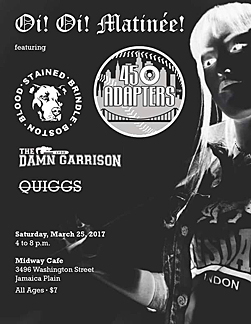 May 4 (Thursday) Walter Sickert & the Army of Toys, Scarlet Sails, Radiator King at Once
May 3 (Friday) Oh the Humanity, The Run Outs, Electric Octopus and the Port City Saints are at Cantab's Club Bohemia
May 8 (Monday) Indonesian Junk who have just released a digital single "Turn to Stone" on Rumbar Records are at O'Brien's. HearTurn to Stone here.
And buy more Indo Junk at Rumbar Records, as Malibu Lou says "We are carrying slabs of the wax version too!!"
May 12 (Friday) Mike Watt (Minutemen) and Meat Puppets are at the Brighton Music Hall Here's the FB page


May 12 (Friday) Rockin' Bob Punk Band w/ Special Guests TBA at O'Brien's
May 12 (Friday) A Crash Course For the Ravers has Glider on - WMFO 95.1 1-4PM
May 26 (Friday) Corin Ashley and Modern Day Idols are at The Plough
May 27 (Saturday) The Cal Cali show that had The Shadows of Knight at ONCE Ballroom has been changed to now have all local bands: Lyres, The Black Souls, Classic Ruins and CalCaliBand You can buy tix here (Only ten bucks!!) FB page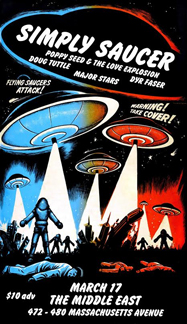 May 27 (Saturday) The Runouts, The Martians, Blame Shifters, Nymphidels at The Midway this is an afternoon show - 4-8PM
May 29 (Monday) Teenage Bubblegums, Jagger Holly, Mongorellis, Jimmy Jacked at Opus Underground in Salem (FB page)
June 1 & 2 (Thurs & Fri) Reverend Horton Heat at Once in Somerville
June 17 (Saturday) Held Hostage, Point Blank, Infernal Diatribe, Profit Margin at Koto in Salem (FB Page)
June 17 (Saturday) Help Save Out of the Blue Gallery Too - this will be an all day affair (3PM-11PM) with LOADS of bands including: Brian Young -wmfo as Emcee plus Thalia Zedek, Fireking, Randy Black, The Knock Ups, Tsunami of Sound, The Stigmatics, State of the Union, Cal Cali Rockin' Trio, The Last Ones, The KENZ (Highland & Kaiser), The Thigh Scrapers and Club Linehan A Go Go ~ 50th Birthday Party for Joe Quinn. Check out the FB page
September 16 (Saturday) Chameleons VOX At the Middle East
CONTACT US AT....misslynbgn@yahoo.com -Send us your gig listings, your news and anything else ya got!! You want your CD reviewed?? Contact us for that too.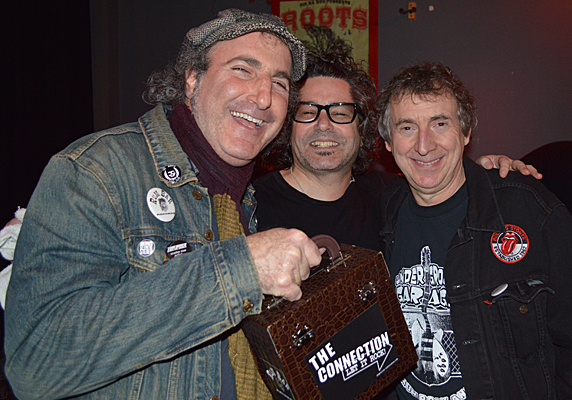 Lou Mansdorf, Tom Baker and Dan
Photo: Blowfish
Death by Unga Bunga
Photo: Blowfish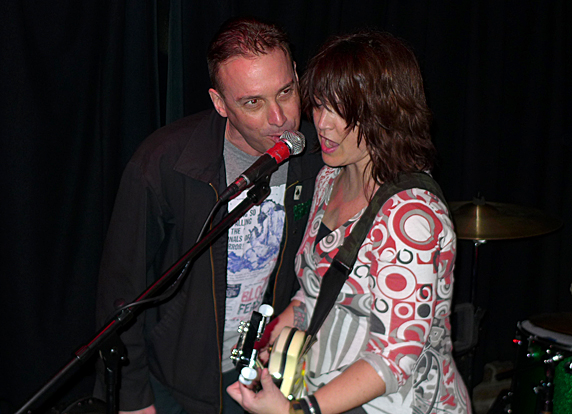 Chris and Jen
Photo: Blowfish