The BGN News Archive
February 28, 2011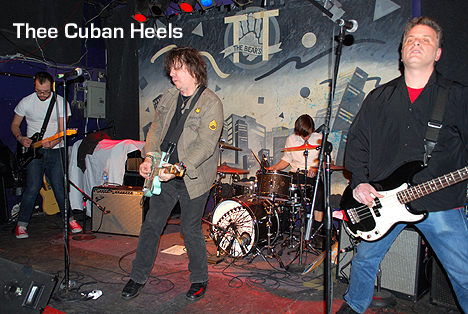 First off I wanted to mention that we now offer an RSS Feed for our news and JJ's Razz Rants so scroll down to the bottom of this news and click on the button to add yr own self to the list......
And....we went to check out to TT's to see JJ and Thee Cuban Heels, Andrea Gillis and Jesse Malin on Friday night...

We were drawn to TT the Bears like moths to the flame. Our new fave was playing - JJ Rasssler and Thee Cuban Heels. Since we knew JJ from DMZ and The Downbeat 5 we were knocked out when we first saw the Heels. Rather than a straight ahead punky thing we heard something that was hard to peg and we know how to peg. Now we know that there is a lot more to these guys. The influences are far flung: Tex-Mex, C+W, Mersey rock, R and B, and basically all eras of rock. The result takes you places you don't normally go.
Like tonight they play what sounds like Night Time by the Strangeloves but start singing Tell Me by the Exciters but then they DO start singing Night Time. They play Sorrow by the Mersybeats with a sitar sort of opening. They go back and cherry pick Suspicion by Terry Stafford an early Elvis sound alike. They play instrumentals that sound like Booker T and the MG's but they are originals. There were guest vocals by Niki Fleury who is a guitarist for Furiosity and we want to see and hear more of her. Fun and you come away with a lot to think about musically when the Heels play.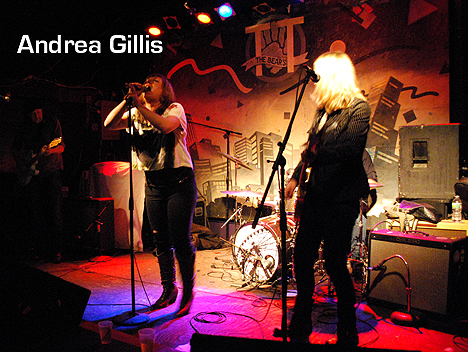 Next up was Andrea Gillis a person whose voice is so amazing you have to call them PIPES.I don't know why but I have to say she has great PIPES. It's hard not to just be bowled over. Right from the get go the voice just makes you stop and listen. The first song was a nice and fast rock ditty but then she widens her styles. She covers Jump into the Fire by Nilsson. Then she takes on a song she said was done by Mahalia Jackson and that was a tour de force. The songs builds and then settles into a repeated refrain, this is gospel territory. Its stuff that takes your breath away and used in revival meetings converts people for god's sake. Wow, and you know she does this every gig.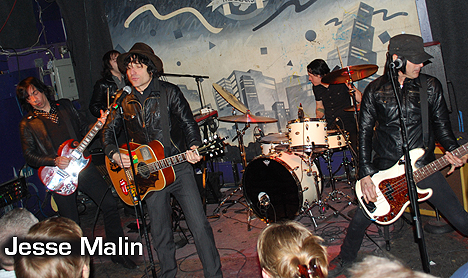 I'm not an expert in Jesse Malin. I did enjoy him in Degenerate but didn't connect with his solo career. Tonight he was going to perform the entire"Fine Art Of Self Destruction" album. I was won over. The songs were good and the performance was top notch. The band could play hard or soft and the backup vocals were perfect. They weren't just playing the notes, the songs had real feeling in them that raised them above the average playing. Jesse's fans were there and singing some of the lyrics along with him. We have seen several of these shows where the band plays one album all the way through and they have universally been good.
Another great night in Clubland. We love doing this.
Also...big news...Right Turn has added a SECOND Del Fuegos show at The Paradise this one is on June 24th and has the Lyres as well...wow that's gonna be an awesome night....so buy yr tix now baby!..
But ya know until then......there's a very cool photo show in JP this Thursday March 3rd 7-10 PM at The Aviary Gallery. It's called Sound on Sight, Photography of Boston Rock and it features photos taken by 18 local musicians included our very own Richie Parson of Unnatural Axe, Chris Brokaw of Come, and Roger Miller of Mission of Burma. Milo Jones will be playing starting at 9PM.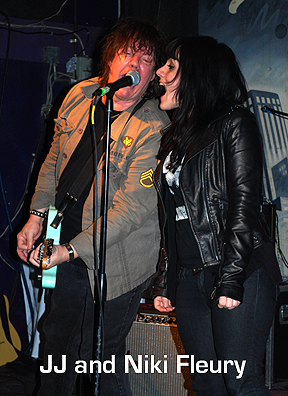 Watts and The Figgs and the Corin Ashley Band at Precinct this Friday March 4th...
and Saturday the 5th is a totally insane punk metal show at The Midway....starts at 5PM...its gonna be a loooong night and a wild one with Pyscho, Castevet, Ipsissimus, Hirudine, Rampant Decay, Suffering Bastard, Blood of the Gods, Livver, Intheshit, Scaphism ,Deathgod Messiah...whew!!
Also this Saturday John Funkeis doing a Souleluhjah! Night of DJing at Zuzu in Central Sq, that's at 11PM
And they have Thursdays going good over at The Rosebud that's for sure…Thursday March 10 is Jordan Valentine & The Sunday Saints, Muck & The Mires and Jenny Dee & The Deliquents.....excellent!!
Friday March 11th is a special psychobilly night with Sasquatch and the Sick-A-Billys and Wicked Whiskey at The Midway
Saturday March 12th there's a double CD Release party over at O'Brien's for both Buried In Leather and The Tenafly Vipers also on the bill is Institutionalized .....and at Middle East upstairs there's a cool show too (on the 12th) with The Alrighters, Razors in the Night, Cradle To The Grave and Full Body Anchor
The Marky Mayhem Benefit is coming up on Sunday March 13th at The Midway in JP .....help a guy out and go....on the bill: Hixx, 5 Point and The Welsh Boys to name some of the bands...
Thursday, March 17th, hey isn't that St. Patty's Day?? Anyway there's a cool punk show over at Church with Continental, Beantown Boozehounds and others....at Precinct for this very special day in Boston ....well that'd be Somerville if you go....Kier Byrnes presents The New England Americana All Stars, Comanchero and Three Day Threshold......and in the world called Allston there's a punk/folk/hoedown event at O'Brien's with Larry And His Flask and Greenland Is Melting and because it is St Patty's day there just isn't enough room for all the people that want to get drunk so there are TWO shows, one at 6:30 and one at 9PM.
Friday March 18th no more green beer unless you really want it but there's also The Rudds, Downbeat 5, Watts and the Irreverands at the Rosebud.....and At Church there's Jason Bennet & The Resistance, Swaggerin' Growlers and the Larkin Brigade....
Saturday the 19th should be fun at The Plough with Sourpuss and Peter O'Halloran & The Hired Hands.....
And Wow Thursday March 24th also over at Church is A.C. if ya know what we mean, Psycho, Scummy Men and The Nose Jobs...
Now February flew by so quickly it'll be April afore ya know it and Here's a sweet bill to look forwards to..... The Nervous Eaters, Lyres, and Robin Lane and the Chartbusters at the Royale on Saturday, April 16. Last time the Eaters played at the Beachcomber in Quincy they were in ripping top form.
It was a big surprise when one of Dave Morrison's poems from CLUBLAND was picked by Garrison Keillor to be read on THE WRITERS ALMANAC - LINK but then he read another one!! Now if Keillor can appreciate this book so can you. This book is made for people like us. Check out our reviews and think about taking in these poems that capture the tenor and feelings of the rock and roll life via our scene.
Ken Scales is posting on Facebook that he almost has two new songs from Adventure Set ready to be released.
John Powhida International Airport has a digital album posted. It's called John Powhida Cut Way Down.
Hey keep in touch huh?? click click click