The BGN News Archive
March 2, 2015
SNOW!!!!!!!!!!!!! when will it stop huh? well Boston keeps on keepin' on with great music out there.....
So here's some stuff we're hearing....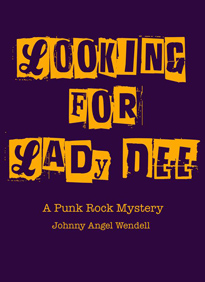 Boston's own Johnny Angel (Wendell) has published a new book!! it's a mystery novel set in the Boston Music Scene from the time we love back in the days of the Rat. "Looking For Lady Dee is a one of a kind story paralleling the career of a second wave punk band (Thrills) with the disappearance of one of its fans. The story of the late 70's/early 80's popular music scene is the backdrop. Author Johnny Angel Wendell tells all with pinpoint accuracy and wicked detail. Lurid, vivid and relentless in its descriptions of rock music's unholy triumvirate (sex, drugs and the music itself) from an author that lived it and survived and his cohorts, many of whom did not." And you can get your very own copy here on CreateSpace!!!
And...if you haven't seen it yet make sure to check out Tony V's Facebook page TVOD. He's got lots of interesting stuff posted on his page and its becoming a pretty cool community space. He posts that it's "a new open page for friends and family to upload old pictures (mainly) and memories from the classic period of 1976 to 1986. While obviously this means pix from Spit, it could be from anything that relates to that incredible period of musical explosion." So my friends visit and join!
WBUR's website The Artery asks the question: Thalia Zedek Mightily Influences Boston Rock. How Come She Isn't Better Known? Damn good question, I've always wondered too! They have two videoed performances and some short text…but the question is spot on.
Andrew Szava-Kovats is still working on The Women Who Rocked Boston and he has a new trailer out...this one is with the amazing Jane Hudson!! Check it out here.
The last couple of years has seen the fast rise of Malibu Lou Mansdorf's Rum Bar Records. He's now given us all records by The Connection, Watts and Muck and The Mires....The folks at RatBoy '69 blog give us a good overview and an interview with Lou.
The Outlets are listed this Thursday at the Cantab....BUT it's not THE Outlets. Just a group that doesn't know about Boston Punk history evidently.
Meanwhile from Rick Harte - the Real Kids continue to record at Q Division! Looking forward to that release!
And here's a reminder that if you'd like to see a new Lyres album you should go to their Go Fund Me page and give 'em some dough maybe.
And we must sadly note the passing of the much loved Janice Tumonis. She passed away Feb 4 and there have been many many heartfelt remembrances written everywhere about her. RIP Janice! Here's a very good article from The Noise
And check out Kenne Highland At Large ..this week he travels to NYC to see Vanilla Fudge and Uriah Heep, yup he really did. The Yardbirds are playing there April 6th!!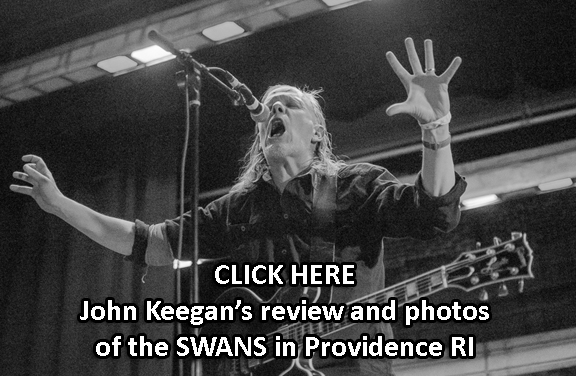 So here are some shows that are happening this week....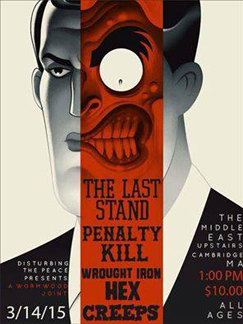 March 3 (Tuesday) The Four Point Restraints, Marianne Toilet and the Runs, The Knock Ups, and The Grubs are all at The Middle East Up.
March 6 (Friday) Endation, OTP, Left Hand Does, Ryan Jackson Troika are at at Cantab Down
March 6 (Friday) At The Midway there's My Own Worst Enemy, When Particles Collide, Preacher Roe and Full Body Anchor.
March 6 (Friday) Opus Underground and It's Gonna Get Weird continue to produce great shows up in Salem. Tonight is no exception: Whiskey Kill, Diablogato and The Red Pennys...a very good bill!!
March 7 (Saturday) A Crash Course for the Ravers on WMFO 91.5, 1-4PM has Heavy Neckers and Jay DiBiasio as guests this time around.
March 7 (Saturday) Moon Duo and Magic Shoppe are at Great Scott event page here
March 7 (Saturday) - NOTE:THIS BILL HAS CHANGED Sean Coleman and the Quazars have been replaced with ROY SLUDGE then the rest of the bill is Little Lesley and The Bloodshots and The Red Pennys
March 8 (Sunday) Mark your calendars! Gail Corcoran is putting on an all ages show at the Midway Cafe featuring... The Sheckies, The FUs, Jimmy Jacked, and Jagger Holly (members of the Hollywood Blondes and The Johnie 3!) And she's having a bake sale too!
And coming up after this week we have.......
March 9 (Monday) Cuisine en Local has it's Taco Night on Mondays and this one also includes sets by The Weistronauts and Tsunami of Sound.
March 13 (Friday) its a cool punkabilly show in Portland ME: at the Bayside Bowl they haveThe Outsiders (Cd release/13yr anniversary)
The Pubcrawlers (13yr Anniversary), El Grande, and DJPJ (33 years)
March 14 (Saturday)A Crash Course for the Ravers on WMFO 91.5, 1-4PM has the Knock Ups!!! Lissen in folks!!
March 14 (Saturday) The Dwarves are at the Middle East Up. This is an early show, doors are at 6PM!! It's also 18+ Also on the bill The Atomic Age
March 14 (Saturday) Terry Brenner is trying to give the Spotlight Tavern a go again...and he's doing it will almost the same bill as the ill fated show back in November 2014...Willie Alexander and The Boom Boom Band and The Nervous Eaters...sadly no Real Kids this time around but we do get to see The Knock Ups with John Surette. Here's the FB page And this is also when we're celebratin' Kim Ackland's birthday!!!
March 14 (Saturday) In town there's The Humanoids, Kilslug, Gaskill at The Midway...that should be a hell of an event!
March 19 (Thursday) The much loved '80s garage-pop-psych band The Prefab Messiahs has an EP (10", cassette, CD) coming out March 10 on Burger Records & KLYAM Records (split release). It'll be their first new sounds in 32 years! So they are having a record release party at The Middle East Upstairs - it's The Prefab Messiahs, The Fagettes, Magic Shoppe, and Fedavees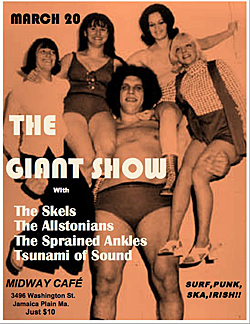 March 19 (Thursday) at Atwoods in Cambridge, MA. World-renowned rockabilly sensation Jittery Jack, along with Miss Amy Griffin on guitar, Johnny Sciascia - America's Bass Player , and Judd Williams on drums. Two big sets of top-notch rockabilly and rock 'n' roll on a thirsty Thursday evening ! WMFO's Easy Ed spins platters early, late, and on the break.
March 20 (Friday) at TT's - Join The Dogmatics, Jenny Dee & The Deelinquents, The Hired Men, GypsyMoths, and The Other Girls for a night of rock and roll to benefit Team MR8, running for The Martin W. Richard Foundation in the 2015 Boston Marathon. The Martin W. Richard Charitable Foundation honors Martin's message of "No more hurting people. Peace" by investing in education, athletics and community..
March 20 (Friday) The Skels, The Allstonians, The Sprained Ankles and Tsunami of Sound at The Midway. Surf, Punk, Ska, Irish what a combo but these bands are all connected in some way...come on down!!
March 21 (Saturday) A Crash Course for the Ravers WMFO 91.5FM, 1-4PM has the Welsh Boys as guests today.
March 21 (Saturday) it's a Big Thaw Spring Equinox Party with Muck & The Mires, The Dents, Watts and The Above at The Midway Cafe.
March 21 (Saturday) Lux Lives comes to Portland, ME at The Bayside Bowl with The Crimson Ghosts and Thee Icepicks and DJ's Kogar the Swinging Ape and Matt Little! It's all Cramps all night!!
March 23 (Monday) - The The Downbeat 5 are playing in Salem at Opus Underground along with The Skeleton Beats and Crimson Ghosts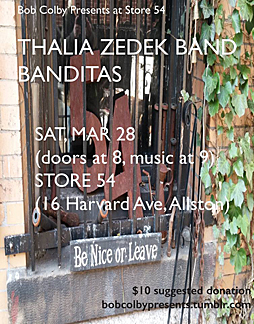 March 27 (Friday) Salad Days - The D.C. Punk Revolution is a film about the great punk scene that came out of DC from 1980-1990 is showing at the Somerville Theater.at 7:30PM Here's the FB page for more info and you can buy tix here
March 28 (Saturday) A Crash Course for the Ravers on WMFO 91.5, 1-4PM has MOTO. so tune in.
March 28 (Saturday) - Township is at the Midway.
March 28 (Saturday) Bob Colby presents Thalia Zedek Band and Banditas at Store 54. That's gona be a really nice night here! FB page
March 28 (Saturday) All ages early (4PM) show at The Spotlight Tavern in Beverly with The FUs , Los Bungalitos,
Oh the Humanity, 138 (a Misfits/Samhain/Danzig cover band) and RMW - Randy Mississippi Whiskey
March 29 (Sunday) Biohazard, Sworn Enemy and Tenebrae are at the Middle East down - note! this is an early show- doors are at 6PM.
April 1 (Wednesday) It's "Surf and Turf" at TT's for a night of instro/surf and rockabilly/rock and roll/honky tonk featuring The Skeleton Beats, Matt Heaton & the Electric Heaters, The Weisstronauts and Leah and her J-Walkers

April 1 (Wednesday) The all new Mars Records opens today in downtown Plymouth Ma Mars Man says "this will be the coolest and funkiest record store you have ever seen!! I'll be selling New and Used and Rare Collectable records as well as other music related goods. I will also be paying cash for unwanted vinyl records. This has been a LONG time coming and I plan to make something special for Plymouth and all of the south shore and beyond !" Here's a link to the store's FB page, like it to keep updated on what's happening! Road trip to the Cape!!! and while there dont forget the most awesome Atomic Dimestore run by Rick Paige in Hyannis!!
April 3 (Wednesday) Mars Records Grand Opening Party at The New World Tavern Plymouth with Kingsley Flood! and special guests Plymouth's own New Frustrations! 9pm no cover charge!
April 3 (Friday) -It's Party Time at TT's with Party Bois, Petty Morals, Parlour Bells and Gene Dante & The Future Starlets
April 3 (Friday) The Skeleton Beats The Knock Ups, Ladymob, Lucky United and Radio Compass are at Opus Underground in Salem. The Skeleton Beats will start recording an album...on vinyl....on March 27th at Galaxy Park Studios....and Lucky United's Jenn Lombardi has made up some fab buttons for this gig as well.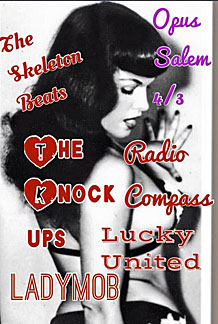 April 4 (Saturday) Cadillac Heart is doing a show at Club Bohemia at The Cantab. Also on the bill is James Straight and The Wide Stance, Billy Connors' nephew Cory's band Dr Fuzz and the Garage Boys
April 10 (Friday) Salad Days - The D.C. Punk Revolution is a film about the great punk scene that came out of DC from 1980-1990 is playing in Providence, RI at AS220 (115 Empire St) Here's the FB page for this event.
April 10 (Friday) and of course The Sonics are at The Brighton Music Hall along with Barrence Whitfield & The Savages, Muck And The Mires - NOTE!! early show, doors at 6 show starts at 7PM! Hmm, what to do afterwards???
April 11 (Saturday) A is for AWESOME 2: the punk version. This is a fund raiser for Autism research etc. The money raised from all four events during the weekend will be donated to The Trudeau Center Children's Rec Program and The Autism Project. Confirmed so far they have: Neutral Nation, The Frenzy of Tongs, The McGunks and Me Jane. At the Parlour in Providence RI. Check the FB page for updates!!
April 12 (Sunday) A is for AWESOME 2 : On this night they have: The Worried, Pyramid, Black Oil Incinerator, Atlantic Thrills The Neutrinos, The Evil Streaks and more to be announced soon. Check the FB page for updates on the bands etc...
April 19 (Sunday) It's The 5th Annual Hard Core Cotillion...with Gang Green, Antagonizers ATL, Drug Shock and "Special Guests" (who they'll announce after 3/17!) and Rockin Bob (Cenci) and The BarRoom Heroes. This is an All Ages 3PM afternoon show.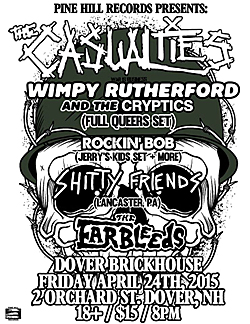 April 24 (Friday) The Upper Crust, The Grannies, White Dynomite and I Am Next are at Cuisine en Locale. You can buy tix for this killer show here.
April 24 (Friday) if you live near Dover, NH you're lucky coz there's a awesome show with NYC legends Thee Casualties and we luv us some Wimpy and you get Wimpy Rutherford & The Cryptics doing a Full Queers set - the Cryptics backing up NH legend and original Queers singer Wimpy Rutherford ...also, he should not have cut his hair,- Rockin' Bob which is Bob Cenci of Jerry's Kids and The FUs & friends playing Jerry's Kids material + more but you also get Shitty Friends we all have some of those right? these guys are from Lancaster, PA and also on the bill are Maine street punks The Earbleeds. its all happening at the Dover Brickhouse. See the FB page and be there.
April 25 (Saturday)- Bob Colby Presents Sarah Rabdau & Self-Employed Assassins and The Wrong Shapes at Store 54
May 9 (Saturday) Johnny and The Jumper Cables at the Midway Cafe!
May 14 (Thursday) John Cooper Clarke is performing at Berklee!! At the David Friend Recital Hall (921 Boylston Street) Click the link to read more about JCC and to buy tickets.
May 16 (Saturday) Hixx are at Club Bohemia at The Cantab
May 22 (Friday)- You have been warned - Book the flight now: Sleep Chamber!! Doing their only show in 34 years in Tel Aviv, Israel at UTC+02. Not only is this their first show in 34 years - its their LAST SHOW ever.
July 18 (Saturday) Mission of Burma opens for The Foo Fighters and the Mighty Mighty Bosstones at Fenway Park
and of course The New England Shake-Up! September 25,26,27 2015! Keep yourself updated at their FB page
CONTACT US AT…….misslynbgn @ yahoo.con Send us your gig listings, your news and anything else ya got!!