The BGN News Archive
March 3, 2014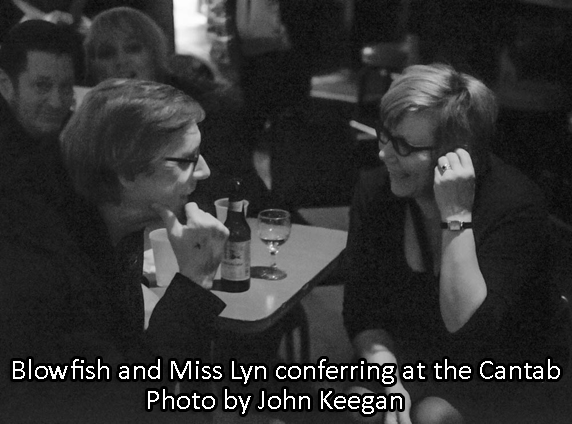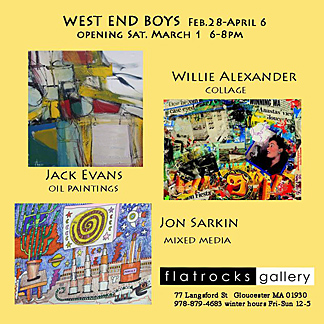 Good news folks....someone is going to reopen the club that was Radio!! Actually a trio of rockers; Frontmen Joe Chehade of the Life Electric and Dan Nicklin of OldJack, along with their manager Crystal Margolis, have taken steps to renovate and re-brand the club.Check it out here on the Boston Herald.com's The Edge. We don't know these three, or their bands, but sincerely hope some good shows get booked in there...and soon!
And we still bemoan the end of the Rosebud. Someone online who is a diner fan was in crisis mode as he saw the diner being gutted. If you follow through there is a photo of the insides gone. At some point the new eatery goes in and there is still talk of music...what type? They're saying it's going to be a 'roadhouse'?? We don't know. Further info ......
You know Randy Black is an amazing song writer...but did you know he's also a story writer?? Check out Randy's short story "Making the Weight", written under the name of Edwin Steckevicz, which has been published in The Kenyon Review and is a recommened Weekend Read on the site. Here a link. Congratulations Randy!
This is SO cool and really fanatical! - John Peel's Record Collectio...you can look at each album and get info about it! (Thanks to Eric Law for sending us the link!)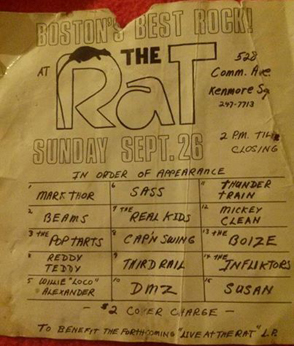 And speaking of fanatical...Blowfish is working on a new club listing for 1979...like the ones we already have for 1976, 1977 and 1978. And from the wayback machine comes a photo, from Reddy Teddy's Joe Marino, of a band line-up sheet from a benefit for the Live at The Rat record!! What an great day that was!! And wow- 2PM until closing and all for TWO DOLLARS!
The Let's Go To The Rat ebook is now available on Amazon. It has all the material of the movie plus some neat extras. It's got our Dammed interview which we must say is still outrageous...no modesty there. It has a piece written by Jim Ryan about the Hoodoo Barbeque that is an insider's look. It also has a reproduction of Bob Colby's first Frenzy Magazine. On top of that Carmen Monoxide has an article about Miscarrage Mag and a reproduction of one issue follows.
Here's some shows coming up
This very Monday March 3rd...Gail C. and Babysitting Calamity Booking present Pop Punk Madness and Bake Sale at the Middle East with The Sheckies, The Pity Whores, Jimmy Jacked, The Labor Pains....not only is it a great bill but Gail C will be having one of her fabulous bake sales so arrive hungry, see a great show and leave with a wicked sugar high!!
This Tuesday March 4th you have The Tossers, Continental, The Gobshites and BarRoom Heroes at The Middle East up.
WOW! Can't wait for this show Friday March 7 at The Midway: Punk Goes Acoustic with Glen Matlock and Sylvain Sylvain - and now its even better coz Jay Allen has been added to the roster! It's sold out and what a show it should be.
If ya can't make it over to the Midway..... Classic Ruins are at The Cantab with The Pandemics, Mars and Lady Pilot.
The Mary Lou Lord Benefit is this Saturday March 8th at the Midway Café. on the bill: My Own Worst Enemy (it's also Sue's birthday!), Kingdom of Love (featuring Linda Viens and Rich Lamphear) , Hilken Macini (acoustic), Love Love , So Sol (Latin/Americana), Matt Minigell (brilliant young singer/songwriter). At Mary Lou's request, the cover is only $5 so everyone who wants to help can afford to come.
But March 8th is a busy night coz there's also:
Richie Parsons' 10 Song Set performance at Store 54.
Cadillac Heart is at the Cantab along with The Brigands and Lucky 88s and
The Classic Ruins are up at In a Pig's Eye in Salem
and we have St Patrick's Day coming up so on the 15th you could do an all day St Patty's affair at The Midway...it starts out with
Swamp Patrick's Day Celebration - 4 to 8:30 PM with Everymen, Yankee Cockfight, The Radiator Rattlers and The Old Edison...
Then it's another DJ Easy Ed Show - Saturday March 15th - and this one's amazing!! With Sean Coleman coming back for a visit to Boston with Sean Coleman and The Quazars along with Leah and Her J-Walkers and The Bloodshots

Jonathan Richman is back to the Middle East Up on March 19, 20 & 21 with Tommy Larkin on drums.
Wow Friday March 21 there a mega OI!! Show at TT's with Yellow Stitches, Victory, Razors in the Night (who are great and are celebrating a record release this night) And The Warriors real Oi! Straight from London you know…(and named after one of my fave films!)
Saturday March 29 at The Midway you can get a double dose of Chris Brat plus these are some damned good bands - its The Old Edison (In case you missed them last week), The Warning Shots, The Black Cheers and Duck & Cover
Also on the 29th The Savtones are playing at Store 54.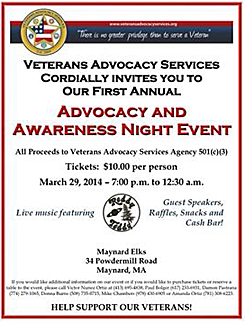 And the Feb.Saturday 15, 2014 fundraiser gig for Veterans Advocacy Services was canceled due to SNOW (ugh) and has been rescheduled to 3/29/2014 at the Maynard Elks from 7:00 PM to 12:30 AM and now they have nabbed Special guest Gary Soprano (Third Rail and Cadillac Heart) will be joining Reddy Teddy for this important event.
Jon Bernhardt is celebrating his 50th Birthday and 30 Year Anniversary on WMBR's Breakfast of Champions with a gig at the Middle East down on April 2 with Bevis Frond and Barbara Manning and Dump. Tickets are $20, to benefit WMBR and are available via TicketWeb.
Friday April 4th at The Regent Theater is the debut of Tim Jackson's film "When Things Go Wrong" which is all about Robin Lane there'll also be a Q&A with Tim and Robin and live performances from Robin, The Chartbusters, Barrence Whitfield, Ramona Silver, and others TBA . You can buy tix here Regent Theater site
Saturday April 5th there's a great show, one not to be missed realy!, at the Spotlight Tavern in Beverly with Two Saints, Greg Allen's Fringe Religion, The Low Babies and Mike Woo's Raging Bone.
The Saturday April 19th at The Cantab gig has changed...Bittersweets are out but instead you get The Darlings, The Funeral Barkers, FoxPass and Emily Grogan...
April 26th Barry & The Remains are at Johnny D's in Somerville....this Ain't a cheap show folks...$40 for tix and another $15 food minimum if you want guaranteed seating...but hey...you just can't keep a good fan down.....so go buy those tix here.
Franorama by Fran Fried is a podcast that had a show of interest to all fans of Barry and the Remains. It's three hours long and Fran knew the group back in the day. You get lots of info and perspective on the Remains career. Do not let this go by if you are a fan and who isn't? There is lots of talk of drummer Chip Damiani who just died. Franorama – 2-25-14 broadcast.
The Cavestomp (Boston) Standells and Lyres at The Brighton Music Hall on Monday May 5th.... You can buy tix here
Thursday, May 22 at The Middle East Up......... The Woggles with Muck and the Mires, Lyres - whoa what a show!!!!
EMAIL US AT.......misslynbgn@yahoo.com