The BGN News Archive
March 4, 2019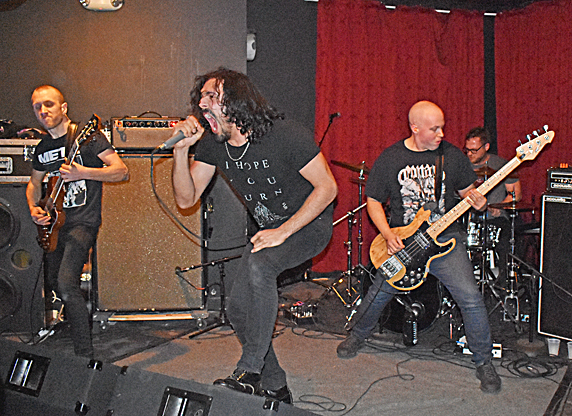 Lesser Glow
Photo: Blowfish
---
On Monday there was a surprise birthday party for Tony Kaczynski at the Once Lounge. That is one comfortable room. There is a large enough space for the band and plenty of chairs and tables of different sorts and still enough room to walk around and schmooze.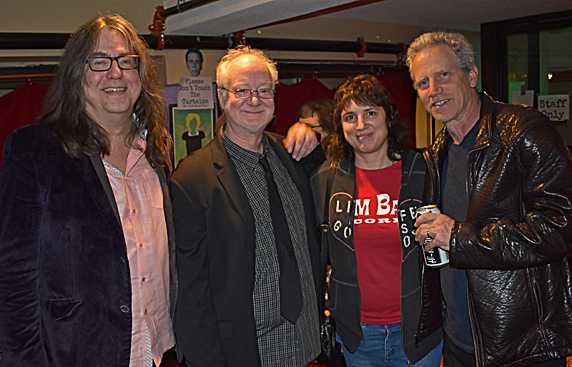 Tony Kacznski, Chris Ewen, Linda Shore and Skybar
Photo: Blowfish
Tony has been ubiquitous since he resurfaced to the Boston rock scene with Fireking a few years ago. We've all been dazzled with his versatility and musical knowledge. The lounge was full up with well-wishers. A perfect evening in its way.
Searching for the rock we headed to O'Brien's on Thursday. We caught two bands.
The first Twin Drugs was from Richmond, Virginia. They were a trio with an alternative sound comprised of pop, punk, dream pop and art rock. Over the course of the set we become more and more enamored of their sound.
Twin Drug
Photo: Blowfish
The guitarist had a bank of pedals at his feet. They turned out to be the main element of the group. He wasn't only putting effects on the guitar but triggering samples. Those samples were often buried only to surface and surprise at odd moments. They would go for the length of a chorus and once were high voices which was really wild. We only hear guitarists with pedal effects every concert but even still this was notable. There were times when the guitar howled like wind, or had a breathy sound. There were all sorts of distorted tones. Most of it heavily echoed.
The rhythm section tended to play sparse and was very effective that way. There was one song that was very slow and low volume where that sparseness put the guitar sound in relief and that was a choice moment.
By the end of the set we were total fans. The bummer is that the recorded tracks on their Bandcamp page don't bring it home like the live set did. "Hi Pressure" has some of the effect maybe.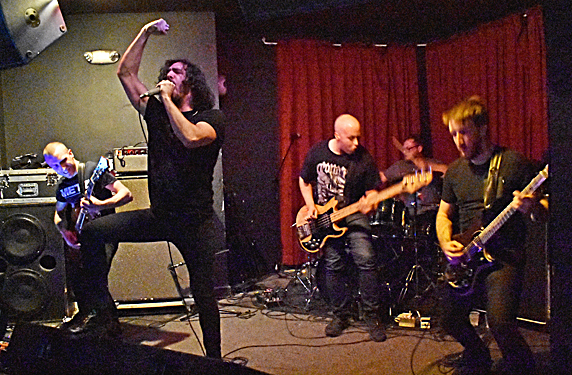 Lesser Glow
Photo: Blowfish
Next was Lesser Glow which were metal/hardcore/doom. Not our favorite sort of thing but this group was pretty much undeniable. We think they said that the singer was new and the online photos of the group don't show him, but he was one of the best of this sort we've ever seen. Up close at O'Brien's you could see and hear the way he transformed his voice during a song. He went from throat singing, yelling, garbling to a high clear voice. It was an impressive performance.
Meanwhile the group was head banging their way through some pulverizing metal/hardcore. They were totally into it as they often turned to each other as if they were communicating via the head banging. They seemed almost too good to be in such a small club on a Thursday, but that's to our advantage we guess.
The Lesser Glow Bandcamp page.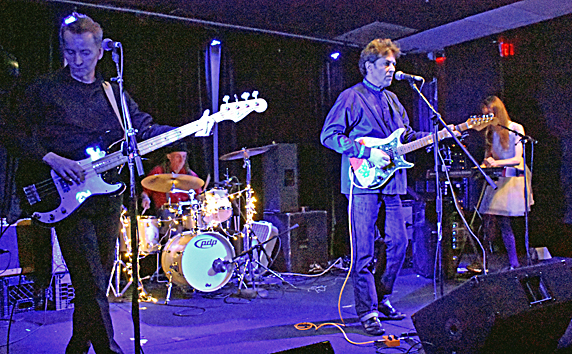 The Monechrome Set
Photo: Blowfish
On Friday we took in the Monochrome Set at Once. They only filled half the club compared to the Gang of Four last week. Comparing the two groups makes a point. Gang of Four are aggressive agit prop the Monochrome Set are laid back with no agenda but both are labeled 'post punk'. There are so many bands under that umbrella of post punk and that's pretty cool. It shows that punk unleashed a torrent of creativity. You could feel it still in the Monochrome Set.
When they took the stage it was eye opening to see the bearded keyboard player in a white lacey dress but that just seemed to be what it was and no biggie. PHOTO The music had its arty side but always was tuneful. As the set went on you could see that they had Middle Eastern, Spanish, surf and music hall influences. They gave flavor to what sounded mostly like a good 60s garage band at the base. That seemed to be the point: to take that garage sound and take it to some other place. That's the post punk spirit. When they were at their most rocking they sounded most garage and those were our favorite songs but every song was interesting.
The lead singer looking clean cut in his Nehru style shirt, had a very dry English humor that made every between song chat something to look forward to. You had to fall in love with this band.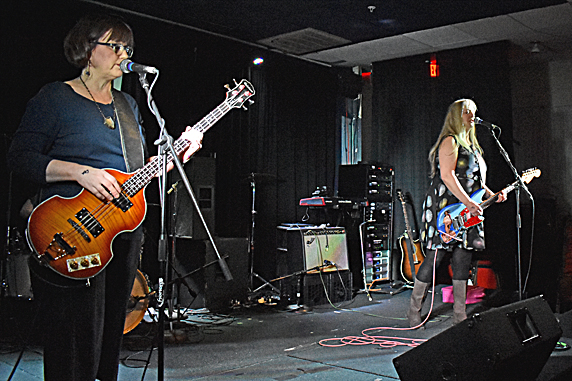 The Very
Photo: Blowfish
The set before was by The Very. They are a direct continuation of that post punk spirit. It's so great to see that, and that's why we are still doing the BGN after all these years too, punk continues on.
The Very started with an acoustic guitar for a few songs but we liked it best when they picked up the electric. They have that song that always gets a snicker, "I Only Love You When I'm Drunk". How did the country and western writers not get to that first? Another fave was a song called "Steve Jobs". That's a song that we would have put on a cart at the Late Risers Club back in the day and play to death.
The Very's Bandcamp page. A representative song would be "Perfumed Apocalypse"
Guitarist Julie also had Botticelli's Birth of Venus painted on her guitar. Cool PHOTO
We missed the Milling Gowns but those two groups brought back the old punk feeling for us.
More band photos below the show listings.
---
And in other news.....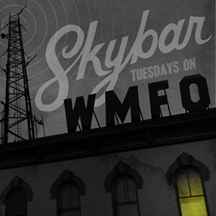 Ryan Major of Red Invasion fame (currently with Love Strangers) coming to Skybar's Rising show on Tuesday the 5th at 8 pm. Ryan has been very active on the scene in the years after Red Invasion's demise. We want to hear what this creative guy has to say.
Brian Coleman author of Buy Me, Boston keeps things rolling with another video night. This time at the Coolidge Corner Theatre (Moviehouse 2, upstairs) Thursday, April 11, 7 pm. This will be 90 minutes of things that will whip your head back to an earlier time in Boston cultural history where things were simpler but the hairdos are completely whack.
The 2019 Rock and Roll Rumble is going to be at Once starting on April 4 and ending on April 26. The first official Rumble was 1979, that makes this the 40th year! The Rumble is good for the bands. It makes many bands up their game in pursuit of winning and brings in new fans in the process (and they get prizes). We like it because it makes us pay attention to some bands we might only know by name. When a band wins the Rumble and you never saw them then you know its way past time to seek them out and see them live.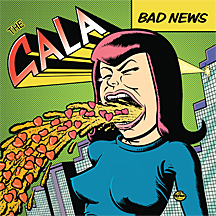 The Gala have been on a nonstop tear for months. They gig, they record, they hit every radio station and they cover all of social media. Right now they've released a new album called Bad News They have a video of the first song, "Boy", from the album.
We immediately latched on to "Oh Abby" and we put that on our Top Ten Songs. It's a speedy two minutes and has all The Gala magic in it. They had 200 'puke' artwork CD's. They are totally gross and totally sold out!
Another band keeping busy is 1.4.5. We told you about their video last week. Now they've released this track of "She Couldn't Say No". It's one of the songs we love to hear them do live.
Brad Marino of The Connection has released his whole solo album. The second single is called "Broken Record" and the lyrics hit home for us record collectors. That song is on our Top Ten List also. As we look forward to listening to the whole album we remind you (and ourselves) that Brad is playing Sally O'Brien's on Saturday April 13 with Stop Calling Me Frank. Our favorite keyboard player Kris Rodgers will be there too.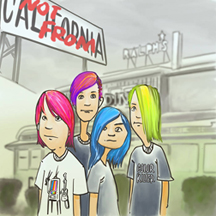 Another pop punk gem from Color Killer. In "California" they make the point that they are not from there! Get it?
They are from the place where:
"the people smell, they all love to scream and yell
....
And you, know you're there
You can taste it in the air
...
The tap water tastes like toxic waste
but it's safe to drink most of the time
....
and the winters will make you want to die"
Fun stuff and on Bandcamp now.
---
Here's a interesting interview with David J (bauhaus) on Please Kill Me ...
Here's some good shows coming up this week.....

March 5 (Tuesday) Rock & Roll Trivia w/ Erin & Brett at The Sinclair
March 7 (Tuesday) Nat Freedberg, Mill Pond Falls, Justine's Black Threads at The Lizard Lounge
March 9 (Saturday) Opening reception for the Phil N Phlash retrospective at the Midway Gallery (15 Channel Center Street Boston MA) 5-9PM FB page for more info
March 9 (Saturday) Crunchtime (Record Release!), State Of The Union, Billy Connors Project, Club Linehan for a Matiness (3PM) show at the Midway
March 9 (Saturday) The Gala, Muck and The Mires, The Evil Streaks, Baabes at O'Brien's - wow that is a GREAT line up!!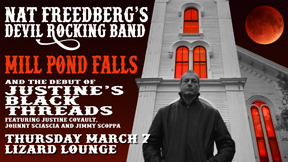 March 9 (Saturday) Thrust Club, Electric Street Queens, Weather Weapon, Fur Purse at The Midway 8PM doors music at 8:30.
March 9 (Saturday) Brother, Reveries, Foxtails, Hundreds of Au, Mangled at The Democracy Center Mt Auburn St Cambridge. FB page
March 10 (Sunday) Opening reception for the Magnus Johnstone show Larger Works and More at 3:30PM at the Nave Gallery somerville.
And further out we have.....
March 12 (Tuesday) Chandler Cross, KCUF, Jamie Payette of Loser's Circle, Dan Levy of In The Meantime at Tavern at the End of the World
March 15 (Friday) Dirty Truckers, modifierS, Melatonins at Sally O'Brien's
March 15 (Friday) Cactus Attack, Time and Place, Coffin Salesman, DNZL at O'Brien's
March 15 (Friday) Anthony Kaczynski, Eric Martin Band, Richie Parsons Band, Trophy Wives at McGann's Pub Portland St Boston.
March 15 (Friday) State of the Union, The Only Things, The Chelsea Curve at The Thirsty First Tavern, Lowell.
March 16 (Saturday) Sunken Ships, Neighborhood Shit, New Hell, Psychic Weight for a 3-7PM matinee show at the Midway
March 16 (Saturday) Today Junior, Dutch Tulips, Good Fiction, Salty Greyhound at O'Brien's
March 16 (Saturday) Justine & The Unclean @ 9, Crow Follow @10, Randy Black @ 11 - at Tavern at the End of the World. Crow Follow are shooting a video at this show.
March 16 (Saturday) Demon Seeds, Miss Fits, Thee Fightin' Fish, Scare City at Ralphs in Worcester
March 20 (Wednesday) Brian Young of WMFO and his band The Thigh Scrapers will be on the Heavy Leather Topless Dance Party Brian should LUV that!!!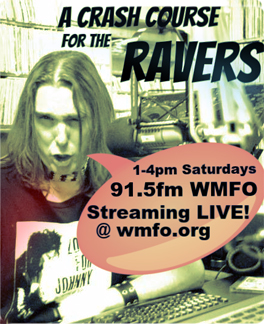 March 20 (Wednesday) Wine Lips, Zip-Tie Handcuffs, Baabes at O'Brien's Pub
March 21 (Thursday) Hood Rats, Andy California, Mongorellis, Sticker Shock at O'Brien's
March 21 (Thursday) Feed The Punks DJ Night at Jeannie Johnston Pub in JP with Mangled and DJ Sweets spinning records
March 22 (Friday) The Knock Ups, Modern Day Idols, Devil Love, The Daylilies at The Midway
March 22 (Friday) Rawstrum, Bad Larrys, Rolling Stony at Magnolia Pub Gloucester.
March 23 (Saturday)A Crash Course For The Ravers 1pm to 4pm at http://www.wmfo.org/popout_player.php?bitrate=256 and 91.5FM Medford. This week they have Thee Fightin' Fish in for a set!
March 23 (Saturday) TRiPLE THiCK, MOTO, The Hi-End, The Inebriations at The Midway for a 3-7PM matinee show
March 23 (Saturday) Carissa + The Cure-Alls, Justine & The Unclean, Tiger Bomb, RunHideFight at Sally O'Brien's
March 23 (Saturday) Tigerman Woah, Cactus Attack, Coffin Salesman, Nick The Barbarian at Opus Underground
March 23 (Saturday) The Gala, Sapling, Kid Gulliver, Mister Vertigo at Ralph's in Worcester.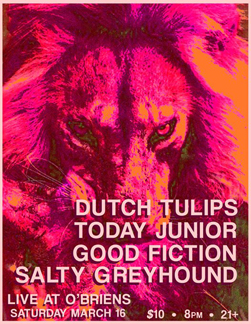 March 24 (Sunday) Classic Ruins, The Stigmatics, 1.4.5, The Thigh Scrapers 3-7 matinee at the Midway
March 29 (Friday) The Big Sway, Bad Larrys & Imaginary Animals at Sally O's
March 29 (Friday) Neighborhood Shit, Wake of Humanity, Sick Minds, Judgement, The Greying - O'Brien's
March 30 (Saturday) See This World, The Runouts, DNZL, WarGraves at the Midway for a 3-7PM matinee show
March 30 (Saturday) Bowery Boston presents The Devils Twins, Party Bois, Ned and the Dirt, Gray Bouchard & the Dedications at Great Scott
March 30 (Saturday) Electrolux, Thee Sonomatics, Black Souls Review, special guests The Plimsouls and its Kim's Rockin' Bday!!!! at Salyy O'Brien's
March 30 (Saturday) Scott Damgaard and Richard Mirsky and their respective bands at Club Bohemia at the Cantab
March 30 (Saturday) Intercourse, Bed Time Magic, Labor Hex, Pain Chain at The Worthen Attic (141 Worthen st, Lowell) 7:30-Midnight
March 30 (Saturday) When Particles Collide and Tiger Bomb at Bayside Bowl Portland ME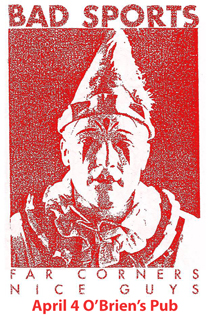 March 30 (Saturday) Il Mostro, z/28, Rockin' Bob Punk Band, Gasoline Virgins at Koto / Salem
March 31 (Saturday) The Radiator Rattlers, Diablogato, The Von Traps, Loser's Circle up in Haverhill, MA at RG's Pub 242 Winter St
April 1 (Monday) Gooch Palms, theband Vú, Louzy - at Sonia.
April 1 (Monday) Lenny Lashley, Mike Frazier (AF Records), the Old Edison at Charlie's Kitchen
April 5 (Friday) Together on Two, The Gala, Little Billy Lost, Kid Gulliver at Opus Salem
April 6 (Saturday) Roy Sludge Trio, Barley Hoppers, Easy Ed's Record Hop 3-7PM Matinee at The Midway.
April 6 (Saturday) The Inebriations, Bled Sabblin, GarageDogs, Gene Dante & TFS at The Midway.
April 6 (Saturday) When Particlas Collide and Petty Morals at The Plough.
April 7 (Sunday) Tørsö (CA), Low Vision (Japan), Laughing Stock, Crisis Actors at The Greek Club in Union Sq Somerville. 7:30PM
April 7 (Sunday) Punking Out Homelessness 3 homeless benefit with State Of The Union, The Brigands, Charlie Don't Surf, The Only Things at Opus Underground Salem. 2-8PM
April 10 (Wednesday) Slovenly Recordings presents: Tommy and The Commies, Les Lullies, and The Monsieurs plus DJ Pete Slovenly at The Midway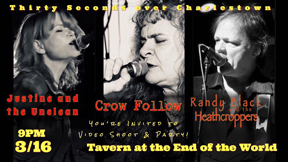 April 12 (Friday) Low Dose, Leopard Print Taser, Labor Hex at O'Brien's
April 13 (Saturday) Classic Ruins at Tavern at the End of the World
April 20 (Saturday) Junkyard, Derailer, The Hi-End, Demons Alley at Koto in Salem.
April 25 (Thursday) The Proletariat, Moving Targets, The Northern Skulls at Alchemy Provi RI
April 26 (Friday) Michael Kane And The Morning Afters, Cuidado, and Lenny Lashley at the Thirsty First Tavern Lowell.
April 27 (Saturday) The Proletariat and Moving Targets at Once
April 27 (Saturday) Nervous Eaters CD Release, Mr Airplane Man, Corolla DeVille at 9 Wallis Beverly.
May 3 (Friday) Barrence Whitfield & The Savages w/ Muck and the Mires at The Middle East
May 4 (Saturday) The McGunks, Silver Screams, Revilers, Damnation, Live Nude Girls at The Midway 3-7PM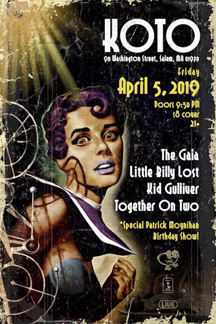 May 4 (Saturday) Carissa+Cure-Alls, Justine & The Unclean, Tiger Bomb, RunHideFight at Sally OBrien's
May 11 (Saturday) FUs, GLiDER, Classic Ruins, Screw.Cart at KOTO Salem
May 11 (Saturday) Cactus Attack, Diablogato, Jittery Jack & Amy Griffin at the Dover Brickhouse Dover NH
May 15 (Wednesday) Jon Snodgrass, Lenny Lashley, Micah Schnabel at O'Brien's Pub
May 17 (Friday) Parlour Bells, Gene Dante and The Future Starlets, and Smitt E. Smitty & The Feztones @ OPUS Underground in Salem,
May 20 (Saturday) Coffin Salesman, Molly Rhythm, Talk Me Off, Double Star at Charlie's Kitchen
May 24 (Friday) Lo Wreck's birthday with The Downhauls, The Dents, Duck & Cover and Skytigers at Sally O'Brien's
May 11 (Friday) FUs, GLiDER, Classic Ruins, Screw Cart at KOTO in Salem
July 9 (Tuesday) Some Kind Of Nightmare, Losers Circle, Nick Barbarian, And Live Nude Girls at Thirsty First Tavern Lowell.
CONTACT US AT....misslynbgn@yahoo.com Send us your gig listings, your news and anything else ya got!! You want your CD reviewed?? Contact us for that too.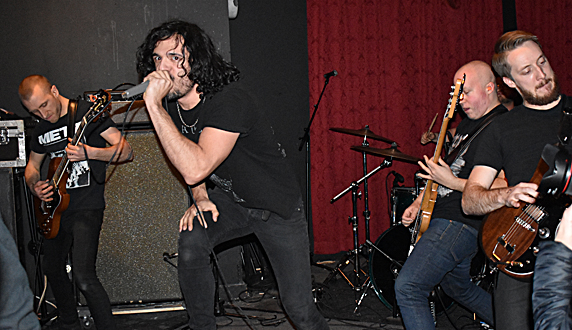 Lesser Glow
Photo: Blowfish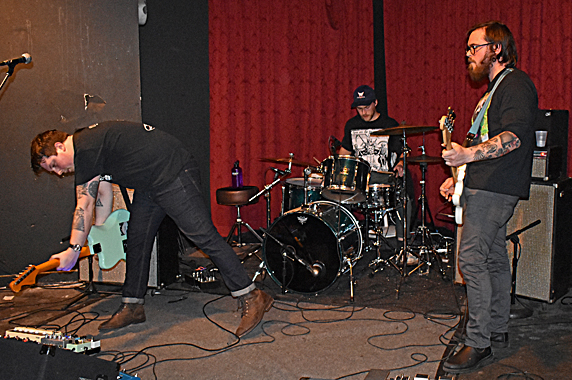 Twin Drug
Photo: Blowfish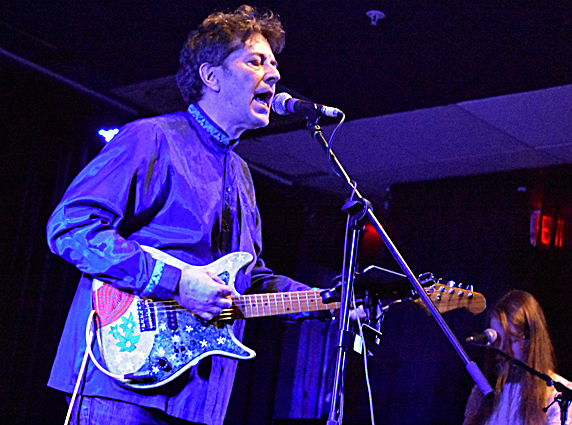 The Monochrome Set
Photo: Blowfish
The Monochrome Set
Photo: Blowfish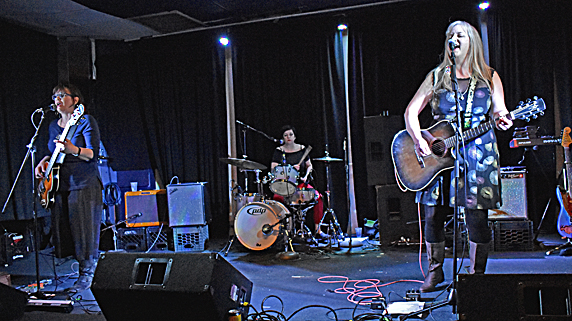 The Very
Photo: Blowfish