The BGN News Archive
March 11, 2013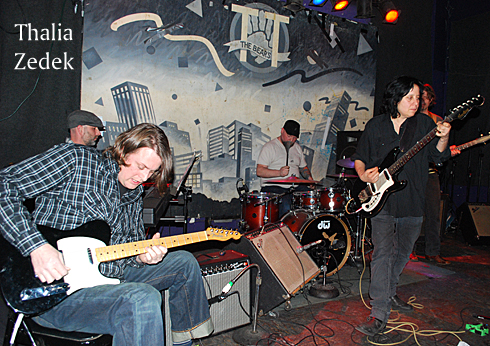 Blowfish reports on going to see Thalia Zedek at TT's this past week:
Thalia Zedek's month long residency is the best thing to happen to Monday's in a while. Along with Bob Colby's Second Thursday gigs the weekdays haven't been bad lately at all. Thalia has had an interesting career since we first heard her with Dangerous Birds in the early 80's. We thought she was great, asked for an interview but the group split before we got it done. Back then we would have never guessed her progression through Live Skull and Come. The power she instilled in those groups was revelatory. Then another transformation as a solo artist gave us Been Here and Gone. Again we listened and were amazed at her change in direction. Now, she was more song oriented and channeling her intensity into more traditional structures. A few more albums have followed that model.
When I heard Been Here and Gone at the time of release I marveled both at the CD as music and as an artistic statement by Zedek. I thought it was a courageous move that helped her as a musician and was a sign post others could find direction. So here we are at TT's as she plays all of Been Here and Gone. Time hasn't dulled any of this music. It all holds together as a statement and still generates the intensity it did on release. Thalia talked about the musicians but I have to say I didn't get the names and no one looked familiar to me outside of keyboard player Mel Lederman who is marvelous player. She talked as if there wasn't a lot of rehearsal but that's not how it came over. These were top quality players who listen to each other. They communicated together like a jazz group almost. They never stepped on each other rather adding layers to the sound, not orchestral but certainly an arranged feeling. This was not a tired rock group format.
The record starts with a Lenard Cohen song and that is a model she seems to have used. The lyrics come across as meaningful, no fluff here at all. Then she gets to 1926, a song by V, on Propeller Records. It's one of those out of left field creative genius singularities that soar above so all can marvel, (the original on YouTube ), another example would be Bridgeport Lathe. It's a perfect song for Thalia and was a highlight of the set as she intoned, "Your god hates me" over and over. That's an example of what she does so successfully, dealing with emotions and issues in an adult mind set. Rock and roll was born for teenagers and now people like Thalia are making it grow up.
Three more Mondays to go and the last one will be her new CD called Via.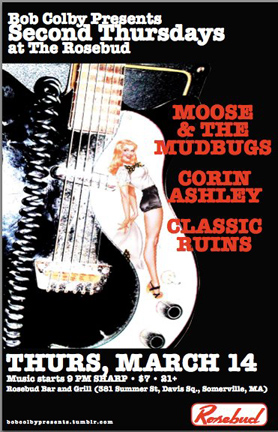 Gigs and other news: Hey folks this Thursday March 14th is Bob Colby's LAST show at the Rosebud.... This show has a great bill with the Classic Ruins, Corin Ashley and Moose and the Mudbugs ....Bob will move his Second Thursday shows to the Cantab beginning on June 13th! Come on out and bid a fond adieu to the wonderful Rosebud...so sad its closing!!
Saturday March 16th there's The Swaggerin' Growlers at the Middle East Up with The Old Edison, Threes Away (touring from Austin), OC45 and The Wolf Hongos
And the Weisstronauts are at Radio (down) on Saturday as well!
Three Day Threshold is at Precinct on the 16th
And Monday March 18th it's Jim Seery's 40th Birthday at Charlie's Kitchen!!! There's a load of bands playing including Triple Thick of course..and I am sure there'll be loads of beer drunk too! HaPPY BirtHDay Jim!
And of course Thalia Zedek, is doing a residency at TT's every Monday. Is doing her TT's Residency ...on Monday the 18th she shares the bill with Chris Brokaw!
Saturday 3/23 Walter Sickert and His Army of Broken Toys are at the Brighton Music Hall...always makes for an interesting night!
Monday the 25th is the last Thalia Zedek night at TT's...also on the bill are Brokeback and Pouf Pony. And you can pre-order it here: Thrill Jockey)
Friday March 29 has My Own Worst Enemy at Precinct with Mars and Tsunami of Sound.
Saturday March 30 we got electro music by some of Boston's best with Adventure Set (Ken Scales) , Workforce (Michael Abbot/James Straight), and DJ Ike at The Middle East Up.
Mark your calendars guys coz the big night's a comin': April 6th we celebrate JAY ALLEN'S 50TH BIRTHDAY!!! At Radio with 10 bands ...Of course the Archcriminals will play...also on the bill The Dogmatics, Muck & The Mires, The Bristols, The Dirty Truckers, The Other Girls, Underball and even Quest for Tuna......also on the bill is Petty Morals https://www.facebook.com/PettyMorals (this is their debut performance!)...a new band with former members of The Killer Abs and Tijuana Sweetheart…should be GOOD! Jay has also turned this occasion into a benefit for his two favorite charities so bring some dough!
Before you head out to Radio....spend some time in the afternoon listening to the Rick Harte Interview at 2PM (show starts at 1) on WMFO's (91.5) A Crash Course for Ravers. And April 12th is Mary Lou Lord performance and interview!!
The Middle East Up on Friday May 12th are The 360's, Classic Ruins and Terrible Beauty...time to get out the old calendar and mark it for that one too!
EMAIL US AT.......misslynbgn@yahoo.com