The BGN News Archive
March 11, 2019
---
Well, today we have learned that we have lost Asa Brebner. Asa has been such a huge part of our Boston music scene. From the Modern Lovers to Mickey Clean & The Mezz and Robin Lane and The Chartbusters and his own solo career and more Asa leaves a legacy of music that is deep and important.

Asa was a big part of my first days in the Boston scene. I went to the Rat every week for Mickey Clean & The Mezz and Asa was always friendly and welcoming. Through the years we were always happy to see each other, he'd always greet me with a kiss and a hug.

He had an air of mystery about him though ...his author father, his hitchhiking in South America including prison at 17!!! The Modern Lovers!! He was an impressive guy.

Now in later years we all were entertained by his eloquent and witty posts on Facebook about everything from fatherhood and the high jinx of his two beautiful boys to aging, politics and society and life in general.

Asa will be sorely missed...but in truth he had a rich and amazing life, it is just so wrong that it was gone like that...too soon.

Asa Brebner rest in peace.
---
We headed out Thursday to hear Graneros. We saw them at Great Scott's a year ago on the night we first saw The Gala. They had the same effect on us this time as they did that night – they knocked the winter blues right out of us. They don't do anything fancy but they dig in and whip up some heavy music with spirit and emotion.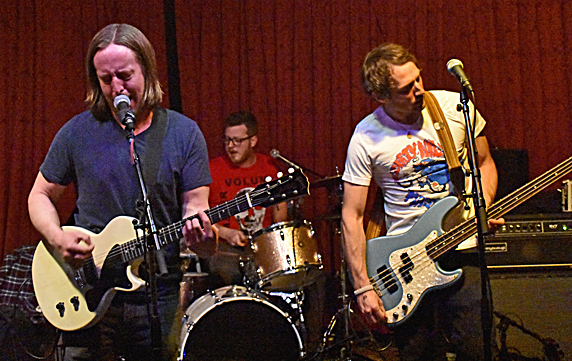 Graneros
Photo: Blowfish
The vocals are a big part. The singer Matt has a nice muscular voice that he can control. When he sings he can make the melody cut in and go where he wants. Doing it with feeling makes the material feel vital. We would have liked the vocals to be louder in the mix for that reason but it still was effective.
The chords are mostly basic so it's good the drums and bass know how to keep things moving. The bass player had many different ways to feed leading tones in the mix. He would play double time to give things a boost too. That set was just what we needed. Here's their Bandcamp Page.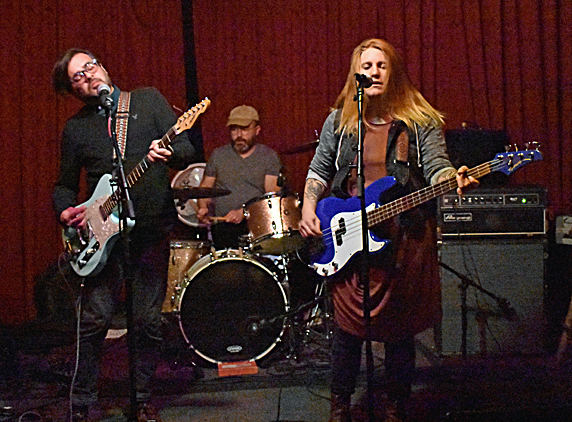 Witch Hair
Photo: Blowfish
Witch's Hair is from New Haven. They were in town to film a show with the Heavy Leather Topless Dance Party. Witch's Hair had power to spare but they also knew how to pace the set. One song started out with the guitarist softly finger picking but it soon ramped up as loud as you could want. It would go back to the finger picking now and then. The contrast was a nice twist.
We liked their last song that sounded like they were saying, "We're wired" (reminding us of the Fall's "Totally Wired") but might have been the chorus of their song "Somewhere High". They do the trick where they are loud and melodic at the same time. They are a find.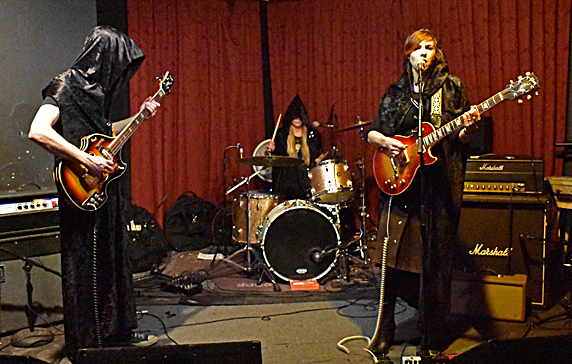 Jessica Rabbit Syndrome
Photo: Blowfish
Last up was Jessica Rabbit Syndrome. Right off the bat they had a look. It was witch-like, or mad monk style rather than goth. The dark O'Brien's stage was the perfect setting. Pete the guitarist for Death Pesos who we saw last week was filling in on bass. If you didn't know you wouldn't recognize him with his cowl on. The group sounded a lot like Black Sabbath at the beginning which went along with the look but they also did other things as they went along.
Lyrically they were focused on a feminist outlook. The first song sounded like they were singing about Bitchcraft. Their one cover was "Violet", a Hole song, and they ended with a song about Thelma and Louise. Musically it was basic but after the night was over it was that image of them on stage that stuck in the mind. Here's their webpage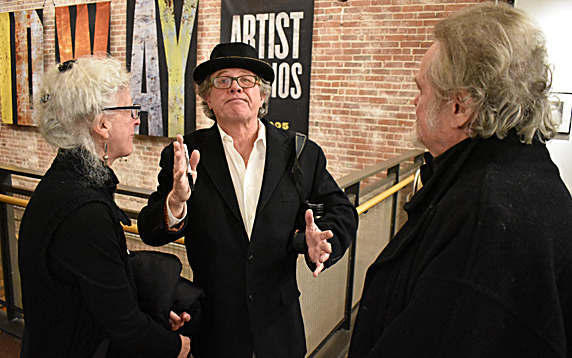 Miss Donna, Phil In Phlash and Mr. Curt
Photo: Blowfish
Saturday it was the much anticipated Phil In Phlash show at a Midway Studios off A Street in Fort Point. The space was filed with people taking in the photos and upfront there was an area to purchase prints - it was jammed the whole time we were there. Archivist David Bieber was going through each print for a long time not wanting to miss a thing.
Phil moved out of Boston a long time ago and is now based in Chicago but it's more than obvious that his reputation has only grown through the intervening years. His photos made an impression right from the beginning. He also stood out. He would have his camera hung mid-chest with his off the camera flash all wrapped in silver duct tape in his left hand. He was a guerilla style photographer all ready for the hardcore mosh pits even before they were a reality.
Phil In Phlash
Photo: Blowfish
The large amount of prints on display were a window into the good old days where Phil caught the action on stage, off stage and the people flying in the space between. What was obvious was Phil's debt to Weegee.
Phil took that scruff NYC's street photography style into the Boston music scene. That's what makes his photos different from everyone elses. The stark black and white photos have that bright flash exposure that not only illuminates the scene but exposes the character of the people. More than other photos of the era these seem to 'catch' the people and revel them, which made this an engrossing take in.
We also thought about how lucky we were to have Phil there. Through his talent the excitement of the scene has been revealed to so many people outside the Boston area and will continue to do so forever.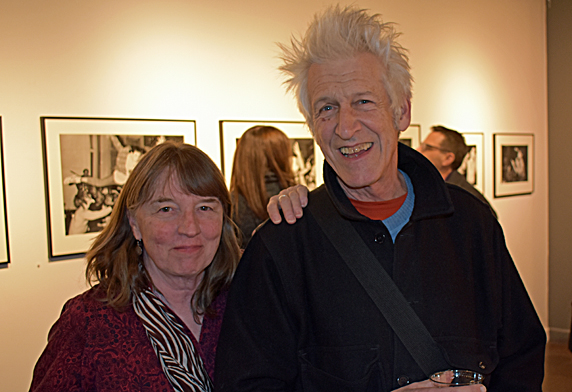 Kathy Chapman and Willie Loco
Photo: Blowfish
Then there were the people who showed up. Right off the bat we see Willie Loco. Willie is always playing in the Gloucester area. The last time was saw him in Boston was April of last year at the Third Life Studio in Union Square. Willie said he was surprised at himself that night that he was so chatty and revealed a few of his composing secrets. That was a special show for sure. The good news is that he's thinking of doing another one at the Lily Pad were they also have a nice piano.
Then there was Mr. Curt and Miss Donna who had come from the afternoon Midway gig. We wanted to hit that also but felt we would have to leave too early to get to the gallery opening. Joanie Lindstrom was there, which is required by law, and she got a shock when she found herself in a Bauhaus photo where she was right up front and plain as day. Beside her was, we think, Michele another scenster from back in the day.
There were many people we recognized in the photos. One was a group shot that included Mark Morrisroe who was making his mark as an artist before he died much too early. . He was captured at one of the 'punk fashion' shows that were a thing back then. You can tell by the wallpaper that it was taken at The Space.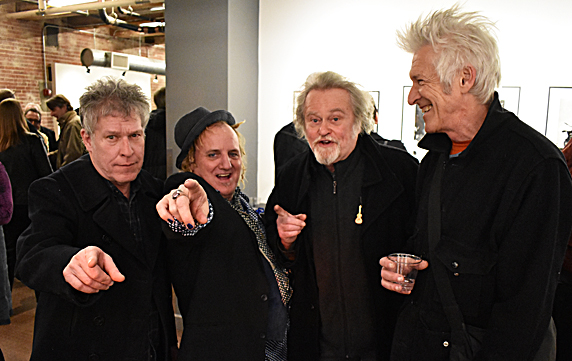 Frank Rowe, Springa, Mr. Curt and Willie
at the Phil In Phlash show
Photo: Blowfish
There was the much reproduced photo of the two Rat waitresses with one holding a baby. Another was of Tontileo. How did she look so glowing in all the photos taken of her? No trick, she was glowing all the time.
Kathy Chapman was there and she was on our minds when we saw this show. She has a large portfolio of photos too from her time at The Phoenix and many other publications. We asked when her show would be. She's thinking of it as well as the ongoing problem of where to archive the totality of original negatives and related material. One idea was to do a few photo books to get some of the material out there. That's a great and very doable idea. Others should be going that route.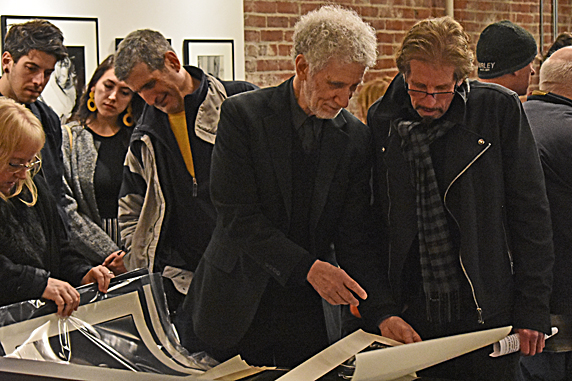 David Bieber checking out the prints
Photo: Blowfish
One who should do that would be Wayne Viens, who was there. He's overdue for some sort of presentation of his photos. He has a lot on the web but this show proved the benefit of a gallery presentation.
And you want instant party? Add Springa. There was no way that the bad boy brother of Phil wouldn't come and run the room. He interacted with everyone. Even when he's not onstage he's always the show.
Springa and Lester Miserables
Photo: Blowfish
Lester Miserables from the Billy Goons took in the show. He used to live in the Broad St area near Cantones and now lives on Summer St not far from where the show was. We took photos of him as a Billy Goon a few blocks from the Midway Studios in some abandoned railway cars. Those were the days when the A Street area was a forgotten and unused part of town. Lester also has a pile of photos that he's been going through from the era and wondering what to do with them.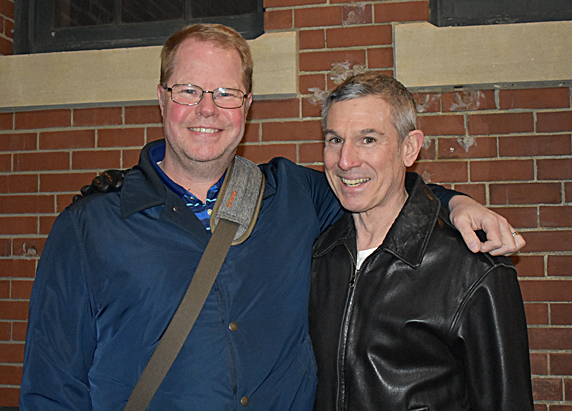 Brian Coleman and Mark Flynn
Photo: Blowfish
Fellow Billygoon Mark Flynn came from NYC to attend. He's also a panelist on the Magnus Johnstone show at the Nave Gallery in Somerville on Sunday. Brian Coleman of Buy Me Boston fame was with Mark. Brian is responsible for the Magnus shows. With Tom White also in attendance there were three Billygoons there! Where was Dr. Felix Kruel we wonder?
Gallery East owner Duane Lucia was there of course, he put this show together. He said he wanted to have a show for Phil for a long time. The first time he tried it jump started and changed into the All Ages movie. This time it worked out. We are grateful to him for that!!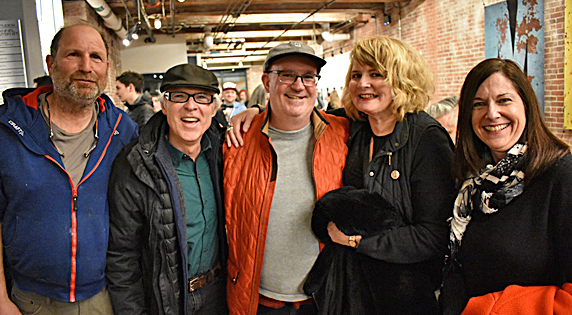 John Levy, Tom White, Bobby, Michele and Judy Friedman White
Photo: Blowfish
Also in the crowd, Michele Meadows and Larry, Ed Moose Savage, Arlene Boyer, Bill Jordan, Judy Wilburn, Fred Nazarro, Eric Martin, Jae Johnson, Torie, Janice Clougherty, Bob Cenci, Jim Sullivan, Greg and Deb Jamiol, Frank Rowe, Bob Voges, Rochelle Josephs, Linda Viens, James Ryan, Tony Savarino, and a load of others we missed.
This was a gathering of the tribe, everyone there had a long history in the scene. It's a bit of a boost to interact with those that have loved this life of punk like we do.
More band photos below the show listings.
This week we have a report from John Keegan who went to the Lizard Lounge and saw Justine's Black Threads, Mill Pond Falls, and Nat Freedberg's Devil Rocking Band. Many fine photos included. Click the photo below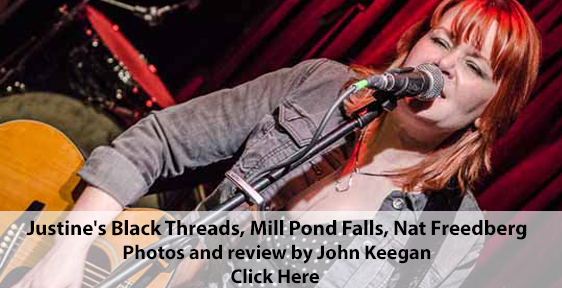 ---
And in other news.....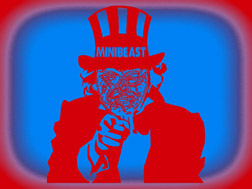 Peter Prescott's Minibeast began a Kickstarter page to fund their next release which is actually two LP or downloads. One of the enticements is a chance to have a drum lesson from the mind boggling phenon – Keith Seidel.
Peter's MOB bandmate Roger Miller also has a Kickstarter. Roger has an exciting project involving an installation in the Brattleboro VT museum. It's called Transmuting the Prosaic: Film, Conceptual Art, and Music. He will also be artist in residence there for three nights. There's a lot to this so check out Roger's Kickstarter page
Peace Bridge, a new solo album from John Havorka is up on Bandcamp.
Patti Smith is involved in a project with The Sound Collective. The Perfect Vision is a three-album project inspired by three French poets. Their first release "The New Revelations of Being" is a single from the first of those albums, The Peyote Dance. It's half spoken word and half sung. This first one is inspired by Antonin Artaud. The song and some explanation are here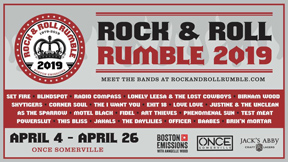 The Rumble line up has been announced. They include Justine and the Unclean which makes us excited right there. Art Thieves is in there too. That will be nice exposure for them. We saw them in October. They'll be a nice dose of punk for the fans, as will Brix'n Mortar. We saw them last at O'Brien's and they are ready to face any competition. And wait till they get a dose of Baabes!! Oh man, they'll have Johnny Brain Box flying all over the place. Watch out below, people! We've seen what they can do even at O'Brien's, when they have a stage like at Once – well, we can't imagine.
Looks like a good line up, including Test Meat and Powerslut and so many more. The Rumble runs from April 4- April 26.
The Voodoo Dolls, now there's a band that brings back memories. They played the garage music they worshipped with energy and dedication. Dave Harrison was a member of that band, and he now has something going on in Rochester, NY: The False Positives. They just put out a song that has some of those Voodoo vibes. It's a celebration of the rock he loves and checkmarks the Ramones and Iggy in the lyrics. Maybe we'll see them in Boston soon? Check it out on Reverb Nation.
---
Here's some good shows coming up this week.....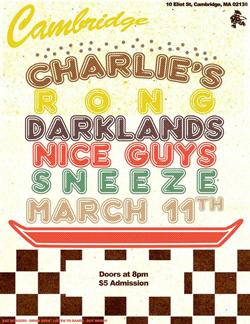 March 12 (Tuesday) Chandler Cross, KCUF, Jamie Payette of Loser's Circle, Dan Levy of In The Meantime at Tavern at the End of the World
March 15 (Friday) Dirty Truckers, modifierS, Melatonins at Sally O'Brien's
March 15 (Friday) Cactus Attack, Time and Place, Coffin Salesman, DNZL at O'Brien's
March 15 (Friday) Anthony Kaczynski, Eric Martin Band, Richie Parsons Band, Trophy Wives at McGann's Pub Portland St Boston.
March 15 (Friday) State of the Union, The Only Things, The Chelsea Curve at The Thirsty First Tavern, Lowell.
March 16 (Saturday) Sunken Ships, Neighborhood Shit, New Hell, Psychic Weight for a 3-7PM matinee show at the Midway
March 16 (Saturday) Today Junior, Dutch Tulips, Good Fiction, Salty Greyhound at O'Brien's
March 16 (Saturday) Justine & The Unclean (9), Crow Follow (10), Randy Black (11) - at Tavern at the End of the World. Crow Follow are shooting a video at this show.
March 16 (Saturday) Demon Seeds, Miss Fits, Thee Fightin' Fish, Scare City at Ralphs in Worcester
And further out we have.....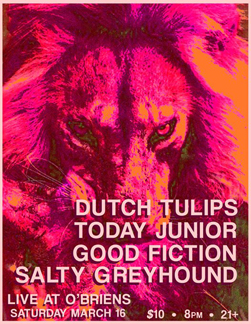 March 20 (Wednesday) Brian Young of WMFO and his band The Thigh Scrapers will be on the Heavy Leather Topless Dance Party Brian should LUV that!!!
March 20 (Wednesday) Wine Lips, Zip-Tie Handcuffs, Baabes at O'Brien's Pub
March 21 (Thursday) Hood Rats, Andy California, Mongorellis, Sticker Shock at O'Brien's
March 21 (Thursday) Feed The Punks DJ Night at Jeannie Johnston Pub in JP with Mangled and DJ Sweets spinning records
March 22 (Friday) The Knock Ups, Modern Day Idols, Devil Love, The Daylilies at The Midway
March 22 (Friday) Rawstrum, Bad Larrys, Rolling Stony at Magnolia Pub Gloucester.
March 23 (Saturday)A Crash Course For The Ravers 1pm to 4pm at http://www.wmfo.org/popout_player.php?bitrate=256 and 91.5FM Medford. This week they have Thee Fightin' Fish in for a set!
March 23 (Saturday) TRiPLE THiCK, MOTO, The Hi-End, The Inebriations at The Midway for a 3-7PM matinee show
March 23 (Saturday) Carissa + The Cure-Alls, Justine & The Unclean, Tiger Bomb, RunHideFight at Sally O'Brien's
March 23 (Saturday) Tigerman Woah, Cactus Attack, Coffin Salesman, Nick The Barbarian at Opus Underground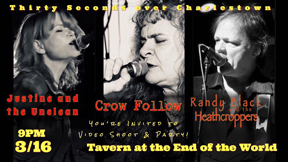 March 23 (Saturday) The Gala, Sapling, Kid Gulliver, Mister Vertigo at Ralph's in Worcester.
March 23 (Sat) & 24 (Sunday) New Zineland 2019 - SEEK + FIND Boston's 4th annual, NEW ZINELAND (zine fest)!! Explore two floors of 60+ smalls presses, distros, artists, writers, and photographers slinging their self-published works from comics to fanzines, artwork to autobiography, and everything in between. 12-5PM both days. Elks Lodge Bishop Allen Dr Cambridge. FB page for more info
March 24 (Sunday) Classic Ruins, The Stigmatics, 1.4.5, The Thigh Scrapers 3-7 matinee at the Midway
March 24 (Sunday) High Test Fest at Ralph's Rock Diner in Worcester with OC45, Michael Kane & the Morning Afters, Coffin Salesman, Bad Image, Deranged Youth - 2-8PM
March 27 (Wednesday) Baker & The Double Downs, Muck & The Mires, DJ Easy Ed at ONCE Lounge
March 29 (Friday) The Big Sway, Bad Larrys & Imaginary Animals at Sally O's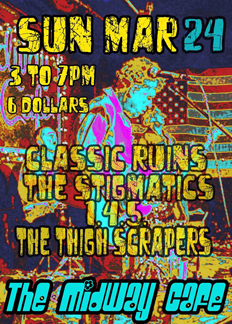 March 29 (Friday) Neighborhood Shit, Wake of Humanity, Sick Minds, Judgement, The Greying - O'Brien's
March 30 (Saturday) See This World, The Runouts, DNZL, WarGraves at the Midway for a 3-7PM matinee show
March 30 (Saturday) Bowery Boston presents The Devils Twins, Party Bois, Ned and the Dirt, Gray Bouchard & the Dedications at Great Scott
March 30 (Saturday) Electrolux, Thee Sonomatics, Black Souls Review, special guests The Plimsouls and its Kim's Rockin' Bday!!!! at Sally O'Brien's
March 30 (Saturday) Fireking, The Downhauls at Tavern at the End of the World.
March 30 (Saturday) Scott Damgaard and Richard Mirsky and their respective bands at Club Bohemia at the Cantab
March 30 (Saturday) Intercourse, Bed Time Magic, Labor Hex, Pain Chain at The Worthen Attic (141 Worthen st, Lowell) 7:30-Midnight
March 30 (Saturday) When Particles Collide and Tiger Bomb at Bayside Bowl Portland ME
March 30 (Saturday) Il Mostro, z/28, Rockin' Bob Punk Band, Gasoline Virgins at Koto / Salem
March 30 (Saturday) The Radiator Rattlers, Diablogato, The Von Traps, Loser's Circle up in Haverhill, MA at RG's Pub 242 Winter St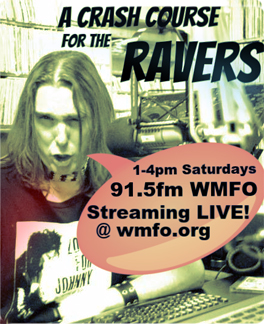 March 30 (Saturday) A Jumping Jack Flash, The Rat, Storyville, Mess-Around with Jerry Lehane and Peter O'Halloran from The Dogmatics joined by James Young, Dave Barton and his new band Blame The Whiskey, and Lee Harrington of The Neighborhoods along weith Tom Baker and Jay Allen. At The Plough 4-6PM
April 1 (Monday) Gooch Palms, theband Vú, Louzy - at Sonia.
April 1 (Monday) Lenny Lashley, Mike Frazier (AF Records), the Old Edison at Charlie's Kitchen
April 2 (Tuesday) Rock & Roll Trivia w/ Erin & Brett at the Sinclair 8-10:30PM
April 5 (Friday) Together on Two, The Gala, Little Billy Lost, Kid Gulliver at Opus Salem
April 6 (Saturday) Roy Sludge Trio, Barley Hoppers, Easy Ed's Record Hop 3-7PM Matinee at The Midway.
April 6 (Saturday) The Inebriations, Bled Sabblin, GarageDogs, Gene Dante & TFS at The Midway.
April 6 (Saturday) When Particlas Collide and Petty Morals at The Plough.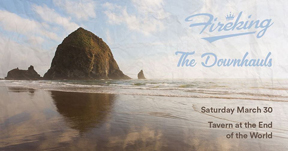 April 7 (Sunday) Tørsö (CA), Low Vision (Japan), Laughing Stock, Crisis Actors at The Greek Club in Union Sq Somerville. 7:30PM
April 7 (Sunday) Punking Out Homelessness 3 homeless benefit with State Of The Union, The Brigands, Charlie Don't Surf, The Only Things at Opus Underground Salem. 2-8PM
April 10 (Wednesday) Slovenly Recordings presents: Tommy and The Commies, Les Lullies, and The Monsieurs plus DJ Pete Slovenly at The Midway
April 12 (Friday) Low Dose, Leopard Print Taser, Labor Hex at O'Brien's
April 12 (Friday) Venom & Mayhem (Twin sisters from Flight Of Fire, ) unplugged doing originals & covers, Corolla DeVille, Doug MacDonald Band - at Tavern at the End of the World.
April 12 (Friday) Brad Marino Band Record Release Show! at the Button Factory Stage Portsmouth, NH. Also on the bill Kris Rodgers and The Dirty Gems - FB page.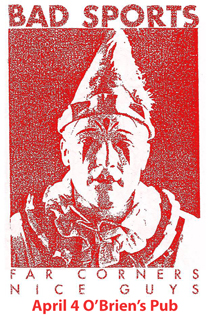 April 13 (Saturday) The FU's, Armpits, Citizens Against People, Crux Decussata at The Midway 3-7 matinee show
April 13 (Saturday) Classic Ruins at Tavern at the End of the World
April 13 (Saturday) Stop Calling Me Frank, Brad Marino Band, Kris Rodgers at Sally O'Brien's
April 14 (Sunday) Boston Hassle's Black Market Flea 12-6PM FB page for more info
April 19 (Tuesday) Disaster Strikes, Gizzaards, Rooftops, Hairspray Queen, Myocaster Coypus at O'Brien's
April 20 (Saturday) Brave Hands, Notches, Tied to a Bear, The Furniture at O'Brien's
April 20 (Saturday) Junkyard, Derailer, The Hi-End, Demons Alley at Koto in Salem.
April 25 (Thursday) The Proletariat, Moving Targets, The Northern Skulls at Alchemy Provi RI
April 26 (Friday) Michael Kane And The Morning Afters, Cuidado, and Lenny Lashley at the Thirsty First Tavern Lowell.
April 27 (Saturday) The Proletariat and Moving Targets at Once
April 27 (Saturday) The Stigmatics, Mongorellis, Thee Sonomatics, Groundlift at Club Bohemia
April 27 (Saturday) Nervous Eaters CD Release, Mr Airplane Man, Corolla DeVille at 9 Wallis Beverly.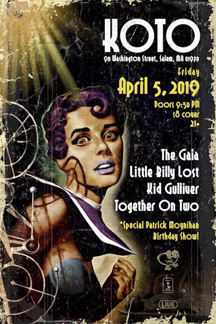 May 3 (Friday) Barrence Whitfield & The Savages w/ Muck and the Mires at The Middle East
May 3 (Friday) Corolla Deville, Stigmatics and Pop Gun at Jeannie Johnston's Pub JP
May 4 (Saturday) 61 Ghosts on 91.5 WMFO with Brian Young's Crash Course for the Ravers! 1-4PM
May 4 (Saturday) The McGunks, Silver Screams, Revilers, Damnation, Live Nude Girls at The Midway 3-7PM
May 4 (Saturday) Carissa+Cure-Alls, Justine & The Unclean, Tiger Bomb, RunHideFight at Sally OBrien's
May 11 (Saturday) The Knock Ups, Ila Minori, Erel, Chad Gosselin of The Big Lonesome at The Midway night show
May 11 (Saturday) FUs, GLiDER, Classic Ruins, Screw.Cart at KOTO Salem
May 11 (Saturday) Cactus Attack, Diablogato, Jittery Jack & Amy Griffin at the Dover Brickhouse Dover NH
May 15 (Wednesday) Jon Snodgrass, Lenny Lashley, Micah Schnabel at O'Brien's Pub
May 17 (Friday) Lily Black, Highway Chapel, Thee Fightin' Fish, The Negans at Club Bohemia.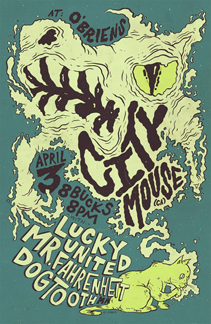 May 17 (Friday) Parlour Bells, Gene Dante and The Future Starlets, and Smitt E. Smitty & The Feztones @ OPUS Underground in Salem,
May 18 (Saturday) Marko And The Bruisers, Color Killer, Shore City, Punk Band - 3-7 matinee at The Midway
May 20 (Monday) Coffin Salesman, Molly Rhythm, Talk Me Off, Double Star at Charlie's Kitchen
May 24 (Friday) Lo Wreck's birthday with The Downhauls, The Dents, Duck & Cover and Skytigers at Sally O'Brien's
May 11 (Friday) FUs, GLiDER, Classic Ruins, Screw Cart at KOTO in Salem
June 7 (Friday) 61 Ghosts, Cal Cali Band at Tavern at the End of the World.
June 15 (Saturday) Thee Fightin' Fish, The Billy Connors Project, A Bunch Of Jerks, Club Linehan A Go Go - 3-7 matinee at The Midway
July 9 (Tuesday) Some Kind Of Nightmare, Losers Circle, Nick Barbarian, And Live Nude Girls at Thirsty First Tavern Lowell.
CONTACT US AT....misslynbgn@yahoo.com Send us your gig listings, your news and anything else ya got!! You want your CD reviewed?? Contact us for that too.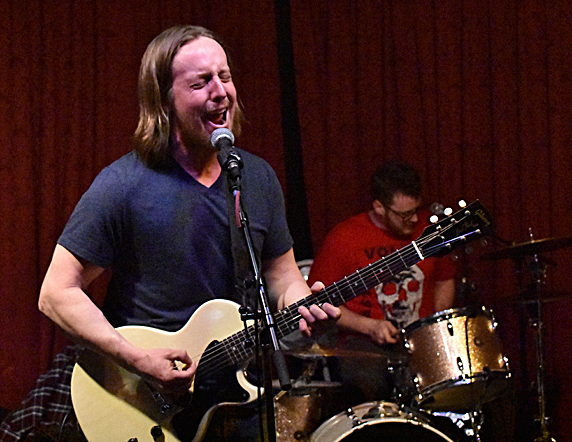 Graneros
Photo: Blowfish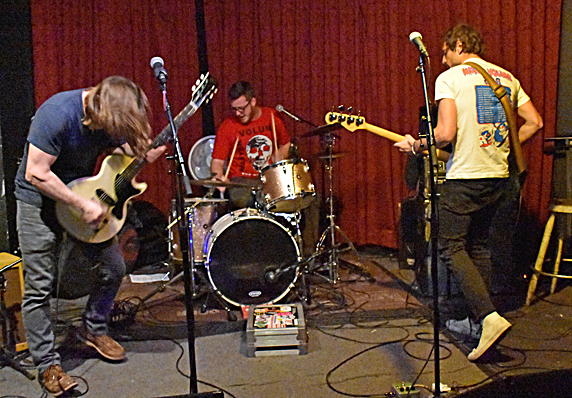 Graneros
Photo: Blowfish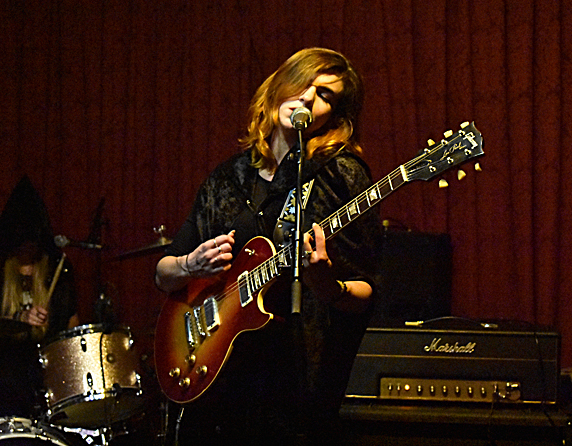 Jessica Rabbit Syndrome
Photo: Blowfish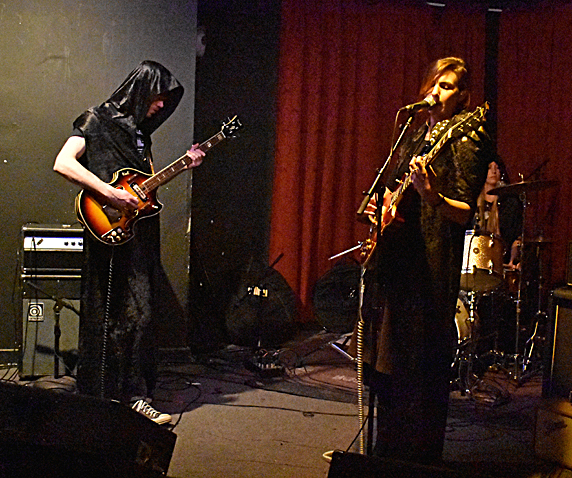 Jessica Rabbit Syndrome
Photo: Blowfish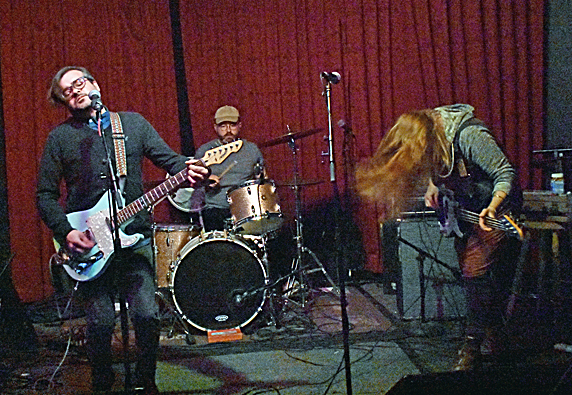 Witch Hair
Photo: Blowfish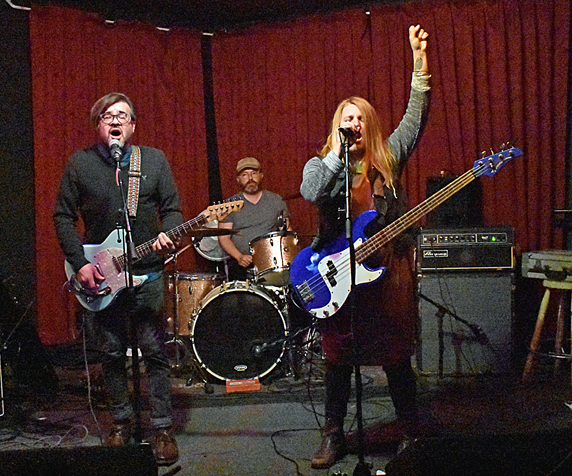 Witch Hair
Photo: Blowfish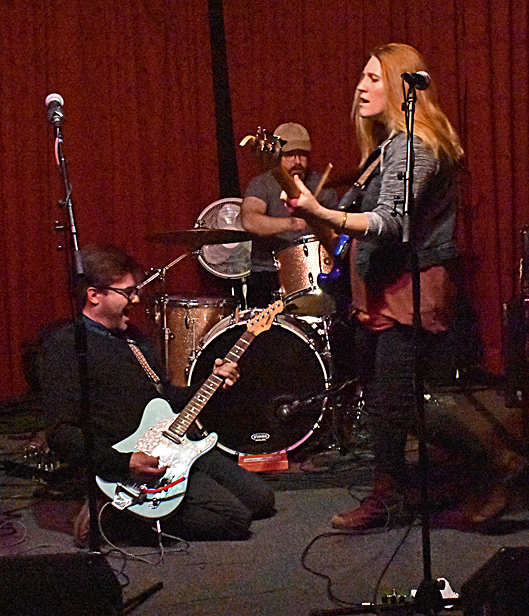 Witch Hair
Photo: Blowfish