The BGN News Archive
March 12, 2012
We absolutely had to go see Jeff and Jane Hudson at The Magic Room this past Saturday....we are so glad we did. Great show! We saw that they had done a show out in North Adams to draw attention to the release of a new CD compiling all their material and were happy that they scheduled a Boston show. As part of The Rentals (the name later used by the Weezer side group) with Pseudo Carol they opened up for the Clash and left a few classic Boston singles. They later got two synths and did the 80's electronic thing, and that's what we got Saturday.
They showed some 80's vids to get us in the mood and it worked; Devo doing Whip It and The Human League doing Don't You Want Me? , The Flying Lizards I Want Money cover and Pete Shelley's Homosapien...were campy retro fun and reminded Miss Lyn of those awesome Sunday nights at Spit.
They had some custom vids to show but it didn't work and in the end it didn't matter - the music carried the day. There's Jeff and Jane and two synths and a very effective propulsive backing track. The songs have character and deal with issues both new and old (they did some new songs). We found ourselves getting carried away with the whole experience even though Jeff and Jane have a deadpan vocal delivery and plain unadorned stage presence; it somehow works and works well. They actually transported us back to the 80's, what a kick. It was like a Flock of Gary Newmans. They closed the evening with Jane singing a solo rendition of Boy from Ipanema. The attendance was pretty low, another show with more publicity would be welcome.
After their set we ran over to Church in time to see the Lyres; Mono Man was a little cranky at the beginning (what else is new?) but that worked itself out and the group was playing strong. A handful of the old classics had you in Lyres heaven and then a stream of other neat stuff I really can't identify but assume are nuggets resurrected by Jeff. This version had Steve Aquino playing guitar and he brought out his 12 string Danelectro for a few songs and that was fantastic. What a sound, even Jeff remarked about it.
At many points when the sound fills you up and the beat carries you away you wonder about the people that either don't get this or never had the experience...those poor bastards. Let's get parochial and not be ashamed - we are lucky Bostonian rockers and have been digging them since 1979.
At this point the Lyres had played a long set....an overly long set and the time is 12:15, We're looking at each other, "When does the club close and how long will the Eaters have to play? " It turned out the club closes at 1 AM so where does that leave the Eaters who have traveled from the Cape for the gig?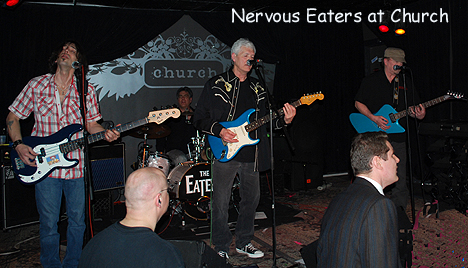 The Nervous Eaters did the stand up thing. They set up as fast as they could and starting at 12:40, without complaint or comment, slammed out as much music as they could. The situation put an urgent edge to everything they played. The crowd ate it up; lots of dancing and whooping it up. Here's another great Boston treasure: all the above 12th fret, hair singeing super treble leads by Steve Cataldo. This night he gave us a generous amount of it. They played a few of the classics and a few from Eat This which even though it's a later CD (2003) is finding much favor with both the Eaters and DJ's in town. We thank each member of the Eaters for being a mench and making their short time our great time.
Then we also heard that the Eaters are recording new songs now with Rick Harte.
And all in all what a great night!!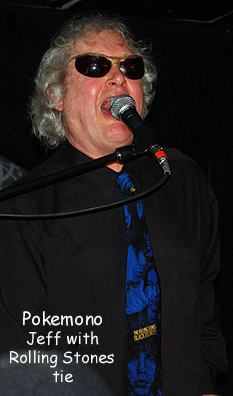 So this weekend is St Patty's day weekend...a Saturday no less! So there's lots to do
Friday the 16th at Radio is a good show with one of our fave bands The Acrobrats......along with Vapid Descent and Goddamn Draculas...
There are two good nights over at Church: on Friday the 16th is Jason Bennett, The Cretins, Riki Rocksteady & The Arraignment, CuDubh, and The Beantown Boozehounds... ....and on St Patrick's Day, Saturday, March 17th there's The Swaggerin' Growlers, The Pinkerton Thugs, Refuse Resist, Dead Aces and The Old Edison
Over at Club Bohemia at The Cantab there a Paddy's Day Celebration with Cadillac Heart, Foxpass, The Pilgrims and Death Paeso
Store 54 has been consistently hosting some pretty way cool events and here's another one on Saturday, March 24th: The New Frustrations and Darling Pet Monkey will be playing there - show start s at 9PM…that definitely promises to be a good show!.
On April 21st James Straight and the Wide Stance with Cadillac Heart will be at The Magic Room Third Rail's Richard Nolan will be performing a few songs with Cadillac Heart and Frank Rowe will be doing one of his solo acoustic sets to start the evening.
And on Monday April 17th Bad Brains are at The Paradise...they have a new album out and are touring to promote it...
And The Psychedelic Furs and Pop Gun are at the Salem Performing Arts at The Catholic Center in Salem!!
And ....I just came across this vid of John Lyndon doing a butter commercial!
Don't forget about the Kickstarter Project starting this Saturday on March 10th for the club called The Icepick. an historical PUNK club in Muskegon, MI that's been around for over 25 years...think The Rat , CBGB's all the other awesome places we've lost over time that were like home to us all.
Kickstart Project on March 10th to get up the money to buy The Icepick at a special price and keep it going as a Punk Rock venue...if you love punk and honor all its memories...you maybe will think of going to the page and donating some dough for this good cause. We here at the BGN wish them all the luck in the world on this project!!!
HEY!! Email us with your latest news, I'm feelin' lonely here!!....misslynbgn@yahoo.com