The BGN News Archive
March 12, 2018
The Gala
Photo:Blowfish
---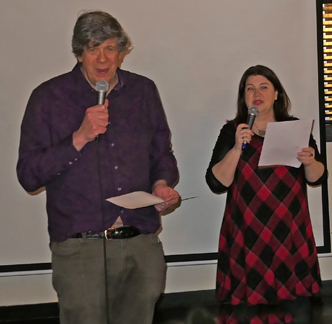 It's been a while since we hit a Rock'n'Roll Trivia night. Joanie Lindstrom called the team together and we went to the Sinclair on Tuesday. The room is just the right size for this, not too big or too small. There were 12 teams going for the prizes. It was noisy like a bar usually is. Erin Amar and Brett Milano (photo to the right), the game hosts, had a animated rapport and it was very upbeat time.
We thought we knew a lot but when those questions came sometimes you felt like a dummy. Other teams were doing better. Time and time again they seemed to get the obscure answer. We felt like Newman and Redford in the Sundance Kid looking at the dogged posse hunting them and asking, "Who are those guys?" We ended up tied for fourth.
The Sinclair was a suitable setting for the night with food and some free samples of whiskey going around. The club must have been happy with a good drinking and eating bunch. The Trivia night looked like it is a successful endeavor all around. The next Trivia night is at the Sinclair again on April 3. FB page
The only thing wrong with Trivia – it's not music. To remedy that, it was off to O'Briens to catch Crimespree. They had just started. About 30 to 40 people in the club.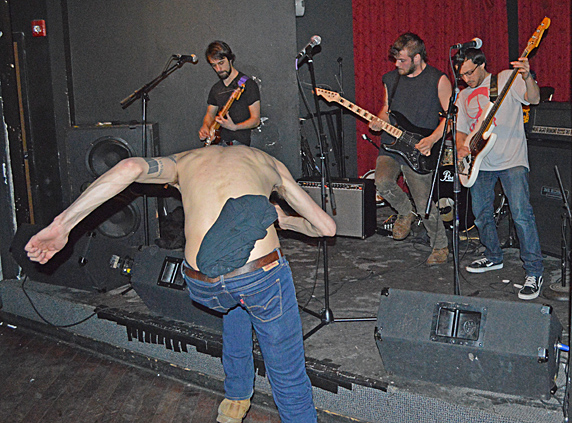 Crimespree
Photo:Blowfish
Crimespree plays hardcore and things that might as well be hardcore. It's all high energy and fast. We've seen Crimespree a few times since that first exposure at the third Thrash'n'Bang Christmas Party in December of 2016. So, we were not surprised by lead man Chester Timmins verbal onslaught between songs. It's his own thing, say Verbal Hardcore. In one rant he put down so-called punk groups that were selling shirts in Walmart. If they did that they are not punk in any way, he claimed. He pointed out the Misfits and said to anyone video taping to send his challenge to Danzig; that he will have a 'fist fight' with him anytime because he is not punk. Another time he made everyone put up their arm and give a thumbs up. For no reason, he admitted. He made sure that everyone including the bartender had performed the deed before he would play the next song. In the video below he stated that everyone under 50 had to dance. We had a senior pass on that dictate. It was crazy fun and all happening fast as the next song crashed in.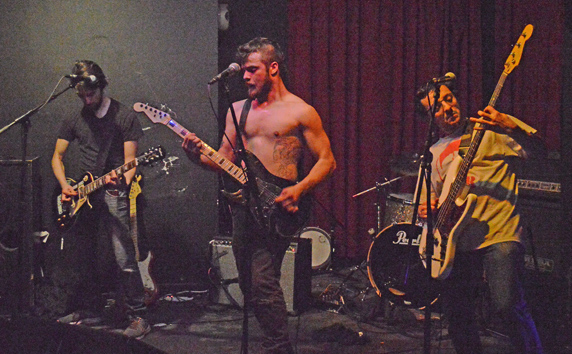 Crimespree
Photo:Blowfish
They did a burning cover of Bad Religion's "We're Only Gonna Die From Our Own Arrogance" – video below. All their originals were just as good. They weren't mindlessly bashing it out either; the songs had rhythm and tempo changes. They were a well rehearsed unit. The drummer was notable. His drums cut through the guitar wash with some rapid fills and constant thundering attack. Check out his distinctive rat-tat attack on the second video below.
There were a handful of moshers. A well spent two club Tuesday.
Friday night was the Digital Release Party (that's where we're at now people) for The Hi End's new album, Before You Run Out Of Luck, at the Midway. Getting there at 9pm we saw people all over the place and streaming in and out of the door. The Hippie Hour went long and that clogged things up. Even after a time, however, the club never cleared out, there were just a lot of people out on Friday.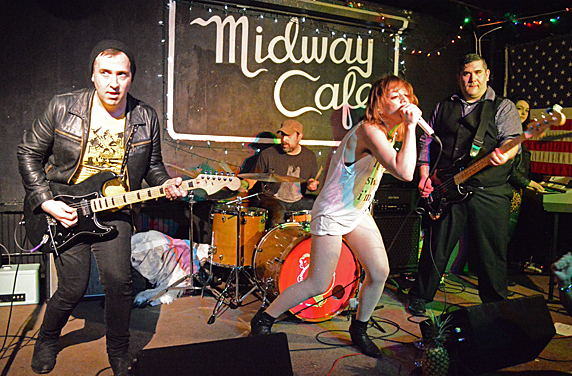 The Gala
Photo:Blowfish
Openers were The Gala who we saw two weeks ago at Great Scotts. They are comparably new but were a full blown phenomenon on stage. Like Crimepree at O'Briens this group gave you the music and then they gave you a show. The music had pop/garage/new wave influences that sat on a punky foundation. There was a little roller rink organ. The guitarist played regular progressions but put his distinctive staccato edge on it as he made them sync in rhythmically. You can hear that on their single "Touch Me" . The drummer was right there with him with a varying attack that kept things interesting.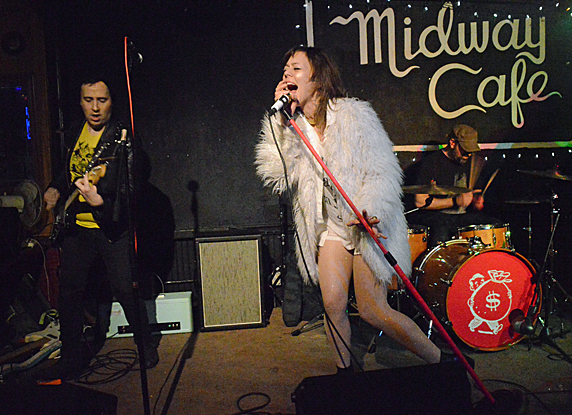 The Gala
Photo:Blowfish
But you might not have noticed all that because singer Emily Doran was in a total mayhem tantrum on stage. Like last time she had the shaggy coat on that you can't stop looking at but she shed that. Then it was a long t-shirt that said, "I'm not strutting, I'm sore." . Then she shed that for a white cut out bathing suit (we think) and black bra. The best thing was that it was not form over substance – she is a good singer who did a good amount of screaming too. She had the whole package going. She was a whirlwind on stage. At the end she was exhausted and ended up lying in front of the drums for a long while. She had given everything she had. It was hard not to be impressed with that commitment.
This is most definitely a group to check out. They're doing a lot of shows in Boston and the North Shore so check for them in our listings. Their website is The Gala
We know about the Hi End from following Curt Florczak from Greg Allen's Fridge Religion. Curt's guitar playing there made us curious as to where he came from and what his story was. So we got a few answers from him in a short interview and it's here =The Curt Florczak Interview.
The Hi End
Photo:Blowfish
Now we know that the Hi End overall sound is close to his first high profile group The Movie Rat. That was one raging group. The Hi End has a hard rock 70's sound. Some of the riffs they play verge on metal but they never get there, they keep it more straight rock. They have another guitarist besides Curt that gives the group a roar on the bottom end.
The Hi End
Photo:Blowfish
In the middle is Johnny Carlevale.(Now sans beard thankfully!) He's been in a few groups and can handle a few genres. He's amazing in his rockabilly incarnations. We saw him last at the Midway in May of 2016 with his Johnny Carlevale All Stars and that was a group with lots of brass. With the Hi End he seems to write a lot of the songs also. He gives you a short nugget about the song before it begins and is the focus of the group.
It was back to the Midway on Saturday afternoon for another full club of people. This time for a punk bill lined up by Bob Cenci.
Punk Band
Photo:Blowfish
Bob has renamed his group as simply –Punk Band. That's to the point. There was one personnel change; they now have Bob Furapples the FU's drummer on board. Anyone that's seen the FU's know the animal that is Bob. A lot of the time he is the band leader. He makes sure the set moves along with fast count offs leaving no time between songs. He is always pushing the speed making band members keep up with him. He did all that with Punk Band. That tightened up a set that was always filled with memorable songs. They did some of our favorites like "Scumbag" and "I'm Offended". Cenci has written some punk songs that deal with current issues and that is something we need. It helps that they have melodies that you want to sing yourself immediately after.
Bob says that they may record some of the songs soon. We're dying for that to happen.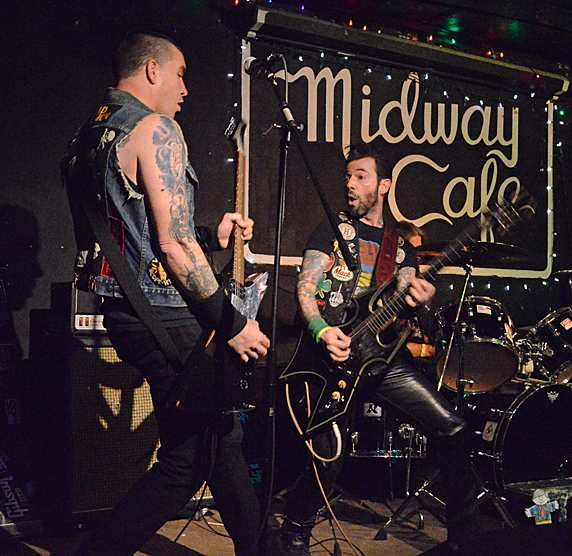 The Humanoids
Photo:Blowfish
The Humanoids are mining metal for drama, style and pure joy. You could say they are playing it for laughs but you can tell they love metal way too much to belittle it. It's a lot like what Hey Zeus! is doing.
The killer was singer Johnny Machine's high pitched pig squeal. It sums the whole business up in one moment. He's got both the vibrato and the falsetto down! He knows it's great so he does it all the time. Hear it in the video below. He also has a deep voice that he used to deliver the dark tales and Satan stories that populate their lyrics. Mr. B, on drums kept a constant thundering multi-drum assault going as the guitarists crouched to deliver shredding leads and dive bomb whammy loads.
They have funny on-stage patter and generally are having the time of their lives up there. And that flows over to the audience as well. Richie Parsons was there, especially to see The Humanoids which is one of his favorite bands.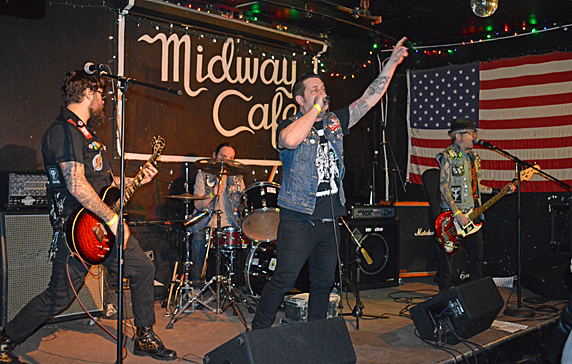 The Lost Riots
Photo:Blowfish

The Lost Riots are from New Haven, Connecticut. They make it to Boston about once a year. They center on English punk and Oi and they dress the part with studded jackets. Unfortunately they had technical problems; they blew the bass head and that messed up their momentum. The lead singer also loves to run around and didn't like the raised stage too much. He eventually did jump off a few times.

The group seemed to get it all together near the end of the set. At that point they played their best song, "We're Getting Old". That's something we can relate to. They also did "Dead Boys" and that was a highlight too.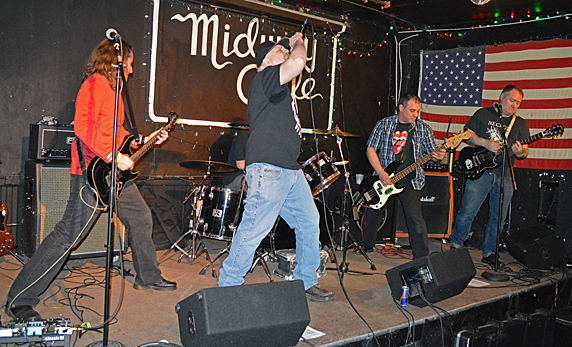 The F.U.'s
Photo:Blowfish
Then it was time for the headliners - The FU's.
John Sox was sharp and intense at center stage. His story is secured at this point as one of Boston's legendary front men. The line up of the FU's is always changing but they always deliver a powerful set which means that John is also a capable bandleader. That's a whole other talent. As mentioned earlier, Bob Furapples was on drums. Once you see him, you know how the set will go.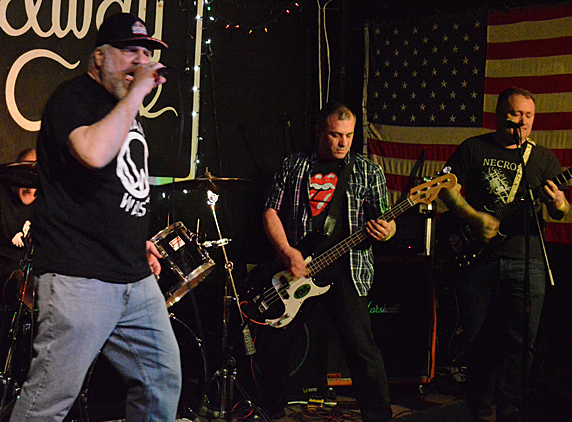 The F.U.'s
Photo:Blowfish

They put in "Young, Fast, Iranians" early in the set. We don't know exactly why that song has the power it has but with it every band member seems to dig in and give it their all. It never fails to rile up the crowd either. They continued the usual fast and furious set. At some point, we realized that there had been no moshing for the whole afternoon! Strange!

The set ended and the audience demanded an encore so the band came back. For the three song encore there was finally some moshing. It was led by Cenci who mock leapt off the three foot stage as if it was a story high. It made for a lot of fun up there in front of the stage. They played Grand Funk's "American Band" and threw in "Green Berets" as an ender.

Wow! That was a full four band bash! Kudos to Cenci for lining up such a great show.

We could have stayed there because the evening show was worthy too with Black Helicopter in the line up. But we had seen seven bands on three days and that was good for us.

Saturday John Keegan was down in the basement at the Cantab for the line up of The Billy Connors Project, The Stigmatics, Kid Gulliver and Club Linehan A Go Go, Click the photo below for the story and the photos....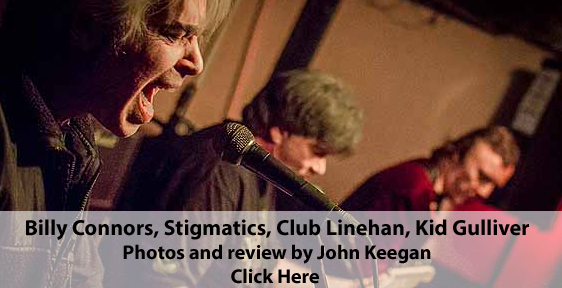 And one more thing this week in the clubs. Mark Davis went to Sally O'Brien's on Thursday to see Asa Brebner and has a few shots of that. Click the photo below.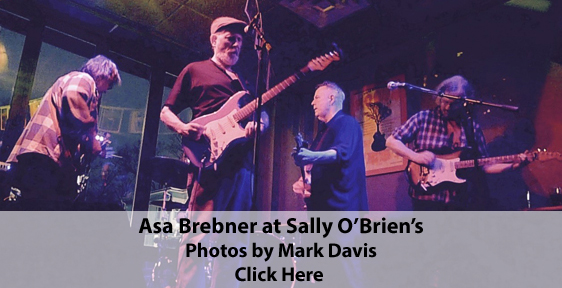 ---
And in other news.....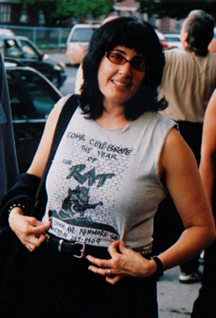 Sue Safton was at the Rock'n'Roll Trivia night earlier this week. She just celebrated her 35th Anniversary of her show Aural Fixation on WMBR which started on March 3, 1983. The show's mix of garage and garage punk was a format that Little Steven Van Zant later had good luck with. She was a DJ for a short while before MBR too. At Trivia Night one of the questions was; "How many members of U2 are Irish?" Not a trick question, only two are. Sue knew that because after the legendary Paradise show on December 3, 1980 she drove the band to the Rat to see LaPeste and Pastiche. On the way she conversationally asked, 'so, you're Irish?" and they told her only two were. Sue's anniversary show will still be in the WMBR Archives for another week. Check it out here
We had a few posts on Facebook this week but there is one that became an inspiring thread. Thinking of National Woman's Day we posted a short salute to the women who've been part of Boston Punk. We just named a few knowing we couldn't name them all. Others were moved to add more names and that snowballed. Now the thread has a more comprehensive list of names. There's women from all eras and in all parts of the scene. One great thing about the punk scene is that the fans are as much part and parcel of it as the musicians. We urge you take a look and to add more Boston Punk scene women if you don't see them posted. Check it out here.
Highsnobiety has a page on the Boston Hardcore scene including a 10 minute audio "mini-documentary" featuring major players from the Boston hardcore era showing a more nuanced account of how the scene influenced a generation of youth." Check it out here.
John Hovorka (Turbines, 2x4's) has a new album Peace Bridge released on Bandcamp. It's acoustic and low key electric. $5.00 - 11 songs!!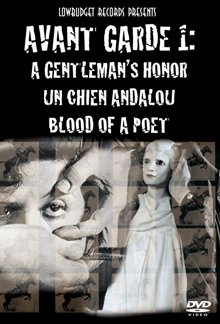 Lowbudget Records has done another silent film project. They up the quality of the print and add new music by Tim Casey in his Doctor X guise. Their Nosferatu and Phantom of the Opera redos made you appreciate them anew. This time he's done a real fave of ours; Blood of the Poet by Cocteau. Some of those film's images will stick in your mind forever. He also has Un Chein Andalou and Eadweard Muybridge's Motion Studies set to Philip Glass/David Byrne music from "The Photographer". Heck, if we had talent we would do things like that. Check out the trailer here . It's $16.99 - paying via Paypal. This is the sort of DIY we should all be supporting.
Muck and the Mires were in Q Division studios this last week recording a new album.
Mr.Airplane Man has a new album on the verge of release called Jacaranda Blue. You can hear one track called "I'm in Love" on their Bandcamp page. They're on the bill with Lez Zeppelin, and Barrence Whitfield and the Savages at the Middle East down on March 23. Link below in the gig listing.
The Monsieurs are doing a small Northeast tour - NYC, Philly, Cincinnati, Columbus and York, PA. Heads up, out there! Check out their FB "Baby Tour" page
We spotted a Nervous Eaters gig in Maximum Rocknroll Magazine. They're playing the Safari Room in Brooklyn on June 2. Tix etc here. The Proletariat are there on May 10.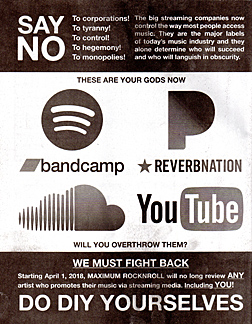 and.....This month Maximum Rocknroll Magazine has declared that they "will no long review ANY artist who promotes their music via streaming media. Including YOU!" They are talking about Bandcamp, Reverbnation, YouTube and Soundcloud. That seemed shocking when we first read it because that includes just every group we know.
It reminds us of when things started in 1975. No corporate radio station or record label was open to punk. We did it ourselves. Anti corporate was a stance, a dividing line between punk and the old rock that was boring us to death. This is a great reminder of where we are and maybe what we should be doing.
A lot only exists on Facebook. The photos, comments, and videos there are between 'friends' under the oversight of Facebook. If you are on these sites (and we are too) you are connected to all their choices and policies, which you don't even know about. That's why we like the Boston Groupie News being an independent website under no domain except us and not dependent on advertising. We know nothing will change fast but it's a wake up call on where everything stands now. And just to make a point; you can upload a sound file to your own website.
The last print copy of the NME came out this week. No more print, online only! That's an era gone by. A lot of us used to hit the kiosk in Harvard Square regularly picking up NME and Sounds Magazine.
A film bio of Robert Mapplethorpe called Mapplethorpe will premier at the Tribeca Film Festival (April 18-29). Produced by Eliza Dushku. Matt Smith (Dr. Who) will play Mapplethorpe and Marianne Rendon will play Patti Smith. You can read more about the film here.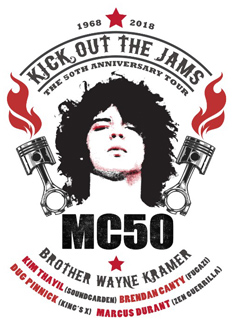 There's going to be a MC5 Kick Out The Jams 50th Anniversary Tour with Wayne Kramer and members of Soundgarden, Fugazi and King's X. No dates have been released yet but the tour will start "in September, culminating with a hometown show at the Fillmore Detroit on 10/27." Read more about the tour on Stereogum.
In addition to the tour, Wayne Kramer's memoir The Hard Stuff: Dope, Crime, The MC5, And My Life Of Impossibilities is being published. The book will focus on his post-MC5 life, which, according to a press release, has involved "a federal prison term, addiction struggles that lasted decades, reconnection with his long-absent father, finding the path to sobriety at 50, and, incredibly, first-time fatherhood at the ripe age of 65." The book is out 8/14 and can be pre-ordered here.
The Damned got a little respect in the latest issue of Bass Player Magazine. The magazine transcribes the bass part to Ball Room Blitz. The Damned were in that short section of time with Lemmy as their bass player. So, it's Lemmy's playing. They describe this in the transcription: " …a thundering downward glissando in bar four…subsequently underpins the various D-flavored chords of the intro with lines based on the D-minor pentatonic scale, occasionaly linking C's and D's via C# -a chromatic device he used throughout the track." Well ain't that "Neat, Neat, Neat" ?
And lastly...Here's an item for a the fashion conscious punk. A jeweled Skull Watch from Ross & Simons. That will only set you back $111.75. (and that's with a 25% discount we might add) You can buy it here!!
---
Here's some good shows coming up .....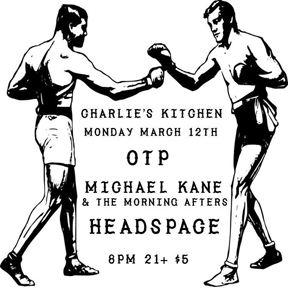 March 12 (Monday) OTP, Michael Kane &the Morning Afters, Headspace at Charlie's Kitchen
March 13 (Tuesday) Loser's Circle, Squallie Greenthumb, You Scoundrel, Live Nude Girls at O'Brien's
March 13 (Tuesday) A special solo acoustic night with Trick Wallace, Chris Wagner, Anthony Kaczynski, and Corin Ashley at The Midway
March 14 (Wednesday) Clan Of Xymox and Stoneburner at Once
March 14 (Wednesday) Dropkick Murphys, Agnostic Front & Bim Skala Bim at The State Theatre, Portland, Maine FB PAGE! SOLD OUT BTW
March 16 (Friday) Bonecrusher, The Welch Boys, The Blue Bloods, The Ice Cold Killers at The Midway
March 16 (Friday) Richie Ramones, Marko and the Bruisers, Musclecah,The Pathetics at Ralph's Diner in Wistah
March 17 (Saturday) A Crash Course For The Ravers 1pm to 4pm on 91.5FM Medford. has Little Billy Lost & The Cocks Of The Walk & a visit by Trick Wallace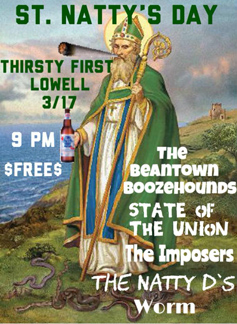 March 17 (Saturday) Mickey Rickshaw, Brunt of It, and OC45 St. Paddy's Day Party at Bill Bar Boston on Landsdown St 6:30- midnight
March 17 (Saturday) St Patrick's Day RocknRoll show with Beantown Boozehounds, State of the Union, Natty D's, The Imposers and Worm at Thirsty First: Tavern & Grill Lowell, MA FB page for more i nfo
And further out we have.......
March 18 (Sunday) State of the Union, The New Frustrations, Billy Connors Project, Far Above The Ground at The Midway- this is a day time show 4Pm
March 18 (Sunday) A Sunday Mess Around at The Plough but this time in the golden-agers time slot of 4-6 PM.The usual Messers will play along with Special Guests -Chris Brat (Duck and Cover) And dropping in from Rochester, NY Dave Harrison (The Voodoo Dolls, The Nines)
March 22 (Thursday) Black Beach, Bike Thieves, Nest at O'Brien's
March 22 (Thursday) Crowfeeder, SkyTigers, Table Trash, the Sewer Buddies at UnchARTed, Lowell, MA FB page
March 22 (Thursday) Bystander, Oh The Humanity, Sternman, The Color Me at OPUS in Salem.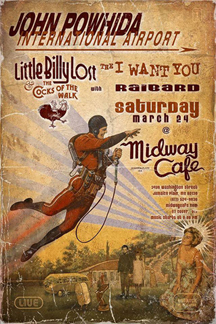 March 23 (Friday) BirdGangs, The Bruvs, The Quins, Something Sneaky at O'Brien's
March 23 (Friday) Barrence Whitfield & the Savages with Mr. Airplane Man at the Middle East!! FB page and tix link here.
March 23 (Friday) Demon's Alley, The Hi-End, Greg Allen, Otter River at Ralph's in Worcester.
March 24 (Saturday) Nervous Eaters, The Connection, Classic Ruins at O'Brien's
March 24 (Saturday) Raibard, John Powhida International Airport, Little Billy Lost & The Cocks of The Walk and The I Want You at The Midway
March 24 (Saturday) See This World's CD Release Party for Sign of the Times at the Launch Pad at Norwood Space Center, also on the bill Neighborhood Shit and The Pint Killers.It's a 6-11PM show- FB page
March 24 (Saturday) Michael Kane & The Morning Afters, Reverend Dan, Pull it Together at The 13th Floor Music Lounge in Florence, MA
March 25 (Sunday) Rebuilder, The Penske Files, Dan Web & The Spiders, Buy My Book at O'Brien's
March 28 (Wednesday) The Strypes are at Brighton Music Hall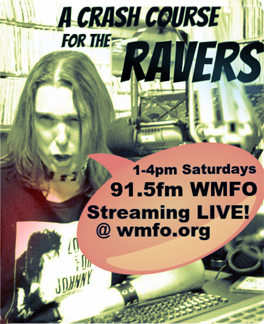 March 29 (Thursday) Loser's Circle, Crimespree, Worm, Circus Battalion, Flatlager @ PA's Lounge
March 30 (Friday) Randy Black and the Heathcroppers will be at the Tavern at the End of the World and will start @9:30.
March 30 (Friday) The Connection, Watts, Tiger Bomb, Wizzardess at The Stone Church Music Club, Newmarket, NH FB page
March 30 (Friday) Flathead Rodeo, Creepin' Cadavers, Diablogato at The 13th Floor Music Lounge in Florence, MA FB page
March 30 (Friday) When Particles Collide, OC45, The Jukebox Romantics at Fury's in Dover, NH
March 31 (Saturday) A Crash Course for the Ravers is featuring The Jonee Earthquake Band....1-4PM WMFO 91.5
March 31 (Saturday) The Von Traps, Silver Screams, Revilers and Automatic (members of Jerry's Kids/ex-DYS/Deathwish) at Koto in Salem FB page
March 31 (Saturday) MK & The Morning Afters, OC45, Jukebox Romantics, After The Blackout at The Hotel Vernon in Worcester.
April 1 (Sunday) Hidden Knives, Wired for Sound, Whoopi Sticks, & Powerslut @Zuzu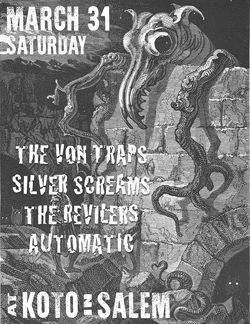 April 3 (Tuesday) Rock and Roll Trivia w/ Erin and Brett at The Sinclair (bar) starts at 8:30
April 6 (Friday) Skinny Mike's Birthday Party with M.O.T.O, Duck and Cover, Hambone Skinny, Trainwreck-Boston at Club Bohemia/at The Cantab
April 7 (Saturday) CatalinaShortwave, TheThighScrapers, Helen, TheNoShows, CornerSoul at Club Bohemia/The Cantab. Hosted by Catalina Shortwave and Helen
April 11 (Wednesday) L7 are at the Paradise. They are playing with the Death Valley Girls (who played in town with Roky Ericson last September.)
April 14 (Saturday) The F.U.'s, McGunks, Pint Killers & The Essays at Dusk in Provi RI
April 17 (Tuesday) 1476, Crimespree, Crowfeeder, John Trudeau at Koto in Salem
April 17 (Tuesday) My Life With The Thrill Kill Kult: 30th Anniversary Show at the Brighton Music Hall
April 21 (Saturday) The McGunks, Jason Bennett and the Resistance, The Dimwits, Loser's Circle an early show 4-8:30 at The Midway
April 21 (Saturday) The Bush Tetras (their FB page) are at the Middle East Up - early 6:30 show. They are touring to promote their new record! Get tix here.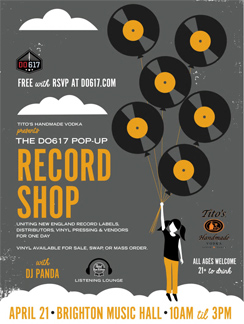 April 21 (Saturday) The Residents are at Brighton Music Hall.
April 22 (Sunday) Hardcore Stadium presents: The Unseen, American War Machine, Moose Knuckle, The Von Traps at the Middle East - this is an ALL AGES show - starts at 6PM
April 22 (Sunday) Punk Night at The Hotel Vernon!! with The FU's, Punk Band ( ex Jerry's Kids), Working Poor USA, Braindeth and Lewd...
April 22 (Sunday) The Bush Tetras are at Cafe Nine in New Haven CT
April 25 (Wednesday) The Guilloteenagers, Houston & The Dirty Rats, Sewer Buddies, Blame It On Whitman at O'Brien's
April 28 (Saturday) Cranktones and DJ Easy Ed at The Midway. Early 4:00 PM Show!
April 28 (Saturday) Booze&Glory, Antagonizers ATL, Brix'n Mortar, Pint Killers at Hordcore Stadium on Bishop Allen Drive Cambridgbe 7PM - Midnight FB page
May 10 (Thursday) Maple Mars w/Corin Ashley and Richie Parsons at the tavern at the end of the world
May 10 (Thursday) Mickey Rickshaw and Buster Shuffle at Thunder Road
May 11 (Friday) OneLessScumbag, TheGreatWar, Brix'n'Mortar, Chasms at The Chit Chat Lounge in Haverhill MA FB page
May 12 (Saturday) The Nervous Eaters with Justine and the Unclean, The Hi-End at The Midway 8pm show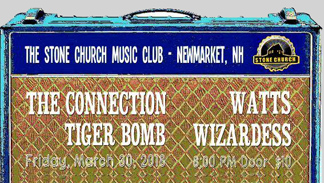 May 12 (Saturday) Crimespree, Pruf, Crossthreads at The 13th Floor Music Lounge in Florence, MA
May 17 (Thursday) Tsunami Bomb, Diablogato at Once
May 19 (Saturday) A Crash Course For The Ravers 1pm to 4pm on 91.5FM Medford. featuring Simon Ritt talkin' 'bout Johnny Thunders!
May 19 (Saturday) The Knock Ups, State of the Union, The New Frustrations, The Imposers at The Midway- early show 4-8Pm
May 19 (Saturday) Celebrate Sue (Miniachello's) 50th Birthday!! at Sally O'Brien's celebrate Sue with friends and family and food and drink and cake and, of course, MUSIC! A stellar lineup of bands and special guests is in store. More details to come on that, although a few surprises will be kept under wraps. FB page for updates
May 20 (Sunday) It time again for Slimedog's 22nd Birthday Party. The line up is Kermit's Finger, The Lost Riots, The Revilers, Uncle Spud, and Time Out Timmy. Linnea Svedka will play between sets. All that and FREE PIZZA too! Starts at 4PM.
May 20 (Sunday) The Proletariat are at Alchemy in Providence RI FB page
May 27 (Sunday) The Four Point Restraints, The Guilloteenagers, Surprise Party, American Affairal (Jess & Tom of Man Trouble) at ZuZu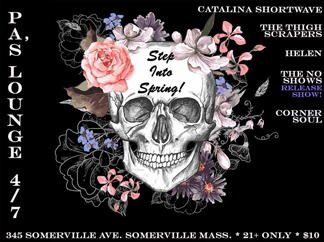 June 2 (Saturday) Sheer Terror, Nothing But Enemies, Brando, American War Machine at The Middle east - this is an early show 5:30-10:30
June 13 (Wednesday) doing their G.G. ALLIN 25th Death Anniversary Tour the Murder Junkies are at Cafe Nine in New Haven CT FB page
June 14 (Thursday) The Dickies (40th Year Anniversary) w/ The Queers at The MIddle East FB page for tix etc
June 16 (Saturday) GLiDER Live on Radio 91.5FM CrashCourse for the Ravers! wmfo.org stream 1-4PM
June 16 (Saturday) The Nervous Eaters, Justine and the Unclean, Stop Calling Me Frank are at Thunder Road
June 16 (Saturday) GBH with Pinata Party are at The Middle East Down.
June 20 (Wednesday) Reverend Horton Heat, Big Sandy, Lara Hope & The Ark-Tones at Alchemy Provi RI
June 22 (Friday) Tied To A Bear, Duck &Cover, The Von Traps, Sonic Libido at Opus in Salem
July 1 (Sunday) G.G. ALLIN 25th Death Anniversary show with The Murder Junkies, Smoking Triples, Jonee Earthquake, They Hate Us, Malcolm Tent at The Dutch Treat Franconia NH Here's the FB page
July 11 (Wednesday) The Goddamn Gallows, The Koffin Kats, Viva Le Vox at Alchemy in Provi, RI
July 12 (Thursday) Koffin Kats, The Goddamn Gallows, Viva Le Vox at The Middle East
August 8 (Wednesday) The Blasters come back to ONCE
CONTACT US AT....misslynbgn@yahoo.com Send us your gig listings, your news and anything else ya got!! You want your CD reviewed?? Contact us for that too.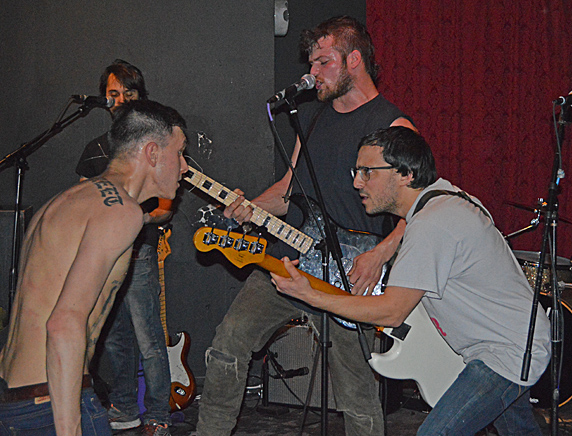 Crimespree
Photo: Blowfish
John Sox - F.U.'s
Photo:Blowfish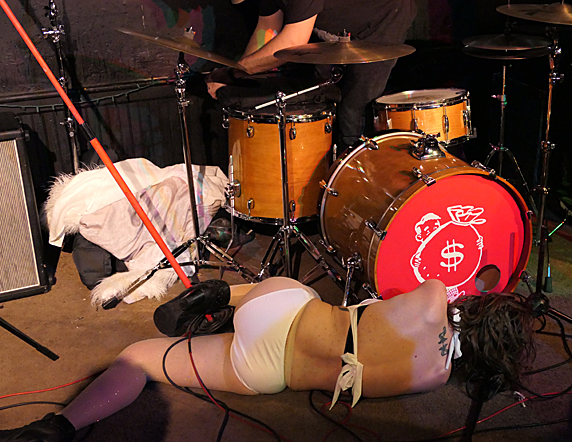 The Gala
Photo: Blowfish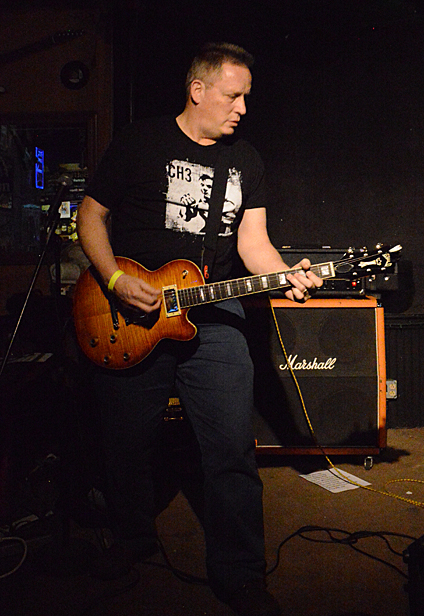 Bob Cenci - Punk Band
Photo: Blowfish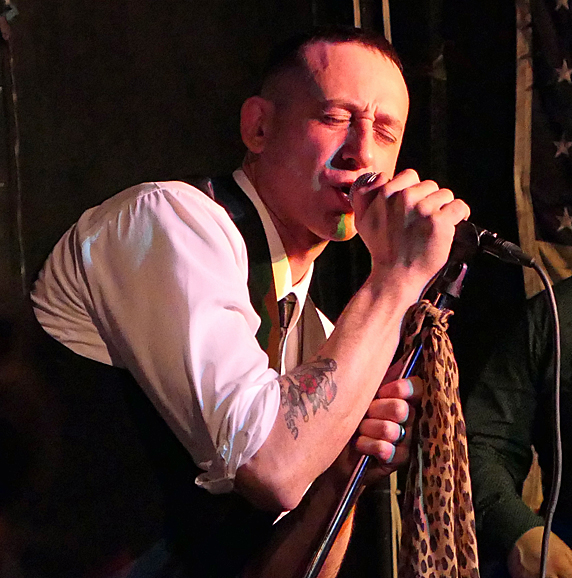 Johnny Carlevale - The Hi End
Photo: Blowfish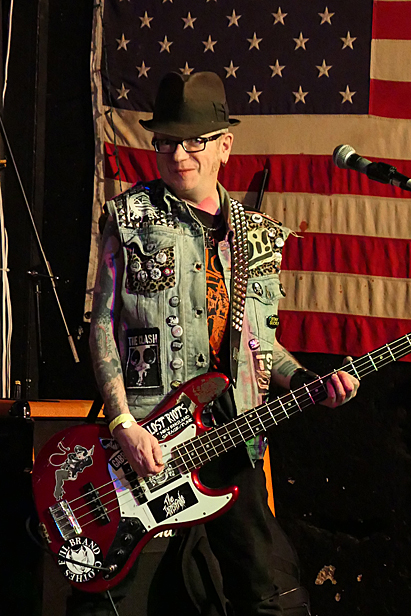 The Lost Riots
Photo: Blowfish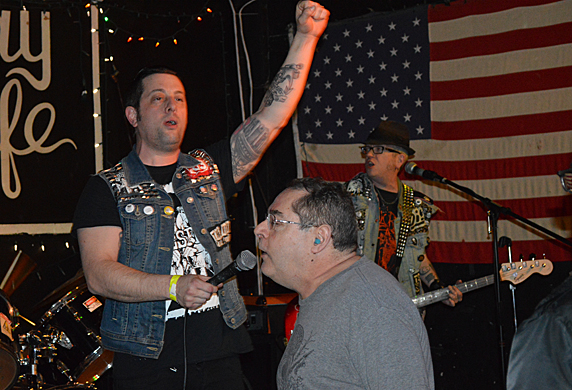 Slimedog chimes in with the Lost Riots
Photo: Blowfish