The BGN News Archive
March 13, 2017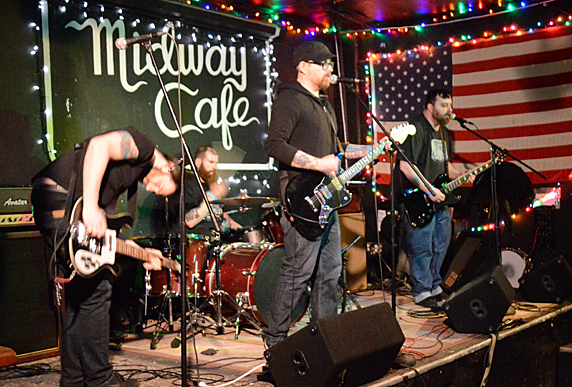 Lon Chaney Jr
Photo: Blowfish
It was hard to get to the rock this week. First try was O'Brien's on Wednesday. There was a band that looked interesting in the lineup but we ended up seeing two death metal bands, not our genre. We heard Sea which were hard hitting and mucho doom laden. Then there was Heavy Temple who had a slightly less gruesome attack but we already had our full dose of doom by then. Heavy Temple was an all-woman band which seemed appropriate because it was International Women's Day.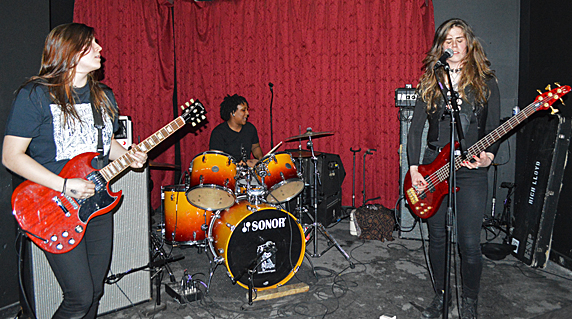 Heavy Temple
Photo: Blowfish
Friday was that killer bill at Once with Agent Orange, The Queers, Guttermouth and The Atom Age. Despite the cold and occasional snow we went but could not get a parking spot that wasn't a really long walk away. Judging from the facebook posts people loved this sold out show. Once continues to have interesting and varied booking.

Saturday we head out to the Midway. Garbage Point caught out ear. Their Bandcamp postings are nice and punk. We walked into the club as the group was saying 'thank you' and getting off stage. Another miss for us. But we will definitely see them next time!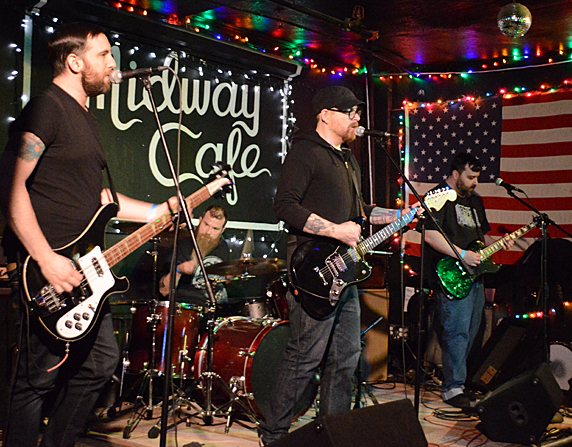 Lon Chaney Jr
Photo: Blowfish
We have seen the name Lon Chaney Jr. around but hadn't heard the group. We didn't immediately like them but after three songs either they got better or we understood what they were doing because we were hearing things we like.
The group sound is big and sweeping. It almost seems like the effect couldn't be coming from these four unassuming guys but they make it happen with all four contributing. The two guitars pick their tones wisely and they make sure they are playing different things. The bass has an aggressive tone that adds to the moodiness. The drummer had a clean drum sound and played with plenty of fills and lots...and lots....of cymbals. After the third song they brought to mind Machines of Loving Grace a couple times.
One of the first songs to hit us had a sharp ringing riff created by both guitarists at the beginning, sort of like a U2 riff. That can be heard on the first video above. They covered the Ramones Pet Cemetery by taking some of the power chording out and adding their own post punk sound in. We thought that worked well and that is the second video we have above.
All in all we enjoyed the set. Here's their Bandcamp page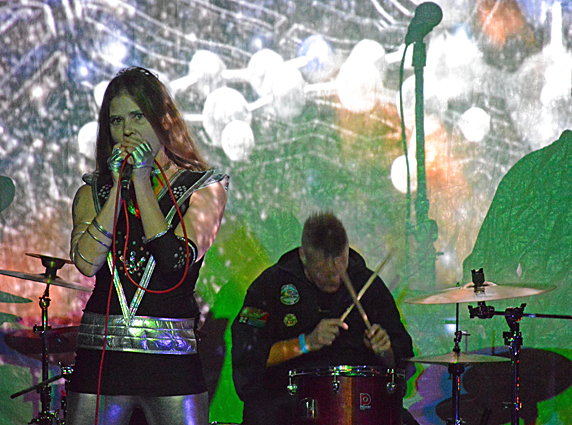 Off World
Photo: Blowfish
Off World was a real change of pace. This group has a sci fi motif. It seems like they are interstellar travelers with the lead singer dressed in silver and the other guys in NASA jumpsuits. They reminded us of The Fantastic Plastics who we saw last year. They had a well done slide show backdrop. They had chops. The drummer made an impression fast, he was crazed and the singer was excellent….but still not for us. It's hard to wrap our minds around the idea of why people would do this stuff in 2017. Their next show on April 22 is at the Planetarium! Now that show should be out of this world! Reverbnation songs


And in other news.....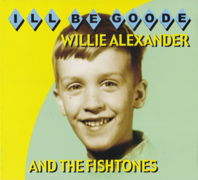 Hey all you GG Allin lovers out there, and we know there are a LOT of you, The Jabbers have created a new Group on FB called Friends of the Jabbers there's lots of videos and photos....they even have a handy GG Aline Gift Tage you can print out for your next gift giving situation. Check itr out at Friends of the Jabbers
Rev. Joseph Fagan, Laurel Blanchard and Austin Powell are Highway Chapel. They've posted a new song on Bandcamp: Scratching Like a Monkey.

Willie Alexander's latest project? Willie and the Fishtones. But that's all we know....he wants you to buy the new CD I'll Be Good, he wants you to send him the money ($15.00)...so here's a link to the Paypal site for the new CD https://www.paypal.me/williealexander/15 Send him the money and he'll send you the CD.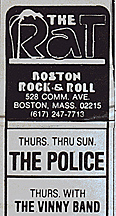 Some appreciation for La Peste from Dangerous Minds: The Angry Glory of Boston Punk Rock Heroes La Peste

This week on Facebook we posted link to a ten minute trailer for the new Alex Chilton doc that is currently in production- Thanks For Being So Nice… you can check it out here.
We posted the ad for the Police's four day stand at the Rat in October of 1978. They had openers Unnatural Axe, The Vinny Band, Tracks and The Reds. Does any band play a four day stand like that anymore? How did that work even back then? Different times......We shared a 1983 photo someone posted of the group of people who became the Propeller label.
Our Facebook page…. https://www.facebook.com/BostonGroupieNews/
Here's some good shows coming up .....
March 15 (Wednesday) Shepherdess are at The Aeronaut Brewery just outside of Union Square Somerville. They are on from 8-10PM Aeronaut site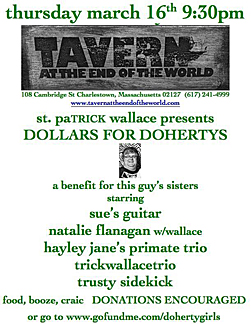 March 16 (Thursday) A Benefit for John Dougherty's sisters... At Tavern at the End of the World:
In honor of John Doherty, one of THE most supportive people in our music scene, Trick Wallace is putting on a benefit for John's sisters, Krista & Kara. Long story short, Krista needs a kidney. Kara is a donating one of hers. They both need some help to offset medical expenses and lost wages. Dollars for Dohertys -- a night chock full of fun and great music -- aims to raise some extra cash to contribute. So come on down to hear Sue's Guitar, Natalie Flanagan & Trick, Hayley Jane's Primate Trio, Trick Wallace Trio and Trusty Sidekick. And throw some cash in the bucket to help two beautiful sisters through a tough journey. If you can't make it, please donate at https://www.gofundme.com/dohertygirls. But we'd love to see y'all in person! (Music starts at 9:30 with Sue's Guitar.). https://www.facebook.com/events/273504729748916/ FB Page
March 17 (Friday) Boston Hassle Presents: Simply Saucer, Poppy Seed & The Love Explosion, Dyr Faser, Doug Tuttle, Major Stars at the Middle East Up (FB page)
March 17 (Friday) Sasquatch And The Sick-a-billys Return To Salem! along with Damnation, Creepin Cadavers and The Womps at Koto in Salem
March 18 (Saturday) Roy Sludge Trio for a 4:00 pm show at Atwood's
March 18 (Saturday) Reason Enough, Words Of Truth, A Breed Apart (from NYC), One Less Scumbag and KUYA at The Midway - an afternoon 4-8PM show (FB page)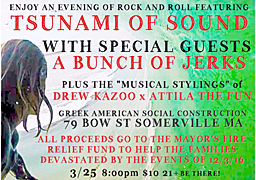 March 18 (Saturday) DFMC (Dana Farber Marathon Challenge) Benefit Show with Sidewalk Driver, Township, The Fatal Flaw, Red Red Rockit at The Midway (FB page)

March 18 (Saturday) The Digs are having an EP Release Party at the Middle East Up ! Also on the bill are JRV and Psychonaut Underground - FB Page
March 19 (Sunday) Hillbilly Holiday and Cold Expectations (here's their Bandcamp page) are at Aeronaut Brewery for a FREE afternoon show starting at 2PM. As part of Aeronaut's " Bring Your Own Picnic" music series, friends, families, kids, and, well heck, anybody, is encouraged to pack some tasty morsels and supplement them with tasty Aeronaut drafts on this lazy Sunday afternoon! Grab a beer, pull up a picnic table and dig the country-fried song stylings of these two local bands playing all afternoon long. Or skip the picnic and just drink!
And further out......
March 23 (Thursday) Bob Colby Presents: 28 Degrees Taurus, Headband and Uranium Daughters at Once This is a Free show but donations are gladly accepted. FB Page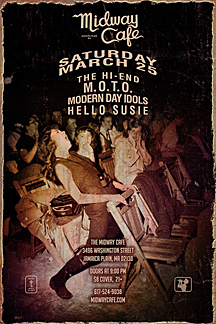 March 23 (Thursday) Beans On Toast, The Old Edison, Troll 2 and Miketon & The Nightblinders at O'Brien's
March 24 (Friday) Oh the Humanity, Radio Compass, Swivel, Heavy Denims at Opus in Salem
March 25 (Saturday) 45 Adapters (NYC), Blood Stained Brindle, The Damn Garrison, Quiggs at The Midway - this is an afternoon show 4-8PM
March 25 (Saturday) Another benefit for the Cambridge Fire victims. Lots of families were displaced and lost everything. Help 'em out by going to the Greek American Social Club (Union Sq Somerville) and listen to Tsunami of Sound and A Bunch of Jerks. Here's the FB page
March 25 (Saturday) Muck & The Mires, The Evil Streaks and Tiger Bomb are at The Chit Chat Lounge in Haverhill. FB Page
March 25 (Saturday) 45 Adapters (from NYC), Blood Stained Brindle, The Damn Garrison and Quiggs at The Midway - this is an early show 4-8PM
March 25 (Saturday) The Hi-End, M.O.T.O., Modern Day Idols and Hello Susie at the Midway for the night show
March 25 (Saturday) Sean Coleman & the Quasars and The Red Pennys at Nick-a-Nees, Providence
March 25 (Saturday) BETH & The Black Cheers at Sally O Brien's - FB page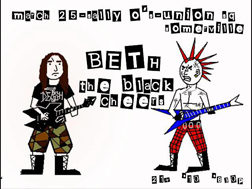 March 25 (Saturday) A Wish For Fire, Devil On Horseback, Test Meat at O'Brien's Pub
March 25 (Saturday) Boston Underground Summit 9! brought to you by Boston Hassle - 9 bands will set up round-robin-style in two rooms, 3 stages and take turns playing a song. When the cycle is complete, the loop repeats again...and again... and again. UNTIL THE SHOW ENDS! Here's the bands Pink Navel, Sidney Gish, Ozlo, Boston Cream (ex Barbazons) Kármán Voh, Mint Green, Solei, Divided Self (Worcester) and Kiss Concert. Its at The Elks Lodge on Bishop Allen Drive Here's the FB page
March 25 (Saturday) Rockin' Bob Punk Band, Pragmatics, Sick Joke, Laughing Stock, Piss Dogs, and Screw Cart are all at The Spotlight Tavern in Beverly MA 3:30pm show/$10
March 26 (Sunday) Shepherdess and Alice Bag and Electric Street Queens at Once Buy tix etc here FB page
March 27 (Monday) Jay Allen's Mess Around moves to Taco Mondays at Once with Jay Allen, Tom Baker, Justine Covault, Chrissie Vaccaro And Special Guests...FB Page Starts at 7:30
March 31 (Friday) Classic Ruins and Randy Black and the Heathcroppers are at The Tavern At The End of The World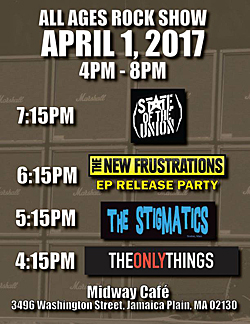 April 1 (Saturday) State of the Union, The New Frustrations, The Stigmatics and The Only Things doing a GREAT early show (4-8PM) and its ALL AGES at the Midway (FB page)
April 1 (Saturday) The Upper Crust, Sidewalk Driver and When Particles Collide as part of the ArtsEmerson Black Box series at Emerson/Paramount Center, Jackie Liebergott Black Box Theatre - 559 Washington St Boston (Link)
April 1 (Saturday) The Proletariat are in Newport RI at The Parlor. FB Page
April 2 (Sunday) Six Organs Of Admittance and Minibeast are at Great Scott
April 3 (Monday) City Mouse, Jenn Lombardi's Lucky United, Mr. Fahrenheit and Dogtooth MA are at O'Brien's
April 8 (Saturday) The Kurt Baker Combo, Soraia, Watts and The Connection at O'Brien's Here's the FB page
April 10 (Monday) Actor|Observer, Sparrows, SuperTeen and No Hands are at O'Brien's
April 10 (Monday) The Very, Justine and the Unclean, The I Want You at ONCE Lounge FB PAge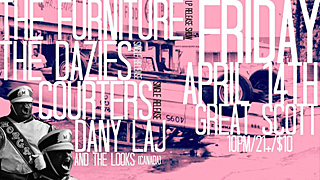 April 13 (Thursday) The Rumjacks, Jason Bennett and the Resistance, Michael Kane & The Morning Afters and The Runouts
April 13 (Thursday) Modern English are at The Brighton Music Hall
April 15 (Saturday) The Last Ones are at The Midway with Tsunami of Sound,Trusty Sidekick and Sammy Kay (a PM show)
April 17 (Monday) Terry Malts, Shark Toys with Idiot Genes and Bad Deals at O'Brien's Pub
April 22 (Saturday) Electric Frankenstein, Symbol Six, Hey Zeus and Duck & Cover at O'Brien's Pub
April 22 (Saturday) The Last Ones, Tiger Bomb and Corolla deVille at The Spotlight Tavern in Beverly
April 28 (Friday) The Upper Crust, Benny Sizzler, Devil On Horseback at Once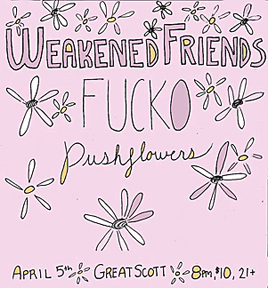 April 28 (Friday) Why isn't this show in Boston or Cambridge!?!? Lydia Lunch, Hard Nips (Japanese Girl Band), Cassie J Sneider and Nonye Brown-West at Ralph's in Wishtah. FB page
April 29 (Saturday) A special evening of performances at The Met by Throwing Muses, Neutral Nation, and Plan 9, and their inductions into the Rhode Island Music Hall of Fame! Tickets are scheduled to go on sale on February 27!!! For unveiling ceremony and rock inductions day #2 check out the FB page!!
May 4 (Thursday) Walter Sickert & the Army of Toys, Scarlet Sails, Radiator King at Once
May 8 (Monday) Indonesian Junk.....who have just released a digital single "Turn to Stone" on Rumbar Records..... are at O'Brien's. HearTurn to Stone here.
May 10 (Wednesday) Zip-Tie Handcuffs, The Mad Doctors, Idiot Genes, Future Spa at O'Brien's Pub...FB page
May 11 (Thursday) Cruel Miracle, The Stops!!!, DiNOLA and The Scrapes are at O'Brien's
May 12 (Friday) Mike Watt (Minutemen) and Meat Puppets are at the Brighton Music Hall Here's the FB page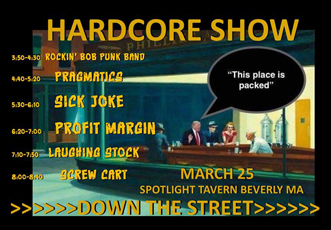 May 12 (Friday) Rockin' Bob Punk Band w/ Special Guests TBA at O'Brien's
May 13 (Saturday) A Crash Course For the Ravers has Glider on - WMFO 95.1 1-4PM
May 13 (Saturday) Watch City SteamPunk Festival in Waltham...Website FB Page
May 20 (Friday) Jenny Dee & The Deelinquents, Muck and the Mires, Vicky and the Vengents at The Middle East Up.
May 26 (Saturday) Corin Ashley and Modern Day Idols are at The Plough
May 27 (Saturday) The Cal Cali show that had The Shadows of Knight at ONCE Ballroom has been changed to now have all local bands: Lyres, The Black Souls, Classic Ruins and CalCaliBand You can buy tix here (Only ten bucks!!) FB page
May 27 (Saturday) The Runouts, The Martians, Blame Shifters, Nymphidels at The Midway this is an afternoon show - 4-8PM
May 29 (Monday) Teenage Bubblegums, Jagger Holly, Mongorellis, Jimmy Jacked at Opus Underground in Salem (FB page)
June 1 & 2 (Thurs & Fri) Reverend Horton Heat at Once in Somerville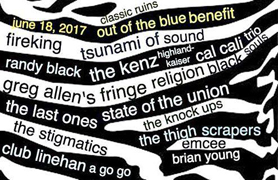 June 4 (Sunday) GIUDA (from Rome Italy) and Unnatural Ax & The Hi End at Once Tix etc here
June 17 (Saturday) Held Hostage, Point Blank, Infernal Diatribe, Profit Margin at Koto in Salem (FB Page)
June 18 (Sunday) Help Save Out of the Blue Gallery Too - this will be an all day affair (3PM-11PM) with FOURTEEN bands including: Brian Young -WMFO as Emcee plus Thalia Zedek, Fireking, Randy Black, The Knock Ups, Tsunami of Sound, The Stigmatics, State of the Union, Cal Cali Rockin' Trio, The Last Ones, The KENZ (Highland & Kaiser), The Thigh Scrapers and Club Linehan A Go Go ~ 50th Birthday Party for Joe Quinn. Check out the FB page
September 16 (Saturday) Chameleons VOX At the Middle East Also on the bill: Soft Kill , Way Out and The Milling Gowns FB Page
CONTACT US AT....misslynbgn@yahoo.com -Send us your gig listings, your news and anything else ya got!! You want your CD reviewed?? Contact us for that too.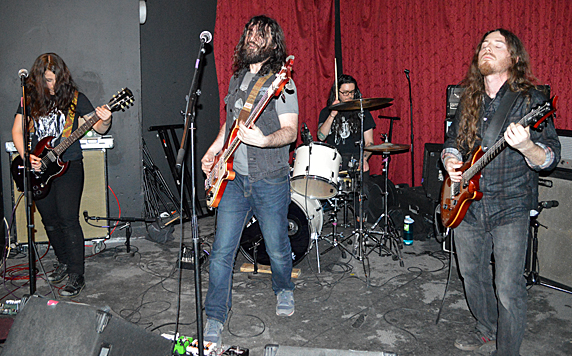 Sea at O'Brien's
Photo: Blowfish
Off World
Photo: Blowfish