The BGN News Archive
March 15, 2021

Gene Dante, the musician, was a highlight in Linnea's Garden's record release showcase last week. This week he makes a mark as an actor in a commercial for Bauer. It ran on National Woman's Day and had a cool twist on an old put down phrase. The commercial was filmed in Salem, NH. Some more of the story on Vanyaland.

We finally got a chance to hear a whole set by The Winter Project with their live stream from the Midway this past week. They did their brand new song "You Did Alright". (That can be heard at the 15:45 mark) then they did our fave "Scars Above" (@ 20:30.) The singer captures a longing feeling in his voice on that song. Their last song, "Going Home", also got our attention. The whole set was an hour long.

There's no flash with this band. Their overall sound that will appeal to most people and enough melodic hooks to draw you in. We'd love to see this set live – you know... when that happens again. The Midway live feeds are sounding and looking better now than compared to a few months ago.

A Bunch of Jerks have a live stream at the Midway this Tuesday 3/16 with Jay Allen and the Archcriminals. The Facebook event page is here.

To hold you over you can watch the video (above) of the Jerks' " They Chase Me" from their last album Anguish as a Language. It's on YouTube here ya go.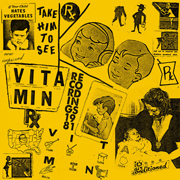 Vitamin was a short lived no wave band from the early 80s. They crop up now because they're releasing Recordings 1981, a 13 cut album. Nine songs are live from The Rat and The Underground. Up to this point they only had one song "Black Sheep" released on a comp. That was produced by Roger Miller who says "Vitamin was imbued with the type of self-belief that allows one to ignore all walls. I was a total fan the first time I saw them." Some more details on the Brooklyn Vegan website.

That song is on Bandcamp which we have below. Listen at the 2:18 mark where the violin plays "Mary Had a Little Lamb" amidst the angular din.

Slovenly has been promising a Bo Diddly tribute album for a long time. Well, He's Bad - 11 Bands Decimate Bo Diddly is finally coming out on March 26. The boxed vinyl set is going for $60.50. You can order on Bandcamp.

Andy California does "I'm Bad" and Andy McBain's Mardi Kings do "Pretty Thing", and that video gives Hilken Mancini another video star turn. Video below.

Color Killer did a live stream that they called a practice session. It was the usual cool pop punk set. They sound sharp as ever. It's 20 minutes long. You can watch it on YouTube. And they are growing up!! Their next Live Stream, they're calling "Waiting for the Vaccine", will be on March 27 at 6pm. They're hinting of having a special guest. The Facebook event page is here.

Juliana Hatfield continues her live recreations of her whole album catalog. On Saturday March 20 at 4pm she'll do the whole How To Walk Away album. The Q Division broadcasts have been one of the better live streams because of the quality of the audio, as you might expect. Here's the Facebook event page.

Last weeks Little Steven's Underground Garage made The Shang Hi Los "Sway Little Player their Coolest Song In The World. That's something we all can agree on. It's fantastic that the song will get more listeners. We can never get enough of "Sway" it is so good no one can deny it.

Connected to that, Jen D'Angora was interviewed on Mighty Manfred's Coolest Conversations. it will be posted on Monday here.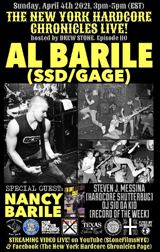 We just finished I'm Not Holding Your Coat by Nancy Barile. She was deep into the hardcore in Philadelphia. Later she met and married Joe Barile of SSD and moved to Boston.
On April 4 at 3 to 5pm Al and Nancy will be on The New York Hardcore Chronicles LIVE! Podcast. The podcast is done by Drew Stone the director of "All Ages" the documentary about the Boston hardcore scene. You can catch the podcast on Drew Stone's YouTube channel or find it on his Facebook page ..... and if you haven't gotten the book yet you can get it on Amazon.
Red on Red Records has a April Virtual Showcase happening on Friday, April 16 at 8pm. There will be "exclusive premiere videos from Kid Gulliver, Nightspell, Andrea Gillis, and other roster bands and guests TBA!" The link to the Facebook event: https://www.facebook.com/events/4117887971575731
SHORT CUTS...........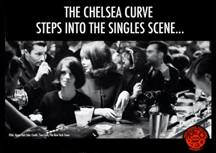 What's this? The Chelsea Curve is starting a monthly singles series! That's great news. It's all on Red on Red Records. The first installment will be March 31. We are psyched!!
Dinosaur Jr announced an inside show at the House of Blues…but it's on November 27. Tickets on sale March 19 here. You can WIN tickets at DO 617 site.
Tony Kaczynski recorded a vocal this week for the next Gymnasium album.
There's a new Watts album scheduled for a May release.
You can preorder the new Oh The Humanity! album now at this link
You've been good this week, you deserve to hear "Talk to Loretta" by the Lazy Cowgirls. Link!
Other stuff........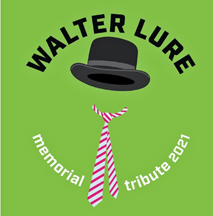 A Walter Lure Memorial Tribute which will be streamed thru Rolling Live on April 22 (his birthday) from Bowery Electric. Playing will be Waldos past and present, also performances by members of Walter's "other" bands; The Heroes, Blessed, Hurricanes. Virtual guests include Bob Gruen, Sami Yaffa, Jayne County, Howie Pyro, Legs McNeil, Frank Infante, Clem Burke, Glen Matlock, Levi Dexter, Smutty Smith, Marco Pironi, Philippe Marcade , Mick Rossi, William Luhr, Charlie Pickett , Binky Philips , Dee Jaywalker & more. It's also a Benefit for St Jude Children Research Hospital. Stay tuned for more info on FB here.

It was hard not to like The Bongos in the early eighties. They had the catchiest songs free of angst like "The Bulrushes", "Glow in the Dark" and "In the Congo". They were unadorned pop rock which is so simple that no one does it. They were two shows into an East Coast tour when Covid hit. That's a familiar story.

All this comes up because there is an interview with Richard Barone the leader of the Bongos on the Vinyl Writer website. Richard has more of a pre-Bongos history and much post-Bongos success.

Richard is on the board of Governors for the Recording Academy (Grammys) and the Board of Advisors for the Anthology Film Archives which is indicative of the knowledge, experience and talent his has even beyond the songwriting. You can check out the video "Streets of New York" by Barone which is a paean to NYC as you would expect. It has echoes of the "Sweet Jane" progression and will make you ache to get back to NYC as soon as this damn coronavirus shutdown is over. Video is above.

The Vinyl Writer interview is here. This is the Richard Barone's website.

Lookout Records will host Zoomout Lookout, an online stream on 3pm Sunday, March 28. The main person playing who got our attention was Penelope Houston of the Avengers. Also in the lineup is Ted Leo and Dr. Frank (for the Mr. T Experience). It's a ticketed event ($15.00). Get tickets here.

This past week Patti Smith played a private concert as part of the NY PopsUp series which was created to start the NYC transition back to live performances. The audience was 60 members of the Brooklyn Museum. She sang some songs ("Dancing Barefoot" was one) and read some poetry and book excerpts.

Some photos and more of the story on Pitchfork.

Cheap Trick has a new album on the way called In Another World. They pre-released a new song called "Boys & Girls & Rock N Roll". They'll release the album on a "a limited-edition picture disc at Target and blue-and-white splattered vinyl at independent record stores." They are back on the road in late April in Australia. More on the album here.

Radio, Radio.........

This week on Bay State Rock they played "Sick Middle" by Dutch Tulips. (Skybar played them too on his Rising Show on WMFO.) They are new to us. The song got our attention. The overall sound is a thick tangle but it opens up quickly on a close listen and following along with the lyrics (which are on Facebook). There's no telling what the lyrics are about exactly although they are a LOT of lyrics and they do mention Allston. Looking at the rest of their material it is similar to "Sick Middle" and all of interest.

Bay State Rock also played the Atlantics song "One Last Night" but by The New Frustrations. We forgot that was on their 2017 release Power Pop Rocks.

PODCASTS................


The Boston Beats podcast interview is with Ralph Fatelo of the Vinny Band and the Nor' Easters. Ralph goes right from the beginning playing TJ's in Kenmore Square…that was the Rat before it was the Rat. Ralph's got stories about the Police who they opened for at the Rat. His later group Simper Fi opened for ELO.

They also have a solo acoustic set by Simon Ritt. He covered Gordon Lightfoot, Johnny Thunders, Willie Loco ("Gin") and played some Darlings material. Simon sounds very comfortable in the low key setting and the recording is clear and clean.

He threw some kudos to Brian Young of Crash Course for the Ravers for keeping up the memories of Johnny Thunders and The NY Dolls as he sang a song about Thunders. Simon also talked about his band The Daughters opening for the Go- Go's and The Replacements at the Rat.... and about his involvement in The Final Note, an upcoming album of the Allman Brothers last show with Duane Allman.

The Front Stairs Podcast episode is all about growing up in Dorchester. They interviewed Mark Doherty of the Pint Killers, Pug Uglies and Dot Rats. The Dot Rats were huge supporters of keeping the neighborhood stable and free of gentrification.

We don't know if people outside of Boston could fully understand The Dot Rats unless they understand all that's talked about on this podcast. That makes us want to hear "Triple Decker" .

Dug McCormack got the podcast interview spotlight this week on Dirty Decibels. He gave out some of artistic influences which run from cartoons (Ren & Stimpy, Warner Brothers) to Picasso, Basquiat and De Kooning.

Dug is a great example of someone who fashioned something new when faced with the challenge of the Covid-19 lockdown. Dug will create no matter what. He's an inspiration!!

CDs/ Music.......

Back Porch Carousel puts Eric Martin's gorgeous voice up front to the service of Adam Sherman's song "Only Talking". The tasteful group playing puts a capper on the effort. You can imagine people hearing the song and saying, 'Who is this!?' It's a stunner! The coronavirus shutdown has been a curse in so many ways but it did get this talented group together.

Diabloico Delirium Satanico Pandemonium is cheesy garage horror/drag rock from Istanbul. How do we know about it? Kenne Highland is guest guitarist on "The Bloody Sea of Montezuma" that's why. He heaps on the acid riffs aplenty.

The album gives you that Saturday afternoon watching horror movies feeling. You know there is something worthwhile you should be doing but you can't rip yourself away from indulging yourelf.

Lou Ottens, the inventor of the cassette, died this week! Story in the Guardian.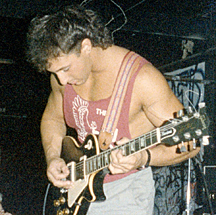 Sadly we have a couple of other deaths to report......Dave Aronson of Jerry's Kids died this week after a battle with cancer. From the Jerry's Kids page: "Sad news to share, our friend, bandmate, and one of the founding members of JK's, Dave Aronson has sadly passed after a difficult battle with cancer. We had many fun adventures growing up and playing with Dave. Dave always made the songs a little better and was skilled at adding power to any piece, more importantly he was fun to be around. Us Braintree guys are a family and we lost our brother, Dave lived a rich life on his own terms, always on 11. The band would like to thank Dave's friends, (you know who you are) for intervening to help secure Dave's care and comfort over these past few months. Whereever Dave is, it is unlikely he's at rest or at peace, more likely causing trouble and laughing, as he should. We will miss you Dave"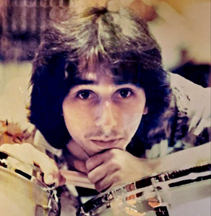 And many of you out there may remember Bug Witt ... Reddy Teddy drummer. He was a total sweetheart and good guy. We just found out that Bug Witt passed away in January: From Reddy Teddy page via the VibvaBeats: "Doug "Bug" Orilio, passed away on January 13, 2021, after a courageous 21-year struggle with the effects from a motorcycle accident, Doug passed away peacefully at his home in the company of his son Douglas James Orilio, and caregivers Tennille Kochanowski and Nicole Kochanowski.
Doug was born and raised in the Greater Utica Area. He attended Whitesboro Central School, and at a young age, showed himself to be a talented musician, playing the drums in several musical groups and recording several albums with Boston-based Reddy Teddy and L.A.-based Vivabeat."
CONTACT US AT....misslynbgn@yahoo.com Send us your gig listings, your anything else ya got!! You want your CD reviewed?? Contact us for that too.
---