The BGN News Archive
March 16, 2009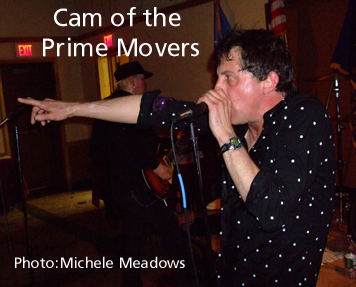 OH! We had a lot of fun at The Dilboy VFW Hall in Davis Sq this weekend!!
Friday night was Kim Ackland's party with two Prime Movers' sets. And man they were THE Best ever that night. Everyone was commenting on how awesome they sounded...
now I do hear that they will be playing out from time to time but are yes pretty much actually broken up. Dennis and Cam are working on a project together so that good! It was a real fun night, everyone dancing and had a blast......
Saturday night it was back to the Dilboy (I mean even the name is cool huh?) for Sue Lemont's birthday party and she had a loty of bands: Preston Wayne's band, Radio Knives, Red Invasion, Classic Ruins and The Doom Buggies playing. Again, there was a great turn out and everyone was in a great mood!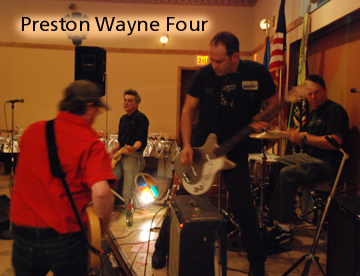 This Dilboy place is so cool, right in Davis Sq, cheap drinks and it's a great size and ladies, they always have a can of Aqua Net in the ladies room!! Oh yeah! Everyone should think about having a show there for whatever reason or no reason at all except that it's a great place to have a show!
So you'll see a couple pics here this week but expect a page on the Lucky 13 weekend very very soon!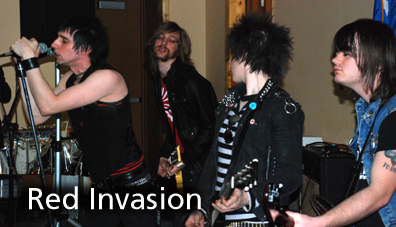 So speaking of great shows we hear ( though we did not make it) that the Cantab was totally sold out for the Real Kids show on saturday night AND we also hear the show was great!! I'm glad to hear John was in good form...you never know how its gonna be with him and I'm glad he did his best, when he does a good show it is a really really awesome and stirring show! YAY!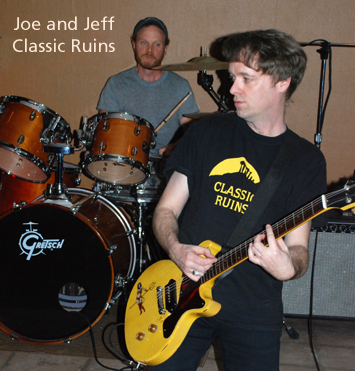 SO here are shows coming up: This at Church on Tuesday 3/17 are Coffin Lids + The Throwaways + Buried In Leather + The Guns Of Navarone, that's a good show!
And a big one: At Church This Friday March 20th is another DMZ show along with Unnatural Axe (YEEHAW!!! Richie's back on stage!!) Vagiant...
if you missed DMZ last time do not miss them this time, they were awesome!!!
In April...well first off the Queers are at TT's Friday April 3rd...
Also on April 3rd at 9:30 PM there will be is a screening of America's Lost Band (The Movie about The Remains) at the SENE Film, Music, and Arts Festival in Providence,
and The Remains will be performing an unplugged set of several songs after the screening. It seems like most of Boston will be headed down to the show!!
Also that weekend there's an awesome 2 day punkfest at Harper's Ferry! Check it out: Saturday April 4th is an ALL AGES show at NOON with Far From Finished, The Pinkerton Thugs, The New Alibis, Blood Stained Brindle, Flat Foot 56 and Razors in the Night....THEN that night for a 21+ show you get: Blanks 77, The Wretched Ones, The Skels, The Side Effects and Oi! The Band.....
Next day Sunday April 5th is another NOON , ALL AGES show with The Casualties, Mouth Sewn Shut, Tommy & the Terrors, For The Worse, War of The Words and Word for Word ....
Ok THEN there's the night time 18+ show with Mark Lind & The Unloved, Lost Cause, Nothing But Enemies S.C.F.F., Hammer & Nails, Doggfight U.S. and Red Invasion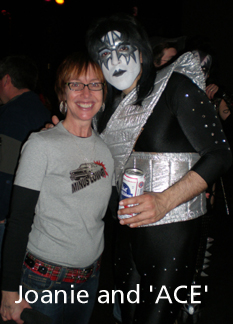 Excellent way to spend your weekend!!
On April 29 the Whore Moans will visit Boston from Seattle again. They are playing the Middle East up with the Side Effects. They have good songs and are great live.
Looks like The Damned rescheduled at The Paradise, they are playing there Friday, May 8th!!
But also May 8th there's a killer show down in Providence RI at Club Hell: Mouth Sewn Shut, The Meatmen AND Fear...whew!! worth the drive!!
And in June The Blackjacks are back!
Here's all the info you need:
June 18th, Robin Lane/Johnny Angel plus Angelyne and special guests at Plough and Stars
June 19th, Blackjacks, Gravel Pit, (the original)Outlets, Killer Abs, TT's. 10.00 in advance, 12.00 day of
June 20th, Blackjacks, Mark Lind and the Unloved, The New Alibis, Classic Ruins, TT's, same cover
Oh!! Those are some good shows!! See you there!!
And Hey if you need some new, cool, T-Shirts for the spring, now's your time to get 'em my friends: QRSTs has a bunch of new designs like Morphine, O Positive, Nervous Eaters, 3 Colors..and other cool stuff.check 'em out at QRSTs..
OK, there you have it for this week friends....email me huh....????.... Lyn