The BGN News Archive
March 16, 2015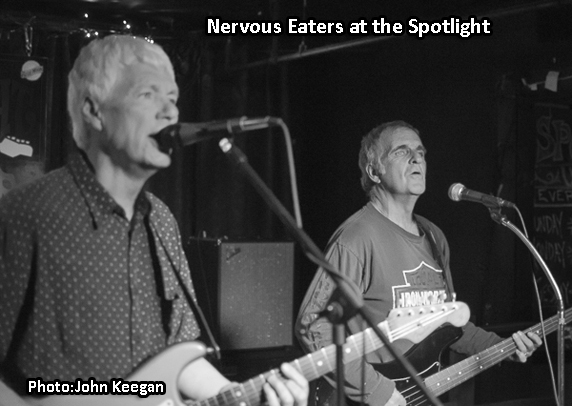 Black Beach posted on Facebook that they would go on at 8:45 sharp for their Tuesday TT's show. I liked that sort of certitude and headed out. They were about five or ten minutes late but not bad.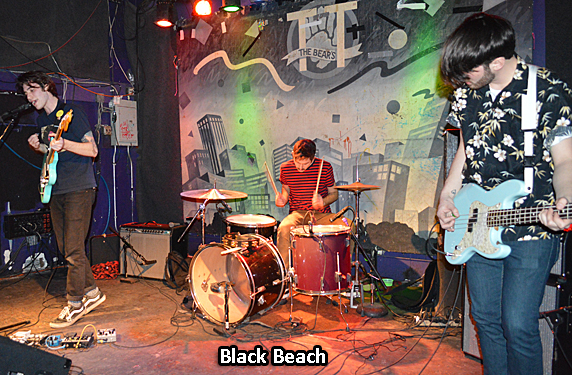 The EP release party they had was mighty impressive. I almost didn't recognize the main singer because last time I saw him he had a remarkable blonde mane, now he had dark hair. I could see their mix of psych and surf more clearly this time. There's nothing contrived about it, it seems like that's the way it naturally flows out. The guitar has superabundant reverb and a few chromatic chord runs both ascending and descending coupled with screams punctuate the already lively songs. They began with Rats off of the EP and that's recognizable if you know it, but I still think they need some more tunes you remember on the way out.
Tonight they do leave an impression with the last song – Surfer Bird. As the singer sings with the microphone in his mouth (photo at end of news section) one understands it's the Cramps version they are covering. In February they posted a version of The Kinks' All The Day and All of the Night . It's a good rave up with a two blood curdling screams in it and you get an idea of the amount of reverb on that guitar.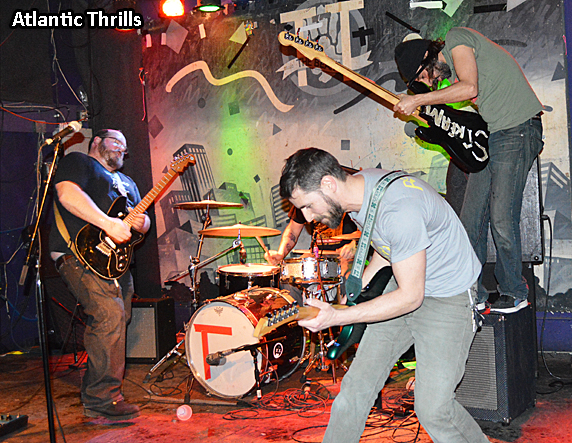 About two years ago I saw a poster for a gig on a pole in Providence that I thought said Thrills. I looked closer and it said Atlantic Thrills. That's the first I heard of the group but since the they've put out a CD and I've heard lots of good words for them but I never knew what they sounded like. Tonight I find out - they're a garage rock band. They have three strong singers that give the choruses real punch. I got a big kick out of the garage feel of everything they played.
Sue Safton of WMBR who has been the garage queen for a decade was there as was Mitch of Triple Thick. The expert himself gave them a seal of approval. They were bouncing around at the end to top off a very satisfying set. I'll have to seek out that CD. Here's a video of Atlantic Thrills doing Day at the Beach.
I left then but still to come up were the Cool Ghouls and Creaturos. This was a bill that would work on a weekend but there were only about 35 people there when I left.
Saturday was more foul weather but that didn't stop John Keegan and a club full of people from getting to the Spotlight in Beverly for some prime Boston Punk. John's review below.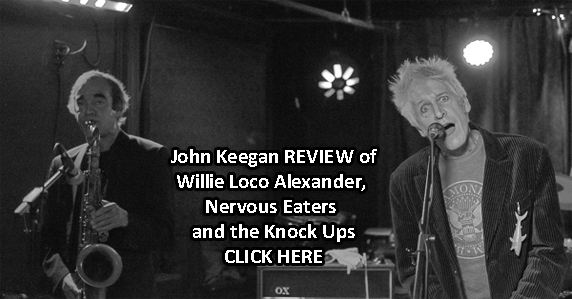 Here's some other stuff:
With the great show at The Spotlight Lounge in Beverly with Willie & The Fish Eye Brothers, Nervous Eaters and The Knock Ups we had those guys on our minds: This is from 2011 but we just found out about it - it's an hour with Steve Cataldo on the Count's cable show Visual Radio. Very cool. And WBUR profiles Willie in lead up to that gig here's the article.

If you liked the bands you saw in True Age Media's Let's Go To the Rat you can now get the soundtrack from the film since its out on CD. It can be ordered here…
Jordan Kratz of Big Meat Hammer has dedicated a section of his site to all of Dave "Hard Korp" Koehler's treasure trove of early punk material. We are SO grateful this stuff was not lost or tossed!! There are tapes of gigs by LaPeste, Lyres, Unnatural Axe, Thrills, Tracks, Baby's Arm, Real Kids, Count, Molls, Bonjour Aviators, The Neighborhoods and Mission of Burma. There are tapes of radio shows like The Demi Monde, an interview with The Dead Boys and much more including photos of some of the issues of Dave's Hardcore fanzine. . Jordan is looking for more stuff to archive as well and info on the bands on the site. There's a lot to check out: Dave Koehler site here.
And there's a new trailer for the Dammed documentary The Damned: Don't You Wish We Were Dead. If the trailer is any indication of what the movie is actually like its gonna be killer!! It premiers this Wednesday, March 18th at SXSW with the Damned playing later that night. Check it out at the link above. Oh and here's a Lego version of The Damned's New Rose!! Hilarious!
And we hope the snowpocolypse has actually ended and we will all be free to go out and so stuff unhindered until maybe next winter here's an article on AllstonPudding.com about the effect of this crappy winter on the music venues and the bands and fans.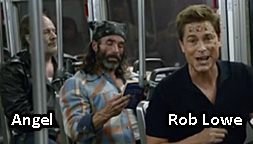 If you didn't see it last week when we posted here it is again: here's a list of all the shows at The Channel!! What a great resource and people are loving it! Check it out and take a trip back in time remembering which ones you were at.
And for you record geeks out there have you checked out Bongos? Its a great site for cool vinyl.
And we mentioned last week about Johnny Angel Wendell's new book Looking for Lady Dee. It's causing quite a stir and some people are pretty well pissed off by some of the stuff in the book. WHEW!!!! That's why its described as "Lurid, vivid and relentless in its descriptions of rock music's unholy triumvirate (sex, drugs and the music itself)" You can purchase it for a mere $2.99 on the Kindle or as a hard copy here for $9.99. You might have seen Mr. Angel's mug on the Poor Decision Making Rob Lowe commercial as he 's one of the creeps on the bus. You can see him at 0.21 here.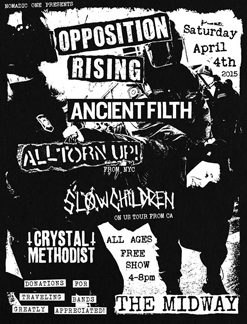 And it sucks to keep saying goodbyes to people from our community but yes, we had another loss this past week. Bryan Stoker well known and much loved manager of The Rat for years passed away on March 9. In his obituary it mentions he worked at the Rat from the age of 17 until it closed! He was a big part of our lives there and away as well. RIP Bryan!! This video was posted on FB it's from a Charles Laquidera video and you can see Bryan in action behind the bar!
But in some good news Captain PJ is out of rehab after his stroke and showed up at a gig in his home town of Wistah, with puppets of course. Glad to hear PJ is well enough now to be out and about! Welcome back PJ!!
here are some shows that are happening this week....
March 19 (Thursday) The much loved '80s garage-pop-psych band The Prefab Messiahs has an EP (10", cassette, CD) now on Burger Records & KLYAM Records (split release). It'll be their first new sounds in 32 years! So they are having a record release party at The Middle East Upstairs - it's The Prefab Messiahs (On at 10:30) , The Fagettes, Secret Lover, and Fedavees You can have a listen to Keep Your Stupid Dreams Alive here. Here's the FB event page. They are getting lots of press about their gig and record release too! Here's one from Rocker and here's a video of Weirdoz Everywhere.
March 19 (Thursday) at Atwoods in Cambridge, MA. World-renowned rockabilly sensation Jittery Jack, along with Miss Amy Griffin on guitar, Johnny Sciascia - America's Bass Player , and Judd Williams on drums. Two big sets of top-notch rockabilly and rock 'n' roll on a thirsty Thursday evening ! WMFO's Easy Ed spins platters early, late, and on the break.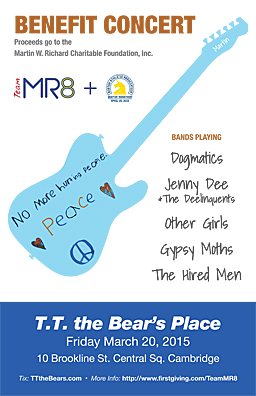 March 20 (Friday) at TT's - Join The Dogmatics, Jenny Dee & The Deelinquents, The Hired Men, GypsyMoths, and The Other Girls for a night of rock and roll to benefit Team MR8, running for The Martin W. Richard Foundation in the 2015 Boston Marathon. The Martin W. Richard Charitable Foundation honors Martin's message of "No more hurting people. Peace" by investing in education, athletics and community..
March 20 (Friday) The Skels, The Allstonians, The Sprained Ankles and Tsunami of Sound at The Midway. Surf, Punk, Ska, Irish what a combo but these bands are all connected in some way...come on down!!
March 21 (Saturday) A Crash Course for the Ravers WMFO 91.5FM, 1-4PM is back on the air and has the Welsh Boys as guests today.
March 21 (Saturday) it's a Big Thaw Spring Equinox Party with Muck & The Mires, The Dents, Watts and The Above at The Midway Cafe.
March 21 (Saturday) Lux Lives comes to Portland, ME at The Bayside Bowl with The Crimson Ghosts and Thee Icepicks and DJ's Kogar the Swinging Ape and Matt Little! It's all Cramps all night!!
March 21 (Saturday) ATTN: Swing dancers, east coast/west coast, Jive, Bop, & Freestylers alike: Lil BeeDee and the DooRites are at The Palmer Historical and Cultural Center in Three Rivers, MA this Saturday for dance party night!! it starts at 7:30. $14 at the door.
And coming up after this week we have.......
March 23 (Monday) - The The Downbeat 5 are playing in Salem at Opus Underground along with The Skeleton Beats and Crimson Ghosts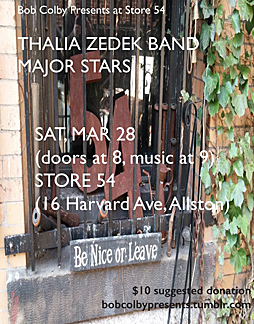 March 27 (Friday) Salad Days - The D.C. Punk Revolution is a film about the great punk scene that came out of DC from 1980-1990 is showing at the Somerville Theater.at 7:30PM Here's the FB page for more info and you can buy tix here
March 28 (Saturday) A Crash Course for the Ravers on WMFO 91.5, 1-4PM has MOTO. so tune in.
March 28 (Saturday) - Township is at the Midway.
March 28 (Saturday) Bob Colby presents Thalia Zedek Band and The Major Starsat Store 54. (Unfortunately the Banditas had to cancel) FB page
March 28 (Saturday) All ages early (4PM) show at The Spotlight Tavern in Beverly with The FUs , Los Bungalitos,
Oh the Humanity, 138 (a Misfits/Samhain/Danzig cover band) and RMW - Randy Mississippi Whiskey
March 28 (Saturday) two great shows up in the north shore! Roy Sludge is at In a Pig's Eye in Salem
March 28 (Saturday) very hardcore gig at The Elks Lodge in Central Square with Los Crudos, (their First Boston Gig in a long time), Scapegoat, Green Beret, 2X4 and Animal Mother NOTE: this is a 6PM show!
March 29 (Sunday) Biohazard, Sworn Enemy and Tenebrae are at the Middle East down - note! this is an early show- doors are at 6PM.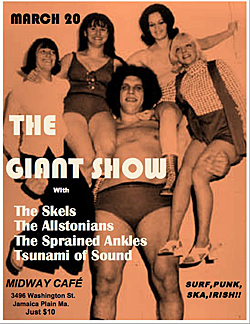 April 1 (Wednesday) It's "Surf and Turf" at TT's for a night of instro/surf and rockabilly/rock and roll/honky tonk featuring The Skeleton Beats, Matt Heaton & the Electric Heaters, The Weisstronauts and Leah and her J-Walkers
April 1 (Wednesday) The all new Mars Records opens today in downtown Plymouth Ma Mars Man says "this will be the coolest and funkiest record store you have ever seen!! I'll be selling New and Used and Rare Collectable records as well as other music related goods. I will also be paying cash for unwanted vinyl records. This has been a LONG time coming and I plan to make something special for Plymouth and all of the south shore and beyond !" Here's a link to the store's FB page, like it to keep updated on what's happening! Road trip to the Cape!!! and while there dont forget the most awesome Atomic Dimestore run by Rick Paige in Hyannis!!
April 1 (Wednesday) Mars Records Grand Opening Party at The New World Tavern Plymouth with Kingsley Flood! and special guests Plymouth's own New Frustrations! 9pm no cover charge!
April 3 (Friday) At the Midway - the return of The Real Kids!! also on this bill: Monsieurs, Stop Calling Me Frank and The Skeleton Beats (note the Skeleton Beats were originally booked in Salem for this night but that has changed, they are at the Midway instead, really can you blame them??) The Skeleton Beats will start recording an album...on vinyl....on March 27th at Galaxy Park Studios....and remember the Real Kids are currently in the studio also!
April 3 (Friday) -It's Party Time at TT's with Party Bois, Petty Morals, Parlour Bells and Gene Dante & The Future Starlets
April 3 (Friday) The Knock Ups, Ladymob, Lucky United and Radio Compass are at Opus Underground in Salem.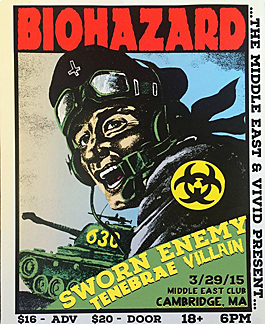 April 4 (Saturday) Cadillac Heart is doing a show at Club Bohemia at The Cantab. Also on the bill is James Straight and The Wide Stance, Billy Connors' nephew Cory's band Dr Fuzz and the Garage Boys
April 4 (Saturday) a FREE and all ages punk show at The Midway with Opposition Rising, Ancient Filth, All Torn Up, Slow Children and Crystal Methodist -This is a 4PM early show. FB event page
April 10 (Friday) Salad Days - The D.C. Punk Revolution is a film about the great punk scene that came out of DC from 1980-1990 is playing in Providence, RI at AS220 (115 Empire St) Here's the FB page for this event.
April 10 (Friday) and of course The Sonics are at The Brighton Music Hall along with Barrence Whitfield & The Savages, Muck And The Mires - NOTE!! early show, doors at 6 show starts at 7PM! Hmm, what to do afterwards???
April 11 (Saturday) A is for AWESOME 2: the punk version. This is a fund raiser for Autism research etc. The money raised from all four events during the weekend will be donated to The Trudeau Center Children's Rec Program and The Autism Project. Confirmed so far they have: Neutral Nation, The Frenzy of Tongs, The McGunks and Me Jane. At the Parlour in Providence RI. Check the FB page for updates!!
April 12 (Sunday) A is for AWESOME 2 : On this night they have: The Worried, Pyramid, Black Oil Incinerator, Atlantic Thrills The Neutrinos, The Evil Streaks and more to be announced soon. Check the FB page for updates on the bands etc...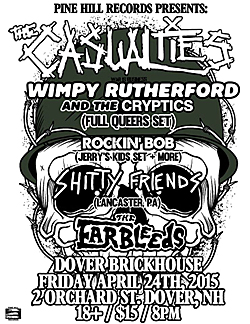 April 19 (Sunday) It's The 5th Annual Hard Core Cotillion...with Gang Green, Antagonizers ATL, Drug Shock and "Special Guests" (who they'll announce after 3/17!) and Rockin Bob (Cenci) and The BarRoom Heroes. This is an All Ages 3PM afternoon show.
April 24 (Friday) The Upper Crust, The Grannies, White Dynomite and I Am Next are at Cuisine en Locale. You can buy tix for this killer show here.
April 24 (Friday) if you live near Dover, NH you're lucky coz there's a awesome show with NYC legends Thee Casualties and we luv us some Wimpy and you get Wimpy Rutherford & The Cryptics doing a Full Queers set - the Cryptics backing up NH legend and original Queers singer Wimpy Rutherford ...also, he should not have cut his hair,- Rockin' Bob which is Bob Cenci of Jerry's Kids and The FUs & friends playing Jerry's Kids material + more but you also get Shitty Friends we all have some of those right? these guys are from Lancaster, PA and also on the bill are Maine street punks The Earbleeds. its all happening at the Dover Brickhouse. See the FB page and be there.
April 25 (Saturday)- Bob Colby Presents Sarah Rabdau & Self-Employed Assassins and The Wrong Shapes at Store 54
May 6 (Wednesday) here's one to put in your calendars my friends: The Meatmen, Against the Grain and The Humanoids at the Middle East upstairs....(UP??? They sold out the downstairs last time!!) anyway here's the FB event page
May 9 (Saturday) Johnny and The Jumper Cables at the Midway Cafe!
May 14 (Thursday) John Cooper Clarke is performing at Berklee!! At the David Friend Recital Hall (921 Boylston Street) Click the link to read more about JCC and to buy tickets.
May 16 (Saturday) Hixx are at Club Bohemia at The Cantab
May 22 (Friday)- You have been warned - Book the flight now: Sleep Chamber!! Doing their only show in 34 years in Tel Aviv, Israel at UTC+02. Not only is this their first show in 34 years - its their LAST SHOW ever.
July 18 (Saturday) Mission of Burma opens for The Foo Fighters and the Mighty Mighty Bosstones at Fenway Park
and of course The New England Shake-Up! September 25,26,27 2015! Keep yourself updated at their FB page
CONTACT US AT…….misslynbgn @ yahoo.con Send us your gig listings, your news and anything else ya got!!