The BGN News Archive
March 17, 2008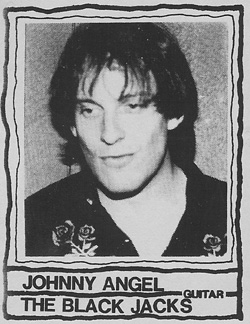 So its coming up on the end of March my friends.....let's see...there's a bunch of us Thrills fans out there and now we can tell the world by wearing a Thrills T Shirt...so what ya do is go to QRSTs and not only can you order a Thrills T but Blackjacks, Swinging Erudites and Hoods, Rat etc etc...so go check it out... and speaking of Thrills and the old days...many of us girls with thrilled with the likes of this bum back then....ah yes the young and handsome Johnny Angel....remember when these baseball card were circulating around Boston????....
OK, I'm just gonna mention some shows coming up....
Coming up this weekend... Friday the 21st at The Midway we got The Fashion Failures, The Killer Abs and The Doom Buggies, then on Saturday the 22nd at The Abbey are The Coffin Lids, The Throwaways, The Sprained Ankles and Ghouls Night Out...Sprained Ankles are in our Top Ten List ,,have you checked it out lately??...
Friday March 28th TT The Bear's Place has The Shods, The Teenage Prayers, Watts and The Tampoffs
and on March 29th you can take a stroll back in time at The Cantab downstairs and pretend you're back on Kirkland Street at Club Bohemia coz the Modniks are playing at The Cantab along with the most fabulous Hank Susskind as MC!! ....
Friday the 21st at The Midway is Fashion Failures, The Killer Abs and The Doom Buggies.... Thursday Mar 27 at The Abbey is the Black Fortress Of Opium CD Release party with Black Fortress of Opium, Garvy J and The Invisible Rays....
And get ready coz on Friday, March, 28 2008 at The Living Room in Providence RI there is a most, most awesome show with Murder Junkies, Red Invasion, Sleazies and The Midnight Creeps...
and then the sickness spreads to Boston on Sunday March 30th is the GG Allin Memorial Show with Murder Junkies, Thunderhog, Mob Hit, Shit F*ck, Eat The Homeless, Iza and DJ Hair Ball spinning scuzz punk... wow.
Also Kilslug show with "A.C." its their 20th Anniversary Show..and Psycho at Church in May..... So that's it for now...new photo page of Fleshtones should be up this week along with NEW vintage late 70's Rat pics from Kathy Flynn!!.... Email us here...