The BGN News Archive
March 17, 2014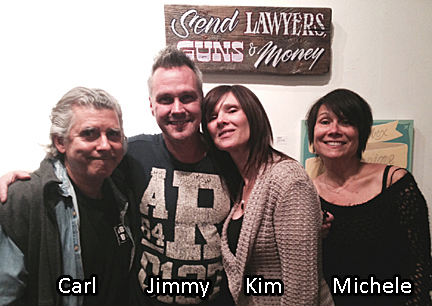 This past weekend Carl Biancucci and Miss Lyn headed over to Lot F Gallery see the some art work by Jimmy Birmingham (Mach 5, Real Kids) in the show It's Virtue is Immense a tribute to Script Lettering. Jimmy had his dates Kim Ernst and Michele Haber (The Bristols) with him as well. The show was lots of fun and Jimmy's work is pretty cool...doing lettering like that, freehand, is a amazing skill! Also in the show were some of Jimmy's students who, come to find out, know him as "Spike"!! Check out the link above for a view of the various pieces in the show...some really interesting stuff there! My favorite pieces were by Spike's student Kenji Nakayama. Yeah JImmy taught sign painting at a local art school for quite a while and also paints motorcycles, boats etc...he's an extremely talented guy our Jimmy!!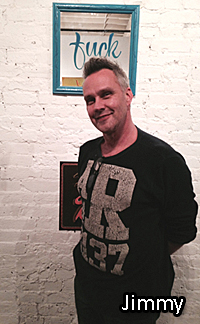 There's been a lot of talk this past week about a Gizmos Reunion - and this would be the original members from 1976-77 to happen this June. Organized by Max Damata of Sonic Daze. Check out these pages about the tour and watch for definite dates....Gizmos World Tour 2014 and We Want the Gixmos in Bloomington ... (Hey guys how about BOSTON???) Keep reading Kenne Highland At Large too for up dates.....lookie here its a band called Deezen covering "Give me back my foreskin" and here's Angel Corpus Christi covering the classic "That's Cool I Respect You More"
We want to wish Skinny Mike and his Mike's Monster Guitar shop a happy one year aniversary!! Sandy's, the long standing music shop on Mass Ave changed hands last year and Mike's doing a great job with it now.....
Despite tales of cockroaches walking on the pizzas and other horror stories admit it, you've gotten a "slab and a tab" here once or twice after imbibing at TT's or The Middle East...Hi Fi Pizza has closed!!!
Triple Thick has a new release TUESDAY NiGHT FEVER is up on Bandcamp....Eight songs, thirteen and a half minutes recorded at Studiochevre, Cambridge Ma by Curtis and Hayley and mastered at Galaxy Park, Watertown Ma by Richard Marr. Please download it for free HERE and share it with your friends.
We were fixed on the rockabilly gig at the Midway but circumstances doomed us. Michele Meadow did make it and said it was a gas. The Bloodshots had a bass climber, I love that. We would have loved to hear Sean Coleman's impassioned singing. We do have the photos via Michele.
And for upcoming shows.....
And a special show this Monday March 17th is the Trick Wallace Birthday show at The Tavern at the End of the World...there'll be Nat Flan, The Trick Wallace Trio, Asa Brebner, Fireking and Trusty Sidekick.... and Kenne Highland will be there with Max fromt he Italian punk band Sonic Daze who started out as a DMZ coverband!!
Jonathan Richman is back to the Middle East Up this week on Wednesday , Thursday and Friday with Tommy Larkin on drums.
And since the Wednesday show is sold out you might as well head over to The Plough & Stars for Jay Allen and A Bunch of Jerks (their debut show)
This Friday March 21 there a mega OI!! Show at TT's with Yellow Stitches, Victory, Razors in the Night (who are great and are celebrating a record release this night) And The Warriors real Oi! Straight from London you know…(and named after one of my fave films!)
Jeff Hudson has a new gig ....DJ Jeff Hudson starts shows on Friday March 21st...so if any of you are out in western Mass...this could be FUN!... He'll be at Hops & Vines Beer Garden & Brassierie in Williamstown playing some cool music.
Saturday 1-4PM Liz Borden returns to A Crash Course for the Ravers show on WMFO 91.5FM
On this Saturday, Mar. 22nd -- WMFO's DJ Easy Ed Presents A Rockin' Springtime Dance Party! With Lynnette and the Longshots, LiL BeeDee & the Doo-Rites, and Easy Ed's Record Hop, at the Canadian-American Club, 202 Arlington St., Watertown, MA. Doors open at 7:30 pm.
This Sunday March 23 at 10PM...there's an interesting event at Brick & Mortar in Central Square its a This is Boston Not L.A. show celebrating the Boston Punk Rock and Hardcore Its a night of art, music and a photography show celebrating three eras of Boston Punk Rock and Hard Core. Artists showing are Gail Rush, Nicole Tammaro and Tara Feely. Also, Dave Tree will be showing some of his artwork. Music will be spun by Ken Cmar of Wonderdrug Records, Dave Tree and some other scene legends. So head on over and have some drinks, enjoy some art, reminisce and listen to some great local music.
There's a serious punk show at The Ramrod next Tuesday the 25th with Mystic Inane, Funeral Cone, Discipline, Jock's Blood and Stranger Thursday March 27th is the official Kenne Highland Birthday Bash at Tavern at the End of the World
Saturday March 29 at The Midway you can get a double dose of Chris Brat (we hope his ribs have healed by then) plus these are some damned good bands - its The Old Edison (In case you missed them last week), The Warning Shots, The Black Cheers and Duck & Cover
And the Savtones have resscheduled their Store 54 show for March 29 ...
and Allston Rock City Hall has its Grand Opening Celebration on Saturday March 29th!! It starts with an art show (1-4PM) and a party, an after party and then music (ending at midnight)!!
The fundraiser gig for Veterans Advocacy Services was canceled due to SNOW (what else is new this winter huh??) and has been rescheduled to 3/29/2014 at the Maynard Elks from 7:00 PM to 12:30 AM and now they have nabbed Special guest Gary Soprano (Third Rail and Cadillac Heart) will be joining Reddy Teddy for this important event.
Jon Bernhardt is celebrating his 50th Birthday and 30 Year Anniversary on WMBR's Breakfast of Champions with a gig at the Middle East down on April 2 with Bevis Frond and Barbara Manning and Dump. Tickets are $20, to benefit WMBR and are available via TicketWeb.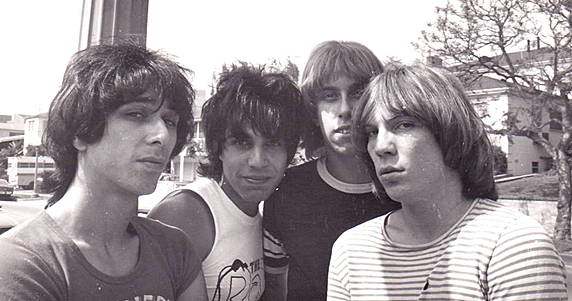 This is a photo that came to us from José Ruiz, he's a DJ on Radio France, and was the founder of the Real Kids International Fan Club back in 1983 in Bordeaux, France. It was taken by his friend Philippe Garnier when the Real Kids went visit with him in LA,in 1981. Philippe released the very first Real Kids single, "All Kinsa Girls" on his Sponge label.
Friday April 4th at The Regent Theater is the debut of Tim Jackson's film "When Things Go Wrong" which is all about Robin Lane there'll also be a Q&A with Tim and Robin and live performances from Robin, The Chartbusters, Barrence Whitfield, Ramona Silver, and others TBA . You can buy tix here Regent Theater site
April 4th at The Midway are The New Limits, The Screw-Ups, The Allstonians, The Copacetics, and DJ Nate EaseUp of Rude Sounds
Saturday April 5th there's a great show, one not to be missed realy!, at the Spotlight Tavern in Beverly with Two Saints, Greg Allen's Fringe Religion, The Low Babies and Mike Woo's Raging Bone.
For you folks up in the Portland, ME scene the Bayside Bowl Uproar happens Saturday April 12th - at Bayside Bowl see three of Portland's most talented artists presenting some of their best original pop & rock songs for your listening & dancing pleasure...Joe Brien, all girl Portland band Tiger Bomb and the Johnny Cremains band
The Saturday April 19th at The Cantab gig has changed…Bittersweets are out but instead you get The Darlings, The Funeral Barkers, FoxPass and Emily Grogan....
Saturday April 26th at the Midway is The Cheeseburger Eatin' King's Annual Birthday Circus featuring Bad Lieutenants, The FUs, Big Meat Hammer, Rough Francis, The Stand Alones, The Pubcrawlers, Bragging Rights, and Slim Francis
Thursday April 24th The Koffin Kats are back at O'Brien's along with Ten Foot Polecats,the Radiator Rattlers and Weak Week.
Wednesday April 30th Streight Angular are at O'Brien's...
The Cavestomp (Boston) Standells and Lyres at The Brighton Music Hall on Monday May 5th.... You can buy tix here
the Joe Coughlin Memorial Show is at the Midway on May 10th!
At O'Brien's on Saturday, May 10th we got a excellent show with Jittery Jack (their Boston record release show) , Whiskey Kill, Johnny Carlevale and the Rollin' Pins and DiabloGato
Also on Saturday May 10th is a crazy night at Club Bohemia at the Cantab with The Hixxtravaganza - playing are Hixx of course along with Scott Damgaard, Cadillac Heart and James Straight And The Wide Stance
It's a killer weekend over at The Midway on Friday, May 16th with The Other Girls, BrownBooze (featuring Rod van Stoli and Jordan Valentine of BrownBoot!!! she's in town for a couple shows this weekend -see below too) ) and Saturday, the 17th with The Hudson Falcons , The Sprained Ankles, The Black Cheers and Spectacle
OK people mark your calendars for Al Janick's St. Stanilaus Polka Party on May 17th...this year its at Anthony's on Highland Ave sin Somerville and he's got his Plastyczny Ser Orkestra consisting of world famous musicians like , Kevin Hensleyski on Guitar, Matt Burkeski on Drums and Shaun Wolf Wortiski on Bass...along with The Warsaw Marching Accordion Army and the Horny Karkow Horns...and if that weren't enough he also has special guests The Pierogi Triplets (Jordan Valentine & Jenny Dee)!!!
Thursday, May 22 at The Middle East Up……… The Woggles with Muck and the Mires, Lyres - whoa what a show!!!!
The 2nd Annual Rat Beach Party is already well in the planning stages...its set for September 14th& 15th and here's a list of bands so far: Saturday night- Red Parrot Beach Bar starting at 7 PM: Hardwired -- Heavy Weddle & Sweet Release -- Severance (or Band To Be Announced) -- JetSet -- Billy Rath & The Street Pirates -- Open Jam to close
Sunday afternoon/evening: Red Parrot Function Room, Beach Bar and Back Room Lounge starting at 12:00 -- The Beachcombovers (Function Room) -- Hardwired (Beach Bar) -- The Boize (Function Room) -- Gino Caira Band (Beach Bar) -- Count Viglione Love & Flame (Function Room) -- Hixx (Beach Bar)-- State of Union (Function Room) -- GraveDancers (Beach Bar) -- The Derangers (Function Room) -- The Workers (Beach Bar) -- Liz Borden (Function Room) -- Kenne Highland Clan (Beach Bar) -- Slow Children (Function Room) -- Pop Gun (Beach Bar) -- Gyro Lula (Function Room) -- Moose & The Mudbugs (Beach Bar) -- Tsunami of Sound (Function Room) 8:30 -- Masters of The Obvious (Beach Bar) -- Red House (Beach Bar) - Real Real Bayou Band (Beach Bar) -- All-Star Jam led by Cindy Daley, formerly of Lovelace.
The Kickstarter project for PunkRockPaperScissors will be of interest to a few of us. It is a book of punk flyers. There are some Boston ones in their according to the write up.
The Replacements are playing two weekends in April at Coachella and they are having David Minehan on guitar again. (Afghan Whigs and Brain Ferry are on the bill too!)
Wow check out this Amnesia Punk Fest damn how awesome...whish we could get some thing like that around here.
EMAIL US AT.......misslynbgn@yahoo.com